The customer in Ghana saw the flatbed semi trailer with YUHANG logo locally and contacted us immediately. The main demand of Ghanaian customers is to transport standard-sized containers and bulk cargos. According to the needs, customers are recommended to use 2 axle 40 feet container flatbed trailer .
The sales manager communicated with the customer in an orderly manner and answered questions. The customer was very interested in the flatbed semi trailer made by YUHANG, and expressed that he would introduce and recommend it to friends and business partners around him.
We transport a sufficient number of flatbed semi trailers to Ghana every year, and already have a certain influence in the local area. YUHANG will fully consider the use environment and specific daily transportation needs of Ghanaian customers, and provide high-configuration flatbed semi trailer as much as possible to better serve every customer.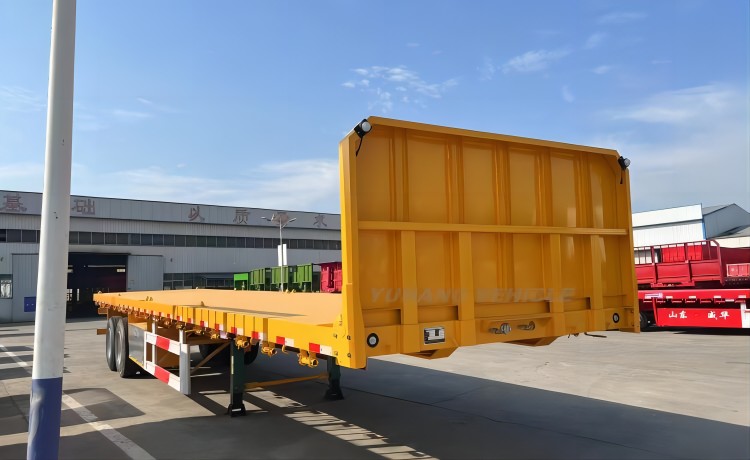 The cargo area of the flatbed semi trailer has no sidewalls and roof. Simply put, it is an exposed platform. For example: 20 foot or 40 foot flatbed trailer, 45 foot flatbed truck trailer for customers to carry out transportation business.
The 2 axle flatbed semi trailer for sale is a common transport vehicle designed to move bulk cargos and containers between shipping facilities and terminals.
YUHANG is also equipped with 4/8/12 sets of high-quality twist locks on each one flatbed semi trailer, whose function is to tightly fix the container on the 2 axle flatbed trailer.
The flatbed semi trailer has a simple structure, is easy for customers to operate, has high transportation efficiency, and can quickly realize various scene conversions.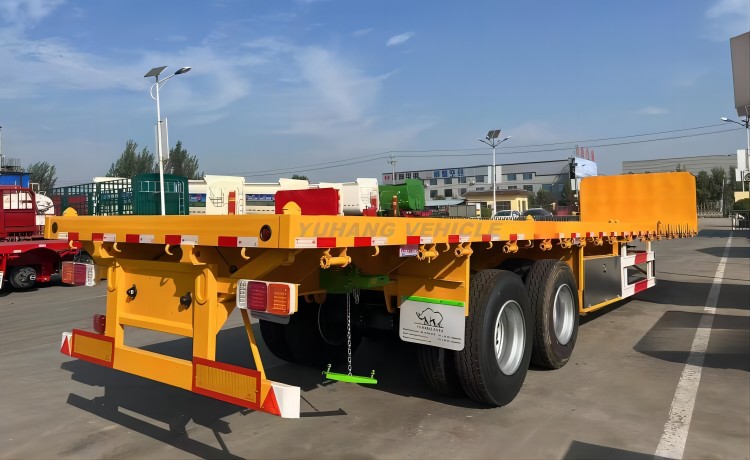 The main beam of the YUHANG brand flatbed semi trailer is made of international high-strength steel plate, which not only reduces its own weight, but also ensures its maximum anti-distortion, anti-vibration, and anti-turbulence capabilities to meet the carrying capacity of different road surfaces.
All parts of the whole vehicle adopt automatic submerged arc welding technology of robots, with high welding quality, tight and flawless weld seams, and the safe driving time can reach more than 10 years.
The flatbed trailer is equipped with a suspension system imported from Germany, which has strong rigidity and strength, and is used to support the load and reduce the impact.
We will provide customers with the best and most favorable flatbed trailers according to their needs. Such as: 2 axle, 3 axles, 4 axles, 20 feet or 40 feet, 45 feet and other flatbed semi trailer of different models and specifications.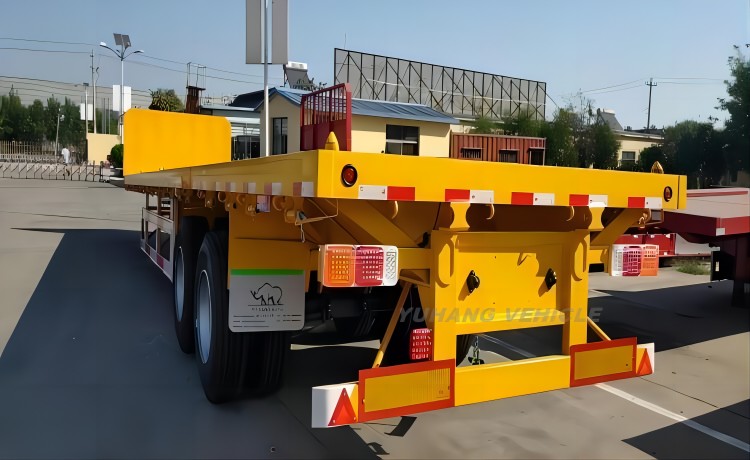 The length of the flatbed truck trailer can be freely selected. The factory is equipped with BPW/FUWA axles, widened brake pads, FUWA support legs, aluminum air tanks, waterproof lines, waterproof side lights, and a large space water tank.
YUHANG self-operated factory manufactures and sells 2 axle 40ft flatbed semi trailer. Therefore, we have more advantages in quality and price control to ensure that customers get more.
Before transportation, all semi trailers will go through strict internal inspection and performance test, and provide a one-year unconditional quality assurance plan, so that customers can use it with confidence.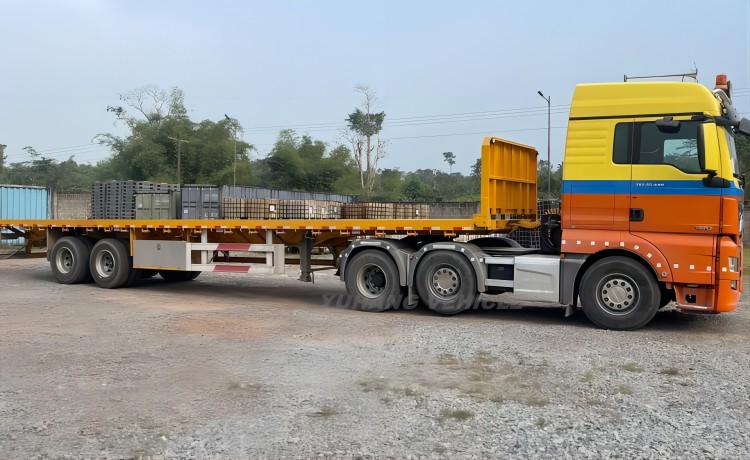 We have professional technicians who are responsible for the packaging and transportation of flatbed semi trailers. They have received strict training to ensure that the whole process is safe, smooth and foolproof.
The 2 axle 40ft flatbed semi trailer has many advantages and features, and we also have more container flatbed trailers of different models and specifications for you to choose from. If you want to know more details, please contact us!
---