1. What is a fence semi trailer?
The fence semi trailer is developed on the basis of the container flatbed semi trailer and the sidewall cargo trailer. Its top is open, which is convenient for cargo loading and unloading, and it is closed with waterproof cloth around it, which is similar to a van in function.
The fence semi trailer's cargo area is designed with a fence structure, which is mainly used for the transportation of vegetables, fruits, clothes, electrical appliances, express delivery, coal, bagged grain and other bulk goods.
In recent years, the fence semi trailer has developed rapidly in the domestic and foreign logistics and transportation markets, mainly due to its advantages, such as: strong specialization, large loading capacity, high efficiency and quickness, convenient disassembly, and low investment cost.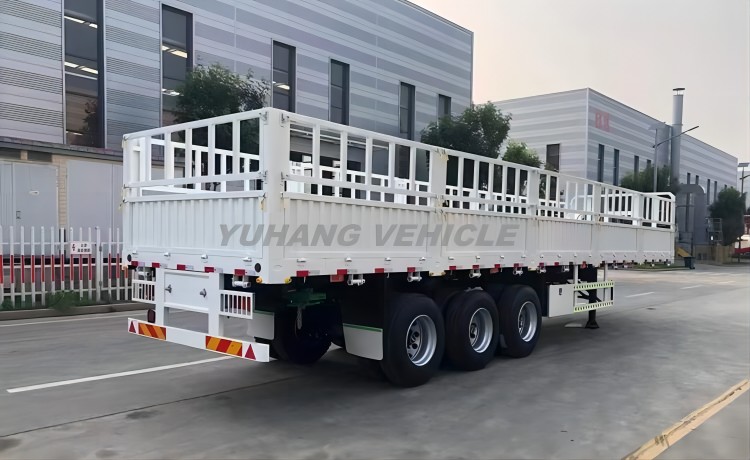 3 axle 60t bulk cargo semi trailer for sale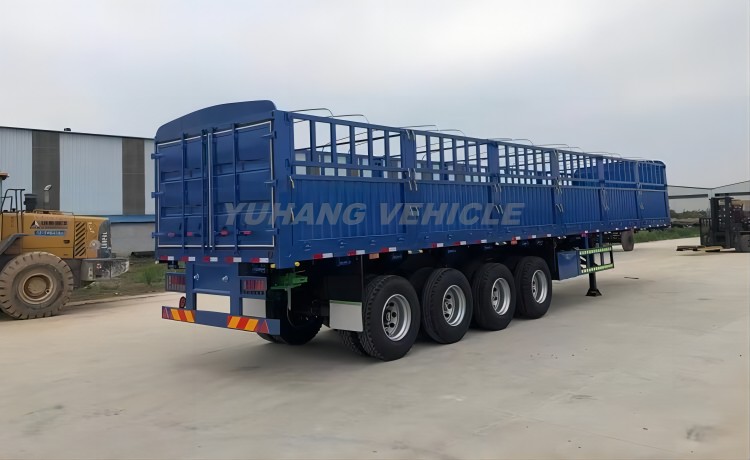 4 axle fence truck trailer with best price
2. Fence cargo trailer application:
Fence cargo trailers are a common means of transportation, often appearing in consignment stations, logistics yards, and transportation companies.
The fence cargo semi trailer is widely used for loading various products and materials, such as: coal, bagged cement, grain, vegetables, packing boxes, poultry and livestock, and small engineering equipment. The stake semi trailer can be used to transport 20 foot and 40 foot standard containers after being installed with container twist locks.
YUHANG factory have 2/3/4 axle fence cargo trailers for sale, with a load of 40/50/60/80/100 ton for you to choose. We can design and customize the fence height according to your special needs, you can also choose single fence or double fence design.
Our fence cargo trailers have detachable fences and side walls, which are convenient for customers to load and unload goods, and multi-functional design templates to meet customers' different transportation needs.

YUHANG brand 3 axle fence cargo trailer factory
3. Types of fence semi trailers
At present, there are mainly three types of fence semi trailers produced and exported by YUHANG VEHICLE: bulk cargo transportation stake trailers, livestock fence semi trailers and fence full trailers.
The loading capacity of the bulk cargo transportation stake trailer is generally 30-100 tons, and it is mainly used for the transportation of bulk cargo that is common in daily life. Its design and structure are relatively simple, and the height of the fence is about 1200-1800mm, which is a very important aspect that you need to consider when purchasing.
The livestock fence semi trailer is mainly used for transferring and transporting poultry and livestock, the height of the fence is generally 2000mm, and because of the good air permeability, it helps to keep the animals healthy and transport for a long time. This series of fence trailers is YUHANG's best-selling model and has been successfully exported to the Philippines, Jamaica, Zambia, Senegal, Colombia and other countries.
The front end of the fence full trailer is attached to the rear end of the tractor, which provides the traction. That is to add a fence full trailer behind the tractor, and the two are connected with a hook. It not only increases the truck loading capacity, but also improves fuel utilization and reduces transportation costs.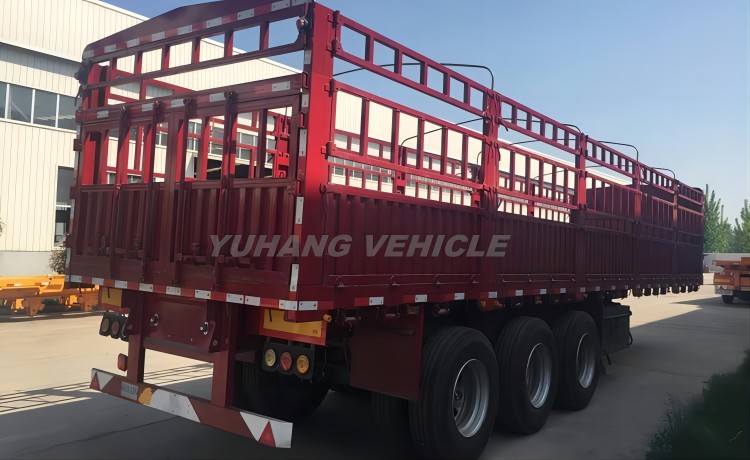 Tri axle bulk cargo transport trailer for sale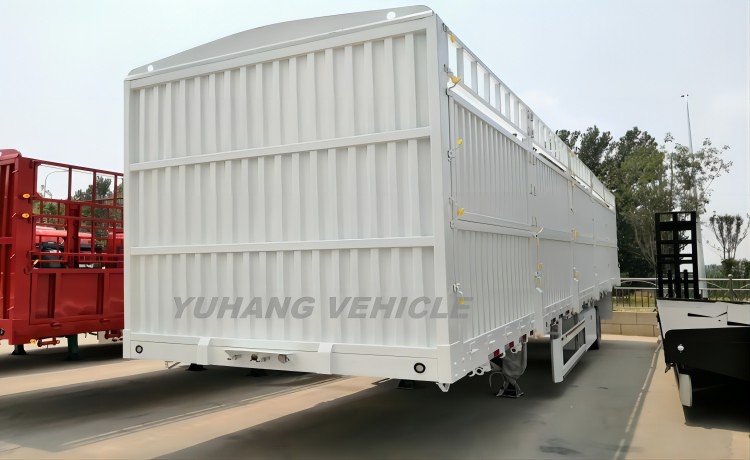 3 axle 60 ton livestock fence semi trailer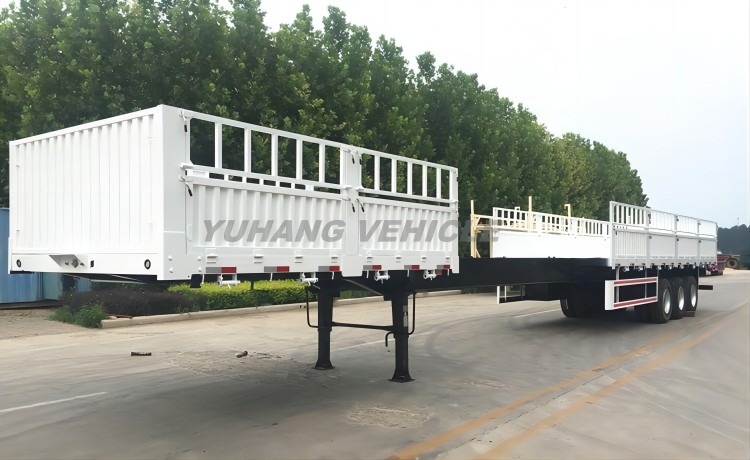 Brand new pull-out style fence freight trailer
4. YUHANG fence semi trailer specifications & loading capacity
What are the common fence trailer specifications of YUHANG vehicle? The common load capacity of the fence semi-trailer mainly has the following three types: consider the number of axles to determine the trailer loading capacity, 2 axle 40 ton poultry trailer, 3 axles 60 ton sugarcane transport semi trailer and 4 axle 80 ton fence trailers. Of course, we also have 30/50/60/80/100 tons fence semi trailer for sale for you to choose.
We can also design and customize fence semi trailers for you according to your actual transportation needs. Different specifications and configurations have different load capacities. If you want to know more information, please contact our staff, we will provide you with the most professional and comprehensive solutions and suggestions.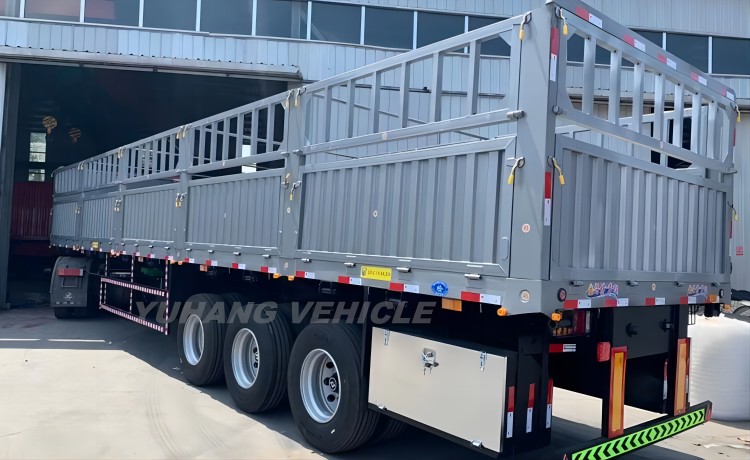 60 ton bulk cargo fence truck trailer manufacturer—–YUHANG
5. Main component structure of YUHANG cargo trailer
What are the main component structures of a qualified fence cargo semi trailer? Here are some important points:
1. Frame: the space frame structure welded by longitudinal beams and integral through beams makes the 60 ton fence semi trailer stronger in carrying capacity without permanent deformation.
2. Bottom Plate: 3mm thick wear-resistant and non-slip checkered plate to ensure that the goods will not move sideways and turn over during transportation, ensuring transportation safety.
3. Side Door: the common height of the side door is 600mm, 800mm or 1000mm, and the vertical corrugated structure is adopted to increase the loading space and prevent expansion and cracking.
4. Fence Style: the overall height of common fences is 1600mm, 1800mm, 2000mm. The height and style of the fence semi trailer can be freely chosen.
5. Axle: YUHANG fence trailers use well-known brand FUWA or BPW high-end axles, which have stronger compression resistance, better braking effect, and improve overall safety performance.
6. Suspension: a new type of suspension system is adopted, with high strength and strong impact resistance, which can evenly balance the load of each axle and adapt to more bumpy and rugged road conditions.
7. Tires: special tires for heavy-duty semi trailers with better heat dissipation performance and higher wear-resistant index are used, which can safely drive more than 300,000 kilometers.
8. Braking System: it adopts WABCO braking system and is equipped with ABS, which greatly improves the safety factor of the trailer.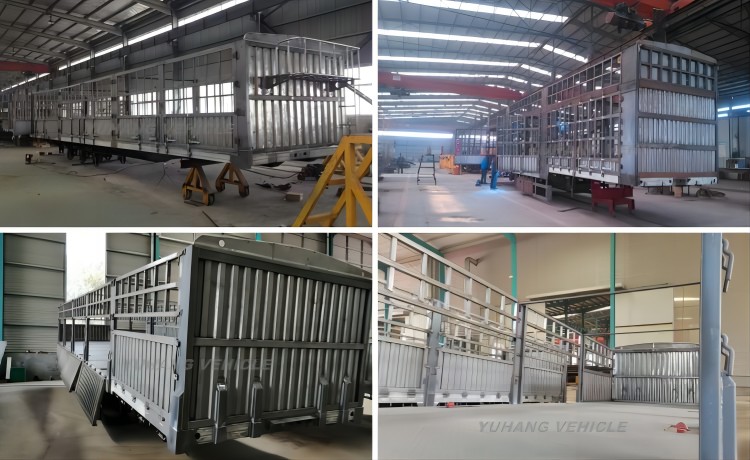 Our fence semi trailer frame is making in factory
6. Fence trailer parameters and drawing, video
Most popular 2/3/4 axles fence cargo semi trailer for sale
Overall Dimension: 12500mm*2500mm*3500mm or customized
Loading Capacity: 30-100 tons
Sidewall: about 2000mm or customized
Main Beam: Q345B carbon steel "I" beam
Frame Floor: the thickness is 3mm checkered plate
Axle: 13 ton/14 ton/16 ton FUWA/BPW brand
Tire: 12R22.5, 13R22.5, 11.00R20, 12.00R20, 315/80R22.5, 385/65R22.5
Twist Lock: 12 units (optional)
Suspension: heavy duty mechanical suspension
Leaf Spring: 90mm(w)*16mm(t)*10 layer
King Pin: 2.00 or 3.5 inch bolt-in king pin
Landing Gear: JOST brand
Brake System: WABCO
Electrical System: 24V, LED lights
Accessories: one standard tool box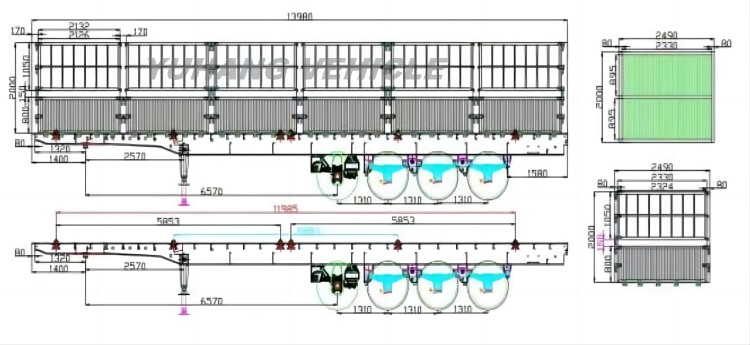 4 axle fence semi trailer technical design drawing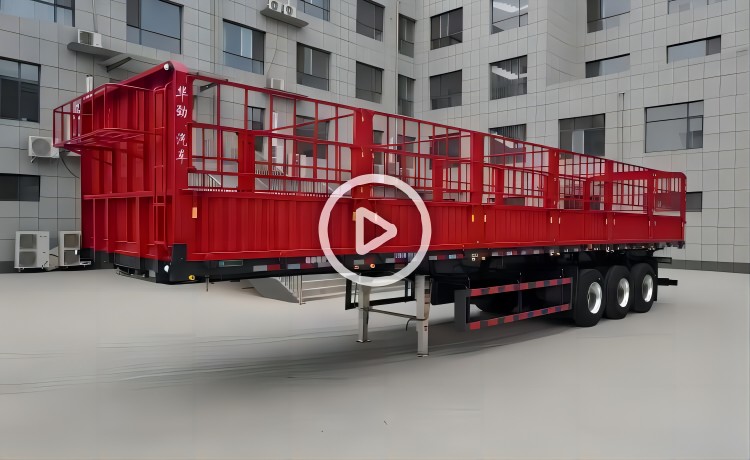 60 ton fence semi trailer
7. Features of fence trailers:
Fence trailer is a common means of transportation for cargo transportation, which plays an important role in real life.
YUHANG Fence Trailer Features:
■ The main beam is made of Q345B high-strength steel plate, which has good compression resistance and impact resistance, which improves the load-carrying capacity of the trailer and can be applied to more bad road conditions without deformation and fracture.
■ The trailer frame adopts advanced submerged arc welding technology, double-sided welding, high welding quality, and can be guaranteed to be used for more than 10 years.
■ The fence structure design process combines the user's cargo category and attributes, and rationally designs to fully reduce the weight of the carriage under load conditions, reduce investment costs for users, and create more profit value.
■ The computer is used to continuously optimize the operating data, adjust the load balance between the axes, reduce the friction slip distance between the tire and the ground, and effectively avoid tire wear.
■ Equipped with a new type of braking system, which effectively guarantees the braking performance of the fence cargo semi trailer for sale during operation.
■ The structure of the whole vehicle is simple and practical, and it is easy to disassemble, which greatly improves the speed of cargo loading and unloading and work efficiency.
■ Strong adaptability, can perfectly match with different types of tractors.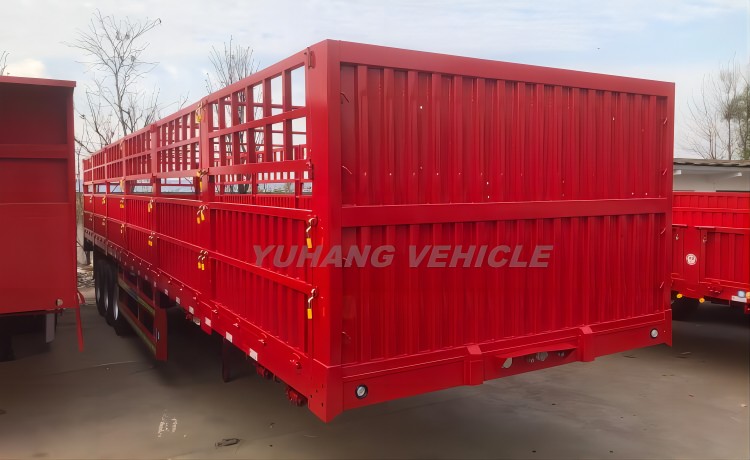 Tri axles semi trailer with fence for sale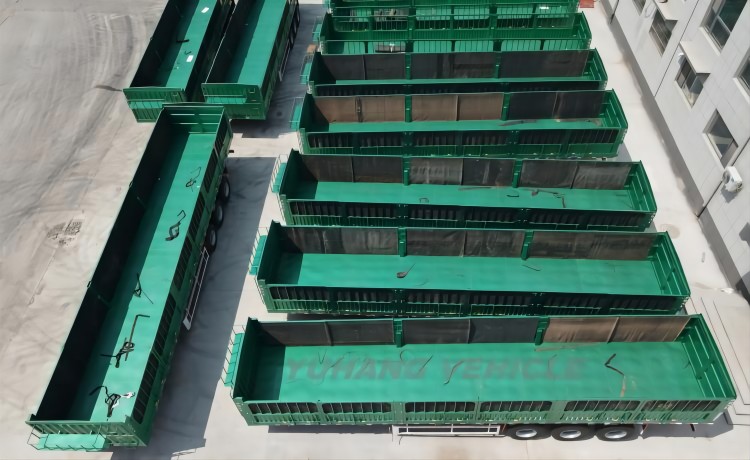 20 sets of stake trailers are ready to be sent to customers
8. How to use fence trailer safely?
Hello, first of all thank you for choosing YUHANG fence cargo trailer, how to use the fence semi-trailer safely and correctly, please be sure to read the following precautions:
1. Without the guidance of our company's professionals, it is strictly forbidden to weld any parts on the main beam, otherwise it will cause the main beam to break and sag.
2. Before using the triaxle fence trailer, it is strictly forbidden to modify the power and electrical system without permission.
3. When installing a welding water tank, the power of the tractor must be turned off.
4. Before using the new fence semitrailer, check whether the tire pressure is at the specified value, so as to avoid abnormal tire wear.
5. After the tractor is connected to the 60 ton fence trailer, it is necessary to check whether the tractor fifth wheel and the semi-trailer traction pin have been fastened.
6. After the tractor and the semi trailer are connected, if the lamp shell signals are inconsistent, the sequence of the seven-core helical wire ends of the tractor should be adjusted in time.
7. Before using the new fence trailer, check whether the axle and tire screws are tight.
8. After the tractor and the semi-trailer are connected, the braking effect of the vehicle must be checked.
9. After the tractor is connected to the semi trailer, it is necessary to check the vehicle air circuit, relay valve, and ABS valve for air leakage.
10. Check whether the fence and door of the fence semitrailer are locked tightly, so as to avoid safety accidents caused by the door opening outward during driving.
9. Transportation method of bulk cargo trailer:
After our bulk cargo trailer has passed a series of quality inspections and load test tests in the factory, we will arrange delivery and transportation services for you as soon as possible.
Some customers will use high-cabinet containers for transportation. This transportation method is relatively low in cost and short in transportation time, but you need to assemble and install the fence trailers after you receive it.
There are also some customers who choose bulk carriers or Ro-Ro ships to transport cargo trailers. At this time, the trained staff will pack the 3 units trailers into a combination, and then transport them to the interior of the cabin or on the deck by a tractor. YUHANG will spray a layer of wax on the cargo fence semi trailer and cover it with tarpaulin, which has prevented the erosion of rainwater and sea water.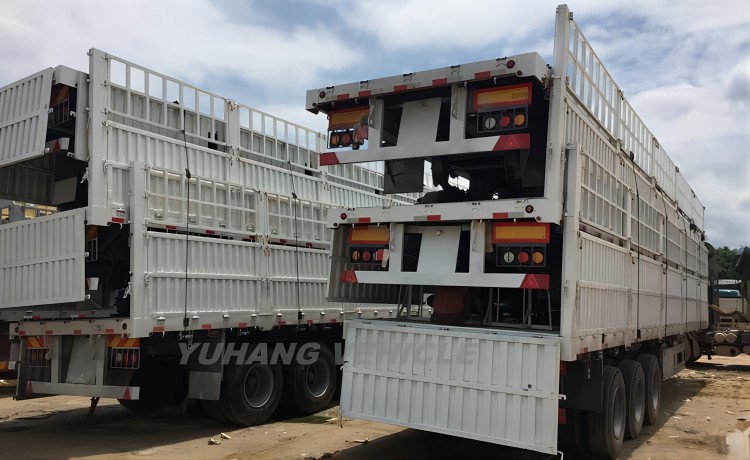 3 axle semi fence trailer is packing and shipping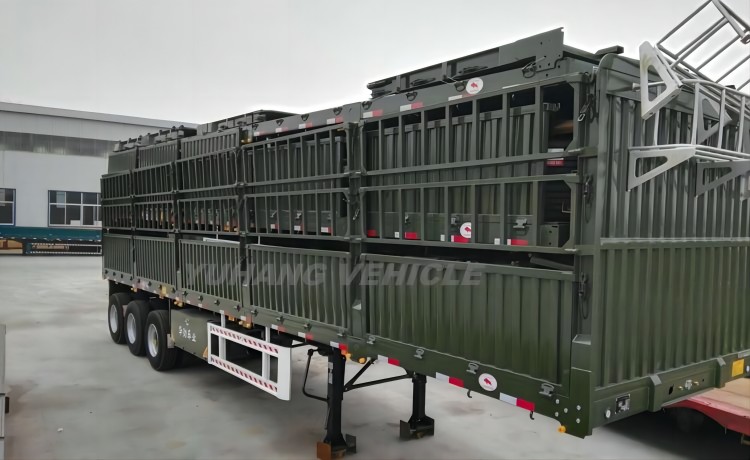 40 feet sidewall fence cargo trailer is ready send to customer
10. Our livestock trailer manufacturer advantages
We are a livestock trailer manufacturer from China. We have 2 axle, 3 axle, 4 axle fence semi trailer, 40 ton bulk cargo trailer, 60 ton livestock transport trailer, 80 ton fence semi trailer for sale. YUHANG brand livestock trailer have achieved success in Southeast Asia, the Middle East, South America and Africa, such as: Vietnam, the Philippines, Zambia, Tanzania, Saudi Arabia, the United Arab Emirates, Guyana, Ecuador and other countries…
A: YUHANG Vehicle has its own physical factory, not a trader. Our factory sells livestock trailers directly, there is no middleman to earn the difference, saving costs for customers. Moreover, we are strictly responsible for the quality of the products, and effectively protect your interests.
B: YUHANG has more than 20 years of semitrailer production and export experience, and its production technology has always been at the forefront of the world. Every year, it invests a lot of manpower and financial resources to support technological innovation and optimize product performance. Make sure our trailers can always serve you better.
C: The love and trust of customers is what we attach great importance to. YUHANG not only delivers high-quality semi trailers to customers, but also pays more attention to customers' product experience and use experience. We work together to solve the problems we encounter together.
D: Because the types of goods transported and the needs of customers are different, some fence semi trailers need to be designed and customized, which is no problem for us. We are familiar with the trailer load regulations and local road conditions in each country, and we can provide you with a trailer that is fully capable of doing the job according to these requirements.
E: Livestock trailers will be strictly inspected and tested by the internal professional quality inspection department before leaving the factory to ensure that they are in the best working condition, and a one year after-sales guarantee plan is provided for them.
F: Our technical service team has undergone strict semi-trailer knowledge training and evaluation, and provides professional advice and solutions to your problems online 24 hours a day. To help you better buy your own bulk trailer and livestock fence semi trailer.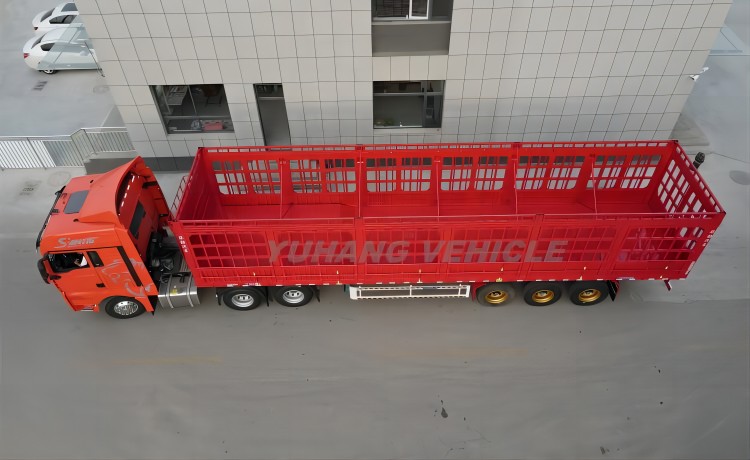 45ft poultry livestock transport truck for sale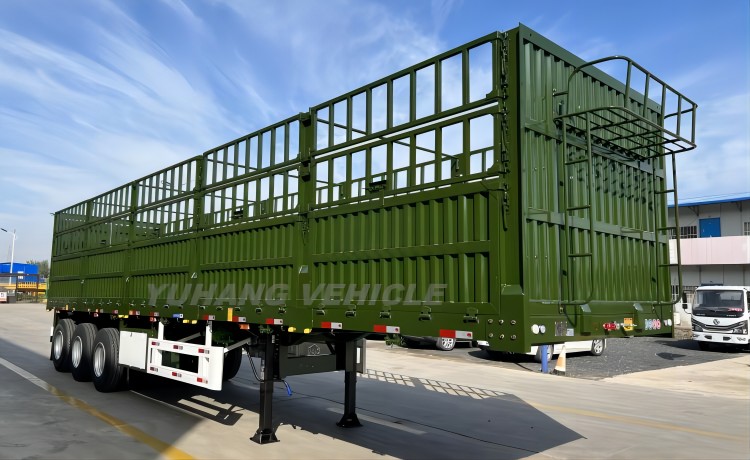 Most advanced bulk road transport trailer supplier—-YUHANG
11. What are the maintenance and precautions?
Cultivating the habit of regularly checking the fence semi trailer can effectively reduce the potential safety hazards during the operation of the vehicle, discover potential faults in time, and prevent problems before they happen. At the same time, it also enables you to better understand the performance of the vehicle and adjust it to the best state.
Here are some important maintenance tips:
1. Check the tire pressure, tread wear, and whether the nuts are loose. If you feel that there is a phenomenon of deviation or swing, you should go to the maintenance station for four-wheel alignment or dynamic balance inspection in time.
2. Carefully check whether there is sand, dust or other foreign matter on the working surface of the saddle of the tractor, the traction pin of the semi-trailer, and the traction slide, and whether there is enough lubricating grease.
3. Check the engine oil and brake fluid, and replenish them in time if they are missing; whether there is oil or water leakage in the chassis.
4. Check whether the fan belt is damaged or broken, and adjust the tightness of the belt.
5. Regularly check whether the brake shoe return spring, brake bushing, camshaft bushing, brake shoe roller and other components are damaged.
6. Focus on checking fasteners for outriggers, tires, axles, etc. (In any case, nuts, screws and other fasteners should be tightened to recommended torque parameters).
7. Check the connection of the wiring harness of the whole vehicle, and there are phenomena such as cracking, loosening, and poor contact of the wire harness.
8. In order to drive safely and prolong the service life of the cargo trailer, it is necessary to regularly replenish lubricating grease to each lubricating part.
Important Notes:
a: To prevent the brake drum from overheating when going down a long or steep slope, try to use the engine of the tractor for braking.
b: Do not use the brake system of the fence semi trailer alone for a long time.
12. How to buy a fence trailer?
Although the structure of the fence semi-trailer is relatively simple, although the sparrow is small and complete, there are still some references that need to be paid attention to:
1. Steel
Q235 and Q345 are steels commonly used in the industry. Q235 is a carbon structural steel with a yield point of 235MPa. It is the most common material in the plate and belongs to the general plate series. Q345 is a low-alloy structural steel with a yield point of 345MPa. The main advantages of Q235 and Q345 steels are that they have better overall properties, better coordination of strength, plasticity and welding properties, and they are very advantageous in terms of price. Therefore, it is recommended that users try to choose Q345B steel plate when purchasing fence trailers, which has better toughness, commonly known as "rebound after lying down".
2. Structural Design
As a commonly used means of transportation, fence semi trailers have relatively more requirements for the design of "anti-collapse waist" and "anti-expansion compartment" of the car body. YUHANG added a buckle plate box to the column of the fence cargo trailer for reinforcement, and the column plug is inserted below the side beam to make the overall strength of the carriage higher.
3. Production Process
The welding process is an important process that affects the load-bearing performance in the production process of sugarcane trailers. At present, submerged arc automatic welding is mostly used, with uniform welding, higher welding melting point, and no pores and impurities on the surface of the weld, and the appearance is smooth and bright.
The paint with electrophoresis + powder spraying process is much higher than the general paint process in terms of weather resistance, anti-corrosion and anti-rust ability, and paint adhesion, which can ensure that the paint will not fade or fall off for 7 years.
4. Key Configuration Accessories
Axle: Most fence semi trailers currently use 13 ton axles + 16 ton brake pads. The axles are BPW, FUWA and other brands. Among them, BPW is the best, with higher braking effect and service life.
Tires: Most of the tire treads of 60-ton cargo semi trailers adopt parallel stripes, which have better heat dissipation. In terms of brands, there are Goodyear, Bridgestone, Chaoyang, Double Coin, Linglong, Triangle, etc., and the replacement mileage is longer. You can choose different brands according to your own situation.
ABS: With the development of ABS product quality and technical level, and the continuous improvement of users' driving safety awareness, ABS will gradually be accepted and valued by the majority of users. After all, safety is the first. At present, there are high-end brands on the market, such as: WABCO, Kemi and so on.
Other Accessories: I hope that you will not only consider the initial purchase cost, but also weigh the use cost and product risk when purchasing a cargo stake trailer. Although human beings' pursuit of lower prices is eternal, the quality of products must also be considered.
5. Service
The pre-sales, sales and after-sales services of fence semitrailers are very important. Professional pre-sales service can help you choose a scientific vehicle model and reasonable configuration. High-quality in-sales service can make the process from order to delivery smoother and worry-free for users. Timely after-sales service is even more important. Service is a part of the product. If the service is not good, then there is no high-end brand.
Our fence semi trailers have more advantages and features, welcome to you contact us to get more preferential prices.