🔍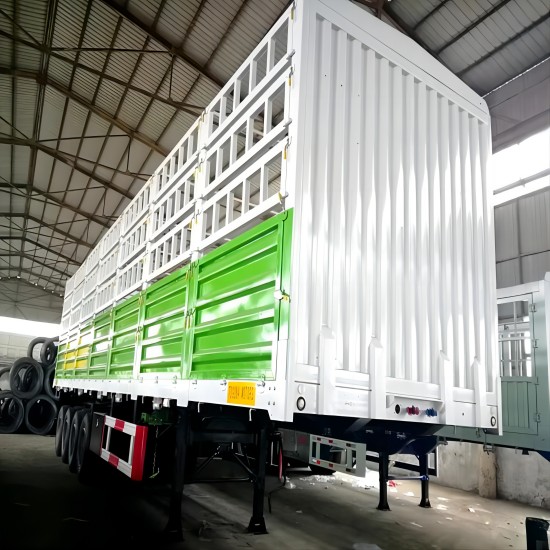 4 Axle Fence Semi Trailer
YUHANG brand 4 axle fence semi trailer is made of high-strength steel plate, with large bearing capacity, high quality and strength, and the fence height of the side wall is 1800mm or customized.
Manufacturer: YUHANG VEHICLE
Type: 4 axle fence semi trailer
Loading Weight: 80 ton or customized
Delivery Date: 10-25 days
Application: transport bulk cargo or ISO container
Enquiry
Description
Description:
We have high quality 4 axle fence semi trailer for sale, it is used to load various bulk goods and materials, such as: vegetables, bags, poultry, cartons, daily necessities.
Due to its strong loading capacity, efficient transportation speed, and flexible design structure, the fence semi trailer has now become an important cargo transportation vehicle.
Our fence cargo trailer can be used to transport 20 foot/40 foot/45 foot containers. It can fully realize multiple purposes of one vehicle for customers.
YUHANG has 2/3/4 axle fence semi trailer for sale, and the load capacity is 30/40/60/80/100 tons for you to choose. We can customize the fence structure and height according to your special needs.
4 axle fence semi trailer for sale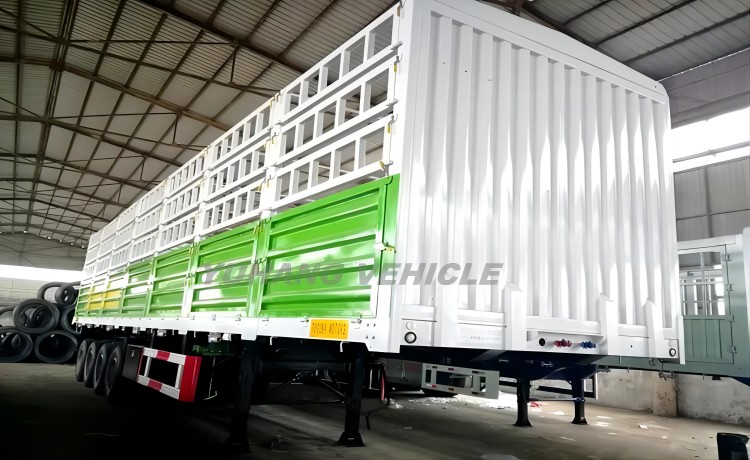 80 ton fence cargo trailer price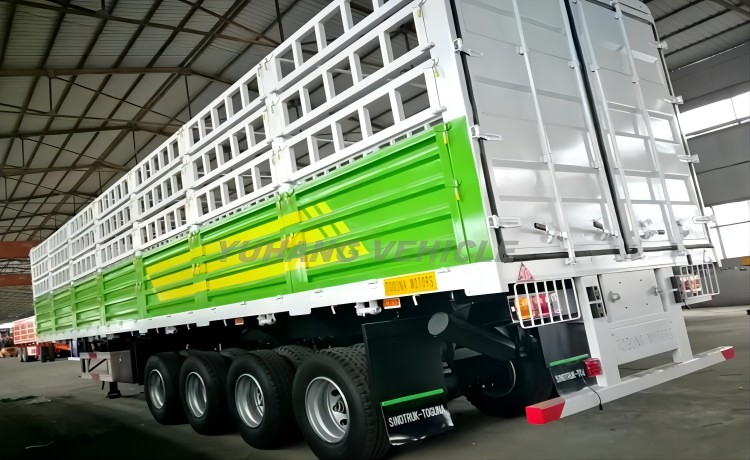 China famous 4 axle fence semi trailer manufacturer–YUHANG
Advantage:
1. The main beam of the 4 axle fence semi trailer is cut from a whole steel plate, and the transverse beam penetrates the main beam and is welded together as a whole. Improve the vehicle carrying capacity and service life.
2. The high-strength shock-resistant new mechanical suspension system is adopted to reduce the impact force during heavy loads and is applicable to more complex road conditions.
3. The full brake and electrical system conform to the industry ISO quality inspection standard to ensure that the trailer is 100% safe and reliable.
4. All spare parts are treated by shot blasting to improve paint adhesion, corrosion resistance, and beautiful appearance.
Specification:
Model: 4 Axle Fence Semi Trailer For Sale
Dimension(mm): 13500x2600x3450mm
Tare Weight: 8,000kg
Trailer Sides: 1800mm
Loading Capacity(ton): 80 ton or customized
Main Beam: height 500mm, upper plate 14mm, middle plate 8mm, bottom plate 16mm, made of Q345B steel
Side Beam: 16mm or 18mm Q235 channel steel
Platform: 3mm-thick checkered plate
Axles: 4 axles*13T/16T*FUWA/BPW brand
Tire: 16 units*12.00R22.5 or 315/80R22.5
Rim: 9.00-22.5 or 9.75-22.5
Suspension: heavy mechanical suspension
Spring Leaf: 90(w)mmx13(thickness)mmx10 layers or 100mmx12mmx12 layers
King Pin: JOST brand 2.0 or 3.5 inch (bolted or welded)
Landing Gear: JOST brand double speed, external 28 ton
Twist Locks: 4/8/12 sets (lifting or screw type)
Brake Valve: WABCO valve
ABS: optional
Color: optional
Light: LED light
Voltage: 24V
Socket: 7-pin Socket (for 7 wire harness)
Painting: polyurethane anti-corrosion paint
Accessories: one standard tool box, spare tire carrier
Shipping Terms: bulk carrier, Ro-Ro ship or container
---