1. What is a skeletal semi trailer?
Skeletal semi trailer, also known as container chassis trailer, is mainly used to transport various container cargos and is used in logistics systems, such as: ships, ports, routes, highways, transfer stations, bridges, and tunnels. The frame of this series of trailers is exposed, and is mainly welded by beams, longitudinal beams and front and rear end beams.
Skeletal trailer have different shapes and sizes, and there are two main types: ordinary skeletal trailer and special container transport trailer. YUHANG currently has 20 feet container chassis trailer, 40 feet container moving trailer, 45ft skeletal trailer, and 53 foot container transport trailer for sale. We also offer you different options: 2 axle, 3 axle, 4 axle, air suspension and mechanical leaf spring suspension.
Although the structure of the skelatal semi trailer looks relatively simple, due to the particularity of the transported goods, the requirements for the load-bearing strength of the vehicle are relatively high. Therefore, you need to fully consider various factors when purchasing a container chassis trailer. As a professional container chassis trailer manufacturer, we can provide design and customization services according to your special needs.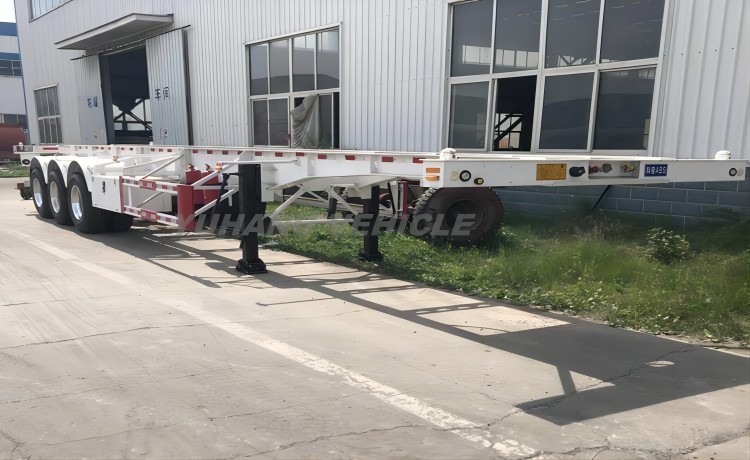 20 feet skeletal semi trailer for sale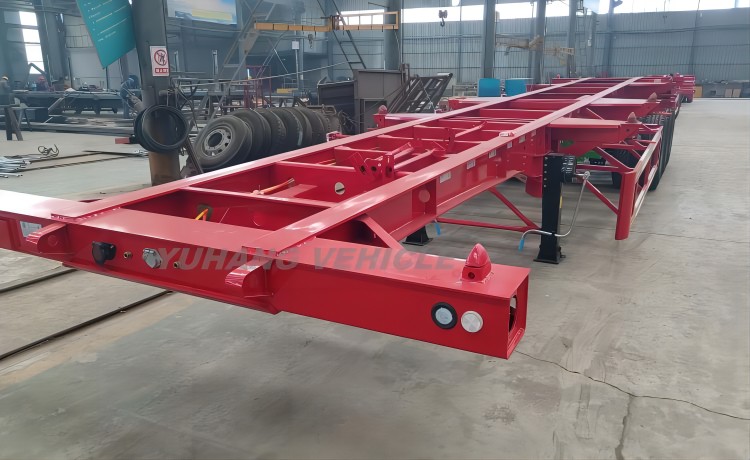 YUHANG tri axle skeletal trailer with best price
2. The use and characteristics of the skeletal semi trailer
Skeletal semi trailer use:
Skeletal semi trailer has been widely used in modern logistics and transportation industry. It is specially used to transport various ISO standard containers and dangerous cargo holds, and has sufficient bearing strength and can be used repeatedly for a long time.
A container skeletal trailer is an integrated means of transport that packs loose goods in a standardized hold (or other container) for transport. When changing the means of transport, the goods in the cabin do not need to be reversed, but only need to transfer the container with loose goods from one means of transport to another means of transport.
Containers are loaded onto the container chassis trailer using a front-end crane, and then securely and stably fixed on the chassis with standard THT twist locks, and then they can be transported directly.
Skeletal semi trailer is a good means of transportation for intermodal transportation, such as: road, railway, waterway and air. Has the following characteristic:
1). Simplify operations
When the container is being transshipped, it only needs to be reloaded, and there is no need to reverse the cargo, which greatly simplifies the loading and unloading operations and facilitates the realization of mechanized operations.
2). Improve efficiency
Container reloading generally only takes a few minutes, which shortens the waiting time, improves labor productivity, and speeds up the turnover of goods and transportation tools.
3). Safe and convenient
The container is tightly fixed on the chassis of the vehicle through locks device, which prevents the container from moving sideways during transportation and ensures safer and more convenient transportation.
4). Meet different needs
Container transport trailers are available in different models and sizes, and can be quickly adjusted and changed according to the needs of the market and application.
5). Better maintain customer relationship
Customers can receive goods on time or even ahead of schedule. Customers are satisfied and have a good experience effect, which is conducive to long-term and stable cooperation.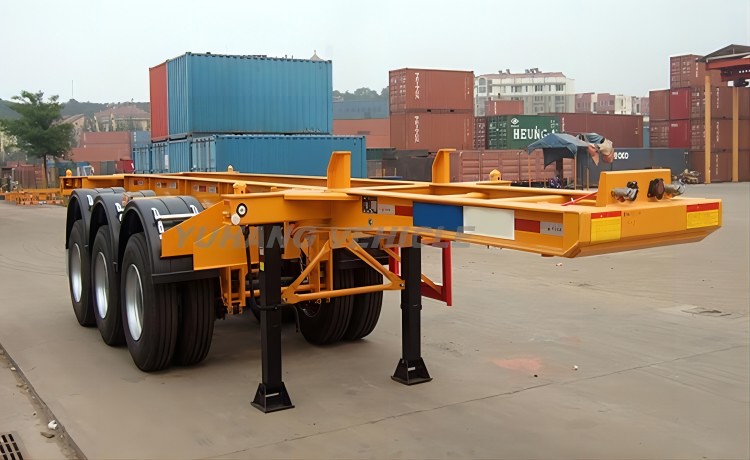 40 foot skeletal container truck trailer in application
3. What are the main structures of the skeleton trailer?
The main structure of YUHANG 20ft, 40ft, 45ft container skeleton trailers are:
• Tractor pin
• Frame
• Axle assembly
• Suspension system
• Leaf spring
• Tire
• Braking system
• Electrical system
• Support device
• Side/rear guards
• Toolbox
• Spare tire lifter
• Container twist locks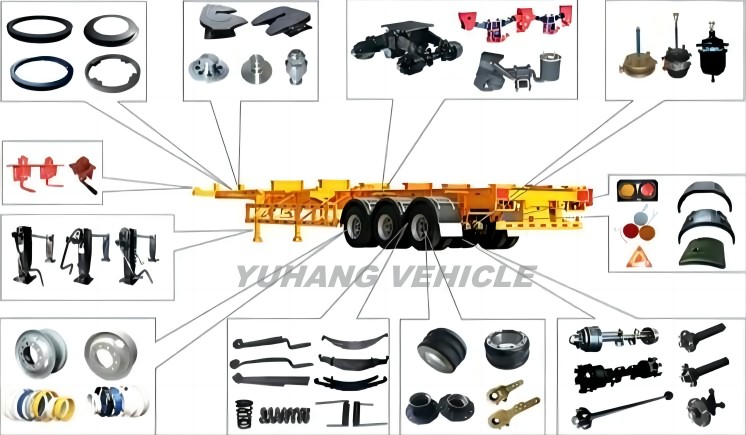 Basic structure of 40 feet container trailer price
4. Different types of container transport trailers
Commonly used container transport trailers include: skeletal semi trailer, gooseneck skeleton trailer, flatbed semi trailer, terminal trailer, and container tipper trailer.
Skeletal semi trailer: Skeletal semi trailer is a relatively simple fixed frame structure, usually made of steel, without much complexity. Used to transport containers from one place to another, it needs to cooperate with the crane that loads and unloads the container.
Gooseneck skeletal trailer: gooseneck skeletal trailer is mainly used in some countries that have strict restrictions on the loading height of containers. Due to its high gooseneck steps and low center of gravity, it solves the problem of vehicle height well. The ultra-low cargo platform does not exceed the limit, and the driving is safer and more reliable.
Flatbed semi trailer: Flatbed semi trailer is also called container chassis trailer, which is mainly used in ports, freight stations, docks and other places, and is mainly used for 20ft, 40ft, 45ft container and other bulk cargo transportation. The flatbed semi trailer not only has the traditional advantages of a container transport trailer, but also has its own structural advantages.
Terminal trailer: Terminal trailer mainly consists of a simple truck chassis and strong cargo structure for loading high quality containers. Simple to operate and affordable, this terminal trailer is adjustable to meet your loading and unloading requirements.
Container tipper trailer: The container tipper trailer is easy to unload the container, and the tipper hydraulic system installed on the upper platform can easily lift one end of the container, so that it is more convenient to unload the cargo.

Flatbed semi trailer VS skeleton truck trailer
5. YUHANG container skeleton trailer specifications * loading capacity
YUHANG is mainly engaged in the design, manufacture and export sales of various types of container skeleton trailers. At present, our skeleton semi trailers have been exported to Pakistan, Kazakhstan, Kyrgyzstan, Togo, Congo, Sudan, Philippines, Zambia, Zimbabwe, Colombia, Uruguay, United Arab Emirates and other countries, and have won the love and support of our customers.
Our container skeletal semi trailer is assembled and welded on a special positioning stand, with reasonable structure, high loading strength and beautiful appearance. A container locking device is installed on the frame, which can load standard containers of 20 feet, 40 feet and 45 feet. The four units container locking devices at the front and rear ends are of fixed structure, and the middle container locking device is of concealable structure. When loading containers, the intermediate container twist locks can be lowered below the loading platform as required.
YUHANG factory provides you with high-quality 2 axle, 3 axle, 4 axle skeleton trailer for sale, equipped with high load-bearing performance axle and suspension system, which can load 30-80 ton cargos, which is fully capable. At the same time, we have a mature and experienced technical team, ready to provide you with design and customization services to meet your special transportation needs.

Different specifications skeleton semi trailer for sale
6. Drawings and configuration of container transport trailers
Model: 40ft container chassis trailer/skeletal semi trailer for sale
Overall Dimension: 12500*2500*1550mm or customized
Application: transport 20/40ft containers
Weight: about 7500Kg
Main Beam: "I" section 500mm height Q345B material
Axle: 3 axles BPW/FUWA brand
Suspension: heavy duty mechanical suspension or air suspension
King Pin: 2″(50mm)/3.5″(90mm)
Tire: 12 units
Rim: 9.0-22.5
Twist Lock: 4/8/12 sets THT
Landing Gear: JOST brand
Brake Valve: WABCO
Electical System: 24V, LED lights
Color: optional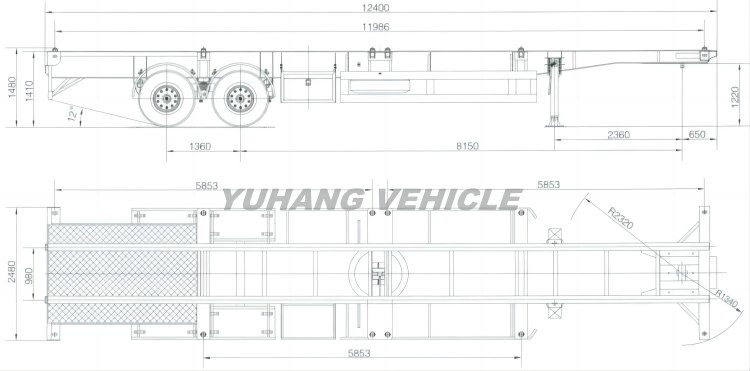 2 axle tractor container trailer technical design drawing
7. Skeleton semi trailer pictures & video
Through the pictures and video below, you can learn about different types of skeleton semi trailers, such as: 2 axle container chassis trailer, 3 axle 40ft skeleton semitrailer, 20ft terminal trailer, etc. If you want to know more about the manufacturing process, trial testing, packaging details and customer feedback of YUHANG skeleton trailers, please send an inquiry. We will reply to your questions in time and in detail.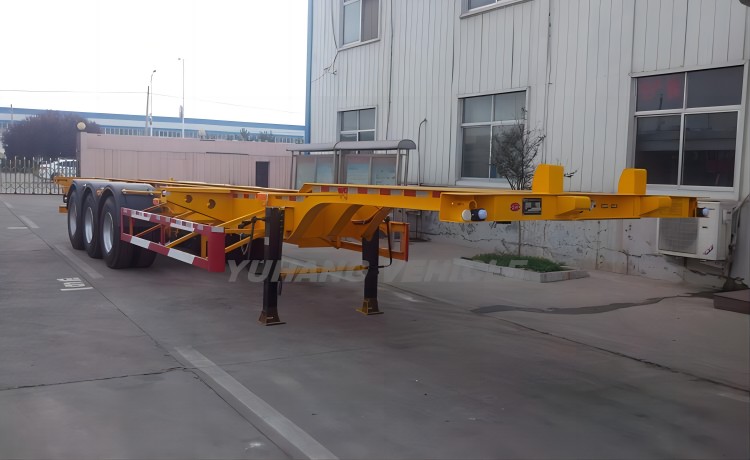 3 axle terminal container trailer for sale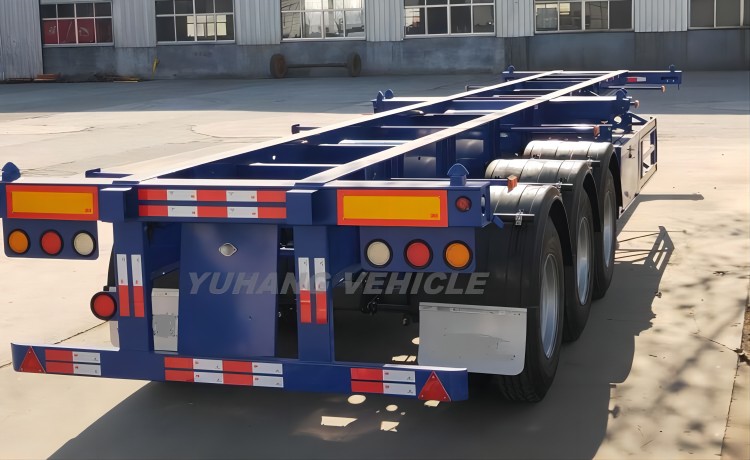 China 40ft skeleton trailer manufacturer—–YUHANG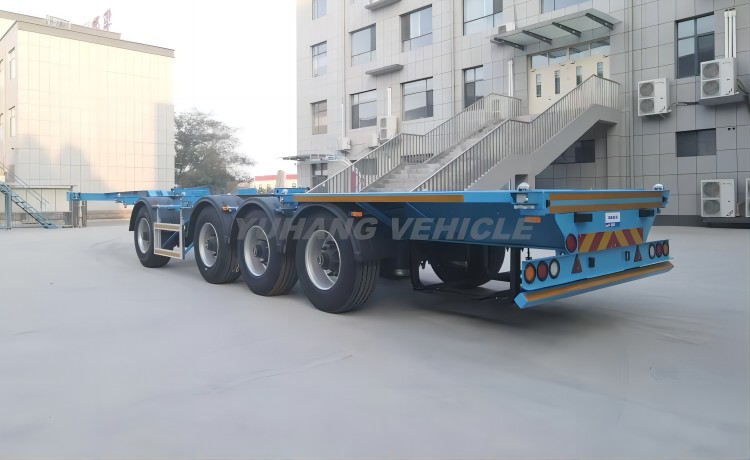 Brand new container chassis trailer for sale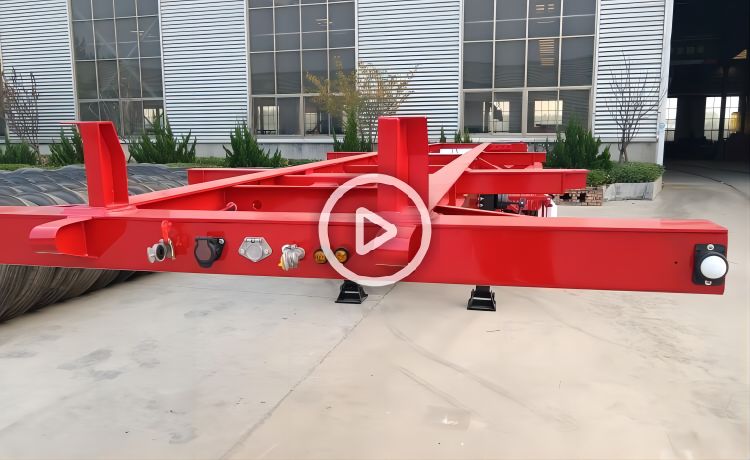 40 feet container chassis trailer
8. Precautions for purchasing a skeleton semitrailer
Facing the numerous brands and configurations of skeleton semi trailers on the market, customers may be dazzled and have no way to start. So what should we pay attention to when purchasing a good skeleton trailer?
1. Design
First of all, the design structure of the skeleton trailer should be reasonable, and the center of gravity of the chassis should be as low as possible. According to the comprehensive factors, such as: the load of the skeleton semi trailer, the category of goods, and the road conditions, it is necessary to carry out systematic planning and design to meet the different needs of customers.
2. Frame material
The frame part of the skeleton trailer is the main load-bearing structure, so the material of the main beam needs to be paid attention to. Seemingly the same steel, in fact, there is a difference between high-strength, manganese steel, and ordinary carbon steel, and their durability is also different. The main girder made of high-strength steel plate can ensure its higher bearing capacity and service life.
3. Production process
Skeleton semitrailer manufacturers must have a good production process. The automatic submerged arc welding method is used to weld the trailer parts, and after the welding is formed, the surface shot blasting and derusting processes are carried out, so as to better increase the adhesion and anti-corrosion effect of the paint. High quality welding techniques and extensive manufacturing work are put in place to ensure that the skeletal trailers for sale meet the highest quality standards.
4. Service commitment
In order to protect the rights and interests of customers to the greatest extent, does the company provide product services and solutions? What kind of pre-sales, sales and after-sales services does the company promise to provide to customers? Otherwise, if the skeleton semitrailer purchased by the customer has problems or malfunctions, it will be difficult to get timely repairs.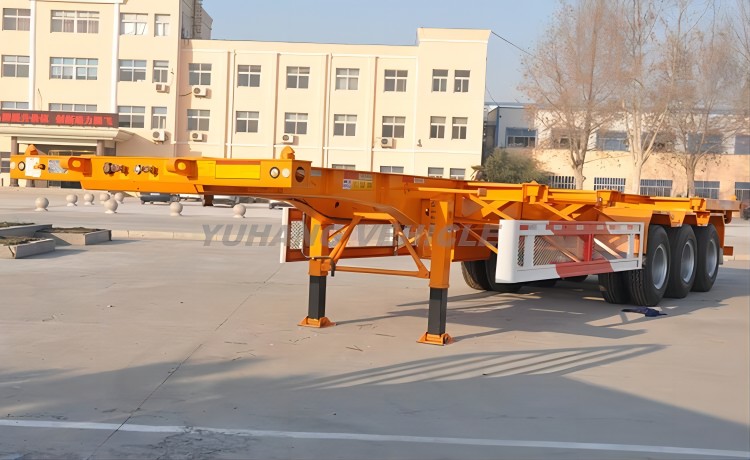 45ft skeletal container trailer chassis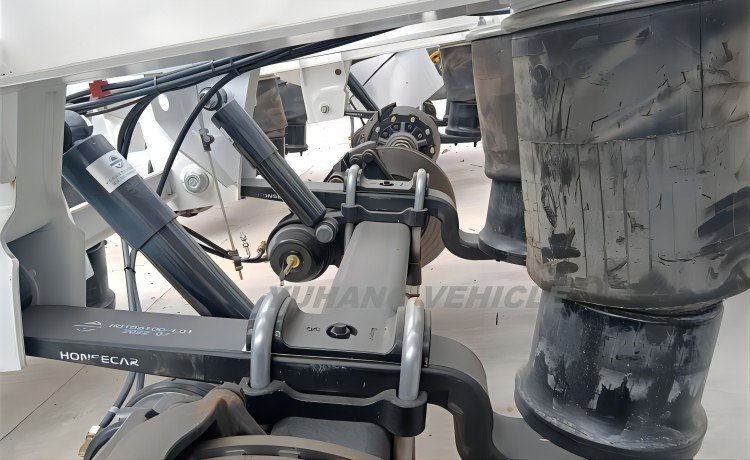 Skeleton terminal trailer with air suspension
9. What are the advantages of YUAHNG VEHICLE?
As a professional and well-known manufacturer of 20/40/45/48 feet skeleton semi trailer in China, YUHANG has the unparalleled advantages of other peers:
Product advantages
Relying on strict quality control throughout the whole process of semi trailer design and development, material procurement, production technology, quality inspection, and export sales. Our products have been widely recognized and favored by customers at home and abroad, and YUHANG brand products have strong competitive advantages in terms of quality.
Technical advantages
The company has accumulated a wealth of technical experience through a large number of production practices, and at the same time constantly updates and upgrades products according to market demand and customer requirements to ensure that our terminal trailers always have a high technical level and yield rate.
Price advantage
YUHANG has its own entity 100% factory, not a trading company. All skeleton semi trailers are developed, designed, produced and sold by our company. Our own factory sells 2 axle trailer for container transportation and skeleton trailers directly to customers, without middlemen earning the price difference and protecting the interests of customers.
Service advantage
We always adhere to the principle of service first, and pay attention to and reply to any suggestions and comments from customers. Always be with customers, solve problems in the process of product use in time, and maximize customer satisfaction.
High quality container skeleton semi trailers for sale 
10. How to pack and ship the skeleton trailers?
Considering the relationship between transportation cost and time, many customers will choose to transport their skeleton semi trailers by containers. This is a relatively cost-effective and commonly used mode of transportation.
There are also many customers who will choose Ro-Ro ships or bulk carriers to transport 20ft, 40ft skeleton trailers. We have professional and trained colleagues who will pack and transport the skeleton semi trailer. Before transporting the skeleton chassis trailer, YUHANG will spray a layer of wax on it first, and then cover it with a tarpaulin to ensure that the skeleton truck trailer will not corroded by sea water and rain.

Skeleton container trailers package and transporation
11. What are the maintenance methods for container chassis trailers?
Container chassis trailer is a common means of transportation. In order to maintain the performance of the container trailer, it must be maintained regularly. Let's take a look at the maintenance method of the 40 foot container chassis trailer.
1. Skeleton trailers need to check all parts frequently, good chassis condition and standard positioning dimensions to ensure the normal operation of the vehicle.
2. The tire pressure has a great influence on the life of the tire. It is necessary to maintain the specified pressure, because too high or too low tire pressure will reduce the service life of the tire.
3. It is necessary to check the cracks and wear of the tires, and replace them in time if there are potential safety hazards. When choosing tires, the model should be consistent.
4. Container trailers need to check the liquid level of the clutch master cylinder. If the liquid level of the clutch is between high and low, it means normal. If it is lower than the standard line, please go to the nearest maintenance station for repair in time.
5. Regularly replace lubricating oil, fasten parts, check the toe-in, check the wear degree of the brake friction lining, check the reducer assembly and whether the gear oil exceeds the performance.
I hope that everyone will take corresponding maintenance measures for the 40 foot container chassis trailer after mastering these methods.
At the same time, if you want to get more advantages and features of different types of skeletal semi trailers, please send an inquiry.