1. About YUHANG sidewall cargo semi trailer
YUHANG sidewall cargo semi trailer is an open type trailer with multi-purpose, also known as dropside trailer and sidewall trailers. This series of trailers are widely used in the transportation industry, and are mainly suitable for medium and long-distance transportation of various bulk goods or materials, such as steel coils, steel bars, prefabricated panels, bagged cement, grain, building materials and containers.
We have 2 axle 50 ton open top trailer, 3 axle dropside trailer, 4 axle sidewall semi trailer, 60 ton sidewall truck trailer, as well as hyperlink side wall trailer for sale. The load capacity of YUHANG sidewall cargo trailer is 30-100 tons for you to choose. We can design or customize a suitable configuration and sidewall height according to your needs.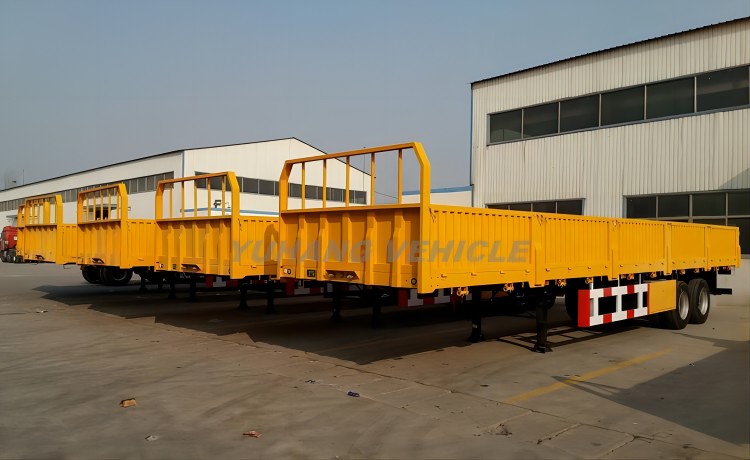 China 2 axle 50 ton dropside trailer factory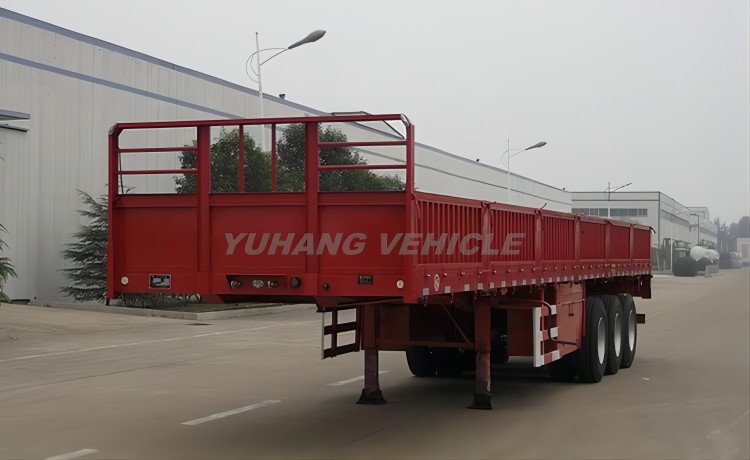 YUHANG brand 3 axle sidewall semi trailer for sale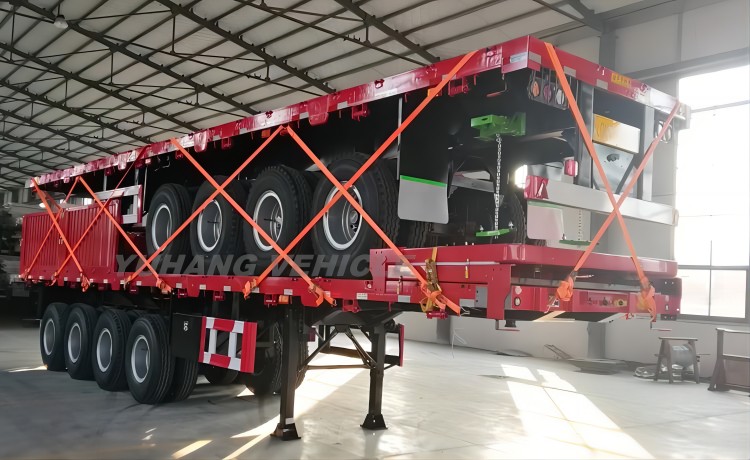 4 axle sidewall cargo trailer with best price
2. What is the purpose of the sidewall semi trailer?
The sidewall semi trailer is evolved on the basis of the container flatbed trailer, and the loading part has a sidewall design structure. Because of its complete functions, strong adaptability and simple operation, it has become the first choice for road freight trailers. 40 ton bulk transport trailer, 60 ton sidewall semi trailer, and 80 tons dropside cargo trailer can be used to transport a wide variety of products or materials, from wooden boxes to other bulk cargos. The sidewall of the trailer can be flexibly opened or disassembled, which is convenient for loading and unloading large cargo. At the same time, the  3 axle sidewall semi trailer can be used to transport ISO standard containers after being equipped the high quality twist locks.
We can customize the style and shape of the sidewall or the specific height according to your requirements, and ensure that all parts are intact to meet the smooth development of your transportation business.
3. Main components of YUHANG sidewall trailers
1. Sidewall semi trailer frame: the frame is the main and important part of the vehicle's load-bearing, consisting of main beams (welded I-beams), supporting beams, connecting beams, side beams and inclined brackets.
2. Sidewall structure: the sidewall is divided into straight or vertical corrugated boards. Vertical corrugated boards are a typical style with relatively high compressive strength. The sidewalls are generally detachable, and if we want to be stronger, we can also directly weld the sidewalls and the frame as a whole.
3. King pin of the sidewall trailer: the king pin is an important part connecting the sidewall trailer and the tractor. The king pin is generally forged from chrome alloy steel, and there are 50# and 90# king pin.
4. Suspension system: it is mainly used to support the load and reduce the vibration energy when the vehicle is heavily loaded. There are three commonly used suspensions: leaf spring suspension, single-point suspension, and air suspension. Among them, leaf spring suspension is more common and the cost is relatively low.
5. Axle and tire: the axles are connected to the suspension system through leaf springs, and most of the force during the driving process of the vehicle needs to be borne by the axles and tires. The axles we are currently using are FUWA or BPW brand.
6. Electrical system: the electrical system of the dropside trailer consists of seven-core sockets, cables, air circuits, and various lamps, which are used for lighting, safety warnings, and air supply for brakes.
7. Landing Gear: it is mainly used to support when the sidewall semi trailer is separated from the tractor. There are single-action and linkage types landing gears for you to choose.
8. Braking system: the triaxle sidewall semi trailer adopts a two-line pneumatic braking system and is equipped with ABS to ensure that there will be no problems during driving.
9. Protection device: the protection device is composed of side protection and rear protection, which can protect the safety of pedestrians and other vehicles, and can also reduce the air turbulence on both sides during driving, and play a role in reducing wind resistance.
10. Sidewall trailer accessories: other accessories include toolbox, spare tire rack, rope tensioner, and rope hook, which can be selected according to your own requirements.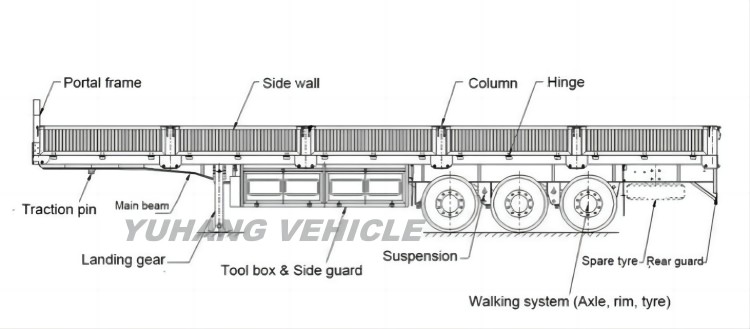 Dropside truck trailer basic structural details
4. Specifications and load capacities of sidewall cargo trailers
The loading capacity of the sidewall cargo trailer is very important, which is related to whether your transportation business can be carried out normally. The easiest way is to look at the weight of the sidewall cargo semi trailer. The heavier the weight, the better the quality and the stronger the trailer's carrying capacity.
1. The thickness of the main girder of the YUHANG sidewall cargo trailer is 14/8/16mm according to the international standard. The steel plate in the middle of the beam is made of Q345B manganese steel with a thickness of 8mm. Many unreliable suppliers will choose a steel plate with a thickness of 6mm to save costs, which will greatly reduce the bearing capacity of the main beam.
2. The bottom plate of the YUHANG sidewall trailer adopts the international standard 3mm thick anti-slip and wear-resistant pattern plate, which will ensure that our cargo transport trailer is more durable and has a longer service life.
3. The height of the side door can be 600mm, 800mm, 1000mm, which will also affect the loading capacity of the trailer.
All in all, our dropside trailers can carry 20-100 ton bulk cargos, which is very easy to do. If you have more transportation requirements, you can tell us the properties of the goods to be transported and the local road conditions, and we will provide you with professional advice or design and customize sidewall cargo trailers.

Our best-selling 40 foot side board trailer for sale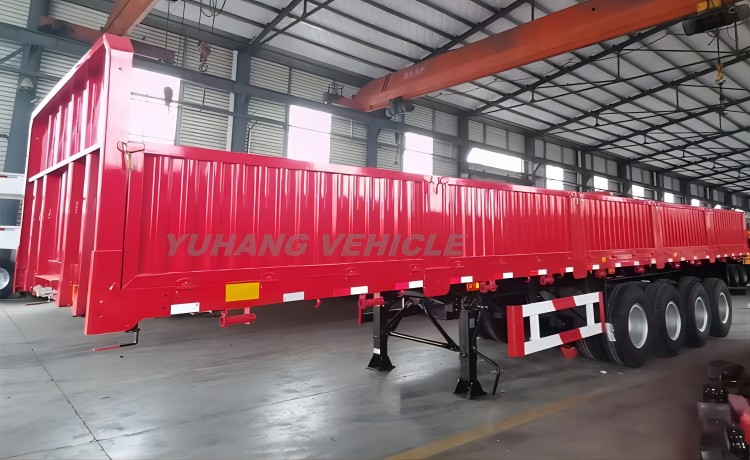 4 axle 80t side wall trailers for container or bulk cargo
5. Side wall trailer parameters and drawing
Overall Dimension: 12500mm*2500mm*3200mm or customized
Loading Capacity: 30-100 ton sidewall semi trailer
Tare Weight: about 7.5-10 tons
Main Beam: Q345B carbon steel
Frame Floor: 3mm checkered plate or customized
Axles: 13 ton/14 ton BPW/FUWA brand
Tire: 12R22.5, 13R22.5, 11.00R20, 12.00R20, 315/80R22.5, 385/65R22.5
Suspension: heavy duty mechanical suspension or air suspension
Leaf Spring: 90mm(w)*16mm(t)*10 Layer
King Pin: 2.0 or 3.5 inch bolt-in king pin
Langing Gear: JOST brand
Brake System: WABCO
Electical System: 24V, LED lights
ABS: optional
Accessories: one standard tool box

3 axle drop side trailer technical design drawing
6. Pictures & Videos of YUHANG cargo trailers
As a professional manufacturer of sidewall truck semi trailers, YUHANG factory provides you with the best quality and lowest price 40 ton sidewall trailer, 60 ton bulk cargo trailer, and 80 ton sidewall semi trailer for sale.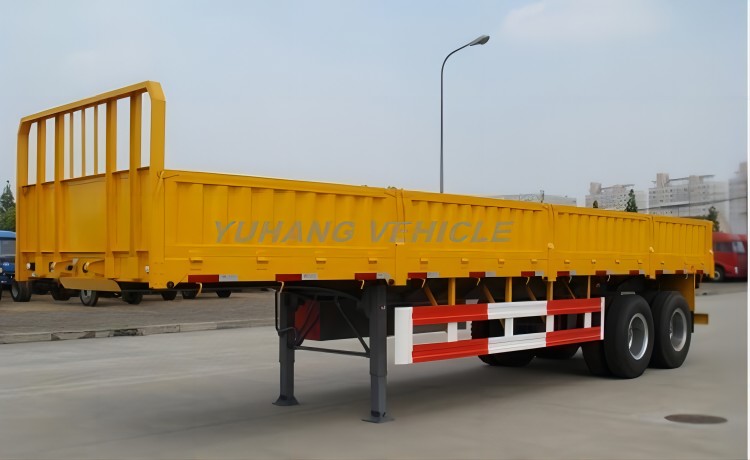 2 axle 50 ton sidewall trailer for sale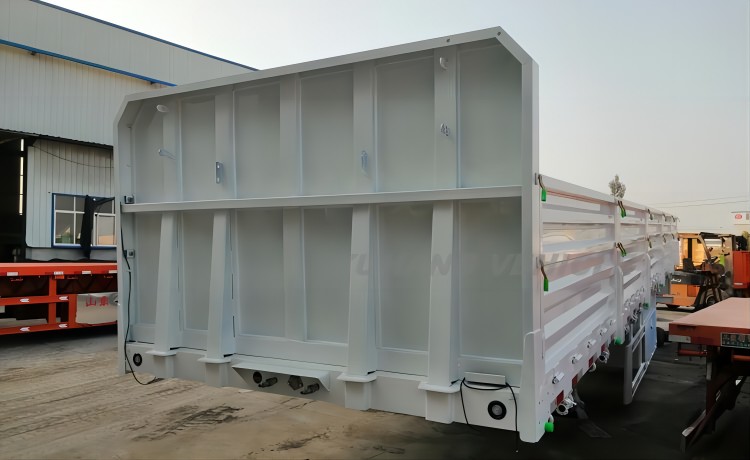 Tri axle bulk cargo tansport semi trailer with best price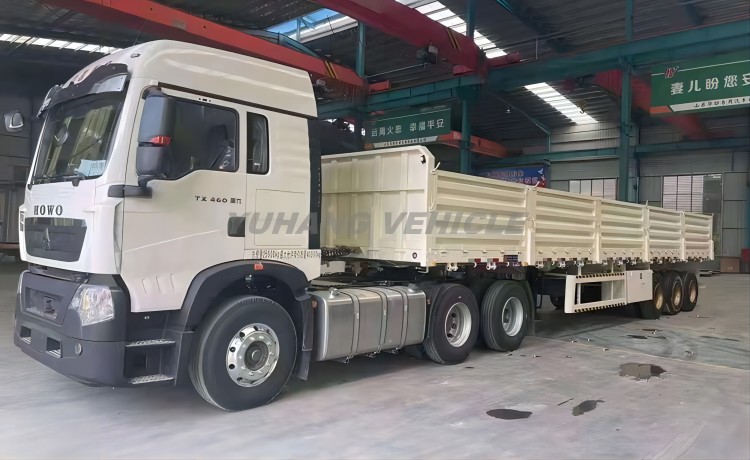 40 feet side board truck trailer manufacturer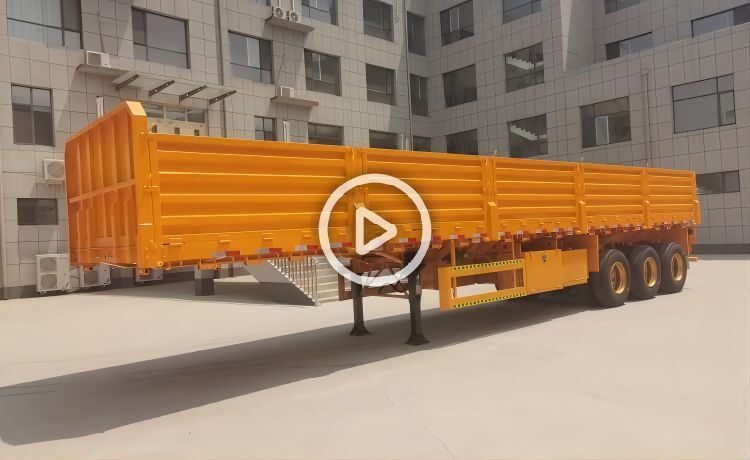 Brand new 60 ton drop side trailer show video
7. What are the advantages of sidewall cargo trailers:
YUHANG sidewall cargo trailer is your ideal transportation partner for your wide range of applications.
A: Higher effective carrying capacity to meet the needs of different customers.
B: High fuel efficiency and less maintenance cost, high attendance rate, low failure rate, provide you with higher income and profit value.
C: Simple operation, saving manpower and improving overall transportation efficiency.
D: The new brake system increases the safety performance.
E: World-renowned brand components ensure the service life of the sidewall trailers.
8. Why choose YUHANG cargo trailer?
1. The sidewall cargo trailer adopts a space frame structure welded by high-strength Q345B steel plates to ensure that the trailer has the best load capacity.
2. The main components are double-sided welded by robot automatic tracking welding technology, which improves the welding strength and prolongs the service life of the trailer.
3. All parts are shot blasted and derusted to improve paint adhesion, and the painting work is done before assembly.
4. The high-performance axles imported from Germany are adopted, and the ABS system is optional, which greatly improves the safety performance of the vehicle.
5. A new type of high-strength suspension system is adopted to ensure that the trailer has better load-bearing performance and can adapt to more rugged and complex road conditions.
6. More wear-resistant high-quality tires, lower maintenance costs, greatly improving your overall profit.
7. YUHANG vehicle sidewall cargo trailer is easy to operate, easy to disassemble and flexible to transport, it is an ideal choice for your transport business.
8. An experienced technical team will provide you with the most professional transportation solutions to help you start your business better.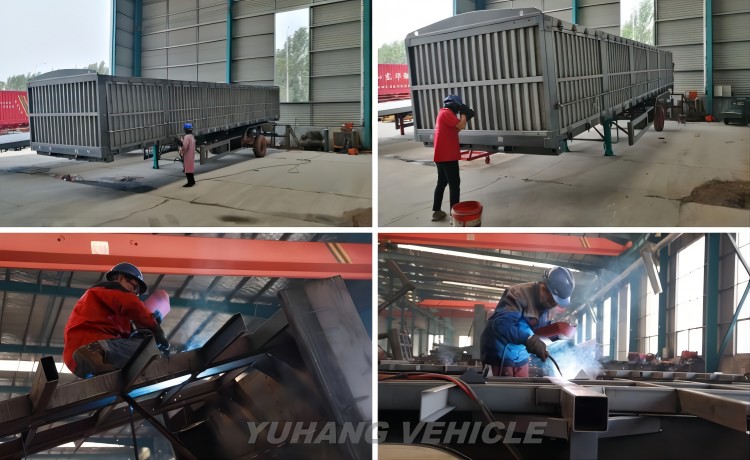 Workers remove solder joints for flatbed trailer with long side wall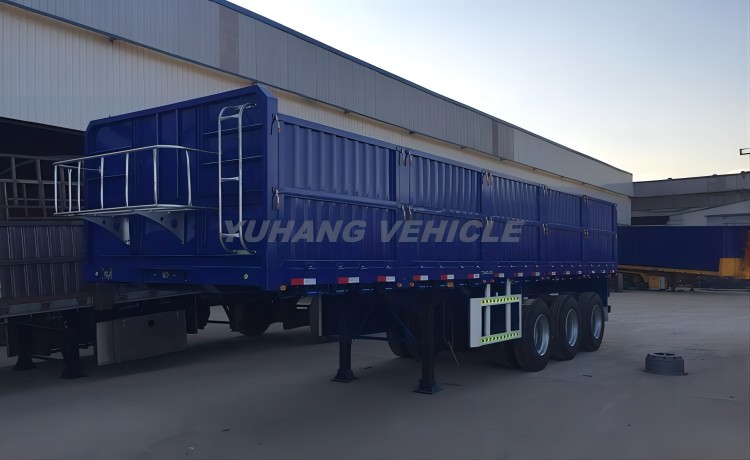 YUHANG 60 tons open top cargo trailer for you
9. How to pack and ship the sidewall trailers?
At present, YUHANG factory mainly transport our sidewall semi trailers to customers through bulk carriers, Ro-Ro ships and HQ containers.
The advantage of using HQ container transportation is low cost and short time. When you receive the sidewall trailer, you need to install it in combination, which is relatively suitable.
Some customers will choose bulk carrier or Ro-Ro ship to transport sidewall cargo trailers, and we have professional staff to arrange packing and transportation. When using a bulk carrier, YUHANG will spray a layer of wax on the sidewall trailer and cover it with tarpaulins to prevent rain and seawater erosion during transportation.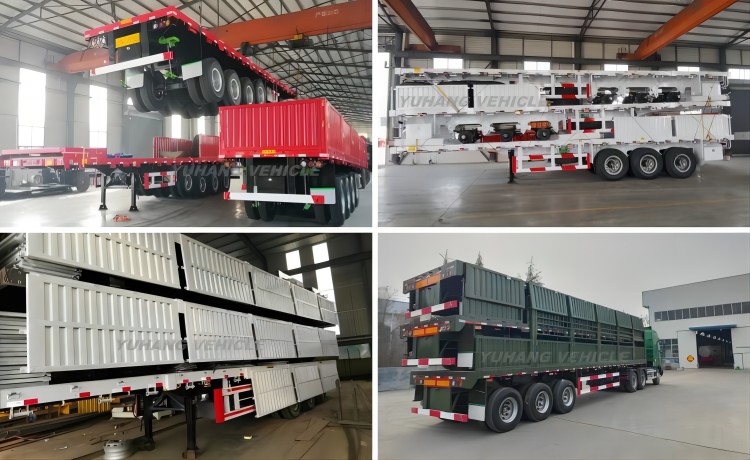 YUHANG brand sidewall semi trailer package and shipping plan
10. Feedback from loyal customers of YUHANG VEHICLE
As a professional and excellent manufacturer of sidewall semi trailers, YUHANG Vehicle has won the favor and love of customers deeply with its excellent product quality, competitive price advantage and perfect after-sales service. Here's some feedback from loyal sidewall trailer users:
Cincinti, Malawi: I am using a YUHANG brand sidewall semitrailer and it is large enough to handle the project I am working on without requiring me to invest extra. It is very strong and can carry a lot of goods.
Romeo, South Sudan: I still can't believe how good it is, all parts are in perfect condition, there have never been mistakes and failures in the work, I can't love it more.
Mautes, Zambia: The quality of the 60t drop side trailer is very good, and their sales are very professional, answering a lot of technical questions about the sidewall semi-trailer, and the delivery has been very good so far.
Wangmu, Philippines: The quality of the trailer chassis is good, and the price is very high. It looks exactly the same as the picture. I strongly recommend the YUHANG 3 axle dropside trailer again.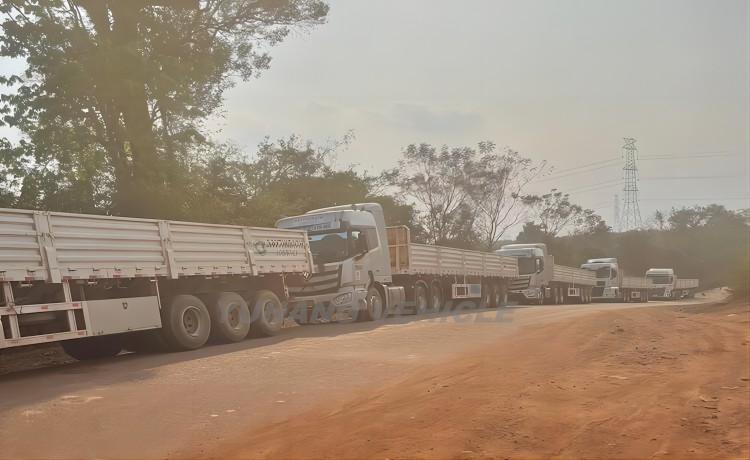 Filipino customers are doing business by sidewall cargo trailers
11. Precautions during use of sidewall semi-trailer
1. Oil replacement knowledge
How often should the oil be changed? How much oil should be changed each time? We pay special attention to the replacement cycle and consumption of engine oil. Generally speaking, the replacement cycle of engine oil is 5,000 kilometers. The specific replacement cycle and consumption should be judged according to the relevant information of the cargo transport trailer. When replacing the engine oil, it is necessary to replace the oil filter together.
2. Knowledge of antifreeze application
Antifreeze is used throughout the year. In addition to the function of antifreeze and cooling, antifreeze also has the functions of cleaning, rust removal and anticorrosion, which can reduce the corrosion of the water tank and protect the engine. Note that the color of antifreeze should be selected accurately and not mixed.
3. Knowledge of brake fluid application
The function of the brake system is closely related to the brake fluid. When checking and replacing hardware such as brake pads and brake discs, don't forget to check whether the brake fluid needs to be increased or replaced.
4. Transmission oil
In order to ensure that the car turns sensitively, it is necessary to check the transmission oil frequently. Whether it is gear oil or active transmission oil, pay attention to the type of oil.
5. Further maintenance of lubrication system
The primary function of the lubrication system is to effectively lubricate the various components of the sidewall trailer engine and prevent excessive wear. Clean the sludge and other accumulations inside the engine, prevent the oil from oxidizing and thickening at high temperature, reduce the wear of engine parts, prolong the life of the engine and increase the power of the engine.
12. Post-maintenance tips for cargo trailers:
Safe driving is the top priority. In order to prevent problems before they happen, drivers should be diligent in maintaining and checking the sidewall cargo trailers. Here are some maintenance tips:
1. Visually inspect the tire pressure, check whether the tire is deflated or leaking, and then check whether the wheel hub is deformed or cracked.
2. Check the tightness of the tire screws. Don't bother with this detail. You should check whether each screw is tight to avoid safety accidents.
3. Make sure the landing gears are normal. To check the landing gears, shake them up and down a few times to see if there are cracks in the welding.
4. Check the box boards, lock rods, reach out and touch the box board hinges, box hooks, stakes, container twist locks and other small parts to see if there are any cracks or breaks.
5. Check all lamps and reflective markers and electrical circuit systems.
6. Check the braking system, listen to the sound of air leakage, and test the braking effect.
Our sidewall semi trailers have many more advantages and features, you are welcome to contact us at any time to get the best exclusive quotation.