🔍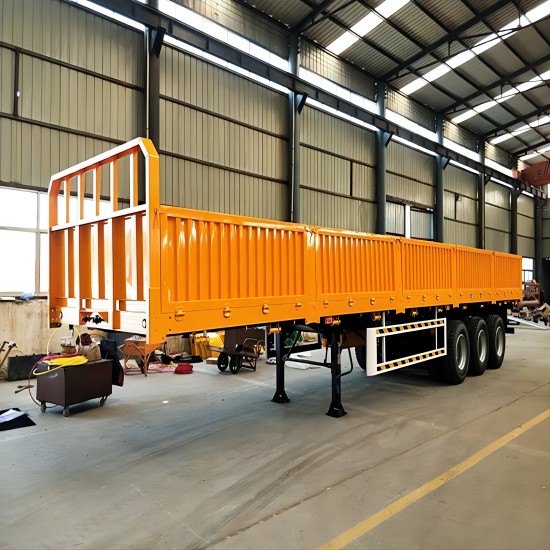 40 Foot Side Board Trailer
This 40 foot side board trailer for sale has 1200mm side wall. High-quality side wall ensure the stability and safety of loaded goods. YUHANG can design and customize side board trailer for you.
Manufacturer: YUHANG VEHICLE
Model: 40 foot side board trailer
Loading Capacity: 30-80 tons
Delivery Date: 10-25 days
Application: transport container, building materials and other bulk cargos
Enquiry
Description
Description:
40 foot side board trailer is based on the flatbed semi trailer with side board added, and is mainly used for transporting containers and bulk goods that are easy to fix.
Our 40 foot side board trailer working platform is the main load-bearing part, which is composed of main beams, longitudinal beams, bottom plates, suspensions, axles and other structures.
The side board structure of the trailer is available in vertical corrugation or horizontal corrugation design styles for you to choose, and the side board height can be customized according to customer.
YUHANG have 2/3/4 axle sidewall semi trailer for sale with loading capacity of 30/50/60/80/100 tons. Their quality is strong and durable, which can satisfy customers for long-term repeated use.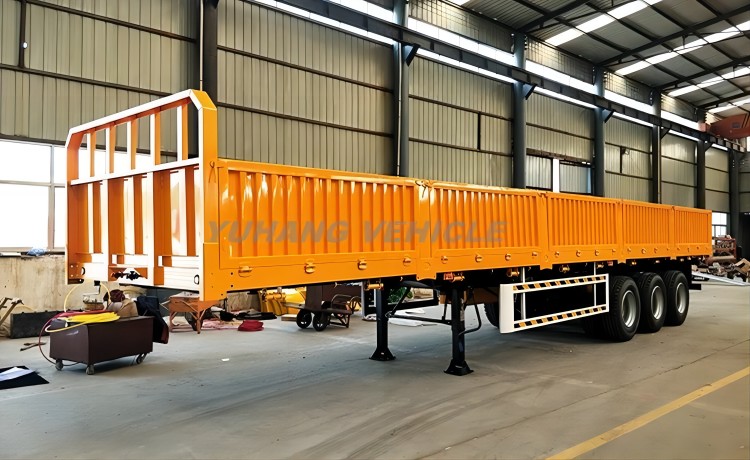 40 foot side board trailer for sale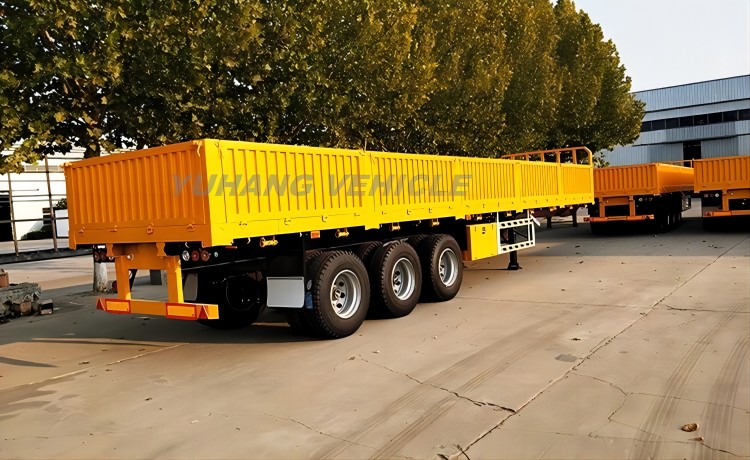 Tri axle sidewall semi trailer with best price
Advantage:
1. The 40 foot side board trailer adopts high-strength steel plate, which has higher loading capacity and longer service life.
2. Using automatic robot welding technology, the solder joints are tight and firm, and the weld seams are uniform and flawless.
3. The column and side board design structure can be completely disassembled to improve the speed of bulk cargo loading and unloading.
4. The whole vehicle is treated with shot blasting and rust removal, and sprayed with polyurethane paint, which greatly improves the paint adhesion.
5. High-quality side board trailer for sale reduce maintenance costs and increase attendance.
Specification:
Model: 40 foot side board trailer
Dimension(L*W*H): 12500x2500x3200mm
Tare Weight: about 7.5t
Loading Capacity: 30-80 ton
Founction: transport bulk cargo or 1*40ft container, 2*20ft container
Main Beam: height 500mm, upper plate 14mm, middle plate 8mm, lower plate 16mm, material high tension carbon steel
Side Beam: 16mm or 18mm channel steel
Platform: 3mm-thick checkered plate
Trailer Sidewall: 1200mm
Axles: 3 axles*13T/16T*FUWA/BPW brand
Tire: 12 units*12.00R22.5 or 315/80R22.5
Rim: 9.00-22.5 steel wheel rim
Suspension: heavy duty mechanical suspension
Spring Leaf: 90(w)mmx13(thickness)mmx10 layers or 100mmx12mmx12 layers
King Pin: JOST brand 2.0 or 3.5 inch traction pin
Landing Gear: JOST brand 28t lifting capacity with two speed
Twist Locks: 4/8/12 sets (lifting or screw type)
Brake Valve: WABCO valve
ABS: optional
Color: optional
Light: LED light
Voltage: 24V
Socket: 7-pin Socket (for 7 wire harness)
Painting: 1 layer of anticorrosive primer and 2 layers of top coats
Accessories: 1 set tool box, spare tire carrier
Shipping Terms: bulk carrier, Ro-Ro ship or container
---