1. What is a flatbed semi trailer?
Flatbed semi trailer, also known as flatbed truck trailer, has no railings on the vehicle, and is mainly used to transport bulk goods that are easy to fix and standard-sized containers .
Simply put, flatbed semi trailers are 20 foot, 40 foot, 45 foot, 48 foot and 53 foot horizontal platforms, of which 20 foot and 40ft flatbed semi trailer are the most used.
The exposed platform of the flatbed trailer can be equipped with 4/8/12pcs high-quality twist locks, which are convenient for fixing containers of different sizes and ensure safe and efficient transportation.
The load capacity of the flatbed semi trailer ranges from 30 tons to 90 tons. The length and specific configuration of the trailer can be designed or customized according to the transportation needs of customers.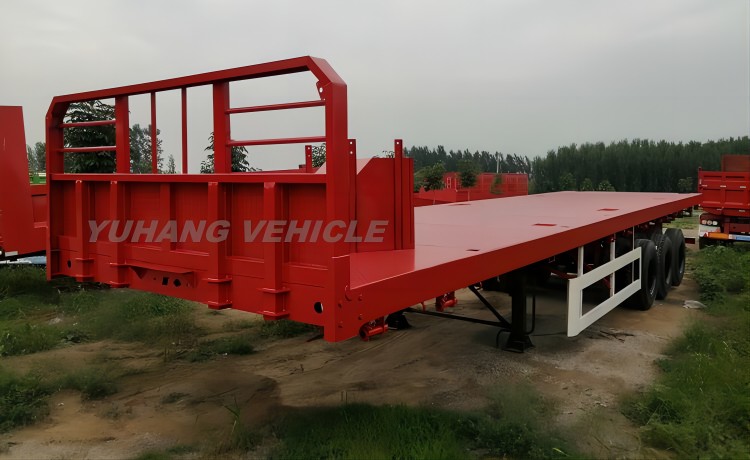 3 axle flatbed semi trailer for sale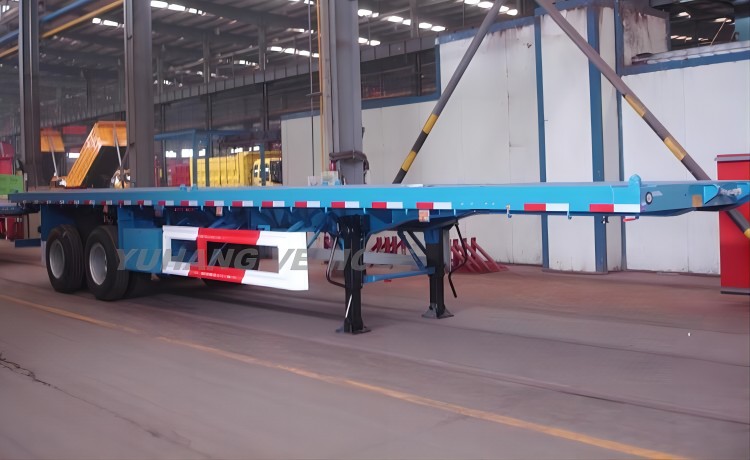 2 axle container flatbed trailer with best price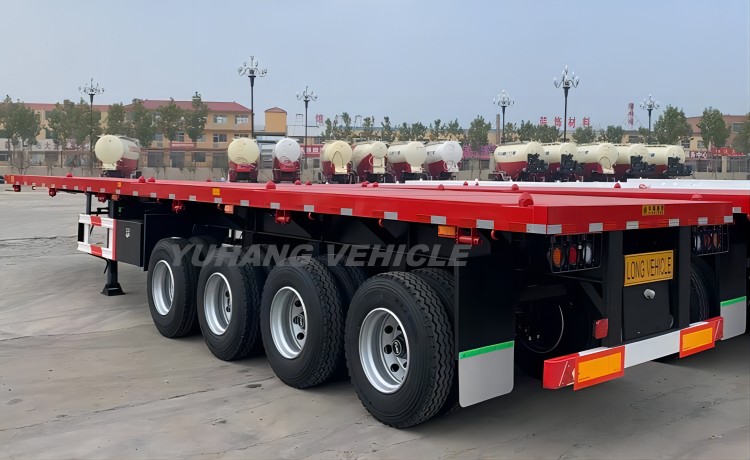 YUHANG brand 4 axle flatbed truck trailer
2. Application function of flatbed semi trailer
The flatbed semi trailer is carefully designed and manufactured to achieve the required height and load level to safely and efficiently transport containers or other goods from one place to another. Effectively realize multimodal intermodal transportation in docks, ports, waterways, highways, transfer stations, bridges, tunnels and other scenarios.
The flatbed semi trailer is sturdy and durable, with a large loading capacity, strong adaptability, and longer service time. It is a good helper for your business development and promotion. Based on numerous application functions, it will make your investment in 20ft/40ft flatbed trailer more beneficial.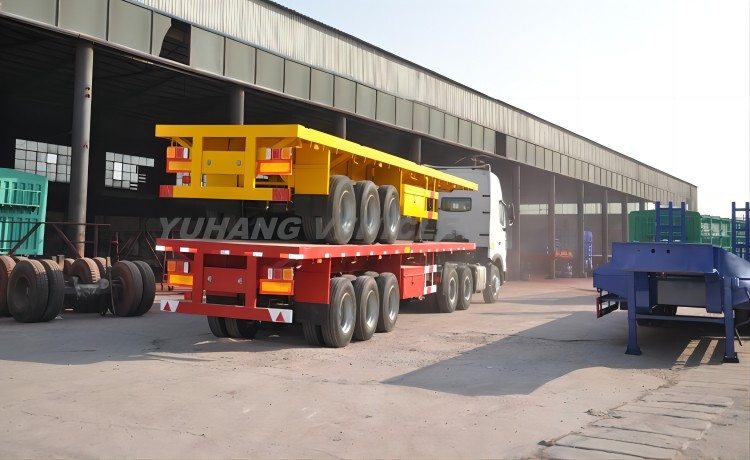 Tri axle container flatbed transport trailer
3. Flatbed trailer specifications & load capacity
YUHANG factory has different specifications and configurations of flatbed semi trailers for sale, such as: 40 feet 3 axle flatbed trailer, 3 axle flatbed trailer with front board, 2 axle container flatbed trailer, and 4 axle 48 foot flat bed trailers, etc. They can carry 30-90 tons of cargos. Of course, flatbed trailers with different configurations and specifications have different prices.
We have a complete design service team and are very familiar with the load requirements and local regulations of various countries, so we can better provide you with the design and customization services of flatbed container trailers. This is very important for you to make the right choice.
4. YUHANG flatbed trailer drawing, video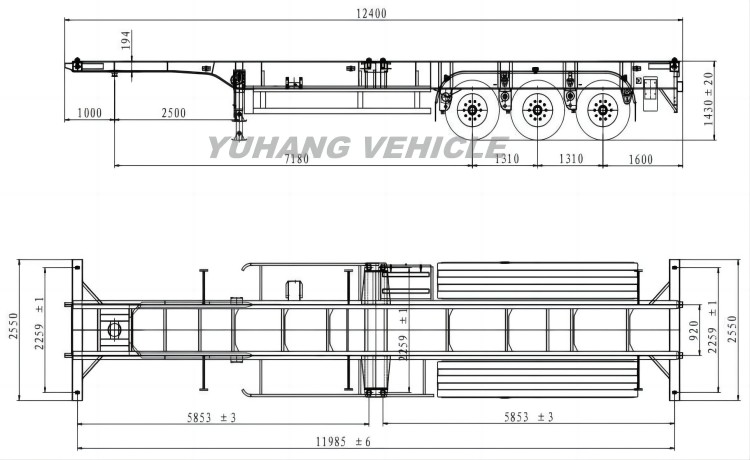 3 axle 40 feet flatbed truck trailer technical drawing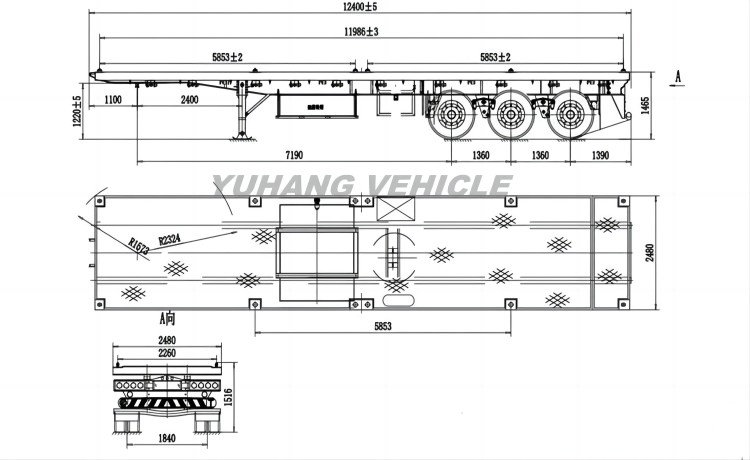 Triple axle 40ft flatbed trailer drawing show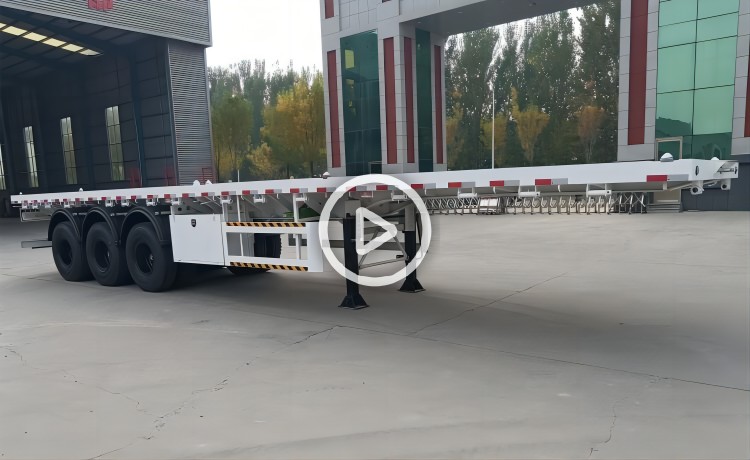 3 axles flatbed container trailer for sale
5. Flatbed semi trailer technical parameters
Each one flatbed trailer has its own dimensions and technical parameters, and these specifications are very useful and can help you buy the right flatbed truck trailer.
The following is the technical data of the 20 feet and 40 feet flatbed semi trailers.
Brand: YUHANG flatbed semi trailer for sale
Dimensions: 12500/13500*2500*1550mm
Application: transport 20ft, 40ft standard ISO container
Tare Weight: 7-9 tons
Payload: 30-60t or support customization
Main Beam: height 500mm, upper plate 14mm, middle plate 8mm, bottom plate 16mm, material Q345B steel
Platform: 3mm-thick checkered plate or customized
Axles: 2 axles/3 axles/4 axles BPW/FUWA brand
Tire: 11.00R20, 12.00R20, 12R22.5, 385/65R22.5
Twist Locks: 4-12 sets
King Pin: 2.00 or 3.5 inch JOST brand
Landing Gear: JOST brand 28T lifting capacity
Suspension: mechanical suspension or air suspension
Leaf Spring: 90mm(w)*16mm(t)*10 layer thicken type
Brake Valve: WABCO brand valve
Accessories: one standard tool box
Light: LED light
Color: optional
6. Main components of flatbed trailer:
Main Beam:
It is integrally cut from high-strength steel plates, which improves the anti-torsion, anti-vibration, and anti-turbulence capabilities of the trailer, and meets the load-bearing requirements of different road surfaces.
Suspension:
The suspension system of the flatbed trailer can choose heavy mechanical suspension or air suspension.The mechanical suspension is mainly composed of leaf springs, suspension brackets, pull rods, U-shaped bolts and other parts. Large load carrying capacity, low cost and easy maintenance.The air suspension has an airbag-type air spring, which is light in weight, and the air medium in the airbag has low friction, low noise and long service life.
Axle:
All trailer axles are FUWA/BPW/SAF axles of world-renowned brands, with good safety operation data and reliable quality.
Tire:
The wear-resistant anti-skid tires specially developed by the factory for semi trailers can be safely used for 300,000 kilometers.
Landing Gear:
The landing gear is the supporting device of the flatbed trailer, which is mainly used when the flatbed semi trailer is separated from the tractor.
Brake System:
The WABCO brake system is selected, the principle is to convert it into mechanical kinetic energy through compressed air to make the trailer produce braking reaction and stop.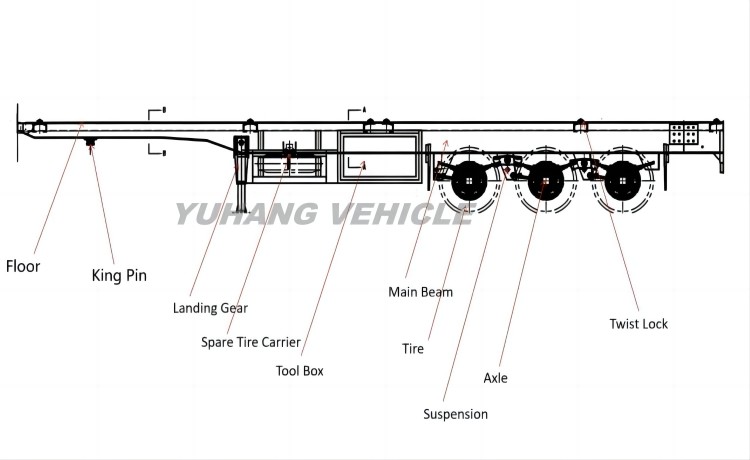 Our flatbed semi trailer components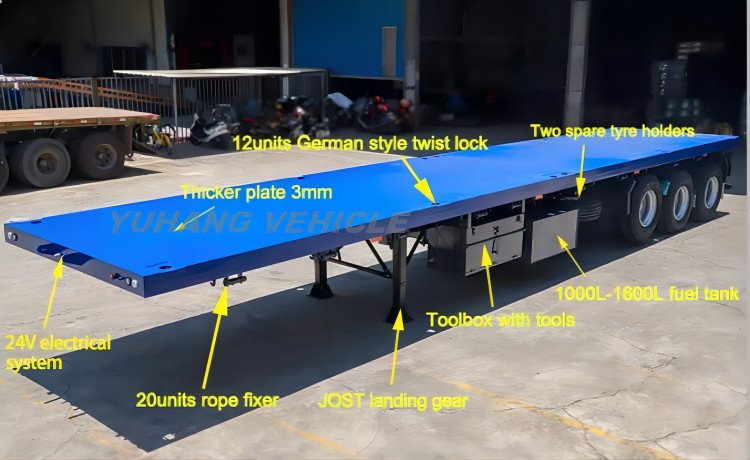 Semi flatbed trailer structure diagram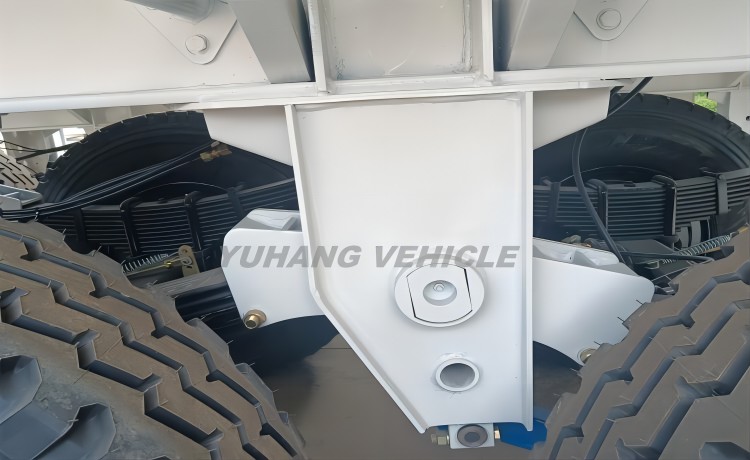 Flatbed container trailer —– mechanical suspension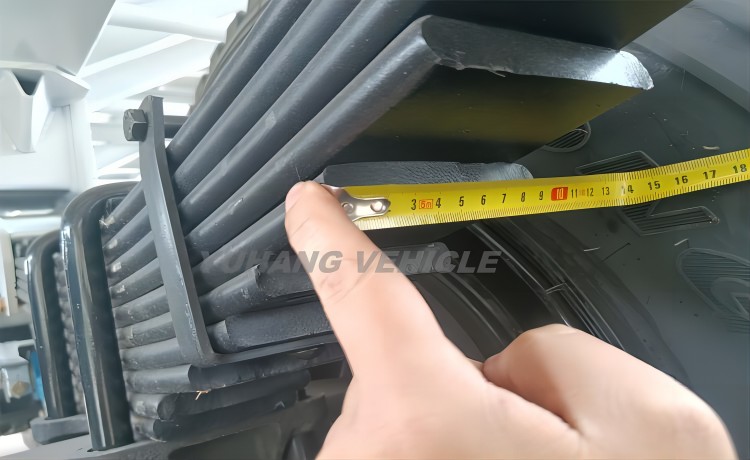 Semi flatbed truck trailers——–leaf spring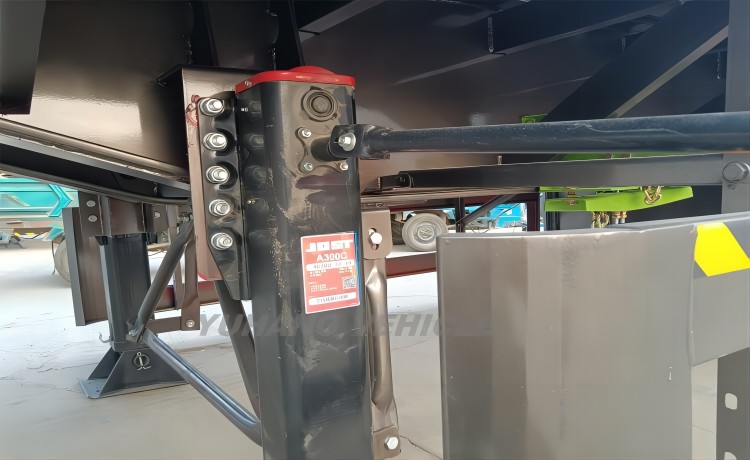 YUHANG flatbed semi trailer landing gear
7. YUHANG flatbed semi trailer packaging and transportation plan
As a professional truck trailer manufacturer, YUHANG has successfully sold flatbed semi trailers to more than 40 units countries including Zambia, Senegal, Uganda, Zimbabwe, Philippines, Vietnam, Saudi Arabia, Uruguay, etc. We have more advantages in sales price and quality control of 40ft, 48ft flatbed trailers. All flatbed container trailers for sale undergo rigorous in-house testing and gravity testing before delivery to ensure the highest working quality. Moreover, we will also spray a layer of wax on the 40 feet and 48 feet flatbed trailers to prevent erosion from seawater and rain, and then wrap them with a layer of tarpaulin. The double-layer transportation guarantee plan is only for each of our customers.
What we currently use most is to use Ro-Ro ships, bulk carriers and high cabinet containers to transport flatbed semi trailer price.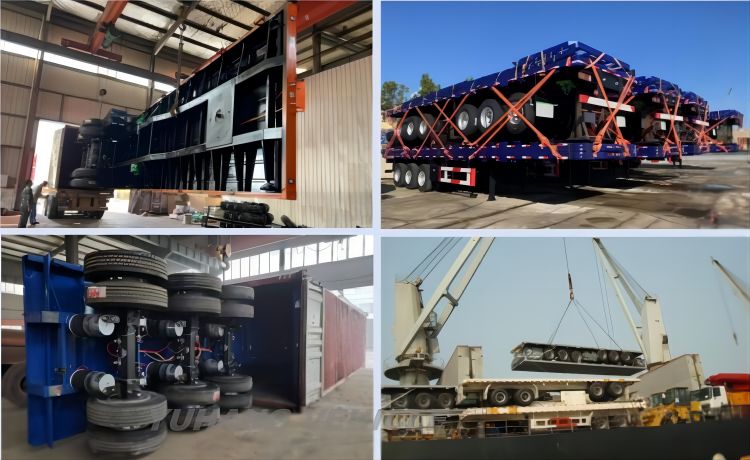 Different modes of transport method with flatbed trailer
8. How to choose a high-quality flatbed trailer?
1. First of all, we need to clearly know the properties of the transported goods or the size and weight of the container to determine whether the flatbed semi trailer is up to the job. You can tell YUHANG VEHICLE staff, they will provide you with professional advice and shipping solutions.
2. Whether the local laws and regulations have strict weight restrictions on the flatbed trailer, so that the flatbed trailer can be updated or modified according to the actual situation to meet the loading requirements.
3. How is your local road or flatbed trailer working environment? This is very important, because the road conditions are not good, we need to make adjustments to ensure that the flatbed semi-trailer can work better.
4. Whether it is used for a long time, we will recommend customers to adopt some cost-effective configurations and specifications, which is related to the life of the flatbed trailer.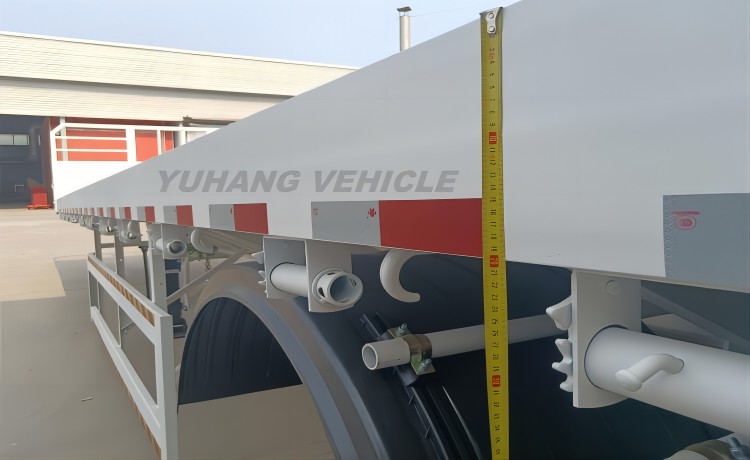 Semi flatbed trailer for sale specification, height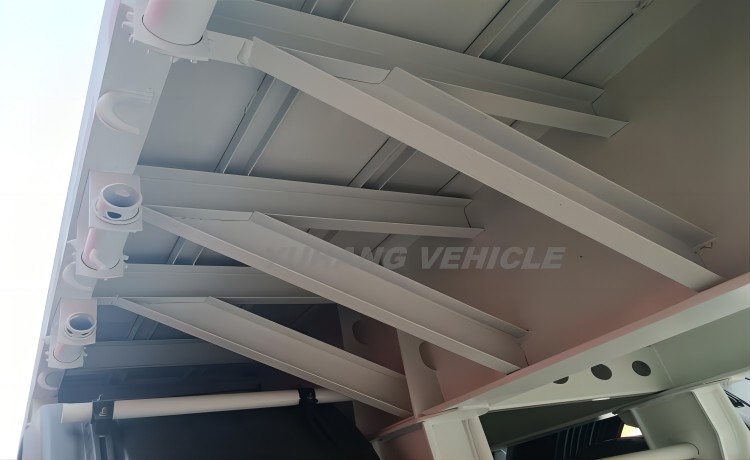 Flatbed trailer frame support structure—–more durable
9. Advantages of YUHANG flatbed trailers
● We are a physical factory, selling 20 foot, 40 foot, 45 foot flatbed semi trailers directly, without middlemen to earn the price difference and save costs for customers.
● Robotic automatic welding technology is used to weld the main structure of the trailer throughout the whole process. The weld seam is even and full, with high welding quality, no flaws, and no missing welding.
● YUHANG has been established for more than 20 years, and has invested a lot of manpower and material resources in technical updates and improvements every year to ensure that trailers always have the best quality and performance.
● All 2 axle, 3 axle and 4 axle semi flatbed trailer for sale must go through strict loading test and compression test before leaving the factory.
● Spray a layer of anti-corrosion primer first, and then spray high-quality polyurethane paint, which is corrosion-resistant and beautiful in appearance.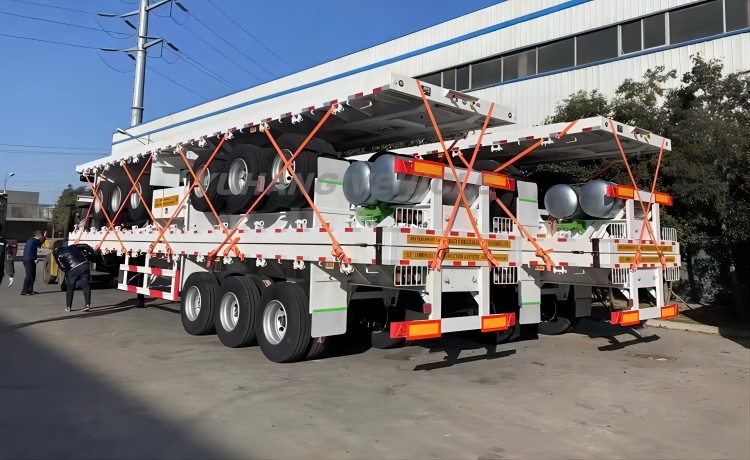 6 sets flatbed container trailers purchased by customers from Zimbabwe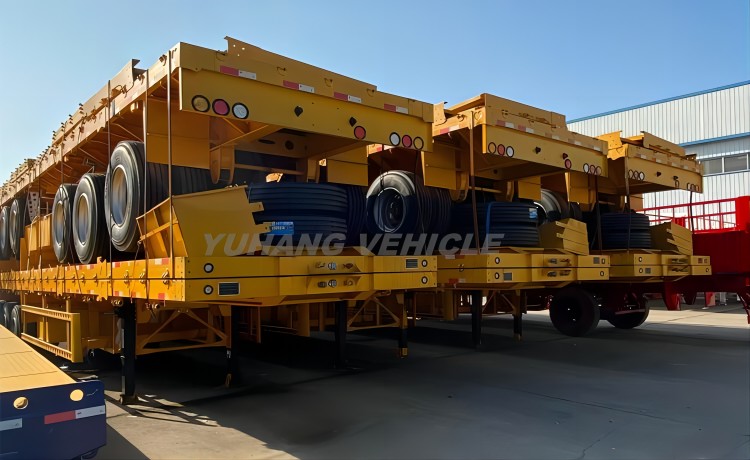 Tri axle flatbed truck trailer will be sent to Malawi
10. YUHANG flatbed trailer successful case
A Saudi customer purchased 10 sets of tri axle flatbed trailers from YUHANG. The quality of our flatbed semi trailers and the service of our account manager Jason far exceeded the expectations of the customers. The customer gave us a thumbs up, and strongly expressed that he would recommend his friends to buy YUHANG trailers.
Customers in Malawi contacted us immediately after seeing our 4 axle flatbed container trailer on the Internet. After a short communication, a deposit was made, and we are very grateful for the choice made by the customer. We immediately contact the factory for drawing, customer confirmation, production, contact the forwarder to book space, and deliver the goods. The customer quickly received his favorite flatbed truck trailer, and later reported that the use process was very smooth without any failure, which made his transportation business to a higher level.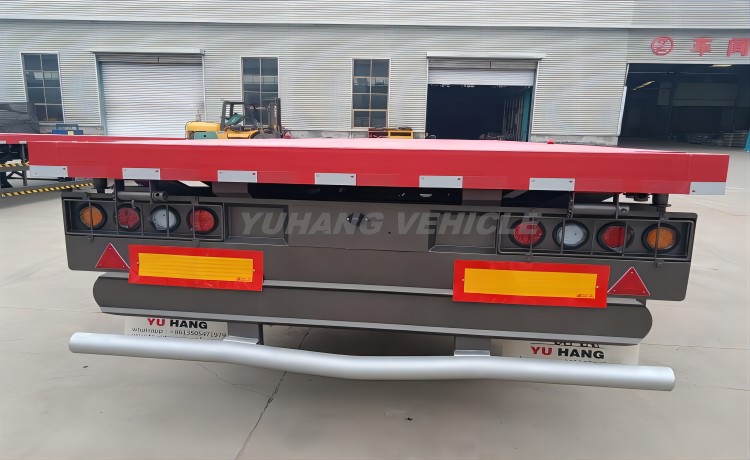 20ft/40ft/45ft flatbed semi trailers for sale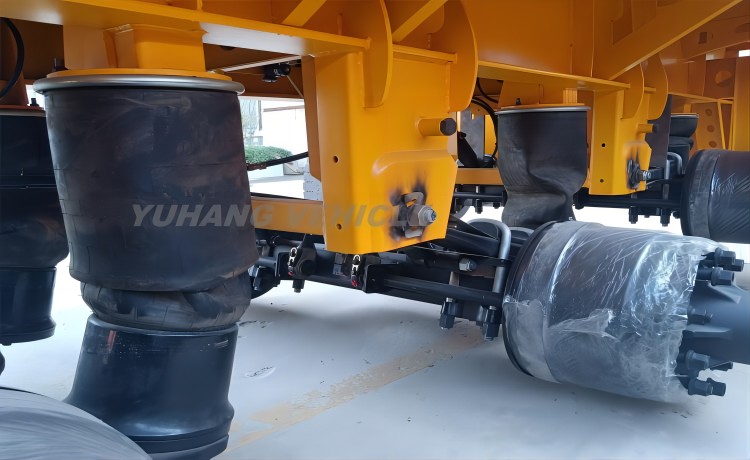 Tri axle flatbed trailer sale with air suspension
11. Precautions for flatbed semi-trailer
1. When driving a flatbed trailer, drivers should keep a safe distance of at least 100 meters from the vehicle in front to ensure stable driving and avoid emergency braking to avoid potential accidents.
2. The inspection method of the tri axle flatbed semi-trailer is very important, especially the tires. Be sure to always pay attention to the wear of the tires, otherwise it will affect the safe driving of the vehicle.
3. When encountering a narrow road, you should reduce the speed in advance so that the vehicle's moving inertia subsides, and then pass slowly.
4. Special attention should also be paid to driving at night. When the 40 foot flat bed container trailer is running at night, the lighting will bring a certain illusion, so pay more attention to the nearby road conditions and pedestrians.
5. Rainy days are also a period of high incidence of accidents. You must pay attention to your skills, because the water mist rolled up by the wheels of the flatbed semi-trailer will be very large, which will affect the driver's sight.
12. Inspection and maintenance of flatbed trailer
Flatbed semi trailers need to do basic inspection and maintenance work, which can avoid unnecessary safety hazards and reduce use costs.
The inspection contents of the three axle flatbed container trailer include:
Whether the tire has cut marks, scratches, bulges, tread wear and tire pressure is normal.
Check whether there are cracks in the weld seam of the suspension support, and whether the tire bolts and U-shaped bolts are loose.
Whether the hub is cracked or deformed.
Check whether the brake pipeline system and brake drum are worn, damaged or cracked, and ensure that the brake is normal without delay.
All parts of the supporting device are intact and can be lifted and retracted normally.
There are no cracks, wear and air leakage in the wire harness and air pipe, and the connection of the wire harness connector is intact.
The lamps are functional and clearly visible.
Whether the king pin wear exceeds the normal value.
There is no loosening of other fasteners, no cracking of welds, and no obvious wear and aging of rubber parts.
The maintenance items of the 40 feet flatbed trailer are:
Disassemble and inspect the wheel hub system, clean the shaft head and inner and outer bearings, and replace with qualified new grease. Check the bearing wear, check the working performance of brake pads, brake drums and other components, and repair and replace them in time.
Inject or smear butter in time on semi trailer legs, adjusting arms, camshafts, balance beam pins, leaf springs and other parts.
Looking forward to your inquiry!
We will 100% sincerely provide you with related services and consultations on flatbed semi trailers, container chassis trailers, flatbed trucks. Welcome to you contact us.