🔍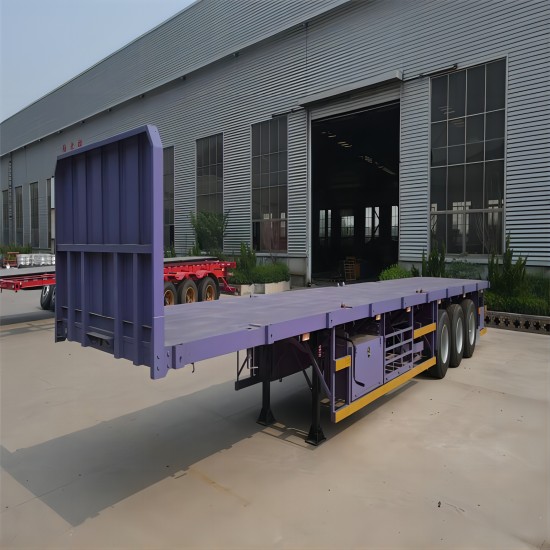 40FT Flatbed Semi Trailer
40ft flatbed semi trailer is the most popular vehicle type among customers. YUHANG can also provide 2/3/4 axles, 20/45/48 foot flatbed trailers, which can load 30-90 tons.
Manufacturer: YUHANG VEHICLE
Model: 40ft flatbed semi trailer
Material: high-strength wear-resistant steel plate
Delivery Date: 10-25 days
Application: transport bulk cargo or standard size containers
Enquiry
Description
Description:
40ft flatbed semi trailer for sale with the best price, it is a special vehicle suitable for transporting and transferring bulk goods and containers between inland and docks.
YUHANG VEHICLE flatbed semi trailers made of high-strength steel plates have higher loading capacity and longer service life. Saving costs for customers and create more profit value.
We can provide flat bed trailers with different loading capacities from 30 tons to 90 tons according to the transportation requirements of customers, and the length and height of the flatbed trailer can be customized.
Meanwhile, we have 20ft flatbed trailer, 2 axle/3 axle/40ft/45ft flatbed semi trailer and 4 axles 48ft and 53ft flat bed trailers for sale.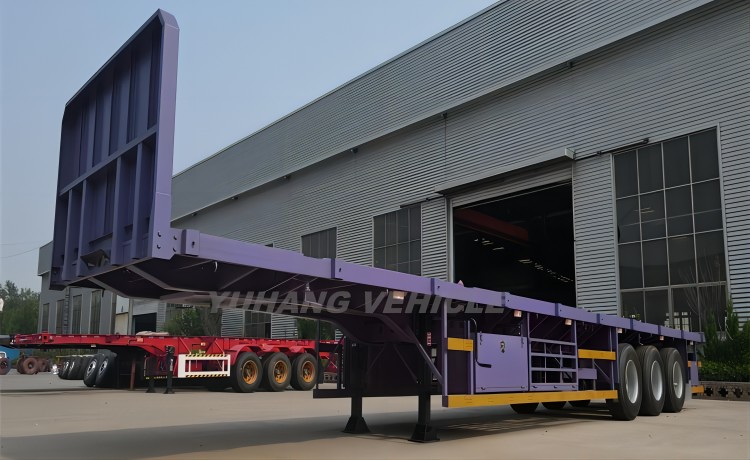 40ft flatbed semi trailer for sale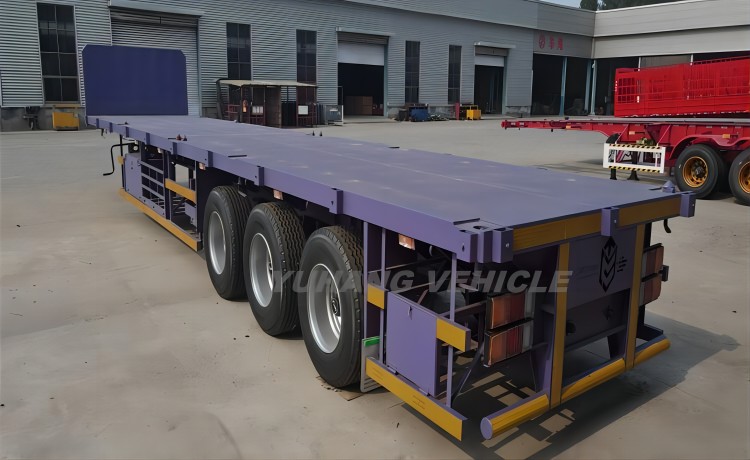 3 axle flatbed trailer with the best price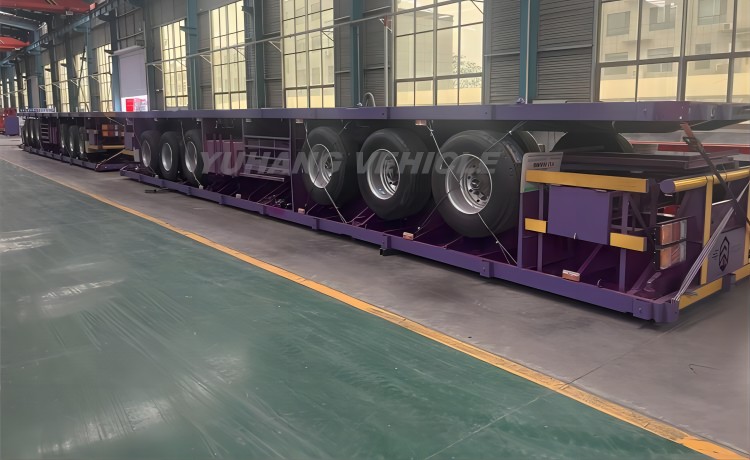 Our flatbed container trailers will send to Saudi customer
Advantage:
1. The 40ft flatbed semi trailer adopts automatic submerged arc welding to weld the main beam, which increases the carrying capacity of the flatbed trailer for sale.
2. The trailer platform adopts a 3mm thick non-slip floor to increase the safety and stability of cargo transportation.
3. The thickened and widened mechanical suspension is adopted to make the flatbed trailer stronger and more durable.
4. Spray polyurethane paint to make the vehicle more beautiful and effectively protect the color of the body.
5. YUHANG flatbed semi trailer has reasonable structure, convenient operation, low investment cost, and can have a longer service time.
Specification:
Dimension(L*W*H): 12500*2500*1550mm
Payload:60 ton or customized
Application: transport 20/40ft/45ft container
Main Beam: height 500mm, upper plate 14mm, middle plate 8mm, bottom plate 16mm, material Q345B steel plate
Side Beam: 16mm or 18mm steel channel (material: Q235 steel)
Platform: 3mm-thick checkered plate
Axles: 3 units*16 tons Fuwa/BPW brand
Tire: 12 units*12.00R20/11.00R20/12R22.5
Landing Gear: JOST brand
King Pin: 50(2 inch)#or 90(3.5 inch)# bolted type
Suspension: mechanical suspension or suspension
Spring Leaf: 90(w)mmx13(thickness)mmx10 layers or 100(w)mmx12(thickness)mmx12 layers
Brake System: WABCO brake valve
Twist Locks: 4/8/12 sets (lifting or screw type)
ABS: optional
Tool Box: one standard toolbox
Shipping Terms: bulk carrier, Ro-Ro ship or container
---