🔍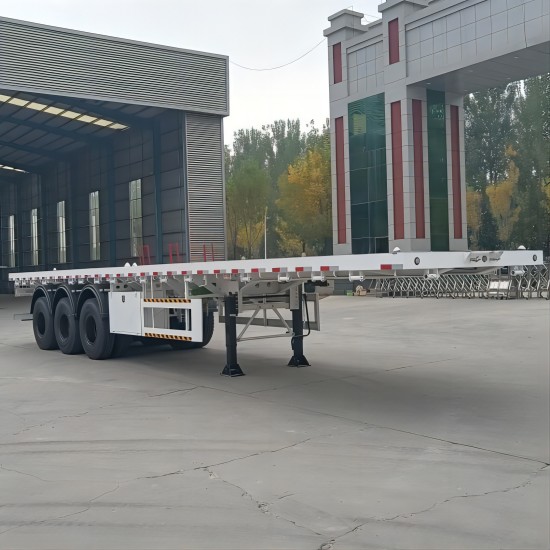 40 Foot Flatbed Container Semi Trailer
40 foot flatbed container semi trailer for sale, it is our best-selling trailer, which can transport 1*40ft and 2*20ft standard container. With strong transportation capacity and high work efficiency.
Manufacturer: YUHANG VEHICLE
Model: 40 foot flatbed container semi trailer for sale
Material: high-strength wear-resistant steel plate
Delivery Date: 10-25 days
Application: transport bulk cargo or standard size containers
Enquiry
Description
Description:
The working platform of the 40 foot flatbed container semi trailer is the main load-bearing part, which is composed of "I"-shaped main beam, cross beam, side beam, bottom plate, suspension, axle, leaf spring and other structures.
YUHANG VEHICLE can provide 2/3/4 axle, 20ft, 45ft, 48ft flatbed semi trailer for sale. The length and height of the falt bed trailer can be made according to the needs of customers.
All flatbed trailer sold will be rigorously tested by professional technicians before delivery to ensure that they are of the best quality.
Each one flatbed trailer has its own load level and specifications to meet the needs of customers. At the same time, we support customizing different models of flatbed semi trailer.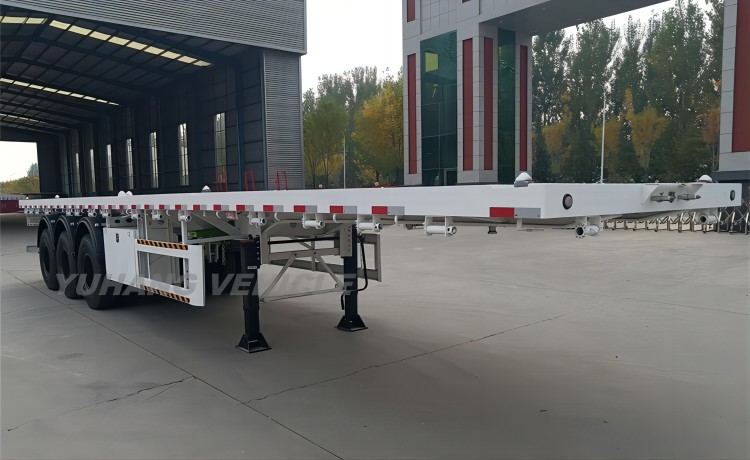 40 foot flatbed container semi trailer for sale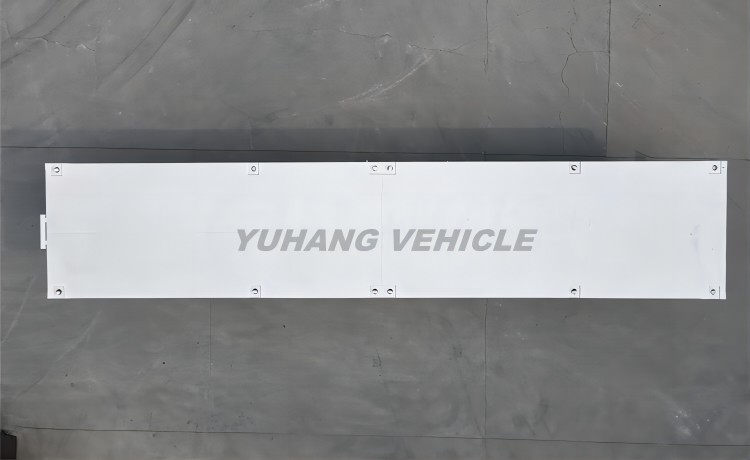 Triaxle flatbed semi trailer price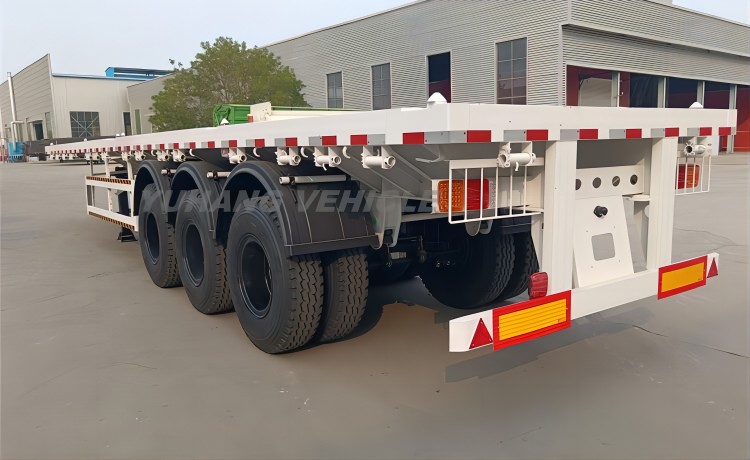 China flatbed trailer supplier–YUHANG
Advantage:
1. The main beam of the 40 foot flatbed container semi trailer adopts high-strength steel plate, and its yield strength is twice that of manganese steel and three times that of ordinary steel.
2. It adopts thickened leaf spring suspension, which has large bearing capacity, good stability, low investment cost and convenient maintenance.
3. YUHANG adopts a fully automatic bottom plate welding machine, which automatically tracks the edge of the welding bottom plate; the welding seam is tight and strong, the welding quality is high, and it is green and environmentally friendly.
4. High-quality 12 sets twist locks are installed on the corresponding positions of the four corners of the bottom of the flatbed trailer to ensure safe and efficient container transportation.
5. All flatbed trailer are sprayed with wax and covered with tarpaulins during sea transportation to protect them from sea water and rain, preventing paint peeling and rusting.
Specification:
Dimension(mm): 12500x2500x1550mm
Loading Capacity: ≤90 tons
Main Beam: height 500mm, upper plate: 14mm, middle plate: 8mm, bottom plate: 16mm, material: Q345B steel
Side Beam: 16mm or 18mm steel channel (material: Q235 steel)
Platform: 3mm-thick checkered plate
Axle: 3 axle*13T/16T*FUWA/ BPW brand
Tire: 12 units*12.00R22.5 or 315/80R22.5
Rim: 9.00-22.5
Suspension: mechanical suspension or air suspension
Spring Leaf: 90(w)mmx13(thickness)mmx10 layers
King Pin: JOST brand 2.0 or 3.5 inch (bolted or welded)
Landing Gear: JOST brand
Brake Valve: WABCO valve
Twist Locks: 12 sets (lifting or screw type)
ABS: optional
Light: LED light
Voltage: 24V
Socket(Receptacle): 7-pin Socket (for 7 wire harness)
Tool Box: 1m x 0.5m x 0.5m standard size
Painting: 1 layer of anticorrosive primer and 2 layers of top coats
---