🔍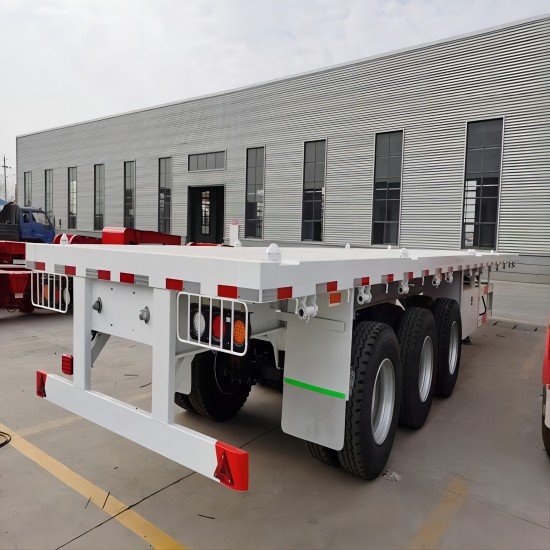 Tri Axle Flat Deck Trailer For Sale
We have 3 axle flat deck trailer for sale, mainly used to transport 20/40/45ft container or other bulk cargo. The loading capacity is 30-80 tons for you to choose.
Manufacturer: YUHANG VEHICLE
Model: tri axle flat deck trailer
Material: high-strength wear-resistant steel plate
Delivery Date: 10-25 days
Application: transport bulk cargo or standard size containers
Enquiry
Description
Description:
We provide tri axle flat deck trailer for sale can transport 30-80 tons bulk cargo or 20/40/45 feet standard containers. Among all tri axle flat deck trailer, the 20ft/40ft is the most popular model among customers.
Tri axle flatbed trailer is carefully designed to achieve the height and capacity required by customers to load and unload containers safely and quickly.
A standard tri axle flat deck trailer has no side walls and no roof. Generally speaking, the flatbed semi trailer is just a bare platform, and the length and width can be customized.
YUHANG has more than 15 years of export experience and is familiar with the traffic environment and policies of each country. We provide customers with flatbed semi trailer with the best adaptability.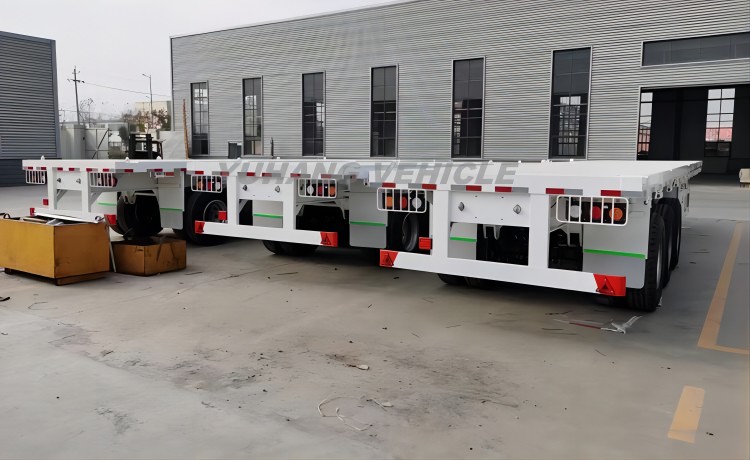 Tri axle flat deck trailer for sale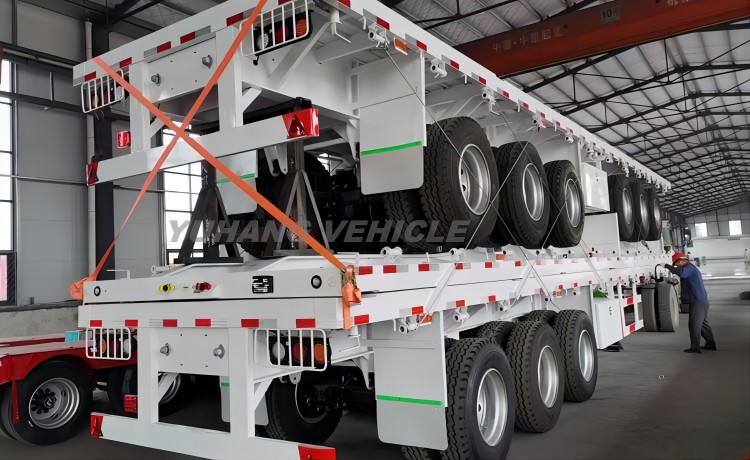 60 ton flatbed trailer with the best price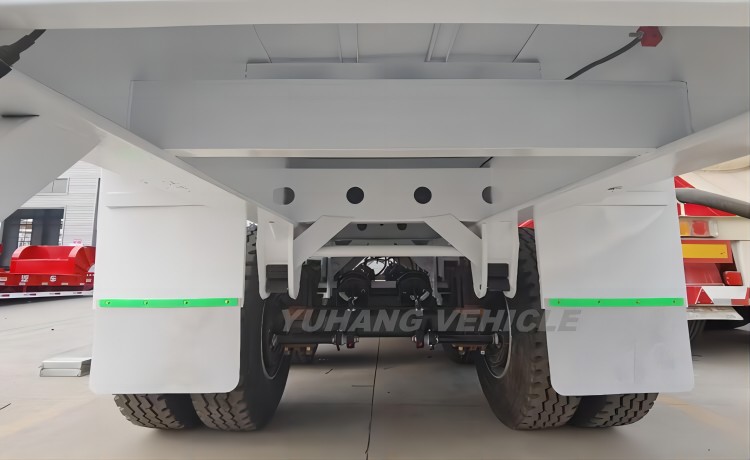 YUHANG brand new 3 axle flatbed trailer sale
Advantage:
1. The tri axle flat deck trailer adopts high-strength steel plate, which enhances the anti-deformation, anti-bump and anti-torsion capabilities of the trailer.
2. Fully automatic submerged arc welding technology is used to weld the main beam and longitudinal beam to make the frame stronger and more durable.
3. The whole vehicle is equipped with 12 units high-quality container twist locks to ensure the stability and safety of the transported goods.
4. The flatbed trailer for sale uses the model 12R22.5 vacuum tire, which has good heat dissipation performance and wear resistance.
5. Spray polyurethane paint to effectively protect the body from rust, make the vehicle more beautiful and prolong its service life.
Specification:
Model: tri axle flat deck trailer for sale
Dimensions: 12,000*2,500*1,550 mm
Application: transport 20ft, 40ft ,45ft container
Weight: about 8.0 tons
Main Beams: Q345B, upper plate14mm, middle plate 8mm, bottom plate 16mm
Platform: 3mm thickness checkered plate
Axle: 3 axles*13t/16t*FUWA/BPW brand
Tire: 12 sets*12R22.5
Suspension: mechanical suspension or air suspension
Twist Locks: 12 sets
King Pin: JOST brand
Spring Leaf: 90(w)mmx13(thickness)mmx10 layers
Landing Gear: JOST brand
ABS: optional
Brake System: WABCO valve
Electical System: 24V, LED lights
Accessories: 1 set tool box, spare tire carrier
Shipping Terms: bulk carrier, ro-ro ship or container
---