🔍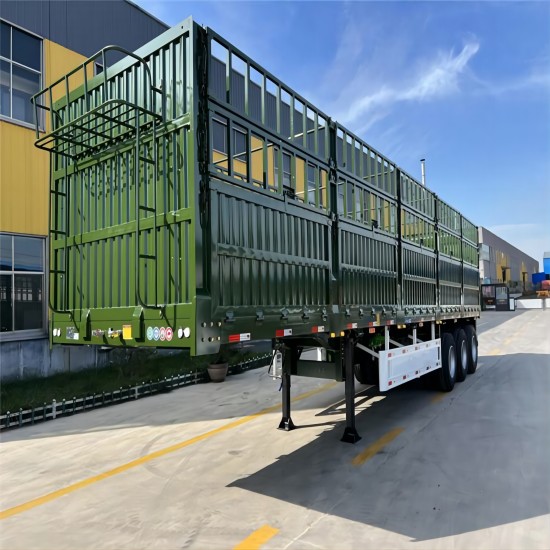 40 Foot Fence Cargo Semi Trailer
Our 40 foot fence cargo semi trailer is mainly used for transporting agricultural by-products, building materials, containers or other bulk goods. The loading capacity is strong, and the price is best.
Manufacturer: YUHANG VEHICLE
Type: 40 foot fence cargo semi trailer
Loading Weight: 30-80 ton
Delivery Date: 10-25 days
Application: transport bulk cargo or ISO container
Enquiry
Description
Description:
YUHANG factory 40 foot fence cargo semi trailer is widely used, mainly for loading poultry livestock, vegetables, bagged cement, packing cartons or other bulk goods.
The fence trailer is equipped with a fence structure on the basis of the flatbed semi trailer, and the height of the side wall is 600-2000mm for you to choose.
3 axle 40 foot fence trailer is our main best-selling vehicle, which has achieved success in many countries such as: Southeast Asia, the Middle East, Africa and South America market.
Our fence cargo semi trailers are equipped with twist locks to transport standard 20ft, 40ft, 45ft and 48ft containers. One type of vehicle has different usages and truly creates more value for customers.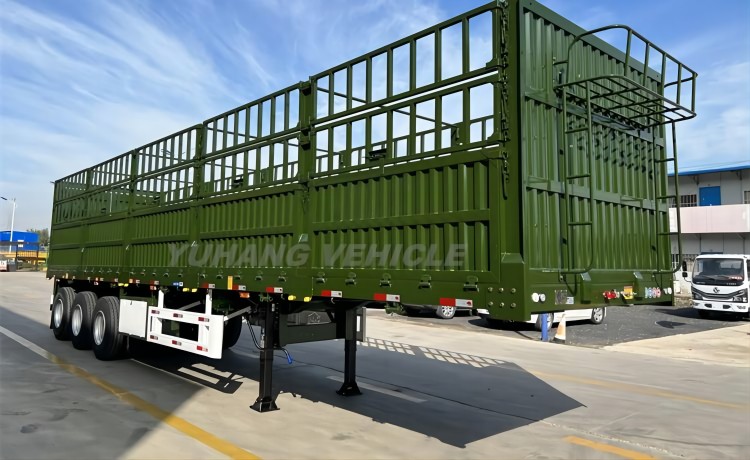 40 foot fence cargo semi trailer for sale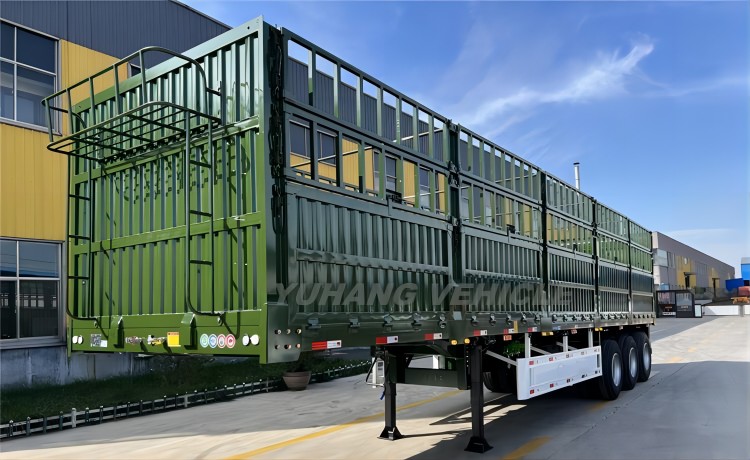 3 axle fence trailer with best price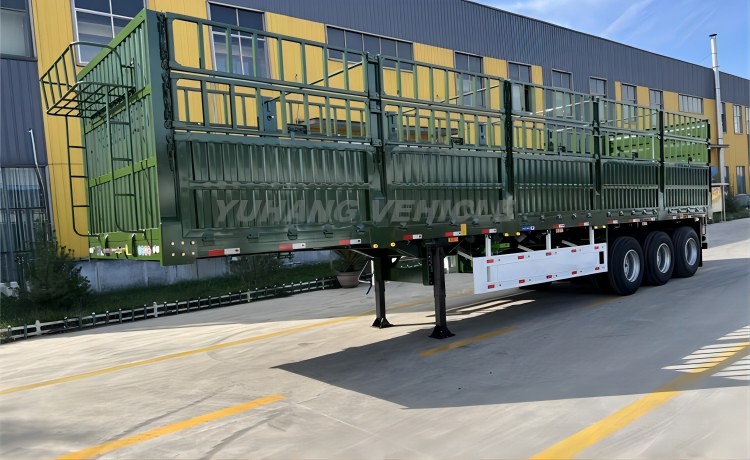 China first-class fence trailer manufacturer–YUHANG
Advantage:
● The frame adopts the space frame structure formed by integral welding of the longitudinal beam passing through the transverse beam, which increases the carrying capacity of the fence trailer and does not deform or break under heavy load.
● The robot automatically tracks the welding fence cargo semi trailer throughout the whole process, the solder joints are dense and strong, and the welding quality is high and flawless.
● Equipped with new type mechanical suspension system, it can balance the load between the axles and reduce the friction between the tire and the ground.
● The accessories are world-renowned brand products with long service life and low maintenance cost.
● YUHANG has its own physical factory and supplies fence trailers directly to customers with a competitive price.
Specification:
Manufacturer: YUHANG 40 Foot Fence Cargo Semi Trailer
Dimension(mm): 12500x2550x3450mm
Trailer Sides: 1800mm
Loading Capacity: 30-80 ton
Main Beam: height 500mm, upper plate 14mm, middle plate 8mm, bottom plate 16mm, made of Q345B steel
Side Beam: 16mm or 18mm Q235 channel steel
Platform: 3mm-thick checkered plate
Axle: 3 axle*13T/16T*FUWA/BPW brand
Tire: 12 units*12.00R22.5 or 315/80R22.5
Rim: 9.00-22.5 or 9.75-22.5
Suspension: mechanical suspension
Spring Leaf: 90(w)mmx13(thickness)mmx10 layers or 100mmx12mmx12 layers
King Pin: JOST brand 2.0 or 3.5 inch (bolted or welded)
Landing Gear: JOST brand double speed, external 28 ton
Twist Locks: 4/8/12 sets (lifting or screw type)
Brake Valve: WABCO valve
ABS: optional
Color: optional
Light: LED light
Voltage: 24V
Socket: 7-pin Socket (for 7 wire harness)
Painting: polyurethane anti-corrosion paint
Accessories: one standard tool box, spare tire carrier
Shipping Terms: bulk carrier, Ro-Ro ship or container
---