Our 3 axle flatbed truck trailer with front wall will be shipped to South Sudan customer again. First of all, we are very grateful to our respected South Sudanese customer for their trust and choice of YUHANG factory, which will effectively protect all the rights and interests of customers. Although it is the first time for customer to purchase products from China, we will do all the service and after-sales work well.
The customer from South Sudan saw the video of the YUHANG factory's container flatbed truck trailer undergoing experimental testing on the Internet, and he was very interested in this vehicle. So, the customer searched our website and left his demand information. The sales manager Jason established contact with the customer and sent many pictures and video materials of the 3 axle flatbed trailer with front board.
At the same time, Jason provided a lot of very practical suggestions to the customer, and recommended a 3 axle flatbed truck trailer with front wall for container transportation according to the customer's actual needs. Moreover, our technical engineers configure air suspension and large-size vacuum single tires for customer. These detailed changes can effectively improve customers' work efficiency and vehicle loading level.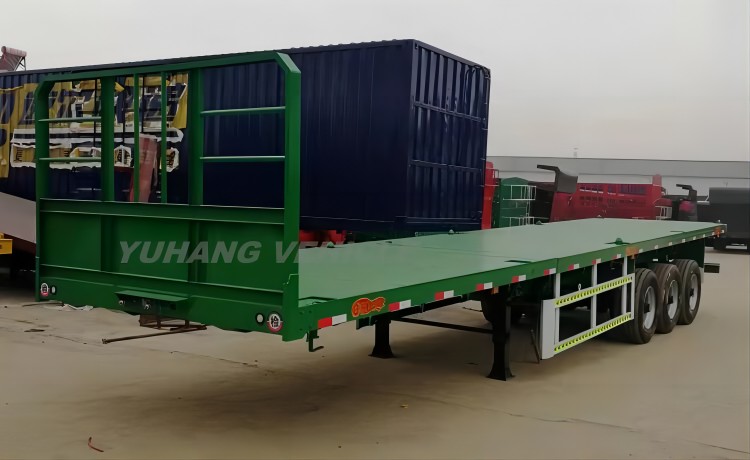 After about a month, the customer finally decided to issue a purchase contract to us. Everything in the transaction between us is so smooth and comfortable, and at the same time, it further strengthens the customer's understanding of the YUHANG brand. Our production team will strictly guarantee the quality of the vehicle 100%, and speed up the manufacturing and transportation to the port designated by the customer.
3 axle flatbed truck trailer is mainly used for transporting containers and other bulk goods. We have exported a large number of flatbed semi trailer to more than 60 countries in Africa, the Middle East, Southeast Asia and South America. Many loyal customer groups and good market reputation have been accumulated in the local area, and they all trust and love YUHANG very much.
We have a professional packaging and shipping team, and will recommend the best solution according to the specific requirements of customers, which can help customers save a lot of time and cost. In addition, we will also spray wax and cover tarpaulins on all flatbed truck trailers, which can effectively prevent seawater erosion and rust.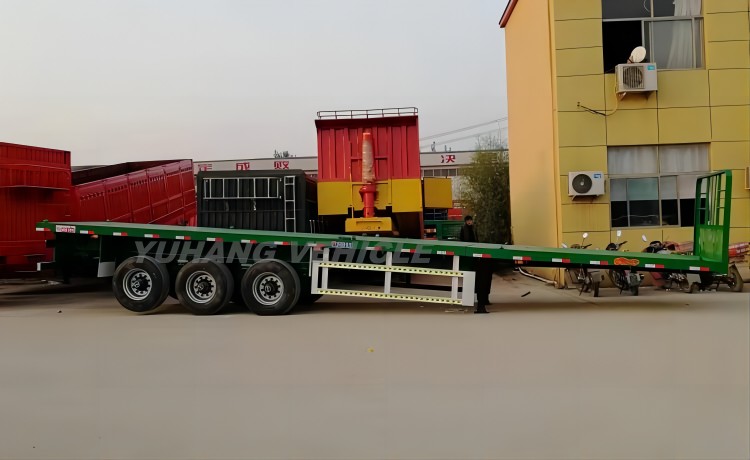 Our flatbed semi trailer can be used to transport 20ft, 40ft, 45ft, 48ft and 53ft containers, also called container flatbed semitrailer. Among them, the 3 axle flatbed semi trailer is a very popular model of YUHANG, equipped with 12 twist locks, it can transport 2*20ft container or 1*40ft container.
The cargo carrying weight of the 3 axle flatbed truck trailer with front wall for sale is mainly concentrated in the middle and rear half area of the vehicle. We will strengthen the carrying capacity of the main beam, axle, suspension and tires of the vehicle, so that the container flatbed semi trailer has a more reasonable load-bearing structure and performance, which can meet all your basic transportation needs.
YUHANG factory adopts advanced computer drawing software, modular design, intelligent laser cutting machine and the latest robot welding technology. All processes from the design source to the completion of product processing implement strict industry standard process requirements to ensure that our customers What you get is a premium product of the highest quality.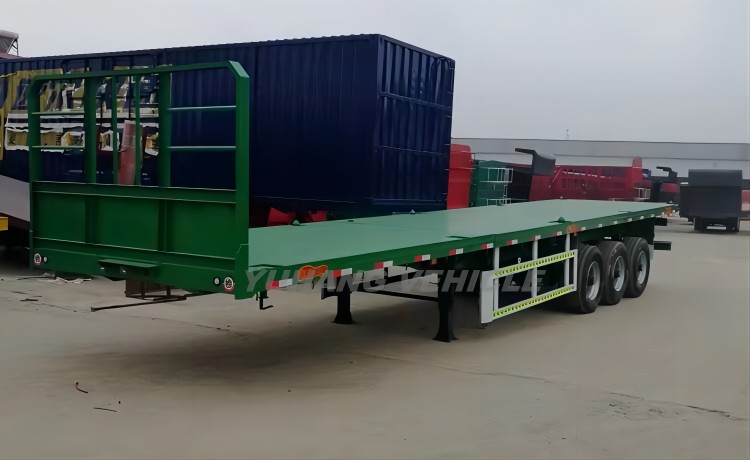 Single tire trailer is also known as large single tire trailer and 6-wheel semi trailer. Single tire is also called ultra-wide tubeless tire. It has obvious advantages and characteristics: good fuel saving effect, 10% fuel saving compared with ordinary double tire semi trailer; better stability during driving, best heat dissipation effect, and the probability of tire blowout is very small, and the safety performance is higher.
Moreover, the single tire is more wear-resistant, has better dynamic balance performance, and greatly improves driving comfort, making it more suitable for long-distance, high-speed, long-term running. Ultra-wide tubeless tires are economical, lightweight, energy-saving and environmentally friendly tires, which can effectively reduce transportation costs fundamentally and improve efficiency and profit value for you.
Optional specific air suspension and disc brakes, this system is continuously optimized and upgraded on the basis of the performance characteristics of traditional air suspension and disc brakes, the performance of the vehicle is greatly improved, so that it has good guiding ability and super reliability performance and stability, and can adapt to more complex, bad and rough road environments.
You can learn about different types of flatbed semi trailer, such as: 2 axle flatbed semi trailer, tri axle flatbed truck trailer, 60/80 ton flatbed trailer, etc., including manufacturing process, quality testing, packaging and transportation plan and customer feedback.
If you are interested in the benefits and features of this flatbed truck trailer, please contact us for the latest exclusive quatation.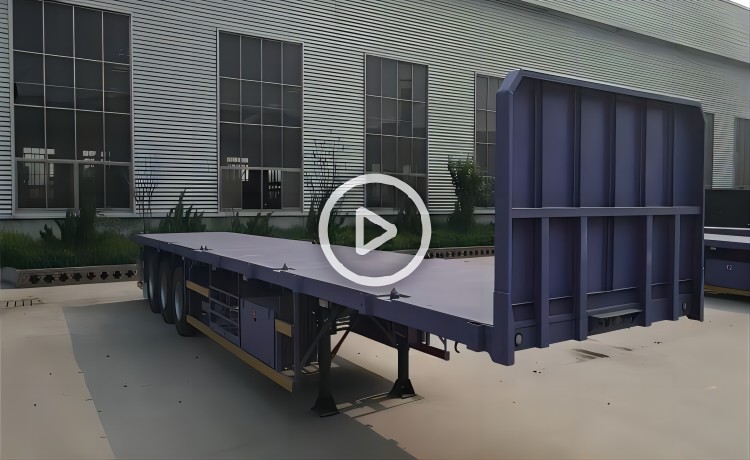 ---