First of all, congratulations on the YUHANG brand 4 axle 80 ton sidewall semi trailer for sale in Côte d'Ivoire again. The picture you see now is shown as: Our factory technical engineers are packing and transporting the 4 axle sidewall semi trailer. They all have rich experience, especially the details will be very good, 3 units of sidewall trailer combined, which will save you a lot of sea freight cost.
The customer in Côte d'Ivoire is a purchaser of a local logistics and transportation company. At the beginning of June, he inquired about the price of YUHANG 4 axle side wall trailer price on the Internet, so he sent us a product message. Our senior sales manager, lincoln, quickly connected with customers and added WhatsApp to communicate with each other.
Sales manager lincoln according to the type of goods that customers need to transport, local driving conditions and legal regulations. Customers are advised to buy our 4 axle sidewall trailer, equipped with an air suspension system, and the front axle can be lifted up when empty, and its loading level can reach up to 80 tons, which can fully meet all the transportation needs of customers.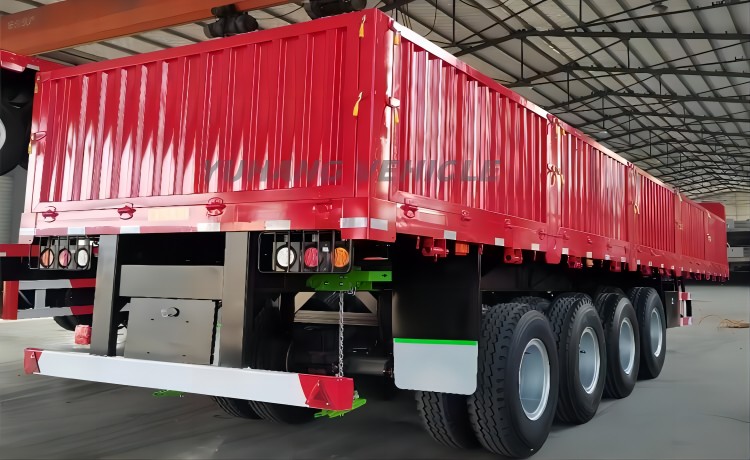 At the same time, we also shared many advantages, functions and skills of this 4 axle 80 ton sidewall semi trailer with customers, and provided accurate and detailed quotations, and gave certain discounts on prices. Two weeks later, the customer contacted lincoln, the sales manager, to purchase 3 units of 4 axle 80 ton load capacity sidewall semi trailer for sale.
We quickly confirmed the final technical drawings and other details of the vehicle, and passed the customer's order to the production and manufacturing department of the YUHANG factory as soon as possible. The customer is very satisfied with our trailer products and services. He and the boss of the company agree that we will bring them surprises and benefits.
YUHANG factory, as the largest cargo sidewall semi trailer manufacturing base in China, has nearly 20 years of export experience. Our various semi trailer products are sold in more than 60 countries including Africa, Southeast Asia, the Middle East, and South America, and have accumulated a large number of customer use cases and quality reputation. YUHANG VEHICLE is the most correct and easiest choice for all new and old customers.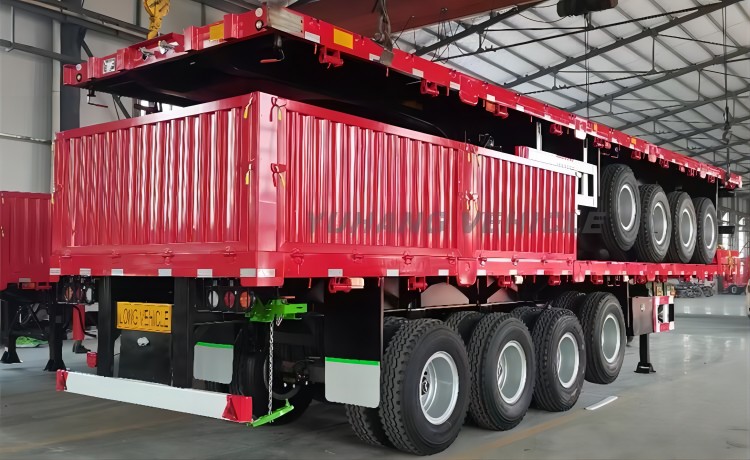 The sidewall semi trailer is a very popular cargo transport vehicle all over the world. Because of its strong loading capacity, fast transportation speed, high work efficiency, mechanized operation, low investment cost and many other advantages and characteristics, it has a wide range of application markets and customers trust it very much. Of course, YUHANG brand 4 axle side wall trailer are also very popular.
We have 2 axle, 3 axle, 4 axle, 5 axle, 30 ton, 50 ton, 60 ton, 80 ton, 100 ton, 120 ton of sidewall semi trailers for sale. They all have a solid carrying capacity and a complete after-sales service system, you can buy with confidence, if there is any problem, we will take care of it and solve it as soon as possible, 100% guarantee all the rights and interests of customers.
We will install 4/8/12pcs twist locks on the working platform of the sidewall semi-trailer, which can make the vehicle directly used for loading 20 foot or 40 foot containers. We have expanded the use space of the cargo fence trailer for customers and increased economic benefits. This device is optional, according to the actual transportation needs of customers.
Advantages of air suspension:
1. Good shock absorption effect. Compared with the traditional leaf spring, the air bag is obviously softer and more comfortable. It makes a soft connection between the frame and the axle, which can greatly relieve the bumps and impacts from the road, which not only increases the driving comfort, but also protects the cargo to a certain extent.
2. Reduce load stress. The compressibility of the air allows the airbag suspension to easily cope with bumpy road conditions, which can reduce the load stress, prolong the service life of semi trailers, axles and other components, and reduce maintenance and repair costs for customers.
3. Less vehicle weight. Compared with mechanical spring suspension, air suspension has lighter weight of the vehicle itself, and the reduced space can be used to load more cargo. When the vehicle is empty, the height of the axle from the ground can be raised, which will save fuel, protect the environment, and increase transportation efficiency.
4. Long use time. The quality of the air suspension itself is relatively light, the friction of the air medium in the airbag is relatively small, and the service life is 2-3 times that of the steel plate mechanical spring suspension, which will help drivers save transportation time and costs.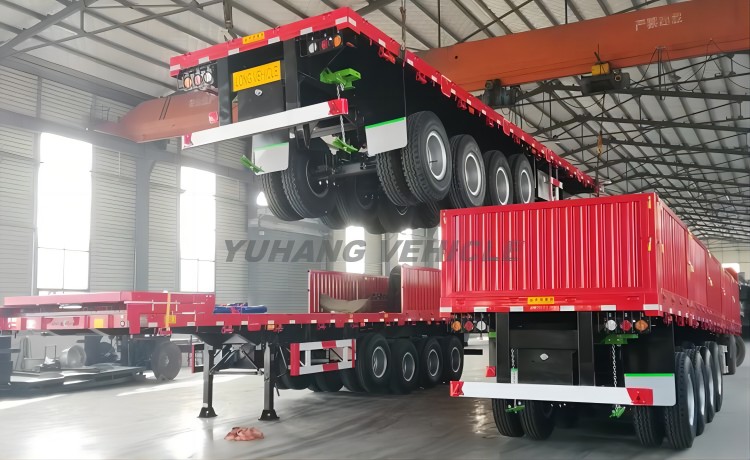 You can learn about different types of sidewall semi trailer, such as: 2 axle sidewall trailer, 3 axle cargo drop side trailer, 60 ton side wall trailer, 100 tons sidewall truck trailer etc., including manufacturing process, quality testing, packaging and transportation, and customer feedback.
If you are interested in the benefits and features of this 4 axle 80 ton sidewall semi trailer, please contact us for the latest exclusive quatation.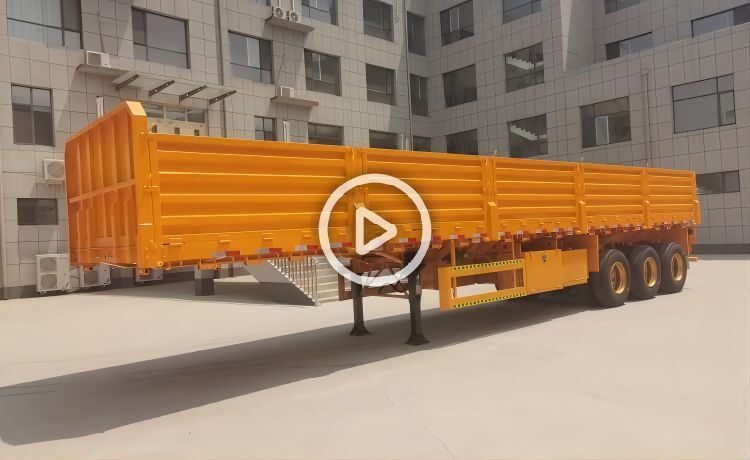 ---