First of all, thanks to the customer from Côte d'Ivoire for ordering the 6 axle 120 ton lowboy equipment trailers. A friend of a customer from Côte d'Ivoire bought a 3 axle 60 ton lowbed trailer from YUHANG, and everything went smoothly during use, so he solemnly recommended us to his friends.
Sales manager Monica learned that customers are mainly used to transport medium and heavy construction machinery equipment such as: excavators, bulldozers, cranes, and recommended our 6 axle lowboy equipment trailers with a load capacity of 120 ton, which can fully meet the customer's heavy-duty transportation need. At the same time, we gave the customer a certain price discount, and the two parties quickly completed a series of detailed communication and final technical drawing confirmation.
We are a professional semi trailer manufacturer from China. We have our own physical factory. Different from other trading companies, we have absolute competitive advantages in product quality control and price concessions.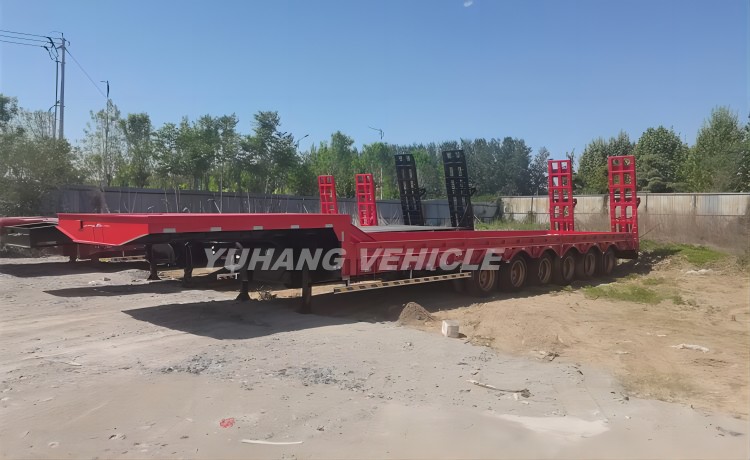 For customers in Côte d'Ivoire, YUHANG 6 axle 120 ton lowboy equipment trailers is very practical and load-bearing, suitable for transporting various types of mechanical vehicles, large objects, heavy storage tanks, construction equipment and special steel plates.
Considering the customer's heavy-duty transportation needs, our engineers strengthened the thickness of the main beam, further improving the loading capacity of the lowbed semi trailer, ensuring that customers will not have any problems during use, and the high-strength product quality enables customers to have no Any worries.
At present, we have received feedback from the factory that the 120 ton lowboy trailer ordered by the customer has been produced and will be sent to the port of Côte d'Ivoire immediately after all procedures are completed.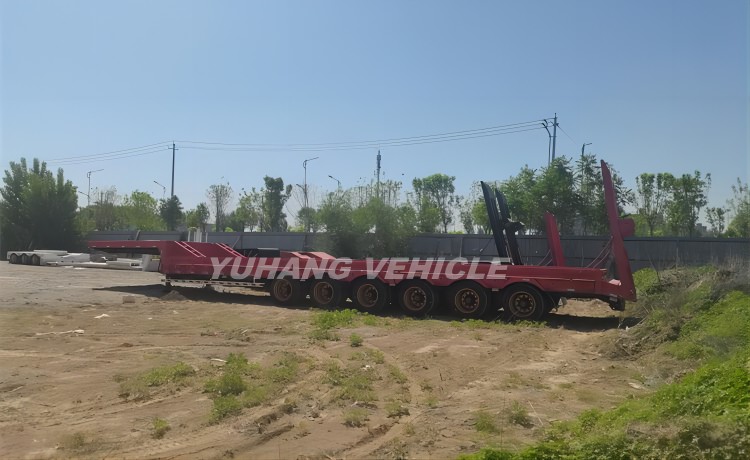 The main structure of the lowbed semi trailer manufactured by our factory includes: frame, axle, mechanical suspension system, landing gears, mechanical ladder/hydraulic ladder, leaf spring and electrical system, etc. Customers can choose different brands or models of accessories according to your actual transportation needs.
YUHANG provides you 30 ton, 50 ton, 80 ton, 100 ton, 120 ton, 150 ton, 3 axle, 4 axle, 5 axle, 6 axle and more axles, bigger load capacity lowboy trailers for sale. The main cargo platform of this series of trailers is low, which ensures the stability and integrity of the transported goods.
The structure of the lowboy trailer is flat-bed, concave-beam or tire-exposed for you to choose. We can also design and customize lowbed semi trailers according to your special transportation needs. They can adapt to more complex road conditions such as: highways, muddy dirt roads, bumpy mountain roads, and comply with local regulations.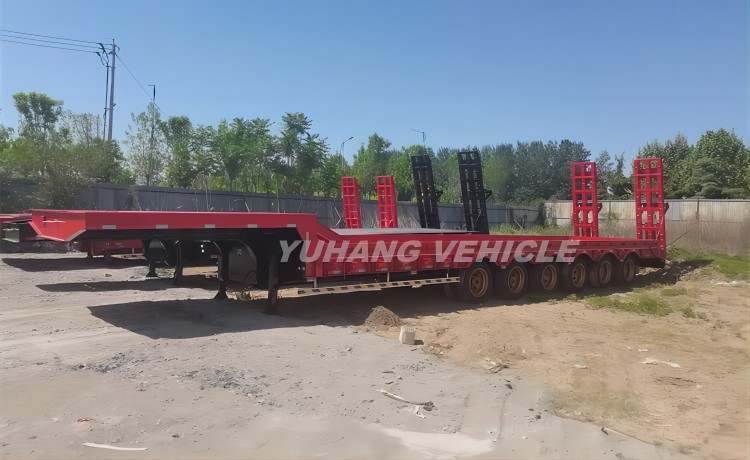 YUHANG 120 ton lowboy trailer main girder has a thickness of 20mm on the upper plate, lower plate 22mm, web plate 12mm, and width 500mm, which ensures that the main beam has high anti-vibration, anti-turbulence, and anti-torsion capabilities to meet customer requirements heavy duty requirements.
Robotic automatic welding technology is adopted throughout the whole process, the welding quality is higher, the weld seam is tight and smooth without defects, the solder joints are more firm and stable, and there will be no cracking.
Our engineers and after-sales service personnel with 20 years of design experience are online 24 hours a day, providing solutions at any time to ensure that your vehicle can run safely and stably for a long time.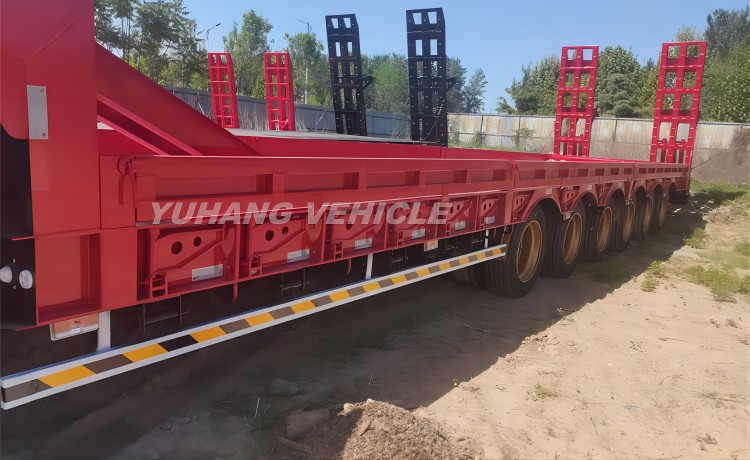 We promise that the lowboy trailers are all made of steel plates and branded parts that meet national standards.
YUHANG aims to create more value for partners.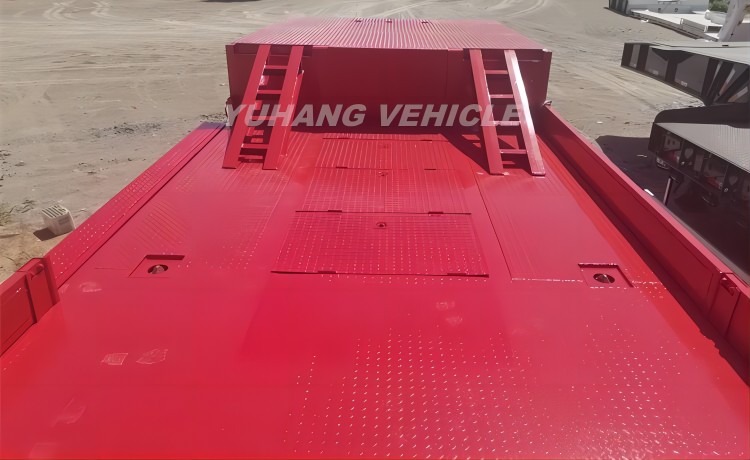 We can provide you with detailed design drawings, manufacturing process, production process, test video, customer feedback and other materials of 6 axle 120 ton lowboy equipment trailers to help you know it better.
This type of trailer design has many advantages and features. If you also need lowboy trailer to help you better complete your transportation business, please contact us as soon as possible to get a detailed quotation plan.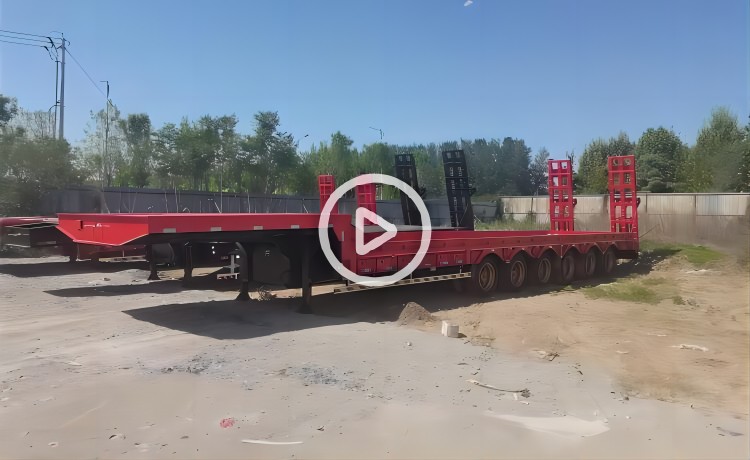 ---