Congratulations to YUHANG brand tri axle 80 ton detachable gooseneck lowbed trailer with ladder for sale in Chile. The Chilean customer is the procurement manager of a local transportation company. He needs to purchase a detachable gooseneck lowbed trailer for transporting some large and medium-sized machinery and equipment. He left his contact information and product requirements on our website.
Our sales manager Jsaon quickly confirmed more detailed product technical data with the customer, such as: vehicle load level, steel plate specification and accessory model. Since Jason has a comprehensive grasp of the customer's usage habits and local legal regulations, he recommended our tri axle 80 ton detachable gooseneck lowbed trailer to him.
At the same time, we also sent the most accurate and professional quotations and many successful use cases and detailed pictures and videos of detachable gooseneck lowbed trailers sold by YUHANG factory before. These rich information make customers full of interest and confidence in our product quality and price. Finally, the customer successfully placed an order with us.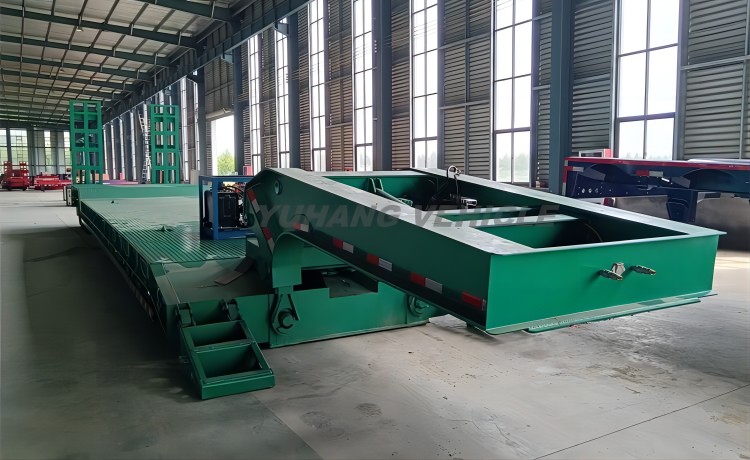 The detachable gooseneck lowbed trailer is a part of the lowbed semi trailer, which has more advantages in stability and safety in transporting large and medium-sized mechanical equipment and heavy goods. At the same time, because of its strong loading capacity, high transportation efficiency, and strong passing capacity, it has been widely promoted and applied in modern logistics transportation.
The use of a detachable gooseneck lowbed trailer can realize the quick separation of the gooseneck and the trailer, and realize the contact between the front end of the trailer and the ground. After the cargo loading is completed, the vehicle can be restored to the original transportation state in time. Due to the low working platform, the machinery can move by itself, thus maximizing the safety of loading.
Our this tri axle 80 ton detachable gooseneck lowbed trailer has 3 axles, that is 12 tires. Equipped with a diesel engine to power the hydraulic cylinder to remove the gooseneck, to ensure the gooseneck's lifting and moving back and forth. When loading and unloading cargo, the hydraulic system raises and lowers the trailer as needed. At present, this tri axle detachable gooseneck lowbed trailer for sale has been fully produced and will be sent to Chilean ports soon.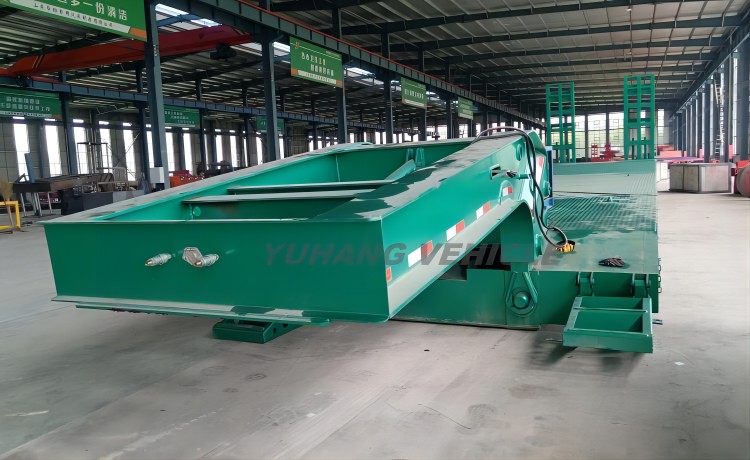 Our detachable gooseneck lowbed trailers are all manufactured from high strength steel plates. The main beam is an "H"-shaped design structure, the height of the middle plate is 300mm, the thickness is 8mm, the width of the upper web and the lower web are both 14mm, and the thickness is 14mm and 16mm respectively, which will make the trailer never deform and break.
All parts adopt submerged arc welding technology, which not only improves the carrying capacity of the vehicle, but also adapts to the driving needs of more severe road conditions. The anti-vibration, anti-torsion, anti-shock and anti-turbulence capabilities of the vehicle are further improved to ensure a longer safe service life and save a lot of cost and maintenance time for customers.
YUHANG factory has advanced automated production equipment and standardized intelligent production lines, and can design and customize different types of detachable gooseneck low bed trailers according to the actual needs of customers. Strict industry standards, internal quality testing and comprehensive performance testing have comprehensively improved the vehicle's craftsmanship.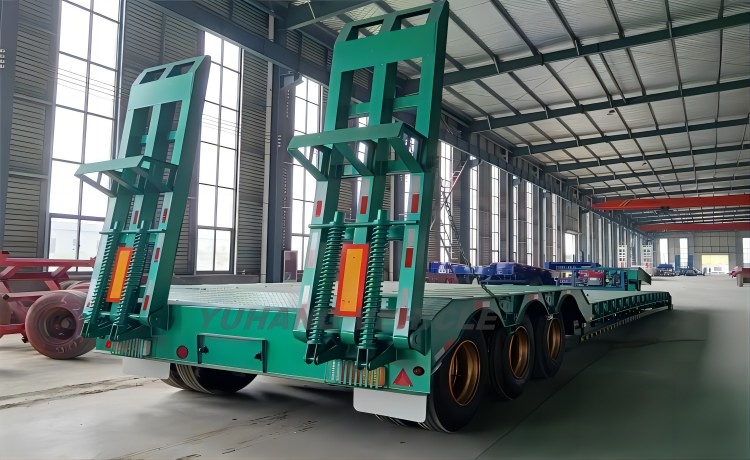 YUHANG detachable gooseneck low-bed trailer for sale uses a 5mm thick non-slip and wear-resistant patterned platform and welds 8 pcs steel bars on each side, which can ensure that the transported goods are more stable and reliable, and will not move back and forth. Customers can also choose whether to use the widened design to meet the loading and transportation needs of other special cargo.
Tri-axle detachable gooseneck lowbed trailer with ladder at the rear is customized because of customer's special requirements. There are three types of ramp ladders for detachable gooseneck low-bed trailers. The most common is the spring mechanical ladder. There are also ordinary hydraulic ladders and folding hydraulic ladders. They are all welded with high-strength steel plates to meet the loading and unloading of heavy goods.
We always put the quality and performance of trailer products first, which also makes this type of detachable gooseneck trailer the best-selling, largest-production and most-exported product of YUHANG. And we will continue to work hard, continue to innovate and develop, and supply more and better trailers to all new and old customers.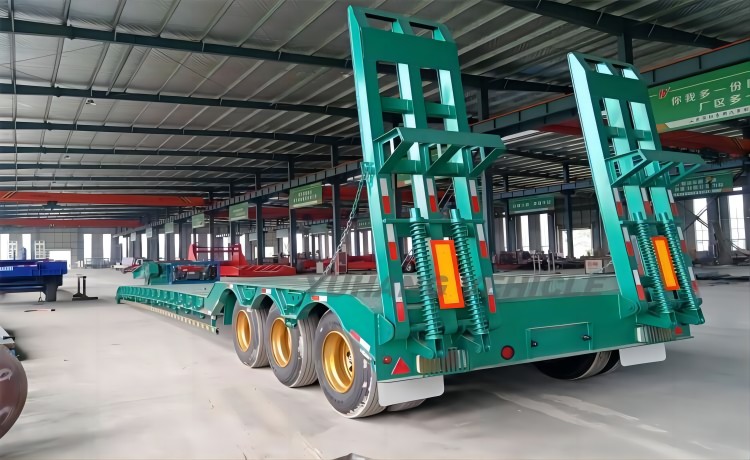 You can learn about different types and models of lowbed semi trailers, such as: 3 axle lowbed trailer, 60-80 tons semi low boy trailer, high-low-high low flatbed trailer and detachable gooseneck lowbed trailer, etc. We have professional technical engineers and welding workers who can provide you with the most comprehensive transportation solutions.
This detachable gooseneck low-bed trailer has many advantages and features, if you want to get a better price, please contact us.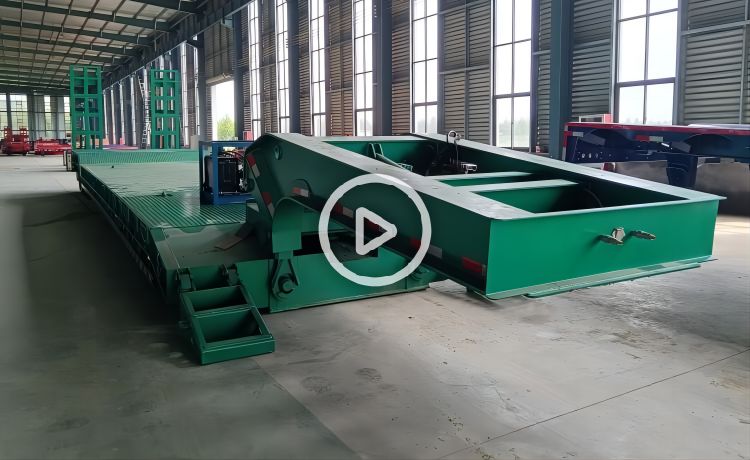 ---