This triaxle 60t fence truck trailer is for sale in Senegal, our professional service team will perform strict packaging and inspection work on the vehicle. For example: spray waterproof wax and check whether all parts of the vehicle are intact. This is our necessary procedure to prevent the vehicle from rusting, corroding and affecting the normal use of the customer during transportation.
A Senegal customer found YUHANG VEHICLE through the Alibaba platform. He showed strong interest in our cargo fence truck trailer, so he sent a price list on our website. Our sales manager Monica also contacted the customer via WhatsApp immediately and recorded the customer's product needs in detail.
According to the customer's product needs, we recommend customers to use 60t 3 axle fence truck trailer for sale. At the same time, Sales manager Monica also compiled a complete fence truck trailer information, such as: photos of each part of the vehicle, the working video of the vehicle, accessories models and specifications, customer feedback cases, etc., and of course the most great price list.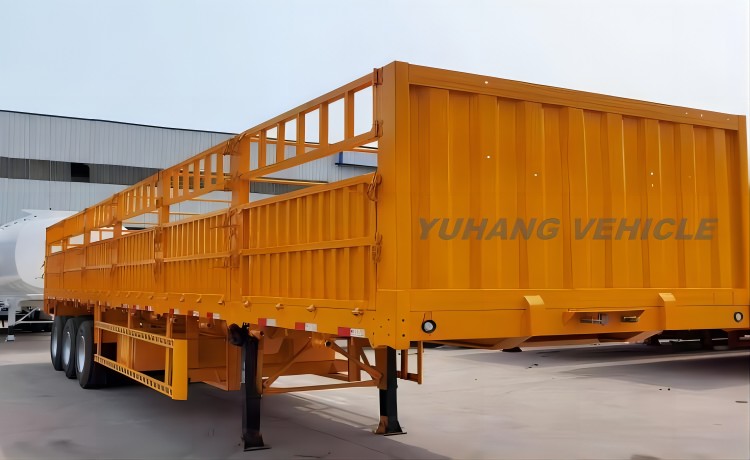 The customer was very satisfied with our professionalism and meticulous working attitude, whereby he had more trust in the quality of our fence truck trailer. At this time, the customer completely put down all worries and handed the order to "YUHANG". We thank every customer for their trust and support, and strictly follow the procedures to make all subsequent work better and more complete.
As the most professional semi trailer manufacturing base in China, YUAHNG always insists on putting the product quality of trailers and the service attitude before, during and after sales in the most important position. At the same time, this is also the fundamental reason why our trailer sales have steadily maintained a growth of more than 10% every year, and our customers' market reputation is getting better and better.
Our factory has modern intelligent equipment and welding technology, and continuously invests in research and development funds to upgrade, transform and optimize the fence semi trailer, which can meet all the traditional and special needs of customers for trailers. This enables YUHANG brand semi trailers to keep up with the market and every customer.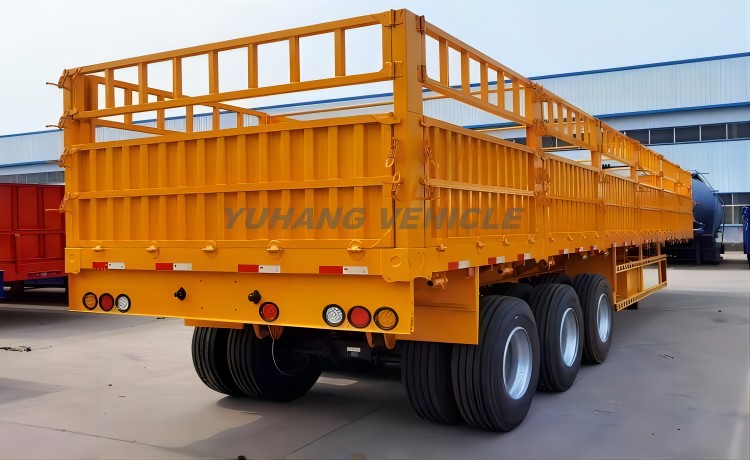 Triaxle 60t fence truck trailer is a cargo transport vehicle with a wide range of applications, mainly serving transportation companies, logistics stations, large supermarkets, planting bases, breeding factories and other places. It can be used to load and transport vegetables, carton goods, fruits, express delivery, daily necessities, furniture appliances, poultry and livestock and other bulk goods.
This type of cargo fence transport trailer has the characteristics of strong loading capacity, fast transport speed, high operability, small turning radius, low investment cost and long service life. Therefore, it is an indispensable and important means of road transportation. We can often see them busy, which also provides a lot of convenience for our life.
YUHANG factory has high-quality 2 axle, 3 axle, 4 axle and more axle fence semi trailers for sale, with loading capacity of 30 ton, 50 ton, 60 ton, 80 ton, 100 ton and 120 tons. The external dimensions of the vehicle and the height and shape of the fence can be designed or customized according to the customer's actual cargo type.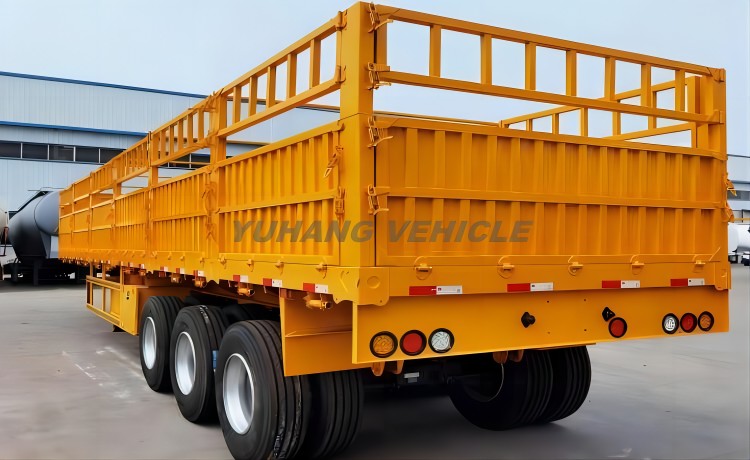 So, what are the characteristics of our fence semi trailers?
1. Of course, if we install 4/8/12pcs twist locks on the chassis of the fence trailer, you can also use it to load and transport 20 foot or 40 foot containers. The YUHANG brand fence cargo trailer is designed with higher flexibility, whether it is city roads or country trails, whether it is highways or complex mountain roads, it can easily handle it.
2. We understand the importance of trailer quality for transportation. Therefore, during the design and production process of fence truck trailers, every link is strictly controlled to ensure that each vehicle meets the highest quality standards. At the same time, we provide a variety of different specifications and configurations to meet the various needs of more customers.
3. Safety and reliability is our solemn commitment to every driver friend. We equip the cargo fence transport trailer with a series of intelligent safety systems, including brake anti-lock braking system, brake force distribution system, etc., to ensure your safety during driving. In addition, we offer a range of energy-efficient and efficient solutions to help you achieve sustainable transport.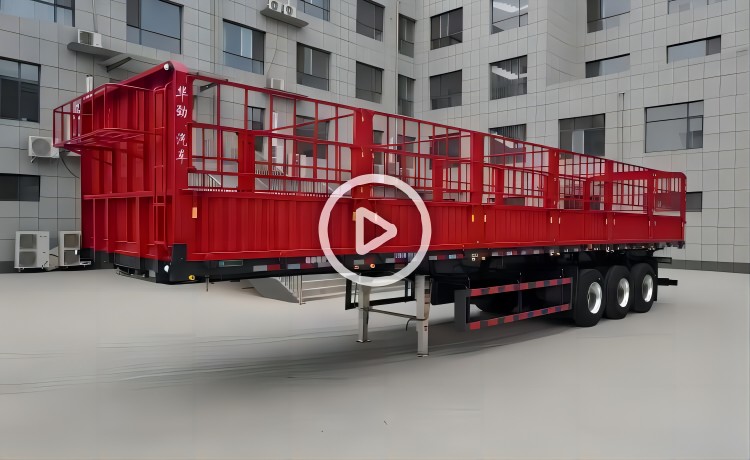 We have skilled engineers and rich export experience to provide you with comprehensive triaxle 60t fence truck trailer transportation solutions. YUAHNG factory sells cargo semi trailers directly to customers, We are an actual factory, not a simple trade agent. We have more advantages in the quality and price of fence semi trailers.
If you want to know more about fence trailer prices, please contact us anytime.
---