YUHANG brand's newly upgraded 13m triple axle lowbed transport trailer is sold to Zambian customers, which will help customers improve their transportation business of excavators and other large machinery and equipment. The customer is from a local logistics and transportation company and learned about YUHANG VEHICLE through the introduction of a friend.
Based on the customer's actual transportation needs and local legal regulations, sales manager lincoln recommended that the customer use tri axle low bed truck trailer for sale, which has a payload of 30-90 tons. We introduce the usage and maintenance techniques of this lowbed trailer to customers in detail to ensure that customers can easily master it.
After consulting many semi trailer manufacturers, the Zambian customer finally chose to cooperate with YUHANG. He was very pleased with our expertise and the quality of the trailer and thanked a friend for the recommendation. We also gave customers appropriate price discounts and gave away some free accessories, because YUAHNG also wants to establish long-term cooperative relationships with customers.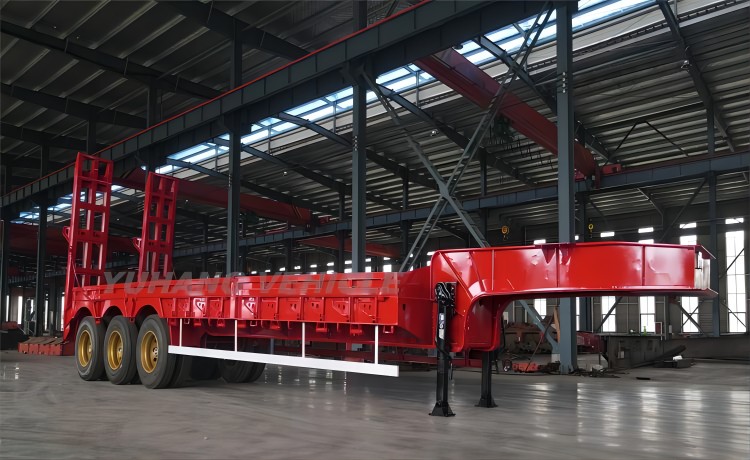 Not long ago, we received news from the YUHANG factory that the triple axle lowbed transport trailer ordered by a Zambian customer has been manufactured. The picture below shows the trailer after it has been spray-painted. Doesn't it look very beautiful? We will spray a layer of waterproof wax on its surface and then ship it to the Zambian port.
As the semi trailer base with the strongest manufacturing capacity and the most advanced technology in China, the YUHANG factory sells a large number of lowbed semi trailer to Africa every year, which has greatly promoted local infrastructure construction and economic development. Moreover, the quality of these trailers is very strong and durable, with stable and reliable pressure resistance and a safe service life of more than 15 years.
We have mechanical ladder lowbed semi trailers, folding hydraulic ramp lowbed truck trailers, and detachable gooseneck RGN lowboy trailers for sale. Its loading capacity is 30 tons, 50 tons, 60 tons, 80 tons, 100 tons, 120 tons, and 150 tons for you to choose. At the same time, the size, length, width and height of the lowbed trailer can be customized and designed.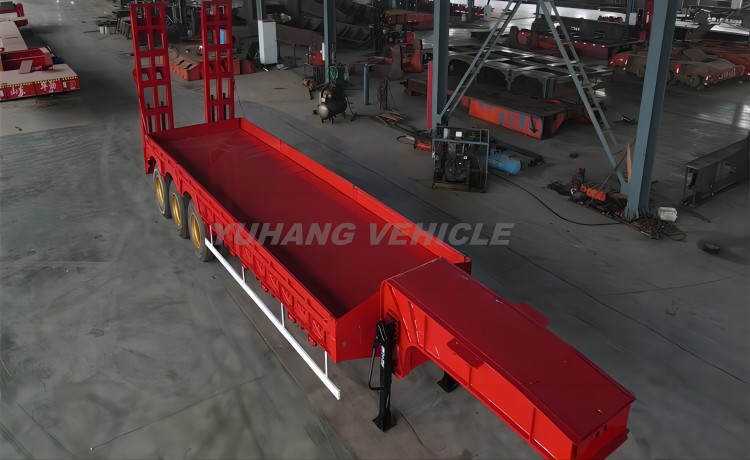 The main beam of our 13m lowbed transport trailer is made of Q345B high-strength structural steel plate, which has a load-bearing capacity 3 times that of other suppliers' steel plate trailers. The front structure of the entire trailer is a gooseneck-shaped traction pin. The front part of the gooseneck is connected to the tractor's traction saddle, and the rear end of the gooseneck is connected to the triple axle lowbed truck trailer.
Triple axle lowbed transport trailer have a wide range of applications and are generally used for medium to long distance transportation of goods. The cargo carrying platform is a space frame structure composed of cross beams and longitudinal beams welded together in parallel. YUAHNG factory uses steel plate ribs to specially reinforce the frame of each lowbed trailer so that it can adapt to more bad and rugged road conditions.
All parts of the vehicle are welded together using automatic submerged arc welding technology. The welding points are tight and firm, the welding seams are uniform, smooth and flawless. The welding quality is good, the fatigue resistance is high, and deformation and fracture will not occur. These parts will also undergo further shot blasting and rust removal treatment to achieve good corrosion resistance and longer service life.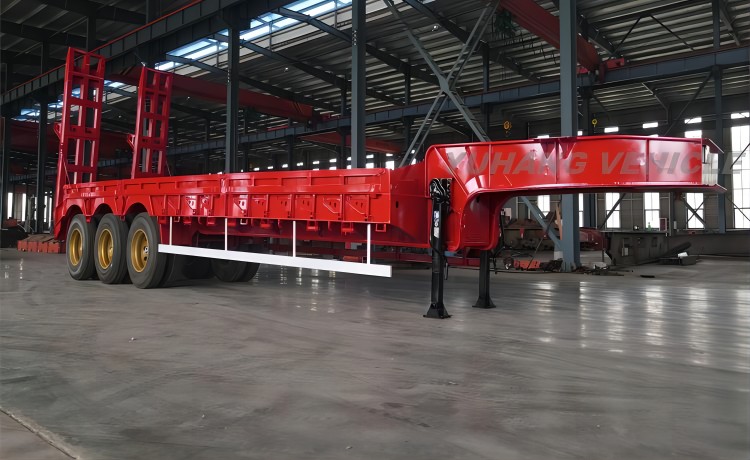 The load capacity of 3 axle lowbed truck trailer for sale varies based on the number of axles and tire size. Generally speaking, the greater the number of axles, the higher the cargo tonnage class the vehicle can carry. The lower the vehicle's center of gravity, the better its stability and safety performance, and the stronger its ability to transport overweight and ultra-high cargo.
All lowbed trailers in the YUHANG factory must undergo strict load-bearing level testing experiments to ensure that each trailer meets the qualified standards. During your later use, we will also arrange professional staff to guide and answer all your questions, so that you don't have to worry about all the worries.
We have a complete pre-sales, sales and after-sales service system to ensure your all-round transportation business. YUHANG factory produces and ships directly without going through any third party, saving you a lot of time and extra costs. Moreover, we can accept your invitation to visit and inspect at any time to help you determine the authenticity.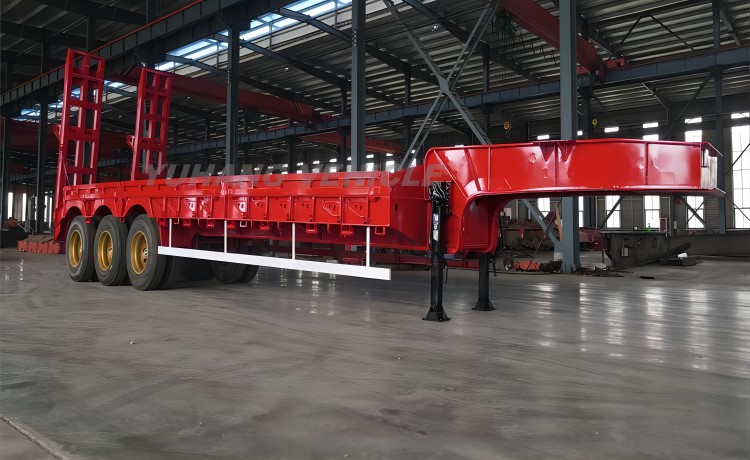 You can learn about different types of lowbed semi trailer, such as: triple axle lowbed transport trailer, 60 ton lowbed truck trailer, 80-100 ton low loader trailer, 2 line 4 axle lowboy flatbed trailer and removable gooseneck lowbed trailer for sale, etc., including manufacturing process, quality testing, packaging and transportation, and customer feedback.
If you are interested in the benefits and features of this 13m triple axle lowbed transport trailer for sale, please contact us for the latest exclusive quotation.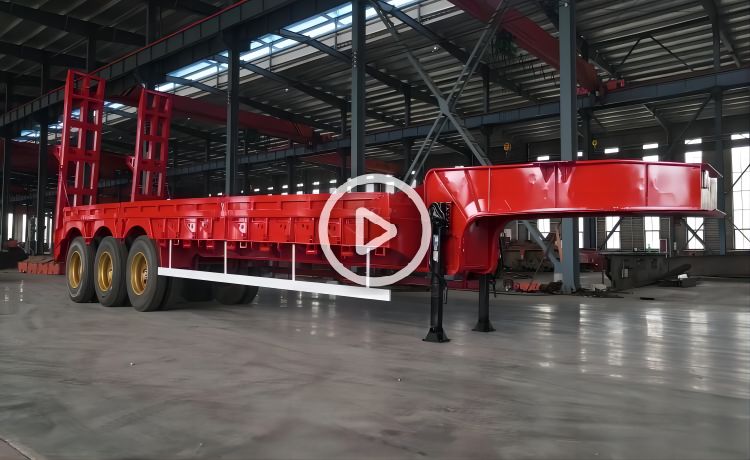 ---