First of all, warm congratulations to YUHANG brand 2 line 4 axle lowboy flatbed trailer for sale in Nigeria again. The lowboy trailer is currently in Rizhao Port, China, and we have sprayed it with waterproof wax and covered it with waterproof tarpaulin, and then it will be transported to the Lagos port in Nigeria via bulk ship.
This Nigerian customer purchased a triaxle 60 ton low bed vehicle from us last year. Customer feedback: "The quality of our trailer is very strong, and the passing performance of the vehicle is also very high under heavy load conditions. And it can It will not cause any malfunctions even if it is in working condition for a long time."
In May 2023, the customer sent an email to our sales manager Jason asking for detailed technical parameters and the best price of the 2 line 4 axle lowboy flatbed trailer. We sorted out the relevant information and sent it to the customer, including technical design drawings, vehicle length, width, height and other dimensions, loading level and transportation cost, etc.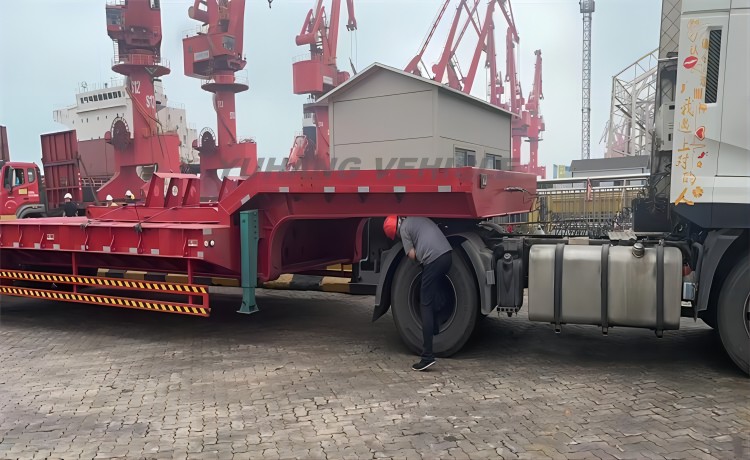 The customer was very satisfied with the information of our lowboy trailer. After we confirmed other data of the vehicle together, the customer paid a 30% deposit. The cooperation between us was as easy and pleasant as last time, saving both of us a lot of time and costs. This is due to the quality of our low-bed trailers and our superb service ethos.
As a very common means of transportation, lowboy flatbed trailers play a very important role in our daily lives. Its loading capacity is 30-150 tons for you to choose. The number of axles is 2 axle, 3 axle, 4 axle, 5 axle, 6 axle, 2 line 4 axle, 3 line 6 axle and 5 line 10 axle, etc. It is designed to transport large amounts of heavy machinery and large construction panels.
YUHANG factory is the largest semi trailer manufacturing and sales base in China. We provide a large number of lowbed semi trailer to the Nigerian and African markets every year. Different specifications, different configurations, and different types will have different prices. We will provide the most professional solutions based on your actual transportation needs.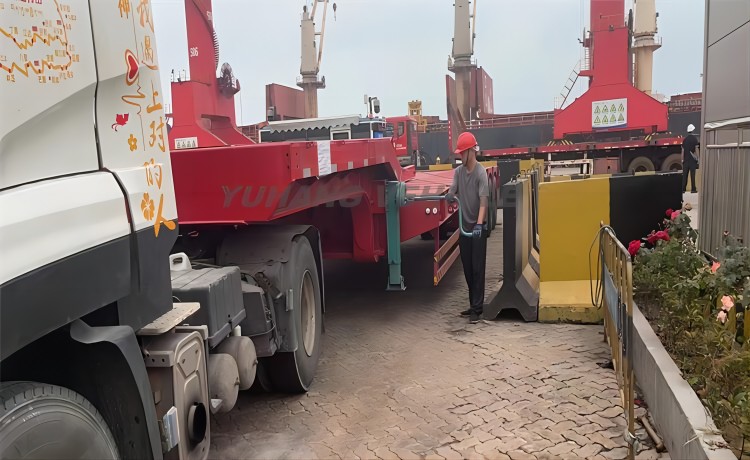 Our lowboy flatbed trailers have a very high practical value, a wide range of applications and a variety of functions. It can be used to load and transport ordinary excavators, loaders, graders, pavers and compactors can also be used to transport extra-long heavy goods or wind blades as well as 20 foot and 40 foot container goods.
The main beam of the YUHANG brand 2 line 4 axle lowboy flatbed trailer for sale is made of high-strength steel plate with a height of 500mm, which can increase the payload by 20% compared to the lowboy flatbed trailer sold by other trading companies with a main beam height of 450mm. And it ensures that the main beam has higher resistance to distortion, collision, impact and ballast resistance.
At the same time, all parts of the vehicle use modern intelligent robot welding technology, which has great advantages over traditional manual welding. The welding quality is higher and stronger, the welds are more uniform and reliable, the welding joints are stronger and more stable, and the welding joints are more beautiful and tidy. It will not deform and crack, and has a longer service life.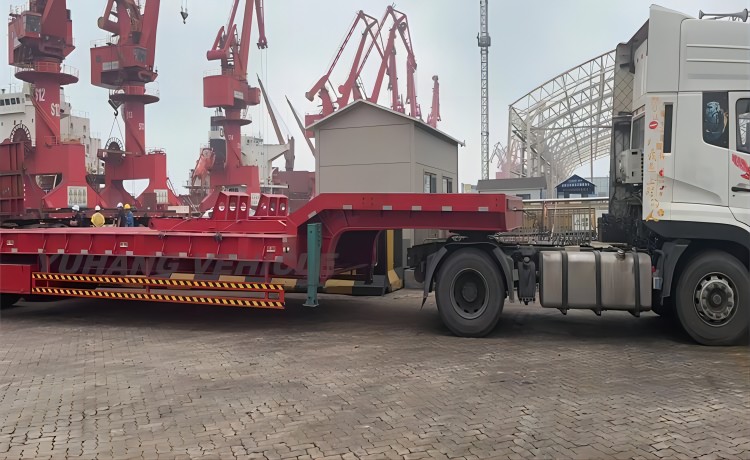 This 2 line 4 axle lowboy trailer has a total of 16 tires, and each tire can withstand a payload of about 5 tons under constant speed running conditions. At the same time, the cargo loading platform has a lower center of gravity, which greatly improves the safety performance of the vehicle and ensures the smoothness of transportation. YUHANG brand is the best choice for your shipping business.
The mechanical spring ladder at the rear of the vehicle is welded with high-strength Q345B steel plates, which has high load-bearing performance and is easy to disassemble. The cargo is moved to the working platform of the lowboy trailer via a mechanical ladder at the rear end and then the mechanical equipment is secured to the semi trailer. The entire operation process is simple and convenient, which greatly improves transportation efficiency.
The specific dimensions of each lowboy trailer are different and height, width and length can all be designed and customized. When YUHANG factory faces over-height, over-width, over-length, and over-weight cargo, its design experience and transportation performance will have more advantages. We are 100% trustworthy heavy-duty loading experts.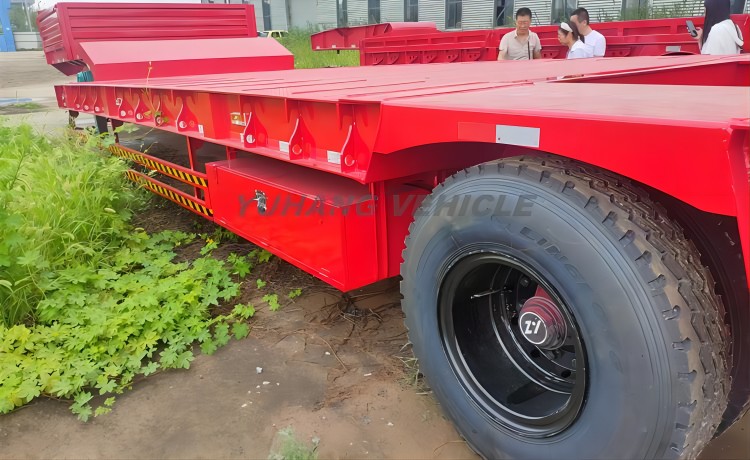 You can learn about different types of lowbed semi trailer, such as: 3 axle lowbed semi trailer, 60 ton lowbed truck trailer, 100 ton low loader trailer, 2 line 4 axle lowboy flatbed trailer and detachable gooseneck lowbed trailer for sale, etc., including manufacturing process, quality testing, packaging and transportation, and customer feedback.
If you are interested in the benefits and features of this 2 line 4 axle lowboy flatbed trailer, please contact us for the latest exclusive quotation.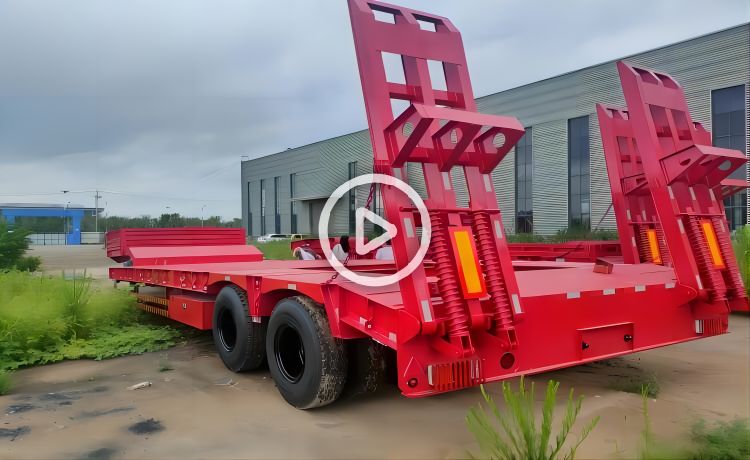 ---