🔍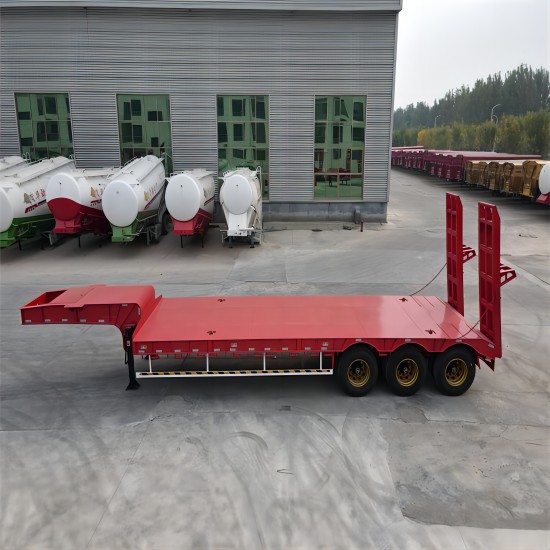 Triaxle 60 Ton Low Bed Vehicle
Our triaxle 60 ton low bed vehicle is used for loading excavators, bulldozers, cranes and other construction machinery and equipment. There are many successful customer cases in many countries.
Manufacturer: YUHANG VEHICLE
Model: triaxle 60 ton lowbed vehicle
Material: high strength steel plate
Delivery Date: 10-25 days
Application: loading excavators, bulldozers or other machinery
Enquiry
Description
Description:
The high-quality triaxle 60 ton low bed vehicle manufactured by YUHANG is mainly used to transport excavators, bulldozers, rail vehicles and other construction machinery equipment.
The loading capacity of the triaxle low bed semi trailer is 50-80 tons, and the application scenarios and uses of the triaxle 60 ton low bed vehicle is the most extensive.
We can produce lowbed trailer of various models and specifications according to the transportation needs of customers, and the length and width of the trailer can be customized.
YUHANG VEHICLE will conduct a load performance test on each one low bed semi trailer to ensure that it will have the best working condition for you.
Triaxle low bed vehicle for sale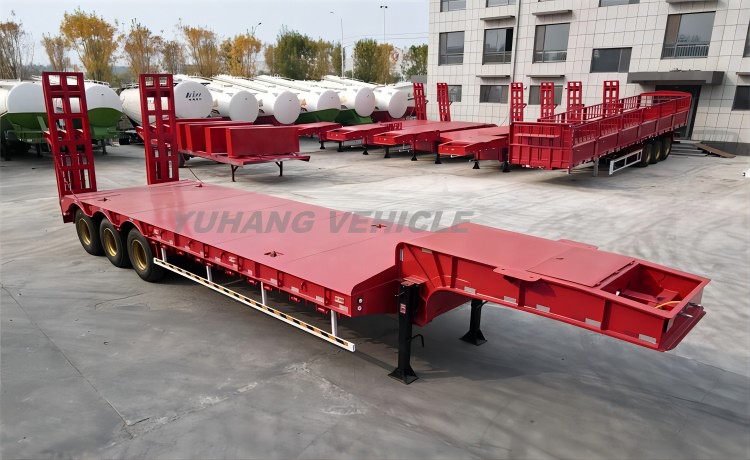 60 ton lowbed semi trailer with best price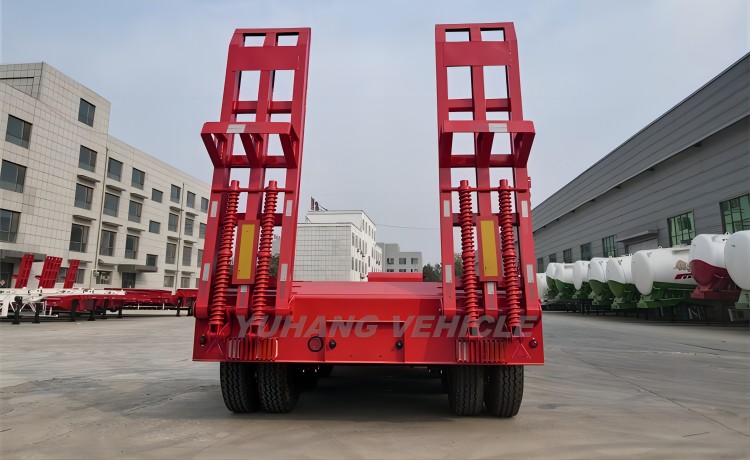 YUHANG brand lowbed trailer manufacturer
Advantage:
1. The main girder of the 60 ton low bed vehicle for sale is made of high-strength structural steel, which is more durable and stronger than ordinary steel, and has a better loading capacity.
2. The high-quality mechanical spring ramp facilitates loading and unloading of engineering equipment and improves transportation efficiency.
3. Robotic automatic welding technology is adopted in the whole process, with tight welding seams and firm solder joints, which increases the service life of the lowbed trailer.
4. YUHANG is a professional and efficient lowbed semi trailer manufacturer, welcome customers from various countries to visit and inspect our factory in any time.
Specification:
Brand: YUHANG Triaxle 60 Ton Low Bed Vehicle
Dimension: 11500mm*3000mm*3500mm
Loading Capacity: 60 ton
Main Beam: height 500mm, upper plate 18mm, middle plate 12mm, lower plate 20mm, material Q345B steel
Bottom Platform: 5mm thick checkered plate
Axle: triaxle
Rim: 8.0-20
Tire: 12 units*11.00R20/12R22.5
Suspension: mechanical suspension
Spring Leaf: 90(w)mmx13(thickness)mmx10 layers
Kingpin: 2.0 or 3.5 inch (bolted or welded type)
Landing Gear: JOST brand
Rear Ramp: spring ramp
ABS: optional
Brake Valve: WABCO valve
Light: LED light
Accessories: one tool box, spare tire carrier
Shipping Terms: bulk carrier, Ro-Ro ship or container
---