YUHANG brand 40000 liter fuel tanker trailer is loved by customers from many countries and purchased many times by virtue of its durable quality and unique functional advantages. With the rapid development of economy in today's era and the popularization of various types of vehicles, more and more petroleum transportation enterprises and logistics companies are looking for tanker trailer to transport gasoline, diesel, crude oil and other liquid fuels.
Angolan customer is our very familiar partners and have maintained a good business relationship. The customer is a well-known local petroleum transportation company. This time they want to develop the gas station business, so they emailed us and ordered 5 fuel tanker trailers. The sales manager Jason has confirmed the configuration and all details of the vehicle with the customer, and has given a price discount.
As the largest fuel tanker trailer manufacturing factory in China, we not only have a professional tanker trailer production process, but also because we will provide optimal design and customization services and other solutions according to the special transportation needs of different customers. High-quality fuel tanker trailer help customers' petroleum transportation business to a higher level.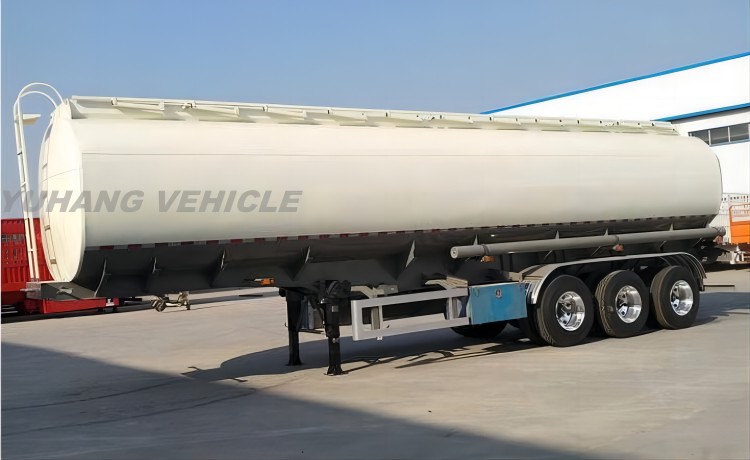 We have many different types of fuel tanker trailer for sale for you to choose, such as: carbon steel, stainless steel, aluminum alloy; different configurations, different prices. Our oil tanker trailers have been exported to Zimbabwe, Malawi, Zambia, Tanzania, United Arab Emirates, Malaysia and other countries, with many successful customer cases.
YUHANG oil tanker trailers are usually divided into multiple compartments, which means that different oils can be stored, and the liquids inside will not be mixed. There are multiple anti-wave partitions inside the tank, and there are through holes at the lower end of the partitions to reduce the impact of liquid on the tanker trailer during driving.
Many factors need to be considered in the design and manufacture of oil tanker trailer for sale, such as: tank shape and loading volume, material, oil and gas recovery system, oil discharge valve, safety valve, installation of anti-overflow probe, etc. If you have special requirements for tanker trailer, we can design and customize it for you.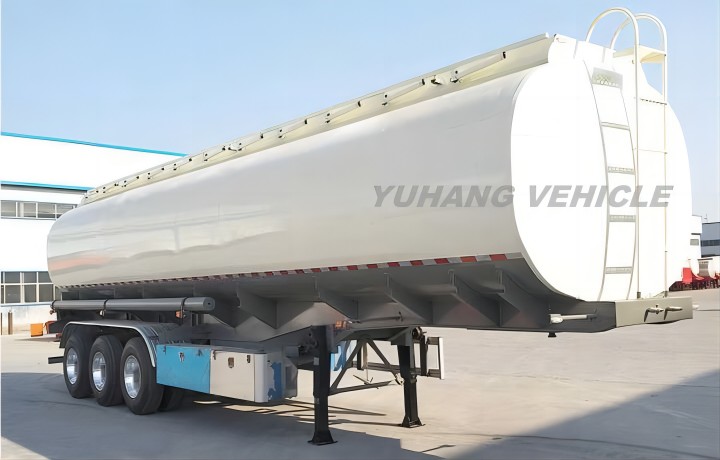 Oil tanker trailers have high sealing and corrosion resistance, thus ensuring the safety and quality of transported liquid cargo, thanks to their own various sealing devices, large and small. Below, we introduce these structural devices in detail:
1. Manhole cover
The manhole cover is installed on the top of the tanker trailer and is mainly used for filling liquid, oil and gas recovery inspection and maintenance of the entrance inside the tank. The manhole cover is equipped with a breather valve, and the breather valve has an automatic sealing function to prevent unnecessary oil spillage and prevent danger.
2. Oil vapor recovery system
Oil and gas recovery refers to the collection of volatilized gasoline oil and gas during the process of loading and unloading gasoline and diesel oil, and reducing the pollution of oil and gas through absorption, adsorption or condensation, so that oil and gas can be changed from gaseous state to liquid state, and then re-turned into gasoline, so as to achieve the purpose of recycling.
3. Anti-overflow probe
During the filling process of oil tank trailers, the anti-overflow probe monitors and controls the oil level warning line. When the oil product rises to the warning line, the sensor sends out a warning to prevent the oil from being full or leaking.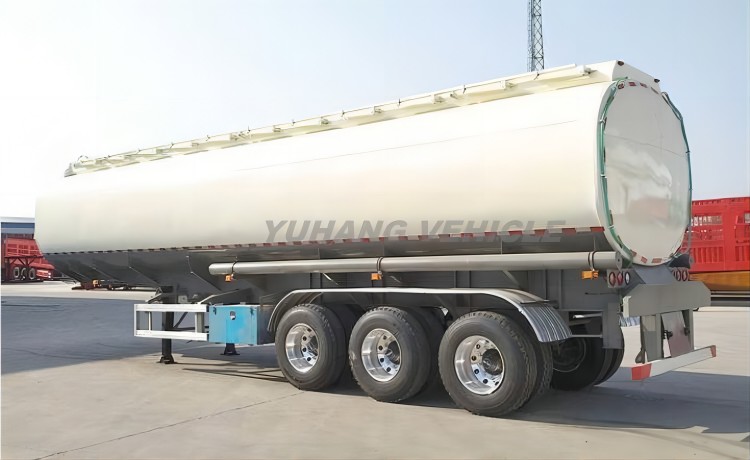 4. Oil unloading valve
The oil unloading valve is installed under the side of the tank truck trailer for quick unloading of oil. The front end interface conforms to the American API Rp1004 standard, which is convenient to connect with the oil unloading hose head. The internal structure adopts hydrodynamic design, which can reduce the internal pressure to a minimum when the flow rate is large. The outlet adopts a flat bottom structure, and there is no oil leakage when the joint is disassembled, which is safe and reliable.
5. Pneumatic combination switch
The pneumatic combination switch can be used for remote emergency centralized control. It has a compact structure and is durable. It is connected in series with the pneumatic emergency button switch to realize emergency cut-off of the air source.
6. Subsea valve
The tanker trailer submarine valve, also known as the emergency shut-off valve, is installed at the bottom of the tanker. The valve is sealed inside the tank body. In case of emergency, it can automatically handle emergency situations. The valve body will break at the flange, making the tank body and the vehicle chassis The pipeline is separated to become an independent and airtight tank, so as to prevent the leakage of gasoline and diesel liquid and ensure the safety of transportation.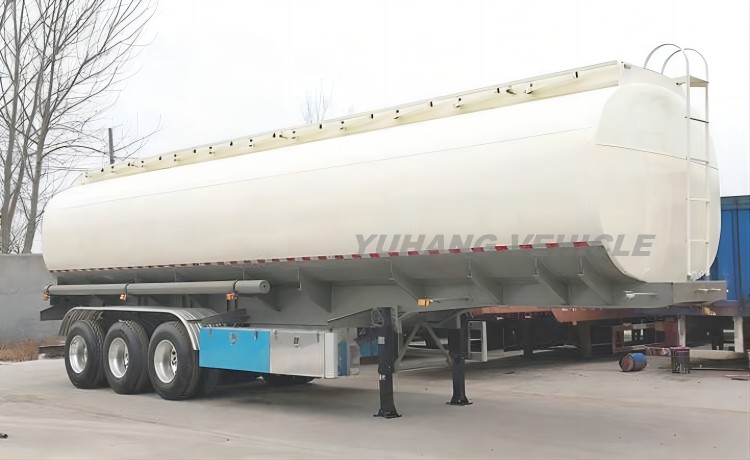 YUHANG is a oil tanker trailer manufacturing factory, which is different from ordinary trading companies. It has the lowest ex-factory price and 100% quality guarantee, and effectively protects the rights and interests of customers.
At present, for new and old customers, YUHANG 40000 liters fuel tanker trailer is doing summer promotion deal with the most competitive lowest price. Don't miss out on great offers.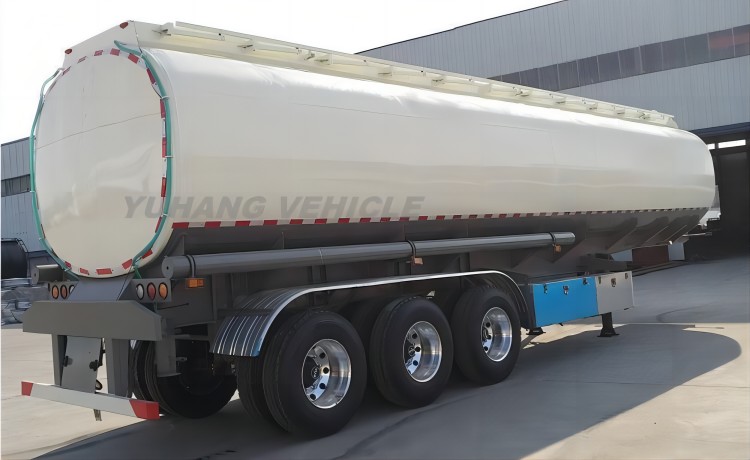 We provide you with the most comprehensive tanker trailers data, production process, picture information, video display, safety manual, customer feedback.
There are more advantages and features of this type of semi trailer, if you are also looking for a fuel tanker trailer, please contact us to get the latest exclusive quotation.
---