🔍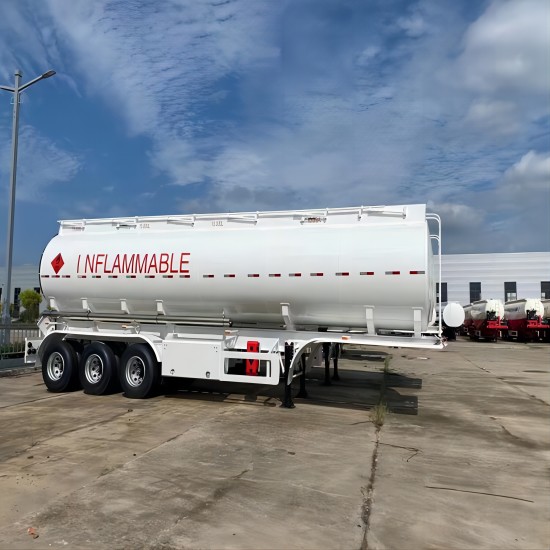 40000 Liter Fuel Tanker Trailer
13600 USD
40000 liter fuel tanker trailer has different compartments to transport different kinds of liquids at the same time. This can improve transportation efficiency and save costs.
Model: 40000 liter fuel tanker trailer
Material: carbon steel
Delivery Date: 10-25 days
Application: transport gasoline, diesel, crude oil, lubricating oil, coal tar, palm oil, etc.
Enquiry
Description
Description:
40,000 liter fuel tanker trailer can be used to load different liquid substances such as edible oil, gasoline, diesel, water, palm oil, bitumen, etc. Our fuel tanker are available in a variety of materials and designs.
YUHANG VEHICLE fuel tanker trailer adopts advanced design concept and technological innovation. The tank body is resistant to corrosion, deformation, earthquake and turbulence, ensuring safe and reliable transportation.
We offer fuel tanker trailer for sale in carbon steel, stainless steel and aluminum alloy material. The volume of the tank body can be customized, 40,000 liters, 42,000 liters, 50,000 liters, and up to 90,000 liters. Different compartments can be used to hold different liquids.
The whole vehicle can be equipped with high-quality mechanical suspension, which has strong bearing capacity and is suitable for different complex road conditions.
40000 liter fuel tanker trailer for sale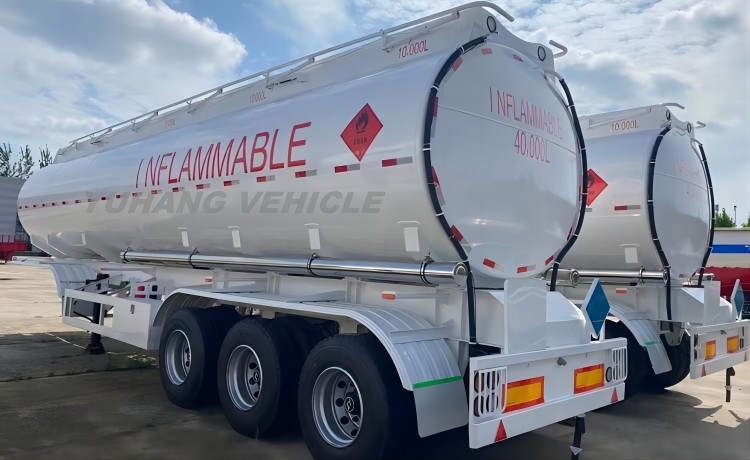 3 axle tanker trailer with the best price
China first class fuel tanker trailer maufacturer
Advantage:
The outer surface of the 40,000 liters fuel tanker trailer is made of high-grade polyurethane paint, and the interior is treated with anti-corrosion; to ensure that the service life of the tank body is more than 15 years.
After the overall welding of the tank body, the shot blasting technology is used to remove the rust. The maintenance cost is low, the appearance is lasting and bright, and it is easy to clean.
The 40,000 liter fuel tanker trailer for sale has a low center of gravity, does not contain flammable materials, has low static accumulation, and makes the vehicle run more safely, stably and reliably; it currently has a good record of safe operation.
YUHANG VEHICLE can customize fuel tankers according to customer requirements. Chassis, tank body color optional, metallic paint and other color paint, tanker optional, optional flow meter, tool box, etc.
40,000 liter fuel tanker is manufactured and produced in strict accordance with international industry standards, eliminating fake and shoddy products and ensuring the safety of dangerous goods transportation.
Specification:
Dimension: 12,000mm*2,600mm*3,700mm
Tare Weight: about 8,000kg
Total Volume(L): 40,000 liter
Main Beams: Q345 carbon steel material
Tank Body Material: Q235 carbon steel
End plate: Q235 carbon steel
Manhole Cover: carbon steel
Bottom Valve: aluminum API pneumatic
Discharging Valve: diameter is 3 or 4 inch
Compartments: one compartment or customizable
Discharging Pipe: 4 inch rubber hose, 2 pcs, 6m/each
Axle: 3 axle*13T, BPW/FUWA brand
Landing Gear: JOST brand
King pin: JOST 2.0 or 3.5 inch bolt-in king pin
Suspension: mechanical suspension
Leaf Spring: 90(w)mmx13(thickness)
Braking System: WABCO brand
Rim: 9.00-22.5
Tire: 12 units*12.00R22.5
ABS: optional
Painting: 1 layer of anticorrosive primer and 2 layer of top coats
Accessories: one standard tool box
Shipping Terms: by bulk carrier or 45ft HQ container
---