🔍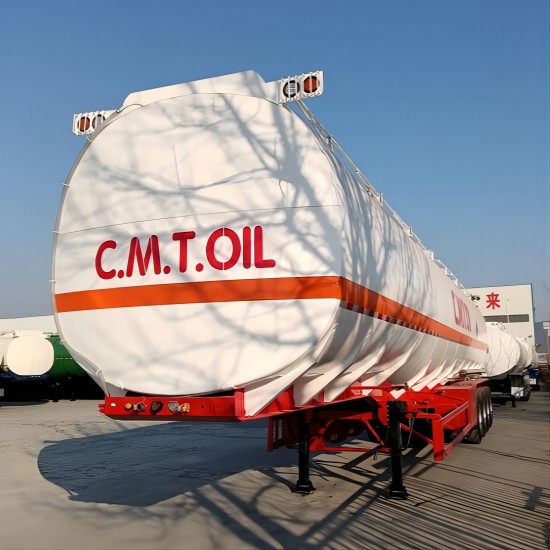 50000 Litre 4 Axle Petrol Tankers
15500 USD
The 50000 litre 4 axle petrol tankers for sale can provide 1-6 compartments to meet customers' different types of liquid transportation needs.
Model: 4 axle 50000 litre petrol tankers
Material: 6mm carbon steel
Delivery Date: 10-25 days
Application: transport gasoline, diesel, crude oil, lubricating oil, coal tar, palm oil, etc.
Enquiry
Description
Description:
Petrol tankers, also known as fuel tanker trailer and oil tanker trailers. This petrol tanker price is mainly used for the transportation and storage of gasoline, diesel, crude oil, lubricating oil and coal tar.
The petrol tankers is composed of carbon steel tank body, power system, transmission shaft, gear oil pump, pipe network system, oil drain valve and other components.
There is a wave baffle inside the fuel tanker trailer to prevent the liquid from shaking back and forth during driving, which will affect the driving safety of the vehicle.
We pay great attention to the quality of petrol tankers, and have never disappointed our customers so far. At the same time, customers are very impressed with YUHANG VEHICLE tanker trailers.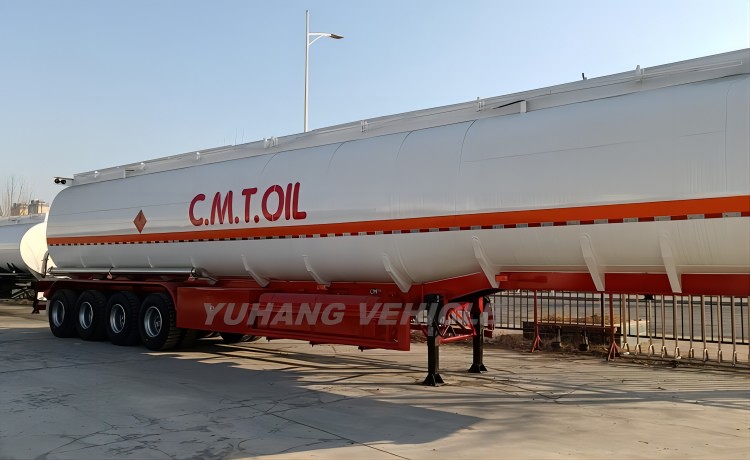 4 axle petrol tankers for sale
YUHANG 50000 litre fuel tanker trailer price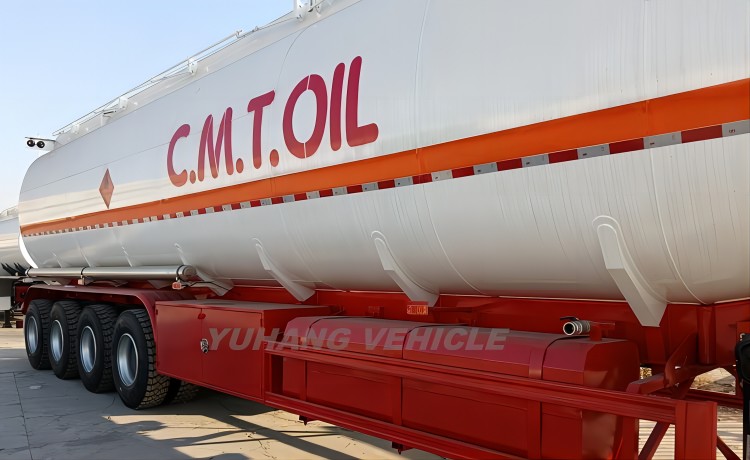 China four axles petrol tanker trailers manufacturer
Advantage:
1. We can produce petrol tankers with 1 compartment, 3 compartments, 5 compartments, 6 compartments or more compartments according to the transportation needs of customers.
2. The 50000 litre petrol tankers for sale is made of high-strength 6mm-thick carbon steel plate and cut to standard size, and then needs to be coiled. Multiple steel plates are connected by a can rolling machine and fixed by double-sided welding.
3. The technical team will design the precise angle according to the characteristics of the oil products to be transported by the customer, so as to ensure the minimum residual amount in each compartment during unloading.
4. YUHANG oil tanker trailers adopts the best subsea valve brand, uses European standard explosion-proof manhole cover, and is equipped with breathing valve.
Specification :
Model: 50000 Litre 4 Axle Petrol Tankers For Sale
Loading Capacity: 50000 liters or customized
Dimension: 13000mm*2500mm*4000mm
Tare Weight: about 8.5t
Application: transportation of gasoline, diesel, coal tar, palm oil
Tanker Body: 6mm carbon steel
End Plate: 6mm carbon steel
Wave Plate: 5mm
Compartment: 5 compartment or customized
Manhole Cover: 5 pcs manhole cover, diameter 500mm
Bottom Valve: 5 pcs
Discharging Valve: 5 pcs 3 or 4 inch
Discharging Pipe: 3 or 4 inch rubber hose, 2 pcs, 6m/each
Main Beams: Q345 steel material
Axle: 4 axles*13T/16T FUWA/BPW brand
Landing Gear: JOST brand
King Pin: 2.00 or 3.5 inch bolt-in king pin
Suspension: heavy mechanical suspension
Leaf Spring: 90mm(w)*13mm(t)*10 layers
Rim: 9.00-22.5
Tire: 16 pcs*12.00R22.5
ABS: optional
Electrical System: 24V electrical system, 7 pin electrical connector
Painting: 1 coat of anticorrosive prime, 2 coats of final paint
Accessories: 1 standard tool box/2 fire extinguisher/2 spare tire rack
---