🔍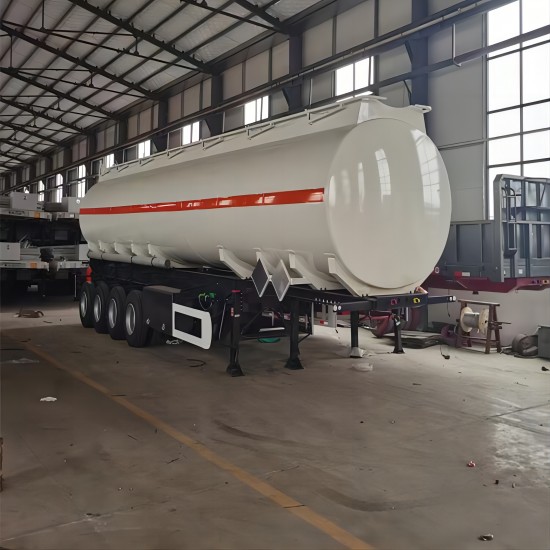 4 Axle Fuel Transport Trailer
15500 USD
4 axle fuel transport trailer for sale, different configurations have different prices, and we can produce according to the transportation needs of customers.
Model: 4 axle fuel transport trailer
Material: Q235 carbon steel
Delivery Date: 10-25 days
Application: transport gasoline, diesel, crude oil, lubricating oil, coal tar, palm oil, etc.
Enquiry
Description
Description:
Fuel transport trailer for sale is mainly used for transporting liquid substances like petroleum, diesel, petrol and cooking oil and palm oil. YUHANG brand fuel tanker capacity is very good.
Our 4 axle fuel transport trailer is generally made of carbon steel plates, but can also be made of materials such as stainless steel or aluminum alloy. Customers can choose according to actual transportation needs.
There are different compartments inside the tank body of the fuel tanker trailer. 2, 3, 4 or more compartments, which can be loaded with different liquids.
The loading capacity of YUHANG VEHICLE fuel transport trailer can be customized, 40,000 liters, 50,000 liters, 60,000 liters and other specifications.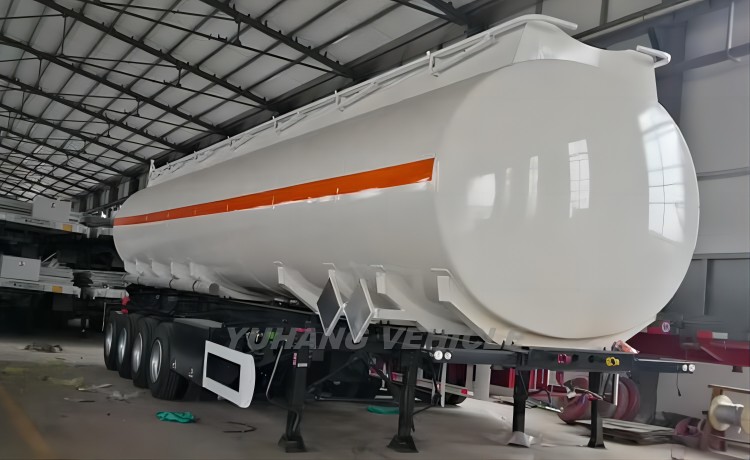 4 axle fuel transport trailer for sale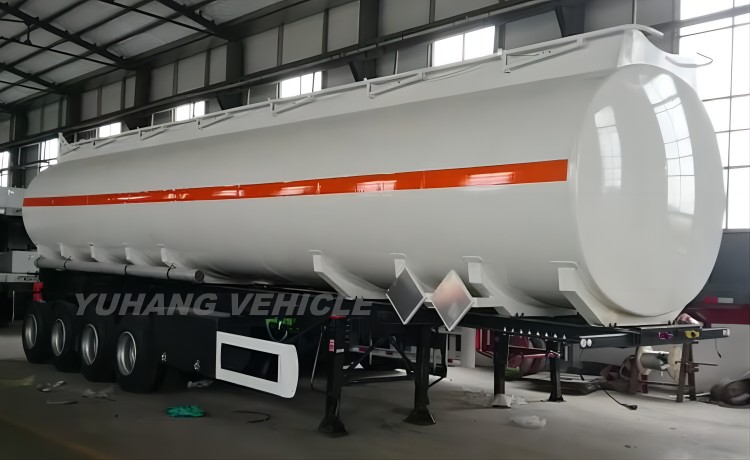 YUHANG 50000 litres fuel tanker trailer prices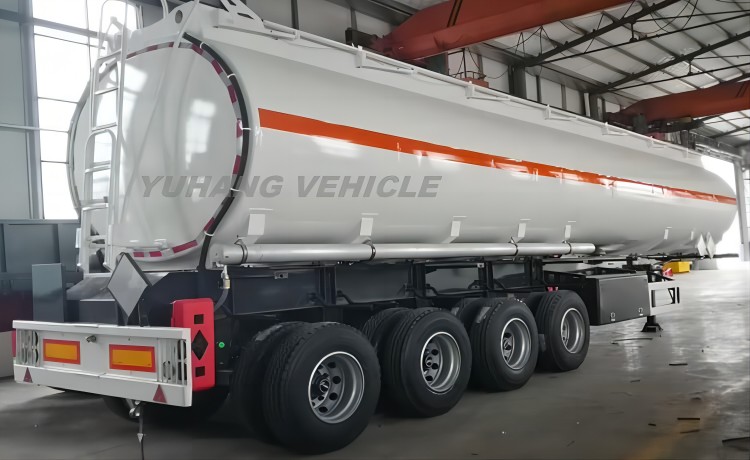 China four axles oil tanker trailers manufacturer
Advantage:
The tank body of the 4 axle 50000l fuel transport trailer is made of high-strength wear-resistant steel plate, which is durable and has a long service life.
After the tank body is welded, it is treated by shot blasting and derusting, which has low maintenance cost, durable and beautiful outer surface, and is easy to clean.
The whole vehicle is equipped with high-quality mechanical suspension, which has a strong bearing capacity and can be applied to more complex road conditions.
Electrophoretic powder spraying and baking paint process, full luster, corrosion resistance, softer and more beautiful color of the whole vehicle.
Specification:
Dimension: 1150mm*2500mm *3800mm
Total Volume: 50000L or or customized
Tank Body Material: 5mm Q235 carbon steel
End plate: Q235 carbon steel
Manhole Cover: carbon steel
Discharging Valve: diameter is 3 or 4 inch
Compartments: 5 compartments or optional
Main Beams: Q345 carbon steel material
Axle: 4 axles*13T*FUWA brand
Landing Gear: JOST brand
King Pin: JOST brand 3.5 inch
Suspension: mechanical suspension
Leaf Spring: 90(w)mmx13(thickness)x10 layers
Ladder: the tanker is equipped with a front or rear ladder to facilitate the arrival to manholes
Braking System: WABCO
Rim: 9.00-22.5
Tire: 16 units*12R22.5
ABS: optional
Painting: 1 layer of anticorrosive primer and 2 layer of top coats
Accessories: one standard tool box
Shipping Terms: by bulk cargo/RORO/containers
---