The 3 axle 45cbm semi dump trailer successfully manufactured by our company has been transported to the port of Dar es Salaam, Tanzania. Our technical engineers conducted comprehensive vehicle debugging, braking system, electrical circuit device and other inspections on the 3 axle tractor dump trailer for sale to ensure that the semi trailer has no quality problems and can meet all the transportation needs of customers.
In fact, this is the first time a Tanzanian customer has made a semi trailer transaction with the YUHANG factory. Before this, he had always been attracted by the excellent quality of our semi trailers, especially our versatile dump trailers. The sales manager monica provided detailed technical specifications and application tips to the customer and recommended the 45cbm rear dump trailer for sale.
After two weeks of close investigation and comparison, the customer finally chose to place an order with us, and soon arranged for a financial staff to pay for the goods. We are very grateful to our customers for their full trust and recognition, and are proud that YUHANG brand trailers continue to be accepted by more and more customers.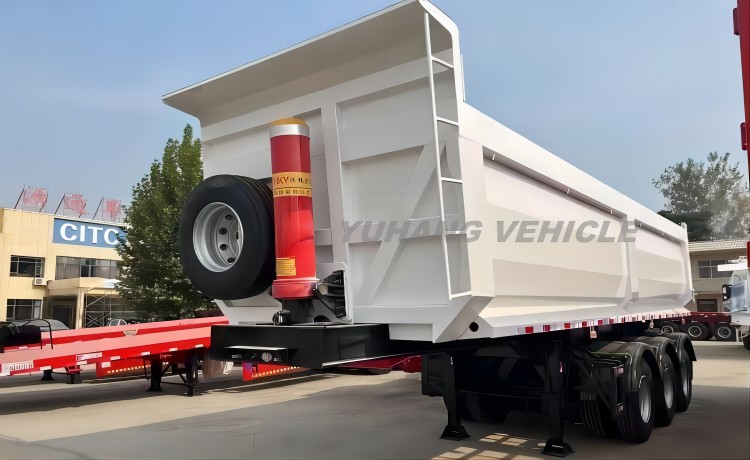 YUHANG factory has been insisting on providing the best quality and lowest price trailers to all new and old customers for many years. Of course, the configuration and structure of semi trailers are different, and the prices are also different. We can solve all transportation vehicle problems for customers and recommend the most suitable and cost-effective trailer according to your actual needs.
We have high-quality trailers, good industry reputation, perfect manufacturing process lines and 24-hour after-sales service belief. This is a big part of what drives our trailers further and further, and a decisive factor that more and more of our customers rely on. YUHANG factory is professional and reliable enough to deserve your trust.
We are China's largest truck semi trailer manufacturing and export base, and we sell large quantities of trailers to many countries in South America, the Middle East and Africa every year. In particular, the 3 axle semi dump trailer is our very best-selling vehicle model. The first-class manufacturing factory and supplier of dump semi trailer can protect your transportation plan with 100% safety.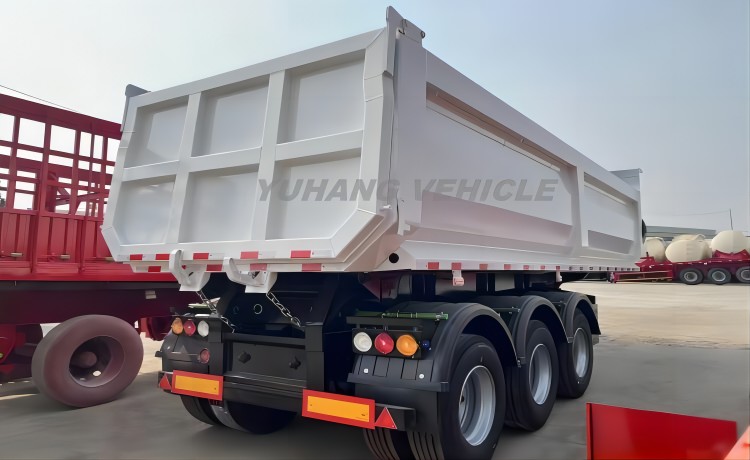 This 3 axle semi dump trailer has a wide range of applications and usage scenarios, such as: the construction industry, agriculture, industry and many other fields. It can be used to load and transport a large amount of coal, earthwork, grain, ore, sand and other bulk goods. It is very suitable for medium and long-distance transportation of goods and is an important and indispensable transportation vehicle.
We have different shapes and types of dump semi trailers for sale, 2 axle, 3 axle, 4 axle, 5 axle rear dump semi trailer and side dump truck trailer. The loading capacity is 30 tons, 50 tons, 60 tons, 80 tons, 100 tons, and 120 tons for you to choose from. Generally speaking, U-shaped dump trailers and rectangular dump trailers are the most chosen by customers.
In short, the design structure of the dump semi trailer should be reasonable, and the center of gravity of the vehicle chassis should be as low as possible. At the same time, we must also take into account the load level of the dump trailer, the type of cargo, the road environment and the driver's operating habits. We can also design and customize your own dump semi trailer to meet more usage requirements.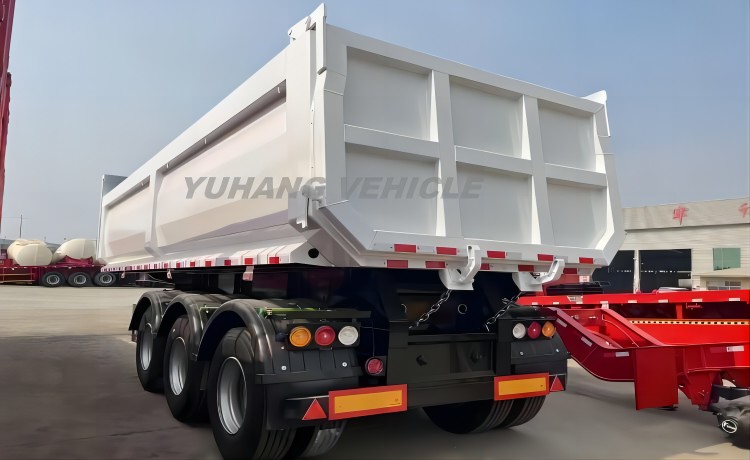 The biggest difference between this semi dump trailer and other semi trailers is that it has a dump function. The cargo compartment automatically tilts to a certain angle for better unloading of cargo. It has many advantages, such as: saving labor and time, improving transportation efficiency, shortening transportation cycle, reducing transportation costs, etc., and can achieve greater cargo loading capacity.
The most important component of all dump semi trailers is the lifting hydraulic system. Its complete functions and reliable performance are important factors in ensuring normal unloading of goods. We use high-quality HYVA hydraulic cylinder lifting system, which has stronger lifting capacity, better stability, longer service life, higher work attendance rate, and no vehicle rollover and collapse accidents.
After the semi dump trailer chassis and frame are welded and formed, we will perform shot blasting and rust removal on the surface of all parts to improve the adhesion of the paint. Professional staff will then spray polyurethane paint evenly and fully cover all areas. At this time, the exterior shape and color of the vehicle will look more beautiful and brighter.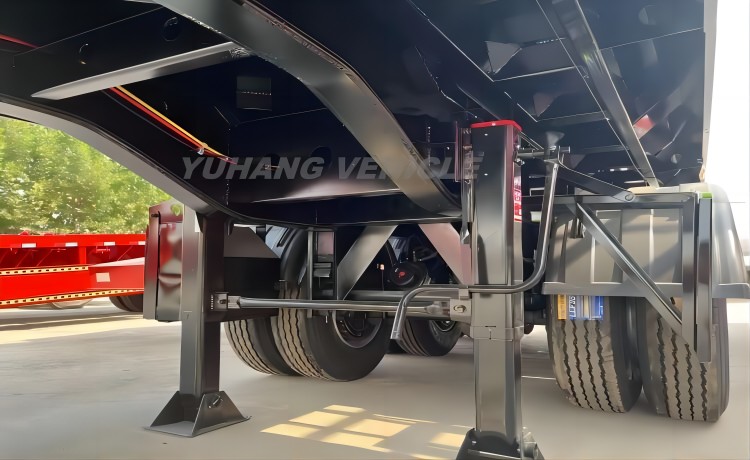 You can learn about different types of dump semi trailer, such as: 3 axle tipper trailer for sale, 60 ton dump truck trailer, u shape tipper trailer, 50cbm semi tipper trailer price manufacturer etc., including manufacturing process, quality testing, packaging and transportation plan and customer feedback.
If you are interested in the benefits and features of this 3 axle 45cbm semi dump trailer, please contact us for the latest exclusive quatation.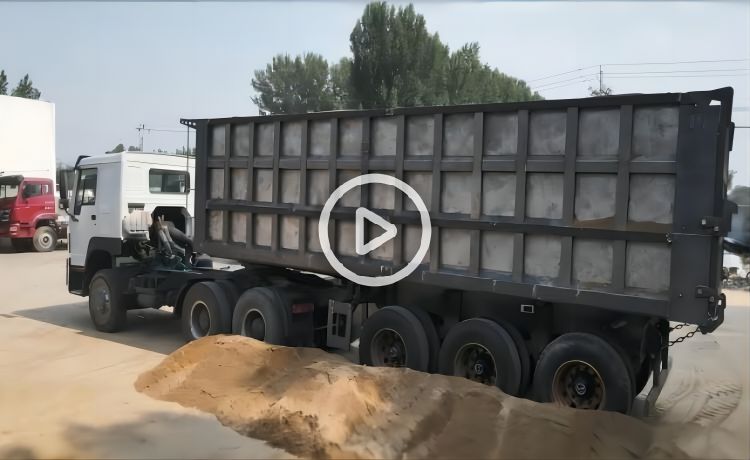 ---