Our 4 axle 80 ton lowbed truck trailer will be exported to Ghana. Various types of semi trailers of the YUHANG brand have formed a certain market size in the local area, and have also accumulated good customer reputation and operating data. Because our trailers are so sturdy and durable, we have never had any problems.
This customer from Ghana runs an excavator-related business locally and needs to frequently move machinery and equipment from one location to another. As a result, the customer became very interested in the "YUHANG VEHICLE" lowbed semi trailer and asked our sales manager Rita to provide detailed vehicle specifications and the best price information.
Based on the actual needs of customers and transportation conditions, we provide a large number of feasibility reports and recommend customers to use 4 axle 80 ton lowbed for sale. We completely use a hydraulic folding ladder at the rear of the vehicle, which will have a long ramp, which is very convenient for loading and unloading heavy machinery and equipment. And it can 100% guarantee the transportation safety of customers.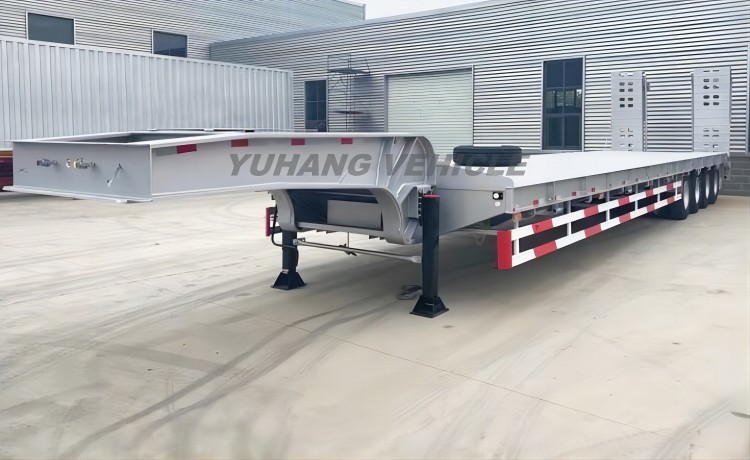 The customer was very satisfied with our professional advice and quickly paid a 30% deposit. After sales manager Rita finalizes the technical drawings and other details of the trailer with the customer, we will send the order to the manufacturing department. After the customer successfully pays the deposit, we must get the customer's final confirmation before we start producing the trailer.
As the most professional semi trailer manufacturing factory in China, we are very familiar with the lowbed semi trailers used by our customers. We strictly proceed from the actual needs of our customers and fully consider all emergencies that our customers may encounter. YUHANG factory fundamentally ensures that our lowbed trailer provide maximum convenience for customers' transportation operations.
Our lowbed semi trailer is also a very popular vehicle model and plays an important transportation role in real life. Our common excavators, bulldozers, loaders, pavers, large steel plates, heavy equipment, etc. all need it to transport. It has multiple advantages, such as: strong loading capacity, high transportation efficiency, low center of gravity, safety and reliability.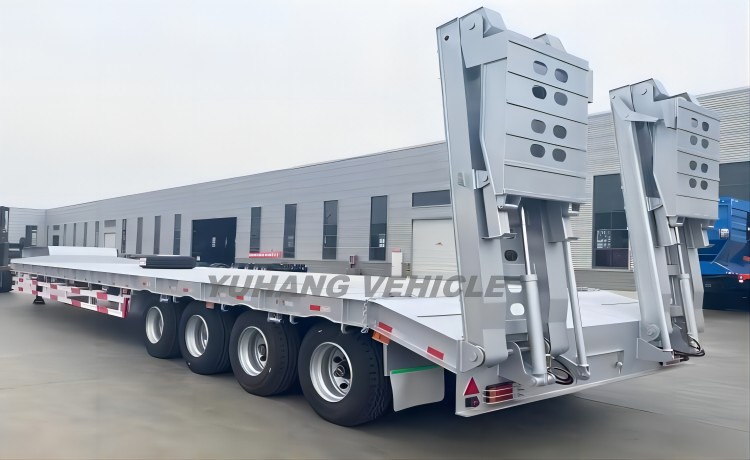 YUHANG factory has 2 axle, 3 axle, 4 axle, 5 axle, 6 axle and more axles lowbed semi trailers for sale. Moreover, lowbed semi trailer with many axles can be hydraulically steered at the same time, reducing the turning radius and greatly improving the vehicle's stability. Their loading capacities are 30 tons, 50 tons, 60 tons, 80 tons, 100 tons, 120 tons, 150 tons and so on.
We have experienced design engineers and modern welding technology to design and customize lowbed semi trailers according to your special transportation needs. The rear ladder can include mechanical spring ladder, hydraulic ladder and hydraulic folding ladder, which will fully meet the loading needs of more different types of cargo.
The main beam steel plate materials of our 4 axle 80 ton lowbed truck trailer is available for you to choose Q345B and HG60. This depends on many factors, such as: type of goods, transportation conditions, local legal regulations, customer's budget, etc. In short, we will provide the best transportation solution based on the customer's actual situation.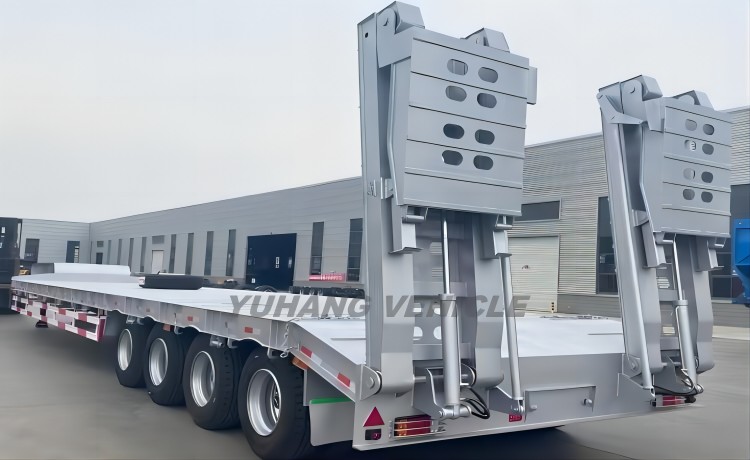 So what are the advantages of Q345B and HG60 steel plates?
1. Q345B steel plate (also called 16Mn) is a low-alloy structural steel with good comprehensive mechanical properties, welding performance and low-temperature impact toughness. The tensile strength of Q345B steel plate is 470-630MPa, which is more than 50% stronger than ordinary carbon steel plate and can meet the requirements of most construction and machinery manufacturing.
2. HG60 is a type of high-strength structural steel with high strength and good fatigue resistance, high toughness and good welding performance. It also has good corrosion resistance and certain wear resistance. Mainly used in various types of construction machinery, large equipment, offshore drilling derricks, coal mine hydraulic supports and heavy vehicle structural components.
3. The usage environment of each trailer is different. Our sales staff will communicate with customers in advance to select raw materials. Moreover, our steel plates are all certified, so the quality is more guaranteed. The YUHANG factory's lowbed trailers focus on customer needs in every aspect, designing appropriate solutions and selecting the best materials to ensure the stability and safety of the trailer, so that customers can use it with peace of mind.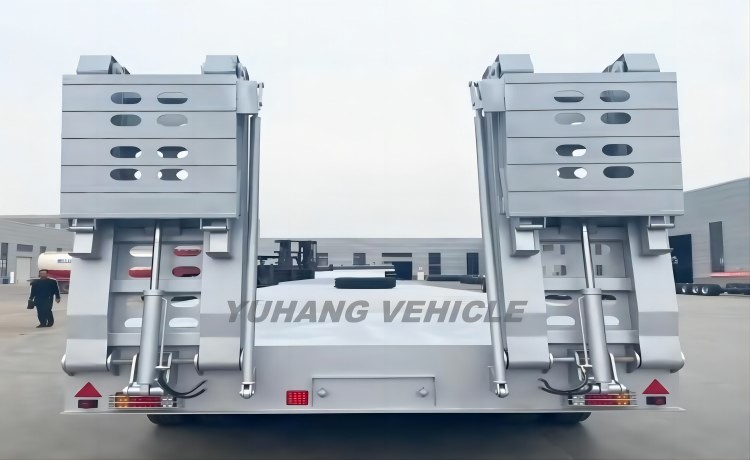 You can learn about different types of lowbed semi trailer, such as: 3 axle lowbed semi trailer, 4 axle 80 ton lowbed truck trailer, 60 ton low loader trailer, 3 line 6 axle detachable gooseneck lowbed for sale, etc., including manufacturing process, quality testing, packaging and transportation, and customer feedback.
If you are interested in the benefits and features of this 4 axle 80 ton lowbed truck trailer, please contact us for the latest exclusive quotation.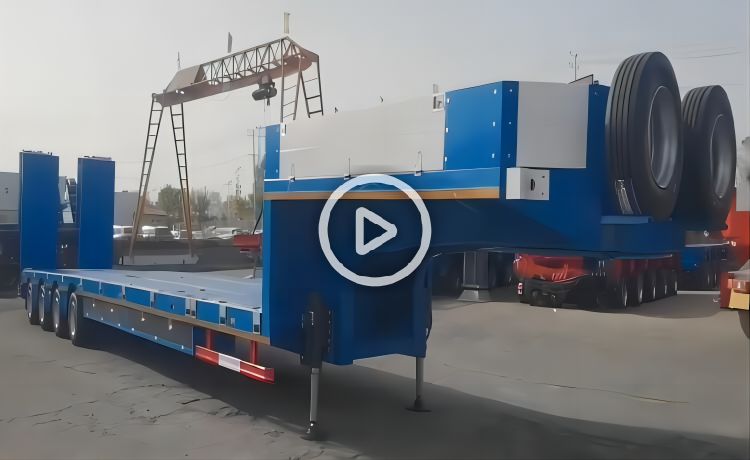 ---