The newly upgraded 4 axle low bed semi trailer with best price of the YUHANG brand has been transported to the Ivory Coast market. It will be used to transport excavators, tractors, pavers, harvesters and other large construction machinery and equipment and will quickly help customers expand their transportation business. Are you also looking for this type of trailer, we can provide it for you.
The customer is the purchasing manager of a local logistics and transportation company. He saw many trailers with the YUHANG logo driving on the road, and he was shocked by the huge loading capacity and sturdy and stocky appearance of these trailers. So he approached our sales manager Rita to inquire about lowbed trailers for sale.
Based on the customer's needs and taking into full consideration the local transportation road conditions and legal regulations, we recommend the customer to use a 4 axle low loader. Its maximum load rating is 80 tons, which can well meet the needs of customers for transporting goods. After comparing multiple semi trailer manufacturing factories, the Ivorian customer finally chose to complete the order transaction with YUHANG.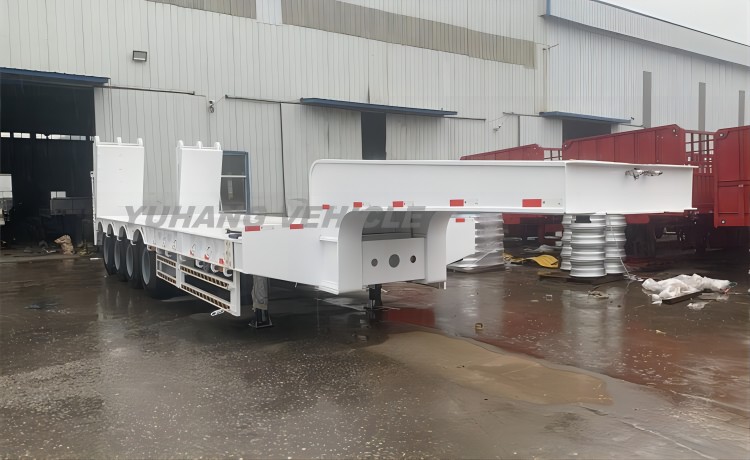 At the same time, sales manager Rita explained the use and maintenance techniques of the 4 axle low bed semi trailer in detail to customers, which can help customers become familiar with the operating steps and processes as soon as possible. Customers are very satisfied with our professional knowledge and warm and considerate service, and tell us that he will and recommend their relatives and friends to buy our truck trailers.
There is no doubt that many of our new customers are referrals from old customers we have worked with before. They are all very satisfied with the lowbed semi trailer from YUHANG factory. This is the fundamental reason why we sell more and more semi-trailers every year to many countries in Africa, the Middle East, South America and Southeast Asia.
Our low bed trailers can match all tractors, you just need to tell us the height of the tractor saddle. If you are very urgent to use the lowbed semi trailer, we can also speed up the order progress. We have freight forwarders who have cooperated with us for more than 20 years, and we will definitely transport the trailers to your designated port safely and reliably with quality and quantity.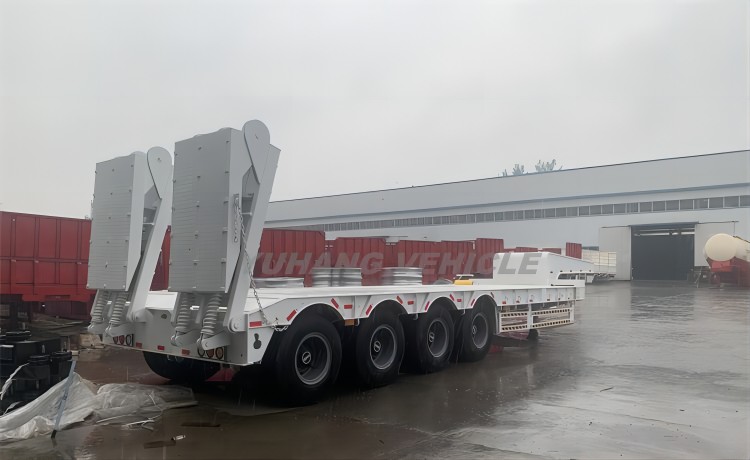 In many areas of the world, lowbed semi trailers are a widely used transport vehicle. For a lot of heavy machinery and cargo, it has unparalleled transportation advantages over other types of trailers. Such as: strong load capacity, wide range of use, high transportation efficiency, simple and convenient operation, good safety performance, etc.
We have 3 axle, 4 axle, 5 axle, 6 axle, gooseneck detachable lowboy trailer, hydraulic folding ramp low bed truck trailer, mechanical ladder, air suspension lowbed for sale. Its loading capacity is 30 tons, 50 tons, 60 tons, 80 tons, 100 tons, and 120 tons for you to choose from. YUHANG factory also can provide professional design and customization services according to your actual needs.
The entire structure of the 4 axle low bed semi trailer is that the front section of the gooseneck is connected to the tractor saddle, and the rear section of the gooseneck is the cargo loading platform. All mechanical equipment will pass through the hydraulic ramp at the rear end of the vehicle. The ramp has a certain length, which will greatly reduce the height of the center of gravity of the cargo and move it to the platform safely and stably.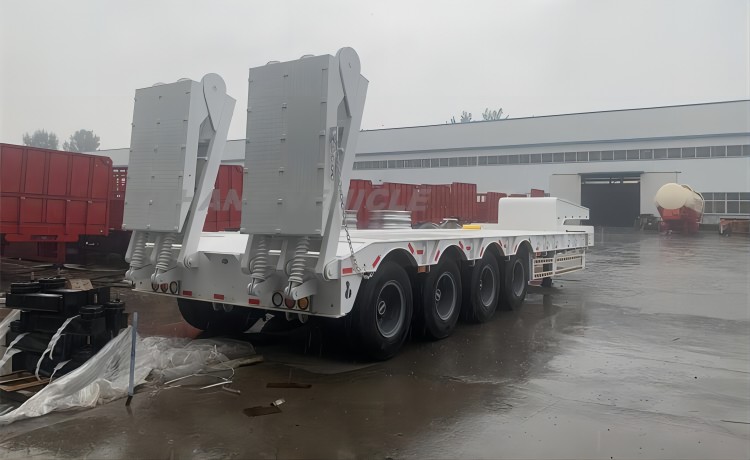 The main beam of our 4 axle low bed semi trailer is made of Q345B high-strength structural steel plates, and the main beam is reinforced with double rib plates. Its load-bearing capacity is five times that of other suppliers. The web height of the main beam is 480 ~ 550mm, and the thickness of the upper, middle and lower wing plates are 20mm, 10mm and 22mm respectively, which can adapt to more complex road conditions.
The space frame structure formed by the parallel combination of longitudinal beams and cross beams adopts fully automatic submerged arc welding technology and has the characteristics of high rigidity and high strength. The distance between the two longitudinal beams is only 500mm. At the same time, we can also make the load-bearing cross-section of the frame according to your requirements to meet the transportation of various special goods.
YUHANG factory will use advanced computer design software and technical parameters to continuously optimize the practical performance of the trailer. All of our lowbed semi trailers undergo strict load-bearing testing and quality inspection to ensure that every trailer sold is above the standard grade. During use, we will have professional engineers to answer your questions.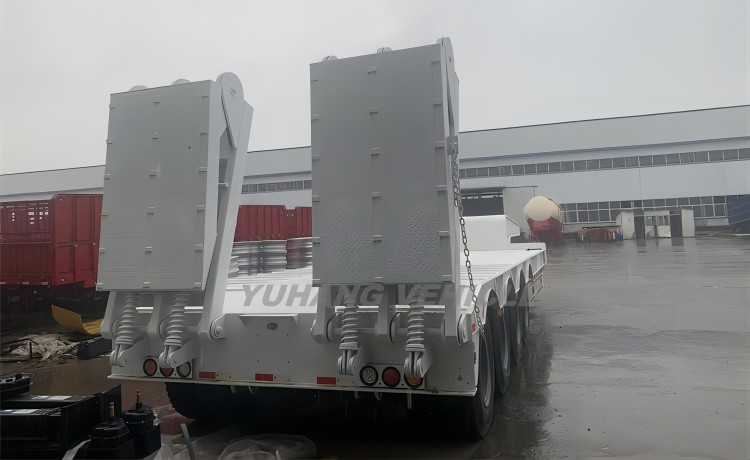 You can learn about different types of semi lowbed trailer, such as: 3 axle lowbed transport trailer, 60 ton lowbed truck trailer, 4 axle 80 ton low bed semi trailer, 6 axle lowbed loader and removable gooseneck lowbed RGN trailer for sale, etc., including manufacturing process, quality testing, packaging and transportation, and customer feedback.
If you are interested in the benefits and features of this 4 axle low bed semi trailer with best price, please contact us for the latest exclusive quotation.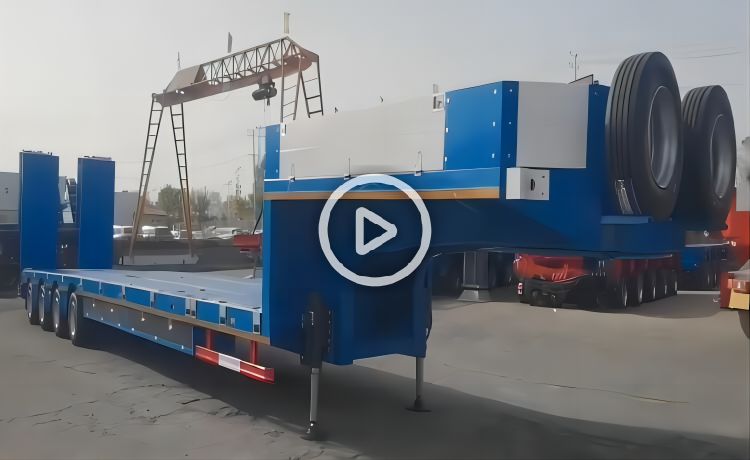 ---