Customer in Saudi Arabia is very satisfied with the quality of YUHANG brand 40 foot flatbed container trailer and have purchased flatbed semi trailers from YUHANG factory many times. He contacted sales manager Jason in May and told us that he needed 2 units flatbed trailer mainly for transporting some bulk goods.
Sales manager Jason is very familiar with the customer's usage habits, so he recommended the upgraded 40 foot flatbed container semi trailer for sale to the customer. Jason quickly compiled the trailer's pictures, videos, technical parameters and other details, and sent the quotation for the 40 foot flatbed container trailer to the customer, who paid the deposit within a week.
The picture below shows the completed 40 foot flatbed container trailers. They have been sprayed with waterproof wax and will be sent to the port of Saudi Arabia soon. YUHANG factory has experienced design engineers, complete intelligent manufacturing equipment, and high-standard welding process lines, which can complete all customer order requirements with high quality and quantity.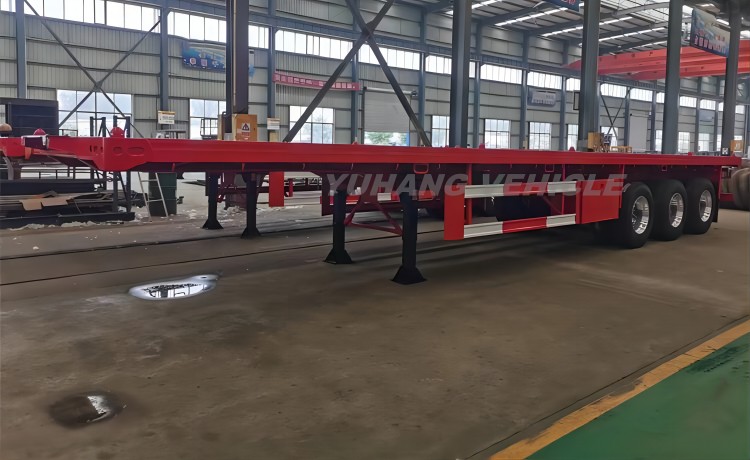 Flatbed container trailers, also known as container chassis trailers, are mainly used for transporting 20 foot, 40 foot, 45 foot, 48 foot and 53 foot container cargo in ports, terminals, stations, industrial parks and other places. It has the advantages of high transportation efficiency and good safety performance, and has been widely used and promoted in the modern logistics industry.
Triple axle 40ft flatbed container trailer is our very best selling vehicle model. We export a large number of flatbed semi trailer to the African market every year to support local cargo transportation and economic development. We have accumulated a wealth of operating data and customer cases, and many customers have repeatedly praised the multi-functional role of YUHANG brand trailers.
At the same time, we are also very familiar with local transportation road conditions and legal regulations, and can design and customize flatbed trailers according to your actual transportation needs. YUHANG factory can provide you with the height, length, width and color painting of flatbed container trailers. A comprehensive provider of excellent transportation solutions, YUHANG is your best choice.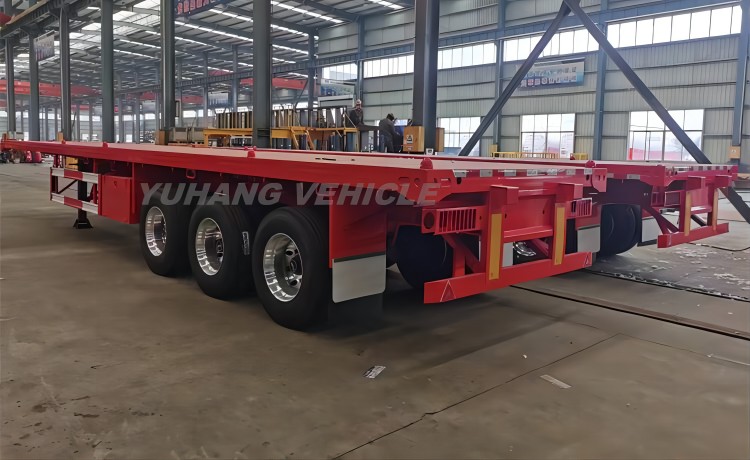 YUHANG factory specializes in the production of flatbed container trailers. We have nearly 30 years of flatbed trailer production technology and welding processes. We equip our flatbed trailers with patterned floors and THT twist locks for customers to transport bulk and containerized goods. A trailer has multiple uses, is energy-saving and efficient, economical and environmentally friendly.
Our 3 axle 40 foot flatbed container trailer have a maximum load capacity of 80 tons, thanks to the high-strength steel plates, sturdy and durable chassis frames we use, safe and strong welding technology, and well-known brand accessories. Our trailers have a service life of over 15 years under standard conditions.
We also have high-quality 2 axle, 3 axle, and 4 axle flatbed semi trailers for you to choose from, with a load capacity of 30-120 tons. Every flatbed container trailer will undergo strict quality inspection and load testing before leaving the factory to ensure all rights and interests of customers. Moreover, we also offer an extra-long 3-year quality assurance agreement for you.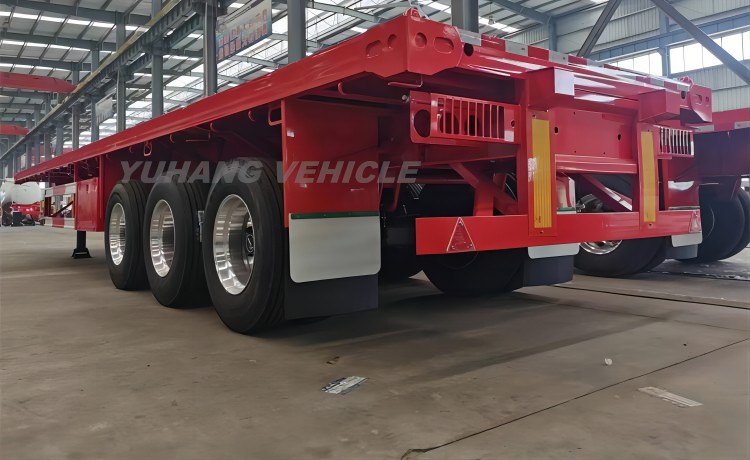 The main beam of this 40ft flatbed trailer is integrally cut from low-carbon high-strength Q345B steel plate, which has higher load-bearing capacity and longer service life. There is no gap interface between the upper wing plate, middle wing plate and lower wing plate of the main beam, which ensures the integrity of the main beam to the greatest extent, making it more solid and durable without deformation and bending.
Our flatbed semi trailer can accommodate containers of different sizes, which is a very important test for the chassis frame of the trailer. We use the most advanced fully automatic submerged arc welding process to improve the welding effect by more than 30% compared with traditional manual welding technology. High-specification flatbed trailers can adapt to more mountainous, muddy, wet soil and areas with poor road conditions.
YUAHNG is produced independently by the factory and sold by itself without going through any third-party escrow agency. We have a complete pre-sales, sales and after-sales service system to provide you with one-stop transportation business. We can surpass 99% of other suppliers in quality and price control, and we are your best partner in every aspect.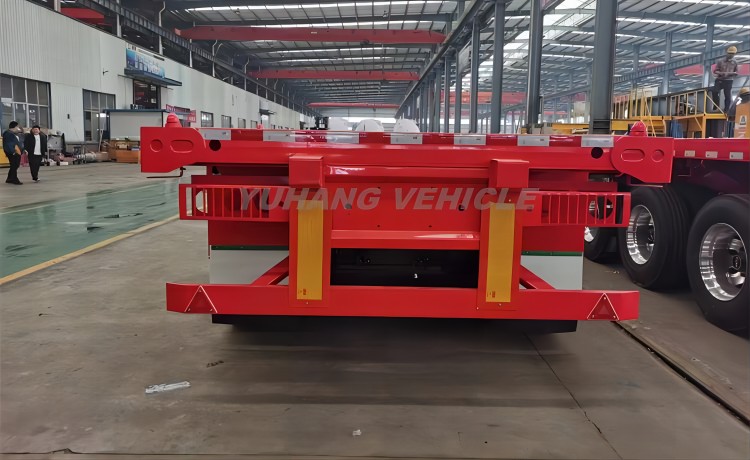 You can learn about different types and models of flatbed semi trailer, such as: 3 axle flatbed trailer, 60 ton flatbed semi trailer, 40ft flatbed container trailer and superlink flatbed truck trailer for sale. We have professional technical engineers and welding workers who can provide you with the most comprehensive transportation solutions.
This 3 axle 40 foot flatbed container trailer has many advantages and features, if you want to get better exclusive quotation, please contact us.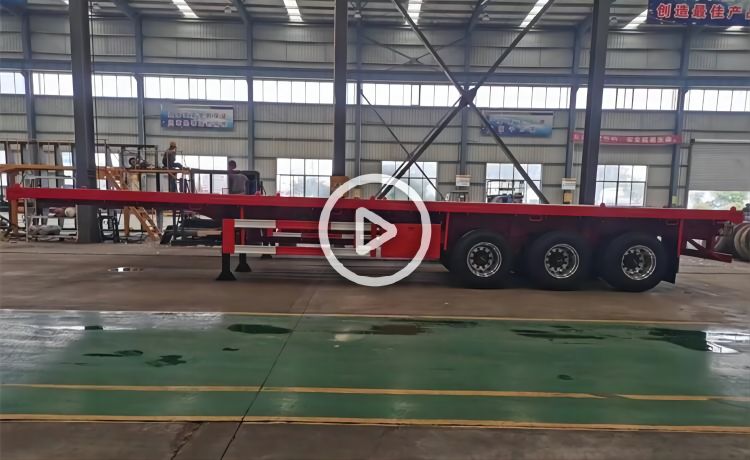 ---