The 40cbm heavy-duty dump trailer ordered by a Tanzanian customer is ready to be sent to the port of Dar es Salaam. At the beginning of last year, we had a pleasant cooperation. The customer was very impressed with the dump trailer of the YUAHNG brand, and was full of praise for its solid quality and super service ability.
With the continuous expansion of the transportation business, when the Tanzanian customer decided to purchase the semi dump trailer, he immediately contacted the YUHANG factory. This time, our sales manager Rita recommended a u shape 40cbm heavy dump semi trailer. After a week of consideration, the customer purchased the vehicle directly and paid all the fees in one lump sum.
Our technical engineers drew the technical drawings according to the customer's needs at the first time. After confirming a series of production details with the customer, the triaxle dumper semi trailer was quickly put into the actual production stage. Now we have received feedback from the factory that everything is going well with the customer's dump trailer, and we will deliver it to the Tanzanian customer soon.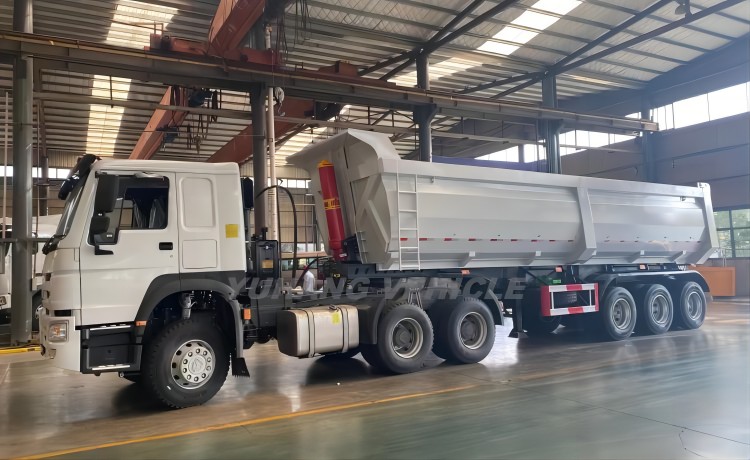 Buying and trusting YUHANG factory brand dump trailers is the most correct choice for all new and old customers. Because we are a very well-known and mature semi trailer manufacturing base in China, we export a large number of semi trailers to more than 60 countries every year. 100% quality assurance, 100% lowest discounted price, and 100% after-sales service are our benchmarks for continuous progress.
Our dump trailer for sale are mainly used for transporting gravel, coal, grain, wet soil, building materials and other bulk cargo, and are usually used together with loaders. Because of its strong loading capacity, fast transportation speed, short unloading time, and wide operating range, it has become a very important transport vehicle for urban construction and mine development.
Among them, the 3 axle dump semi trailer is our best-selling model, which has been loved by many customers and has been purchased repeatedly. The cargo box has U-shaped and rectangular design structures for you to choose, which can meet the loading and transportation needs of different types of cargo. The residual rate of cargo is low, which greatly improves production capacity and work efficiency.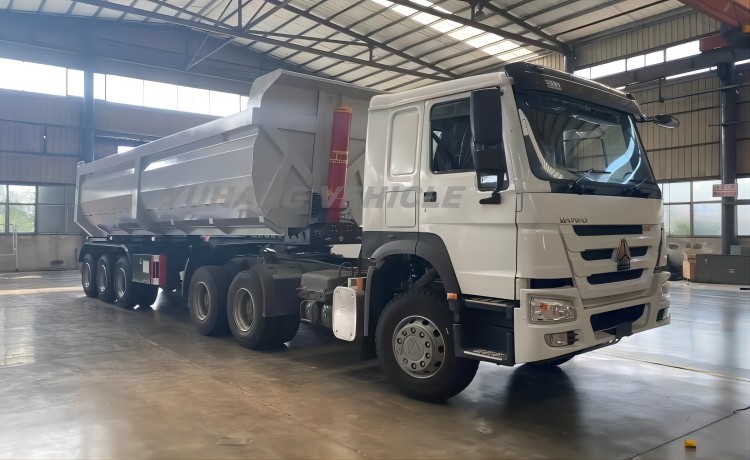 This 40cbm heavy dump trailer for sale main beam is made of T700 high strength steel plate. Yield strength is above 620MPa; tensile strength is above 700MPa; elongation is above 17%; cold bending test d=2a. Compared with ordinary steel plates, it has high strength, good toughness, easy processing and good weldability.
All spare parts of the vehicle have been treated with shot blasting, rust removal and anticorrosion, and are welded by fully automatic robot welding technology. The solder joints are dense and reliable; the welds are uniform and full without defects; the sealing performance is good to prevent cargo leakage; the welding quality is high, no deformation and breakage occur, and the safe service life can reach more than 15 years.
YUHANG factory insists on and repeatedly uses high-quality accessories of world-renowned brands for a long time, such as: HYVA hydraulic cylinders. It has strong bearing capacity, fast lifting speed, no sense of frustration, high safety factor, good stability and low failure rate. These actions can effectively protect all the rights and interests of customers and maintain our good reputation.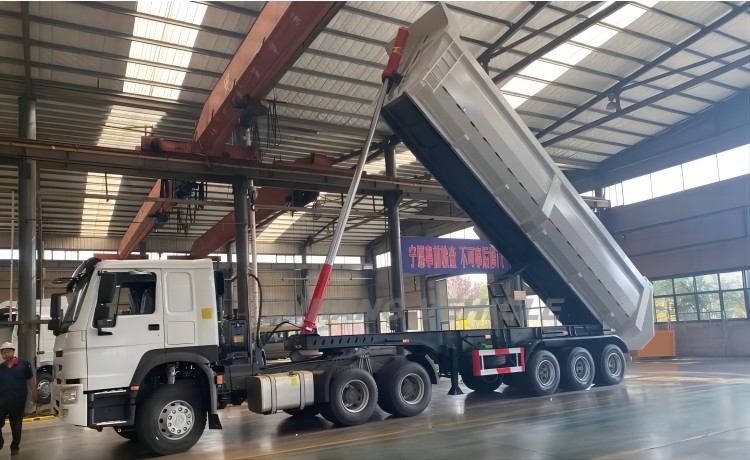 Good maintenance habits are an important part to ensure the safe and stable operation of our dump trailers. Here are some maintenance requirements to follow:
1. Load the goods in strict accordance with the regulations.
2. Pay attention to and check the upper and lower supports of the hydraulic cylinder, and whether the moving parts and their fixing parts are abnormally damaged or deformed.
3. Regularly check the hydraulic system for leaks.
4. Check the use of accessories, such as axles, suspensions, etc. must be lubricated regularly to ensure that the vehicle can run normally and smoothly.
5. Tire inflation and tread wear.
6. Regularly check the brake pads and replace them in time if necessary.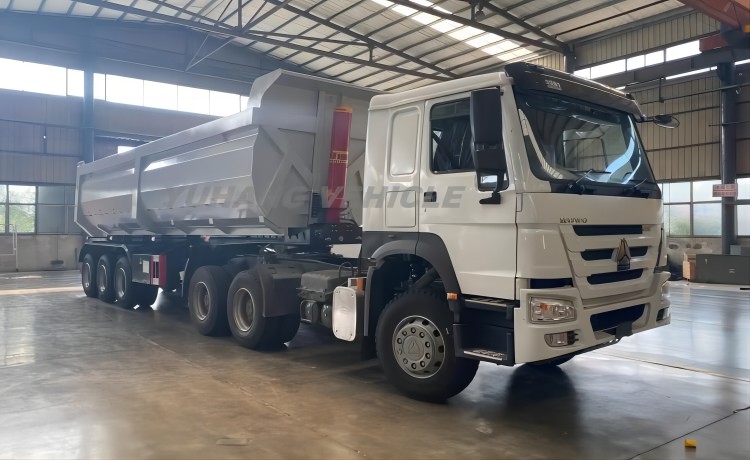 You can learn about different types of dump trailer, such as: 3 axle tipper semi trailer, 60 ton dump truck trailer, u shape semi tipper trailer, etc., including manufacturing process, quality testing, packaging and transportation plan and customer feedback.
If you are interested in the benefits and features of this dump trailer, please contact us for the latest exclusive quatation.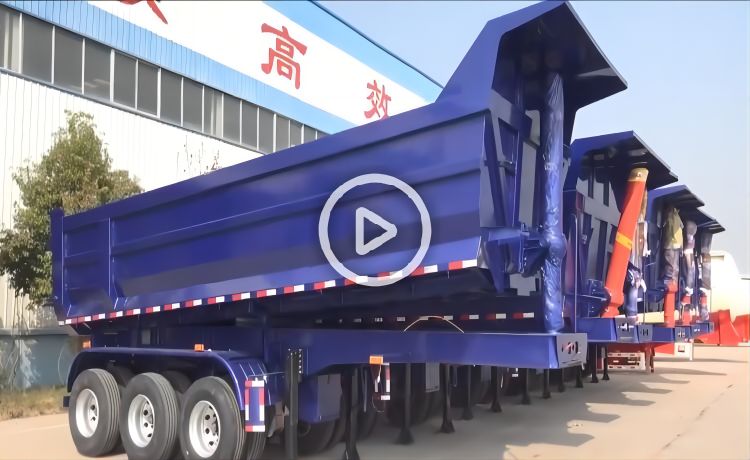 ---