The 40ft container flatbed trailer ordered by the Kenyan customer has been packed and will be sent to the port soon. For a long time in the past, this loyal customer from Kenya has purchased YUHANG 40ft container flatbed trailer many times. He made it clear that the YUHANG brand semi trailer is the best.
At the beginning of June, he found our sales manager Nike again, urgently needing 5 pcs 40ft container flatbed trailers to meet the current expanding transportation business. The sales manager Nike quickly sorted out the technical parameters and quotations of the 40ft container flatbed trailer and sent them to the customer, and gave certain discounts on the price.
We received feedback from the customer the next day, and he was very satisfied with all of this, and quickly arranged the financial payment. All the communication between us is very efficient and smooth, and we all fully trust each other. At present, the 40ft flatbed semi trailer has been produced and will be delivered to customers soon.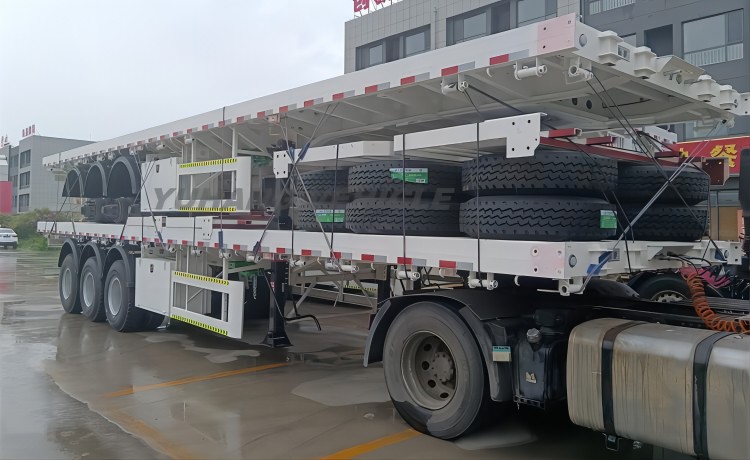 Thanks to Kenyan customers for their trust in YUHANG. We will always stick to our original intention, firmly grasp the quality and price barriers, and wholeheartedly provide all new and old customers from all over the world with the most cost-effective and durable semi trailers. This is a precious two-way choice, and the trust of customers is also an important driving force for our continuous progress.
YUHANG factory has sold a lot of flatbed semi trailers to many countries, this 40ft container flatbed trailer is our very popular model. It is mainly used in various application scenarios, such as: ports, docks, ships, waterways, highways, transfer stations, etc. It can be used to load and transport 1*40ft or 2*20ft container cargo.
Our flatbed semi trailer is a vehicle specially designed to transport containers and bulk cargo between shipping facilities and ports. The vehicle is available in lengths of 20 feet, 40 feet, 45 feet, 48 feet and 53 feet to match containers of different lengths. The perfect combination with the tractor makes the container flatbed trailer play an important role in many fields.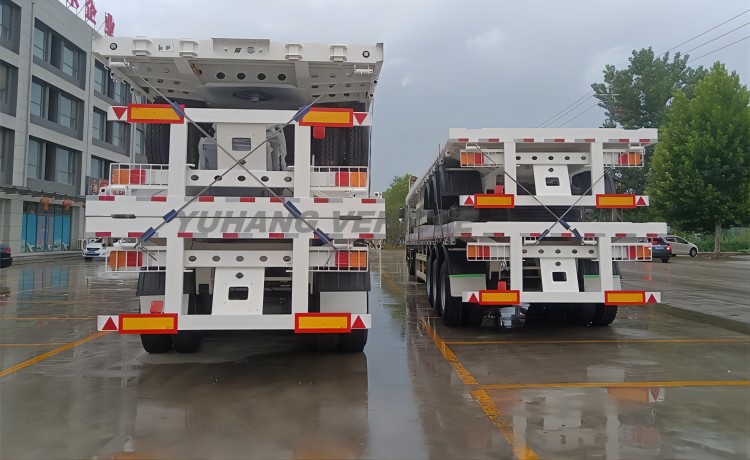 The main beam of the 40ft container flatbed trailer is integrally cut from high-strength steel plates and welded into an "I" shape. The height is 500mm, the width of the upper web and the lower web is 14mm, the thickness of the upper web, the middle web, and the lower web are 14mm, 8mm, and 16mm. This will greatly improve the anti-vibration, anti-bump and anti-torsion capabilities of the vehicle.
At the same time, we use the world-recognized fully automated robot welding technology to weld the main beam, longitudinal beam and side beam on both sides. The advantages are: high welding strength, good welding quality, uniform and full weld seam without defects, firm and reliable solder joints, no deformation and breakage, long safe service life, and solves the driving conditions of muddy and bad roads.
We use high-strength mechanical spring suspension, which has stronger bearing capacity and low maintenance cost. The axle is the FUWA brand, with safe and stable operation data, and enjoys a certain reputation in the industry. Landing gear and brake valves are JOST and WABCO respectively. The vehicle is equipped with wear-resistant rubber tires specially designed and developed by the factory, and the safe running mileage can reach 300,000 kilometers.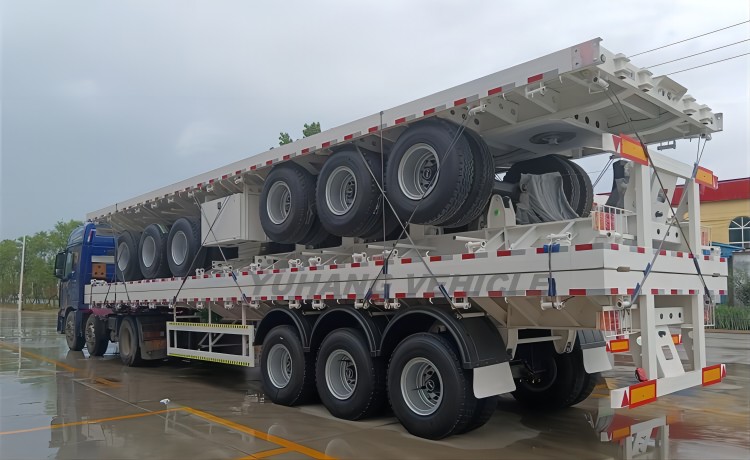 We will set twist locks at the corresponding positions on the working platform of the container flatbed trailer to fix the container to ensure that the entire transportation process is safer and more efficient. In terms of packaging and transportation, the three flatbed trailers shown in the picture can be folded together to save a lot of cost, which is the best choice for logistics transportation.
In a word, YUHANG brand flatbed semi-trailer has the following advantages: 1. It can adapt to more complex terrain; 2. It is more convenient and quick to load and unload goods; 3. It is easy to operate and flexible; 4. It can quickly realize the mechanization and automation of vehicles; 5. It has It is beneficial to improve work efficiency and reduce labor intensity; 6. It can be successfully matched with various types of tractors in a short time.
In order to meet the diverse transportation needs of more customers, our technical engineers can design and customize the carrying capacity and main dimensions of the container flatbed trailer according to your needs. A full range of vehicle transportation solutions are available, which enables customers to get many advantages and answers from us.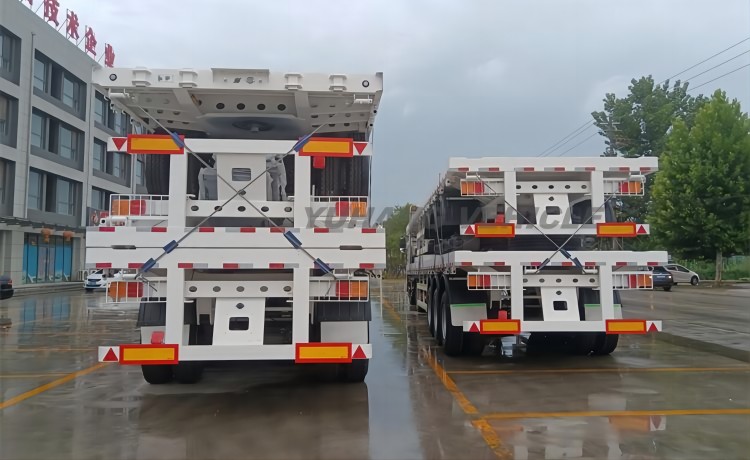 You can learn about different types and models of container flatbed trailers, such as: 3 axle flatbed trailer, 60 ton semi flatbed trailer, 20ft/40ft container flatbed trailer and flat deck trailer for sale. We have professional technical engineers and welding workers who can provide you with the most comprehensive transportation solutions.
This 40ft container flatbed trailer has many advantages and features, if you want to get a better price, please contact us.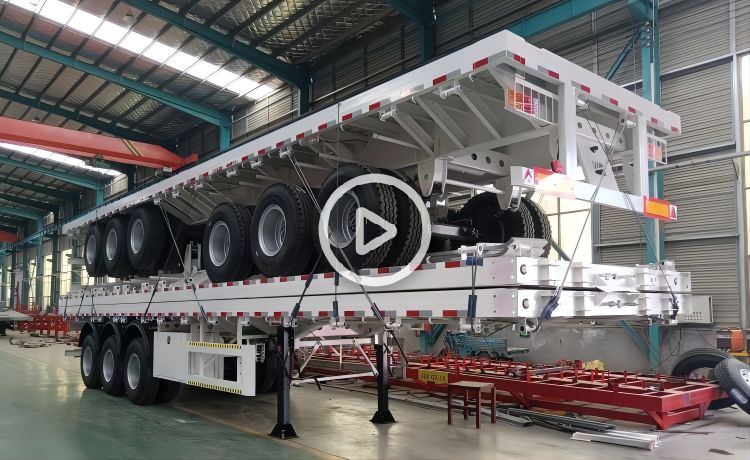 ---