50000 liters 4 axle oil tanker trailer has been manufactured at the YUHANG factory and passed the final quality inspection, and will be shipped to the port of Luanda, Angola. The production cycle of this trailer is only 11 days, which is 40% ahead of the delivery time stipulated in our contract, saving customers a lot of waiting time.
The Angolan customer owns a petroleum logistics and transportation company and needs to transport the refined liquid fuel to other places. The customer saw tanker trailer with the YUHANG logo locally and was very interested in this semi trailer. Therefore, he approached our sales manager Marry and asked for detailed technical specifications and prices of YUHANG tanker trailers.
Based on the customer's actual transportation needs and local road conditions, we recommend customers to use 4 axle fuel transport trailer for sale. The trailer has a loading volume of up to 50,000 liters and is divided into 4 compartments, each with an effective loading capacity of 12,500 liters. The customer was very satisfied with our arrangement and quickly signed a purchase agreement.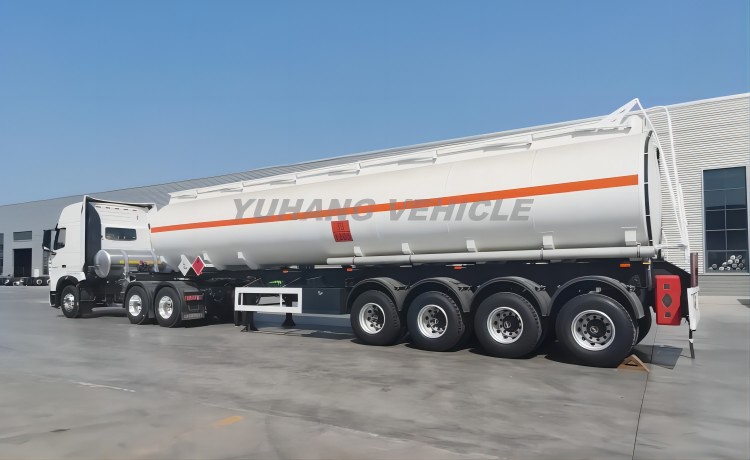 As the most advanced and most intelligent tanker trailer manufacturer in China, YUHANG factory has rich design and customization experience and can provide comprehensive transportation solutions to all new and old customers. At the same time, we have also attracted more and more oil transportation companies and individuals to establish good cooperative relationships with YUHANG.
Our tanker trailer products have high loading capacity, strong work quality, fast transportation speed, long service life, simple and convenient operation, which can save you a lot of unnecessary maintenance costs. Moreover, our fuel tanker trailer have also undergone optimization and upgrade procedures to more stringent standards, further improving loading and unloading efficiency and safety performance.
We have different types of liquids of fuel transport trailer for sale, such as: petroleum, gasoline, diesel, cooking oil, palm oil, coal tar, asphalt, purified water, and sulfuric acid and alcohol corrosive liquids. The loading capacity of the vehicle is 38000l, 40000l, 42000l, 45000l, 50000l, and 60000l for you to choose.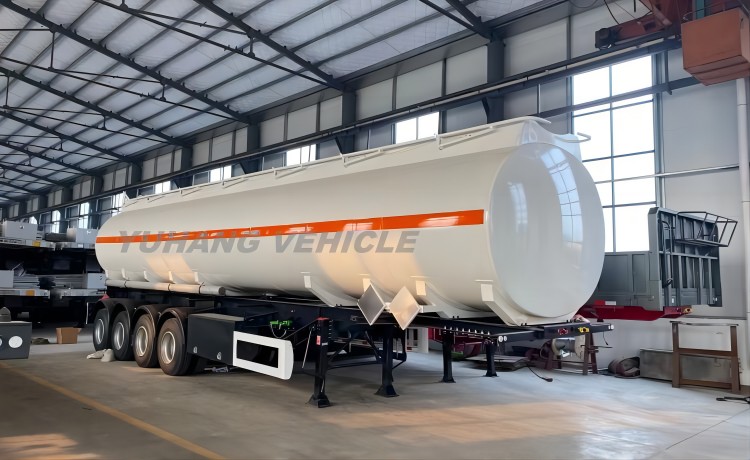 This 50000 liters oil tanker trailer body is made of 4mm or 6mm high-quality stainless steel plates, and the external shape structure can be designed as oval or square. The interior of the tank is evenly divided into 4 equal-area compartments, which can load 1-4 types of liquid cargo at the same time. In order to reduce the sloshing of liquid inside the tanker trailer, all spaces inside the tank are equipped with anti-wave board.
Each compartment is equipped with a manhole cover with a diameter of not less than 500mm to facilitate personnel to enter the interior of the tank for cleaning or maintenance. An important component on the manhole cover is the breathing valve, also known as the safety valve. The function of this valve is to automatically adjust the pressure inside the tank to keep it within a certain range. Furthermore, the breathing valve helps reduce the evaporation loss of liquid cargo.
Another important component on the manhole cover is the anti-overflow probe, which is a safety alarm device. When the loaded liquid cargo reaches the correct location, the sensor will sound or alarm to ensure that the tanker trailer will not overflow during loading. This little anti-overflow device will greatly improve your work efficiency.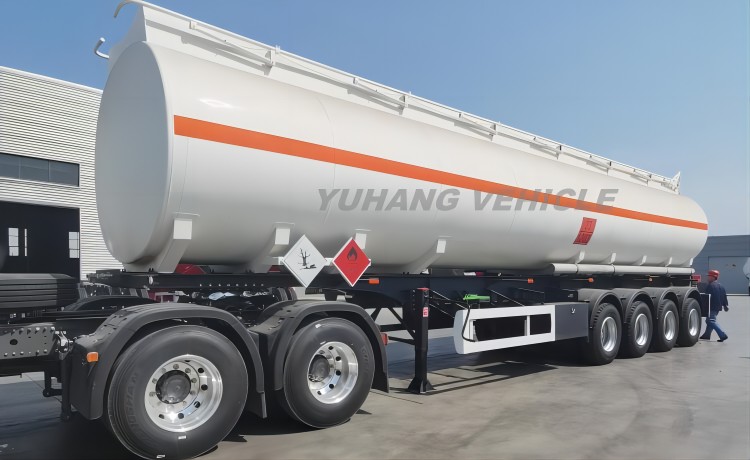 At the same time, the main beam of the vehicle chassis is integrally cut and welded from well-known brand high-strength steel plates. Accessories include BPW/FUWA axles, thickened mechanical spring suspension system, aluminum alloy wheels, JOST landing gear, WABCO braking system, and wear-resistant rubber 12R22.5 tires. This allows the tanker trailer to adapt to more complex, rugged and bad road conditions.
50000 liters 4 axle oil tanker trailer typically have very high storage capacities and can accommodate thousands of liters of liquid fuel cargo. This makes tanker trailers attach great importance to leakage prevention, explosion prevention, fire prevention and collision prevention during the design and manufacturing process. Tanker trailers also undergo rigorous testing and certification to comply with relevant safety standards and regulations.
You just need to tell us how much liquid petroleum fuel is loaded on the tanker trailer? Our professional technical engineers will develop a detailed plan and price estimate form for you, including the loading volume of the tanker trailer, tank material, pressure, service life and operation method.

You can learn more different types of fuel tanker trailers, such as: 38,000 liter tanker truck trailer, 40000 liters stainless steel fuel tanker trailer, 45,000 litres oil tanker trailer for sale, 50,000/60,000 litres petrol tanker trailers, including our manufacturing process, quality inspection, packaging and transportation, and customer feedback.
There are many more advantages and features of this 50000 litres 4 axle oil tanker trailer, if you are interested in it, please contact us to get the latest exclusive quotation.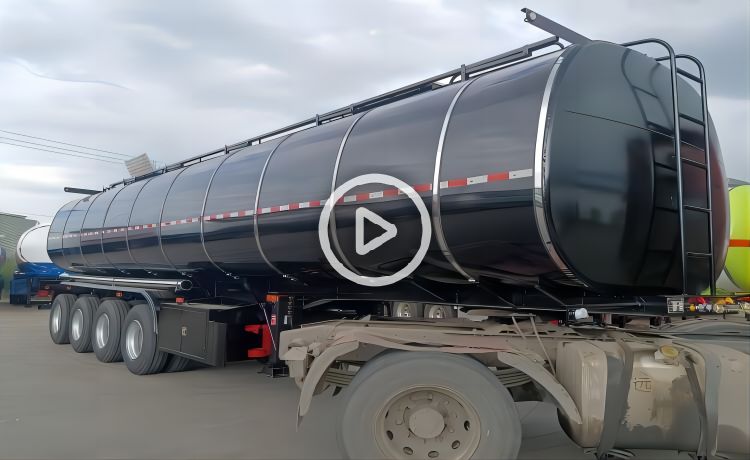 ---