Our 50cbm 4 axle tipper truck trailer will be sent to Mombasa Port in Kenya soon. The Kenyan customer has been a long-term customer of ours and purchases semi trailers from the YUHANG factory every year. He is very satisfied with the quality and working performance of our trailers and often recommends them to his friends.
This time the customer needed to order 2 dump semi trailer. Sales manager Rita provided the customer with a detailed quotation for a 4 axle end dump trailer with a loading capacity of 50cbm. At the same time, we have given customers certain discounts on price and also given away many parts for free to ensure customers' later maintenance and use.
Currently, the YUHANG 50cbm tipper truck trailer has successfully passed the load test trial, we pay great attention to the quality and details of the trailer. This dump trailer is designed with the actual needs of customers and the local transportation environment in mind, and adopts professional structure and technology to give it the highest safety and reliability.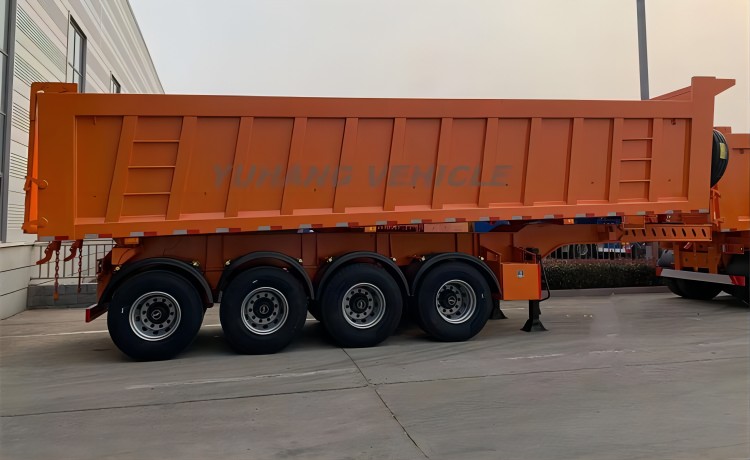 YUHANG factory is the largest semi trailer manufacturing base in China, and we have nearly 30 years of production experience. Every year we sell a large number of semi trailers of various types to many countries in the African market, and they have never had any quality problems. This is also the fundamental reason why we are increasingly favored and loved by our customers.
We have different models of dump semi trailer for sale, such as: rear dump trailer and side dump truck trailer. They have different design structures and unloading methods, with a loading capacity of 30-120 tons for you to choose. At the same time, we can also design and customize dump semi trailers according to your special transportation needs.
Our 50cbm tipper truck trailer has fast unloading speed and can unload a large amount of goods in a short time, greatly reducing your operation time and improving transportation efficiency. The 50cbm dump truck trailer can adapt to various complex road environments, such as: mountains, deserts, hills, highways, muddy roads, etc.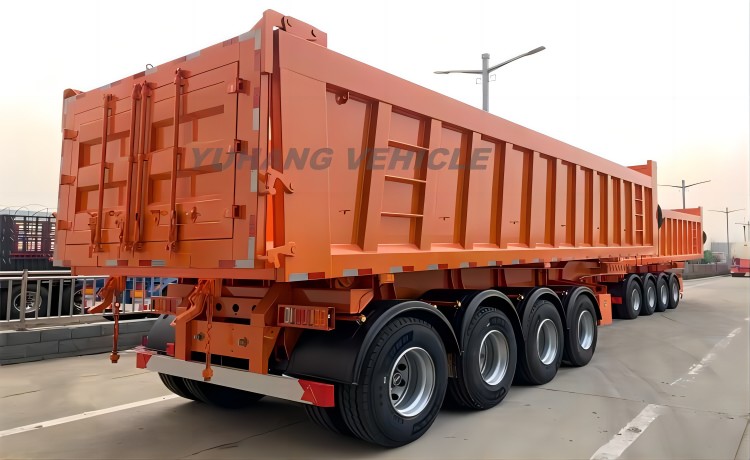 The main body of the 4 axle 50cbm tipper truck trailer frame is made of Q345B high-strength structural steel plate, and the main beam and cross beam are integrally welded together using automatic submerged arc welding technology. This welding method makes the vehicle have the best load-bearing effect of equal cross-sections, without deformation and breakage, and the safe service life can reach more than 15 years.
YUHANG brand 4 axle dump semi trailer is equipped with HYVA high-quality hydraulic cylinders, which have strong lifting capacity, fast lifting speed, and no risk of rollover. The axles, tires and suspension systems are all world-renowned brand products, which are safe and reliable to use, with excellent and stable performance, fundamentally ensuring the working ability of the vehicle.
We have upgraded the painting technology of the 50cbm dump trailer: electrophoretic primer + powder coating. This process uses electrophoresis as the basis to cover the vehicle with a layer of primer, and then the topcoat powder is evenly attached to the car body and melted at high temperature to form the topcoat. At this time, the appearance of the vehicle will be brighter and more beautiful, and the paint will last longer.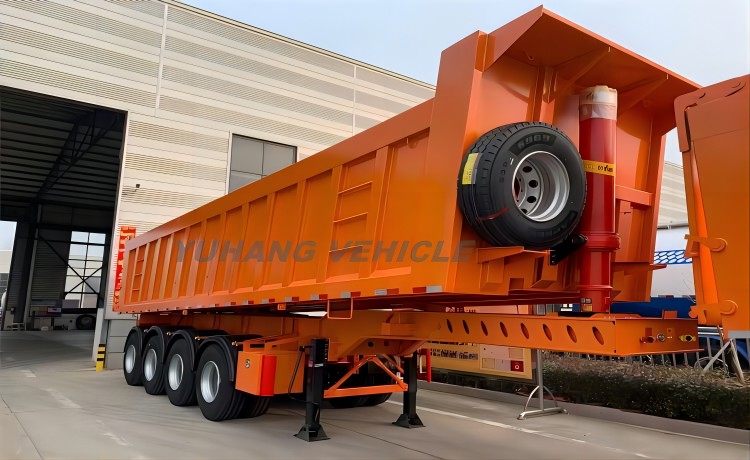 Generally speaking, our 50cbm dump trailer is an efficient, safe, adaptable and widely used cargo transport vehicle that can meet many transportation needs of customers. This kind of vehicle has strong loading capacity, low design center of gravity and good stability, which can effectively reduce the risk of rollover and ensure the safety of cargo and driving.
Precautions:
1. In hot weather, after driving for two hours, the dump semi trailer must stop to cool down and check the condition of the tires. However, methods such as pouring cold water on the tires cannot be used. This may cause cracks in the tires and shorten their service life. When driving long distances and at high speeds, you should try to avoid sudden acceleration and braking, as such actions will increase tire wear and cause tire blowouts.
2. Before opening the vehicle, the driver of the tipper truck trailer is best to inspect the vehicle to see if there are any signs of loose components. Once found, they should be replaced or repaired immediately. Moreover, the trailer needs to be fully maintained after being used for a period of time, which will help extend the service life of the vehicle and ensure safe operation.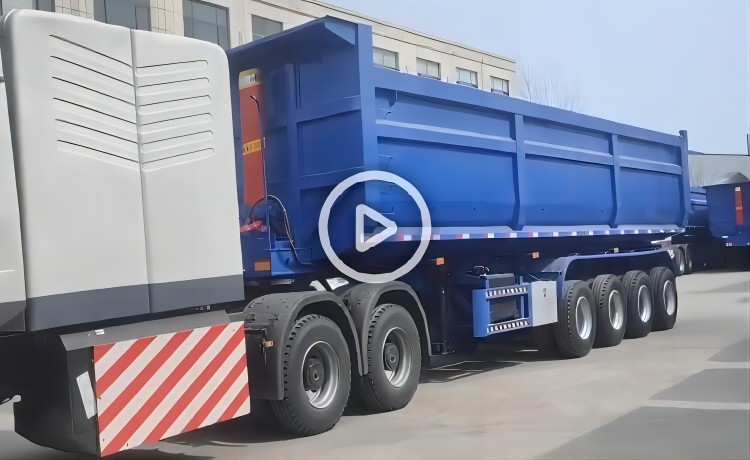 You can learn about different types of tipper semi trailer, such as: 3 axle tipper trailer for sale, 60 ton dump truck trailer, u shape tipper trailer, 4 axle 50cbm tipper truck trailer etc., including manufacturing process, quality testing, packaging and transportation plan and customer feedback.
If you are interested in the benefits and features of this 50cbm tipper truck trailer, please contact us for the latest exclusive quatation.
---