🔍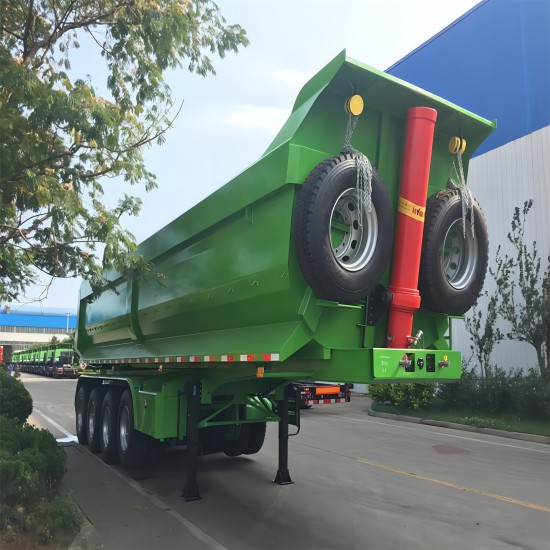 4 Axle End Dump Trailer
The 4 axle end dump trailer for sale have a load capacity of 40-100 tons. We use well-known brand axles, suspensions and HYVA hydraulic cylinders to ensure that they are 100% safe and reliable.
Manufacturer: YUHANG VEHICLE
Model: 4 axle end dump trailer
Hydraulic System: Hyva cylinder
Delivery Date: 15-25 days
Applications: transport coal, sand, earthwork, building materials
Enquiry
Description
Description:
4 axle end dump trailer for sale with good price, it is generally used to transport construction materials, coal, ore, earthwork, grain and other loose goods.
The tipper semi trailer is powered by the tractor engine, and uses the hydraulic lifting system to lift the cargo compartment to the designed angle so that the cargo in the box can slide out to complete the entire unloading process.
YUHANG has done a lot of technical upgrades and accessories updates, so as to ensure that the 4 axle end dump trailer has more efficient operating capabilities.
At the same time, tipper semi trailer have different shapes and types, and we can design and customize tipper trailer according to your actual transportation needs.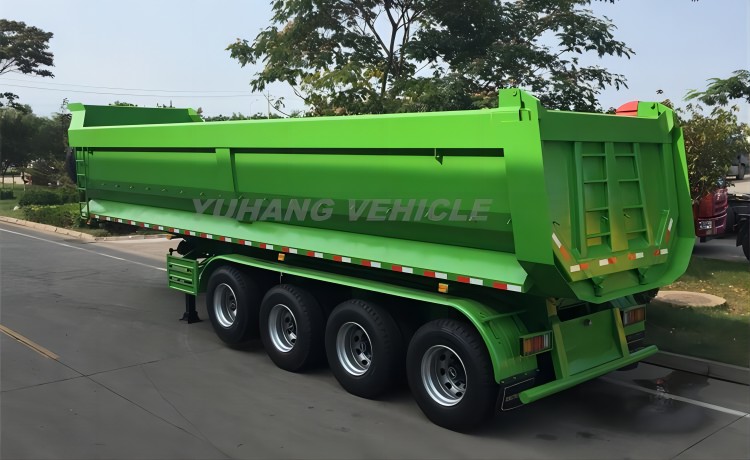 4 axle end dump trailer for sale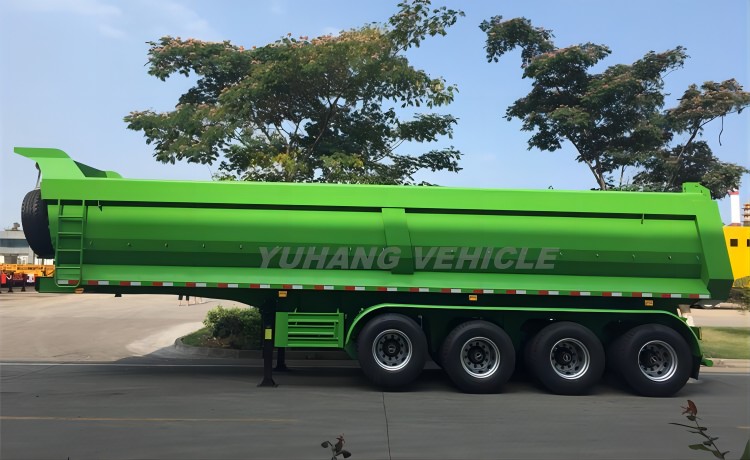 80 ton tipper semi trailer with best price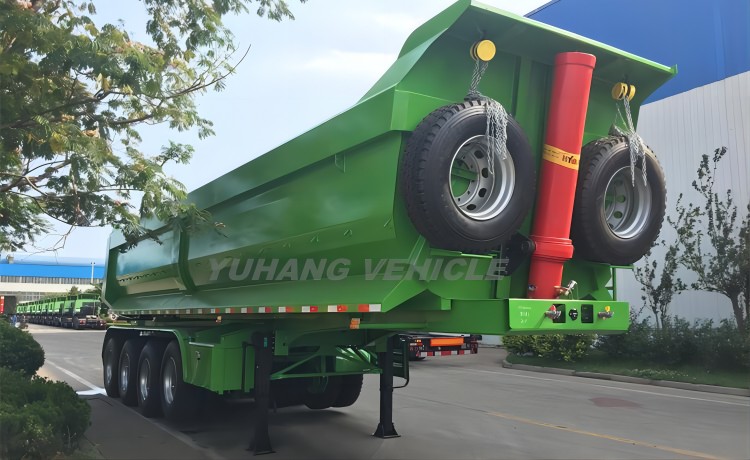 China's largest dump truck trailer factory–YUHANG
Advantage:
● The main beam of the 4 axle end dump trailer adopts a double-web design structure, which has a stronger bearing capacity and is not easy to deform and break when carrying heavy cargos.
● U-shaped box body design style, large cross-sectional area, low center of gravity, high loading and unloading efficiency, safe and stable operation data.
● The outer side of the tipper trailer box body is reinforced with ribs to reduce the effective impact force of the cargo, and has good compression resistance and prolongs the service life.
● Adopting HYVA hydraulic cylinder lifting system, the lifting capacity is stronger, the height is higher, the lifting is more stable, and no rollover will occur.
● The heavy-duty widened and thickened leaf spring suspension has good shock absorption effect and can adapt to more rugged and complex road conditions.
Specification:
Brand: YUHANG 4 Axle End Dump Trailer
Dimension: 10500mmx2500mm x3500mm
Main Beam: height 500mm, upper plate 14mm, middle plate 8mm, lower plate 16mm, material high strength steel
Bottom Platform: 6mm thick checkered plate
Sidewall: 4mm
Lifting System: HYVA lifting cylinder
Axle: 4 axle, 13T/16T, FUWA/BPW brand
Rim: 8.0-20 or 9.00-20
Tire: 16 units, 8.25R20/10.00R20/11.00R20/12R22.5
Suspension: heavy duty mechanical suspension
Spring Leaf: 90(w)mmx13(thickness)mmx10 layers
King Pin: JOST brand 2 or 3.5 inch detachable type
Landing Gear: JOST brand 28t
ABS: optional
Brake System: WABCO valve
Light: LED light
Voltage: 24V
Socket: 7-pin Socket (for 7 wire harness)
Painting: polyurethane anti-corrosion paint
Accessories: one standard tool box, spare tire carrier
Shipping Terms: bulk carrier or Ro-Ro ship
---