🔍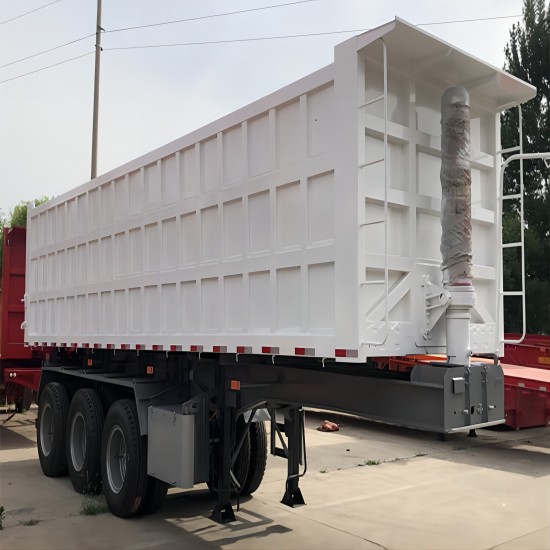 42 Cubic Dump Semi Trailer
The 42 cubic dump semi trailer produced by YUHANG can be used in many fields such as: construction, agriculture, animal husbandry, etc. The 3 axle 42 cubic tipper trailer can load 40-80 tons cargos.
Manufacturer: YUHANG VEHICLE
Model: 42 cubic dump semi trailer
Hydraulic System: HYVAcylinder
Delivery Date: 15-25 days
Applications: transport coal, sand, earthwork, building materials
Enquiry
Description
Description:
42 cubic dump semi trailer is widely used in the transportation of sand, coal, grain, earthwork, building materials and other goods, and are usually used in conjunction with loaders and excavators.
The tipper trailer for sale is composed of chassis, box body, lifting system and other structures. The hydraulic cylinder is used to lift the cargo compartment to the designed angle, and the cargo slides to a fixed position.
Dump semi trailer box body has two different loading structure styles, rectangular and u shape, and can load 25 cubic meter, 30 cubic meter, 35 cubic meter and 42 cubic meter.
Because our tipper trailers are very sturdy and durable, we have accumulated valuable success cases in more than 40 countries in Southeast Asia, Africa, and South America.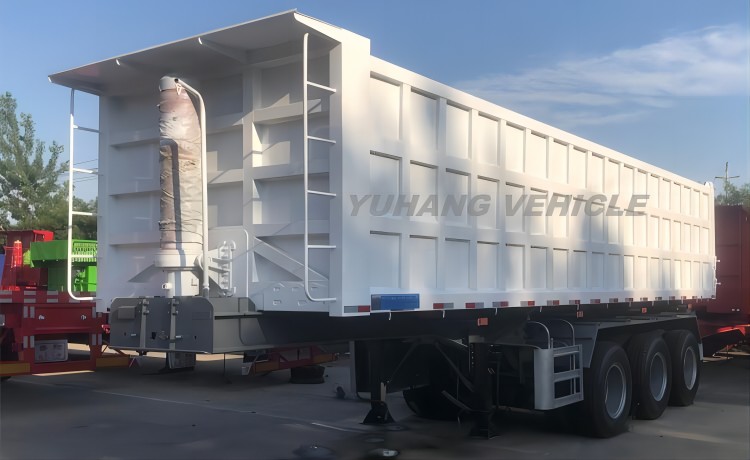 42 cubic dump semi trailer for sale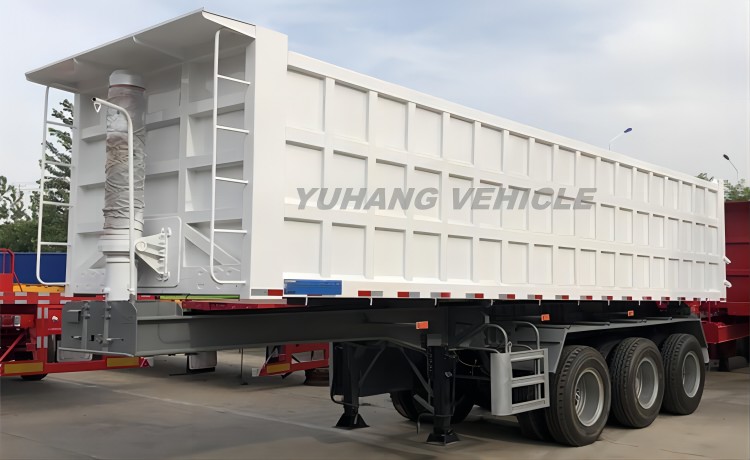 3 axle tipper trailer with the best price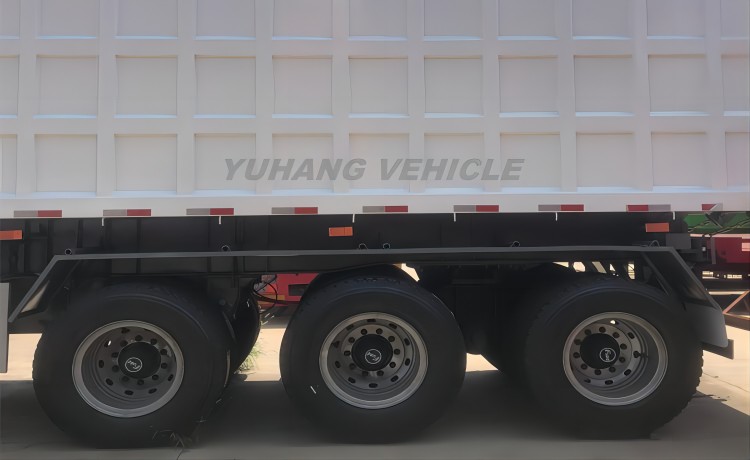 China high quality tipper trailer manufacturer
Advantage:
● The beams and longitudinal beams of the 42 cubic dump semi trailer is made of high-quality manganese plates with high strength and good toughness, which meet the requirements of heavy cargo.
● The trailer frame adopts robot automatic tracking welding technology throughout the whole process, with high welding quality and no deformation or breakage.
● Equipped with wider and thicker leaf spring suspension, the shock absorption effect is good, and it can be applied to more rugged and complex road conditions.
● Heavy-duty HYVA hydraulic cylinder with wider diameter, stronger lifting capacity, higher height, stable lifting and no rollover.
Specification:
Overall Dimension: 10500mm * 2500mm *3500mm
Loading Capacity: 42 cubic or customized
Axles: 3 axle
Suspension: heavy duty mechanical suspension
Lifting System: HYVA hydraulic cylinder
Tire: 12 units
King Pin: JOST brand 3.5 inch
Landing Gear: JOST brand 28 tons
Brake System: WABCO valve
Electrical System: 24V, LED lights
Accessories: one standard tool box, spare tire carrier
Shipping Terms: bulk carrier, Ro-Ro ship
---