🔍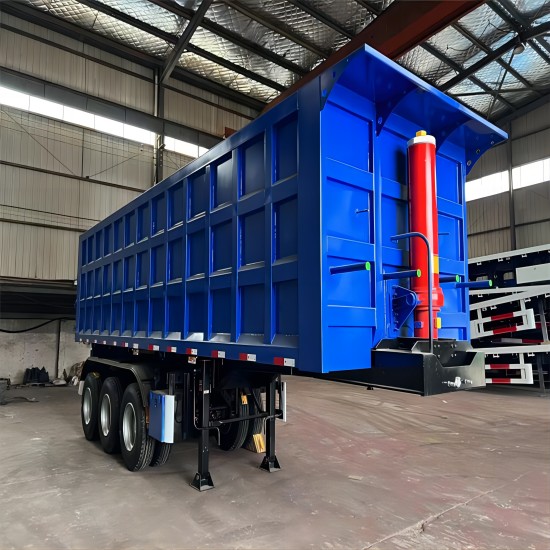 60T Tipping Trailer For Sale
The hot-selling 60t tipping trailer is very popular for customers, and has achieved success in more than 40 countries such as: Zambia, Senegal, Zimbabwe, Philippines, etc.
Manufacturer: YUHANG VEHICLE
Model: 60t tipping trailer for sale
Hydraulic System: Hyva cylinder
Delivery Date: 15-25 days
Applications: transport coal, sand, earthwork, building materials
Enquiry
Description
Description:
60t tipping trailer for sale with the best price, it is widely used in quarries, construction sites and mines, mainly for transporting bulk goods, such as: sand, earthwork, coal, ore and grain.
The structure of the dump semi trailer includes a chassis, a box body and a hydraulic lifting system. The working principle is that the PTO supplies oil to the oil cylinder, the hanging box is lifted to the designed angle, and the cargo slides out from the box body.
YUHANG have different types of dump trailer can meet different transportation needs of customers, such as: 3 axle dump semi trailer, 45m³ dump trailer, 60cbm tipper semi trailer, 100 ton tipping trailer for sale, and 50 ton side dump trailer.
We have a professional technical service team to design and customize high-quality dump semi trailer for you and provide the best transportation solutions and comply with local regulations.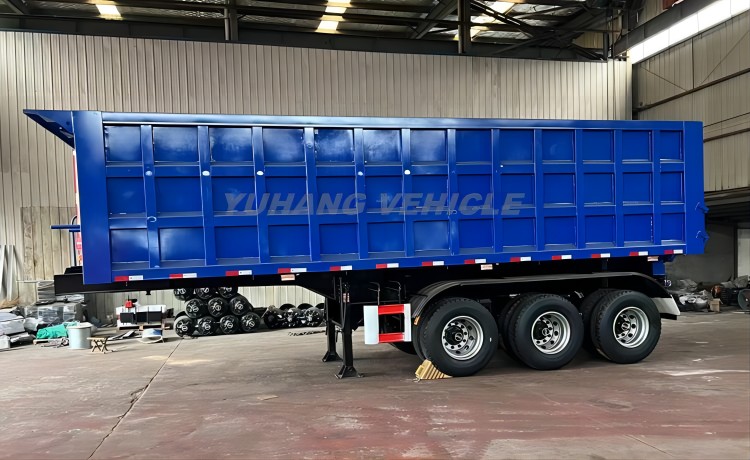 60t tipping trailer for sale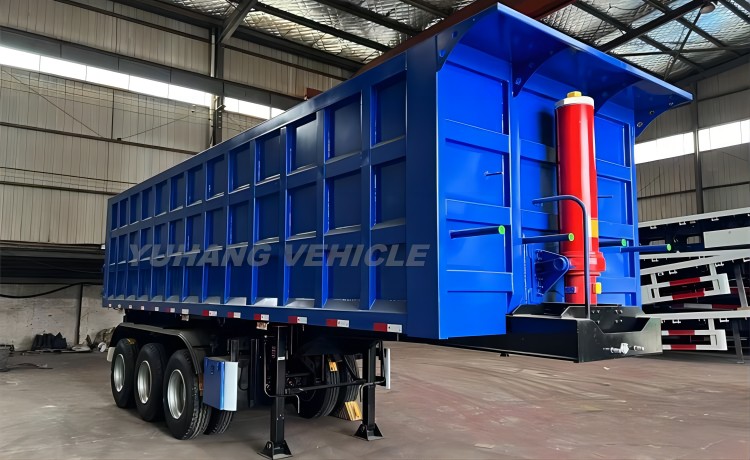 Tri axle dump semi trailer price
Advantage:
1. YUHANG VEHICLE 60t tipping trailer for sale is made of high-strength steel, which makes it have a stronger loading capacity and is more durable.
2. The frame of the tipper trailer is welded by fully automatic tracking submerged arc, so that the dump semi trailer can reach the best working condition.
3. High-quality HYVA hydraulic cylinder is adopted, which has strong lifting force, safety and stability, and effectively improves loading and unloading efficiency.
4. Well-known brands of axles, suspensions, tires and braking systems have excellent performance and are reliable in use, ensuring good operating data for the tipper trailer.
Specification:
Brand: YUHANG 60T Tipping Trailer for Sale
Dimension: 9500mmx2800mm x3900mm
Main Beam: height 500mm, upper plate 14mm, middle plate 8mm, lower plate 16mm, material T700 steel
Bottom Platform: 6mm thick checkered plate
Sidewall: 4mm
Lifting System: HYVA lifting cylinder
Axle: 3 axle, 13T/16T, FUWA/BPW brand
Rim: 8.0-20 or 9.00-20
Tire: 12 units, 8.25R20/10.00R20/11.00R20/12R22.5
Suspension: heavy duty mechanical suspension
Spring Leaf: 90(w)mmx13(thickness)mmx10 layers
King Pin: JOST brand 2.0 or 3.5 inch(bolted or welded type)
Landing Gear: JOST brand
ABS: optional
Brake System: WABCO valve
Light: LED light
Voltage: 24V
Socket: 7-pin Socket (for 7 wire harness)
Painting: polyurethane anti-corrosion paint
Accessories: one standard tool box, spare tire carrier
Shipping Terms: bulk carrier, Ro-Ro ship
---