🔍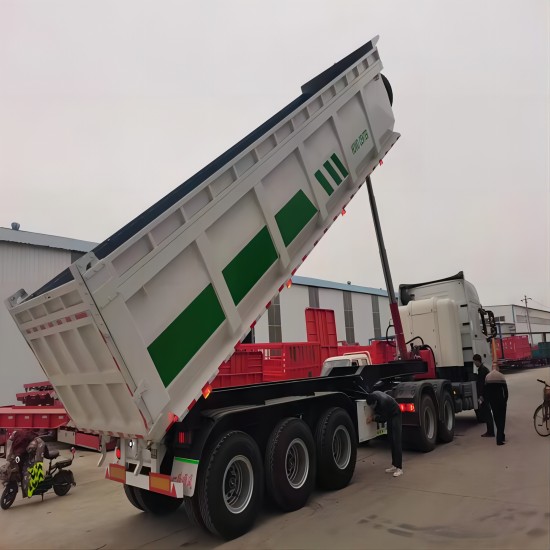 China New Tipper Semi Trailer
China new tipper semi trailer for sale with the best price, with a load of 40-100 tons, mainly used for bulk cargo transportation in agriculture, forestry, mining, animal husbandry.
Manufacturer: YUHANG VEHICLE
Model: china new tipper trailer
Hydraulic System: HYVA cylinder
Delivery Date: 15-25 days
Applications: transport coal, sand, earthwork, building materials
Enquiry
Description
Description:
YUHANG tipper semi trailer is often used to transport construction materials such as: sand, earth, ore, and scrap iron, especially when handling a lot of heavy cargos.
We are a high-quality dump trailer manufacturer in China. We have different types dump trailers for sale with loads of 40 ton, 60 ton, 80 ton, and 100 ton for you to choose.
This series of tipper semi trailer is working, the PTO supplies oil to the oil cylinder, and the cargo compartment is hydraulically lifted to the designed angle, and the cargo slides out, saving labor and greatly improving work efficiency.
Dump trailer has two different styles of rear dump and side dump trailer, which can be used in different construction environments, and the payload can be designed or customized according to customer requirements.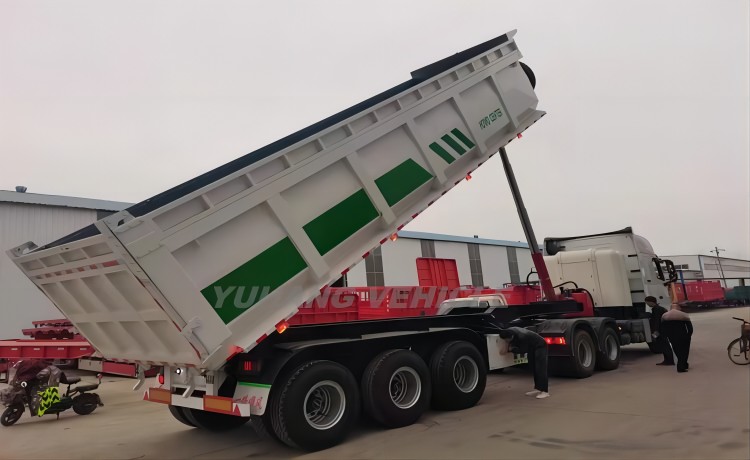 3 axle tipper semi trailer for sale
60 ton dump trailer with best price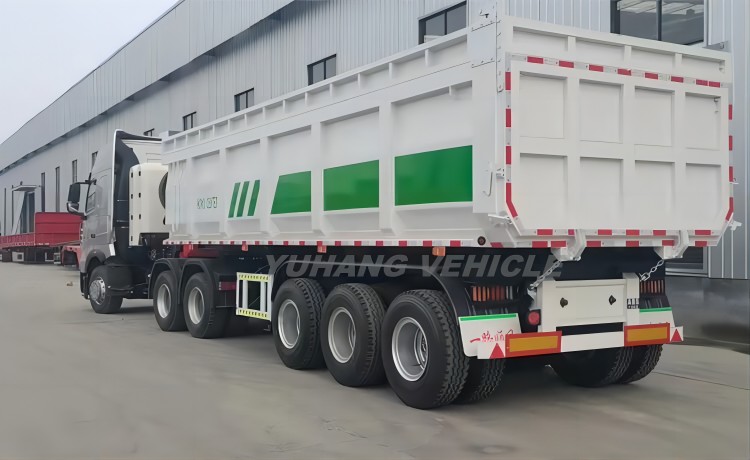 China dump trailer manufacturer–YUHANG
Advantage:
1. The main beam of the dump trailer is made of high tensile strength steel plate material, which maximizes the payload of the trailer and increases the profit value of customers.
2. According to different road conditions, the advanced computer-aided system is used for stress and loading data test analysis to improve the anti-fatigue performance of the tipper semi trailer.
3. The trailer frame adopts robot automatic tracking welding technology, the welding seam is uniform and full, the welding points are dense and firm, and the welding quality is high.
4. After the frame is welded and formed, the surface will be sandblasted to remove rust, which can better increase the adhesion of the paint.
5. All accessories are selected from world-renowned brand products, and the service life can reach more than 10 years.
Specification:
Model: China New Tipper Trailer For Sale
Dimension: 10.5m*2.5m*3.5m or customized
Box Dimension Inside: 9.8m*2.35m*1.7m
Main Beam Height: 500mm, high strength steel
Box Thickness: side 4mm, bottom plate 6mm
Lifting System: HYVA hydraulic cylinder
Loading Capacity: 40 ton– 100 ton or customized
Axle: 13T/14T/16T BPW/FUWA brand
Tire: 12R22.5
Suspension: heavy duty mechanical suspension
King Pin: 90# JOST brand
Landing Gear: JOST brand 28T lifting capacity
Accessories: one standard tool box and spare tire carriers
Color: optional
---