🔍
120 Ton Heavy Duty Tipper Trailers
The 120 ton heavy duty tipper trailers adopt a high-performance mechanical suspension system, which has a strong loading capacity and can adapt to more rough and muddy roads.
Manufacturer: YUHANG VEHICLE
Model: 120 ton heavy duty tipper trailers
Hydraulic System: HYVA cylinder
Delivery Date: 15-25 days
Applications: transport coal, sand, earthwork, building materials
Enquiry
Description
Description:
The 120 ton heavy duty tipper trailers, also known as the dump semi trailer, it is widely used in many transportation scenarios such as: construction, agriculture, commerce, and livestock.
Dump semi trailer box body has two different loading structure styles, rectangular and u shape, and can load 25 cubic meter, 30 cubic meter, 35 cubic meter, 45 cubic meter, 60 ton, 80 ton, 100 ton and 120 ton heavy duty goods.
Our 120 ton heavy duty tipper trailer is reliable in quality, sturdy and durable, and has accumulated valuable successful cases in Southeast Asia, Africa, South America and other countries.
YUHANG has done a lot of technical upgrades and accessories updates to ensure that the dump semi trailer has a more efficient operating capacity.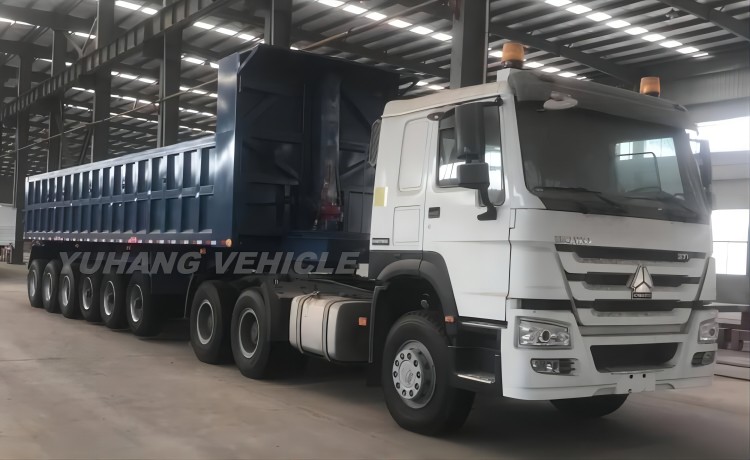 120 ton heavy duty tipper trailers for sale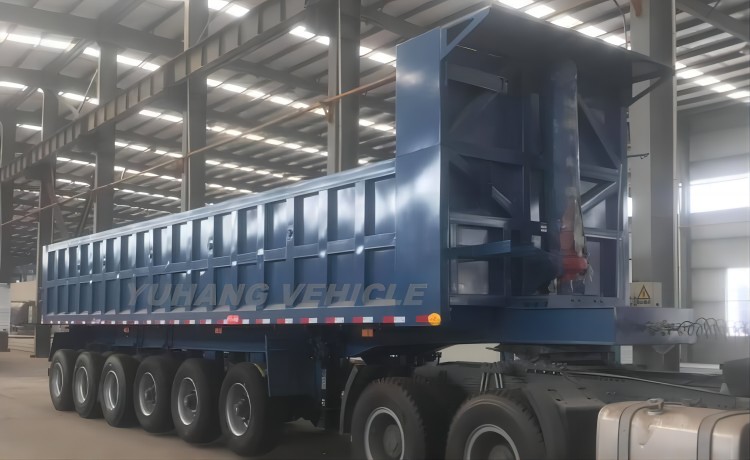 YUHANG 6 axle heavy duty dump semi trailer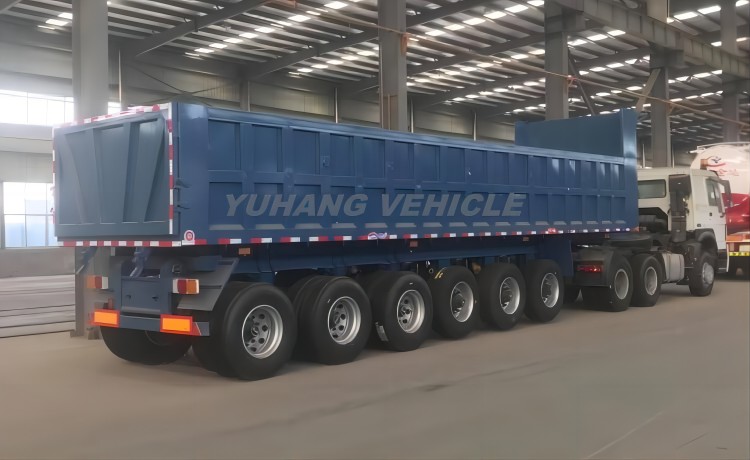 China's leading tractor tipper trailer manufacturing factory
Advantage:
● The main girder adopts a double-web design structure, which has a stronger bearing capacity and is not easy to deform and break when heavy cargo is loaded.
● The outer side of the trailer box body is reinforced with ribs to reduce the effective impact force of the cargo, and has good compression resistance and prolongs the service life.
● It adopts the HYVA brand hydraulic cylinder lifting system, which has stronger lifting capacity, higher height, more stable lifting and no rollover.
● The main components adopt advanced processing equipment, and the assembly machine is used for precise proportioning to ensure stable performance of the tipper trailer and easy maintenance.
● Spray high-quality polyurethane paint to prevent the dump semi trailer from rusting and have a beautiful appearance.
Specification:
Dimension: 12500mmx2800mm x3900mm or customized
Main Beam: height 500mm, upper plate 16mm, middle plate 10mm, lower plate 20mm, material high strength steel
Bottom Platform: 6mm thick checkered plate
Sidewall: 4mm
Lifting System: HYVA lifting cylinder
Axle: 13T/16T/20T, FUWA/BPW brand
Rim: 8.0-20 or 9.00-20
Tire: 8.25R20/10.00R20/11.00R20/12R22.5
Suspension: heavy duty mechanical suspension
Spring Leaf: 90(w)mmx13(thickness)mmx10 layers
King Pin: JOST brand 2.0 or 3.5 inch (bolted or welded type)
Landing Gear: JOST brand 28 tons
ABS: optional
Color: optional
Brake System: WABCO valve
Light: LED light
Voltage: 24V
Socket: 7-pin Socket (for 7 wire harness)
Painting: polyurethane anti-corrosion paint
Accessories: one standard tool box, spare tire carrier
Shipping Terms: bulk carrier, Ro-Ro ship
---