The UAE customer reached a lowbed trailer cooperation with YUHANG through the introduction of a friend. Due to some other problems with customers in the middle, we did not form an actual transaction in the end. Just at the beginning of June, the customer took the initiative to contact us to buy a lowbed trailer again.
Our sales manager Sany quickly confirmed the customer's product needs, such as: the load level required by the customer, and provided detailed lowbed trailer packaging and transportation as well as professional quotations. At the same time, we increased the loading capacity of the lowbed trailer according to the customer's request, and finally the customer decided to buy this 3 axle 60-80 ton lowbed for sale.
After solving all the customer's problems, the UAE customer resolutely paid in full. We are very grateful to our customers for their 100% trust and recognition of the YUHANG factory. The best way to give back to all customers is to provide more attentive and enthusiastic service to the product quality of vehicles.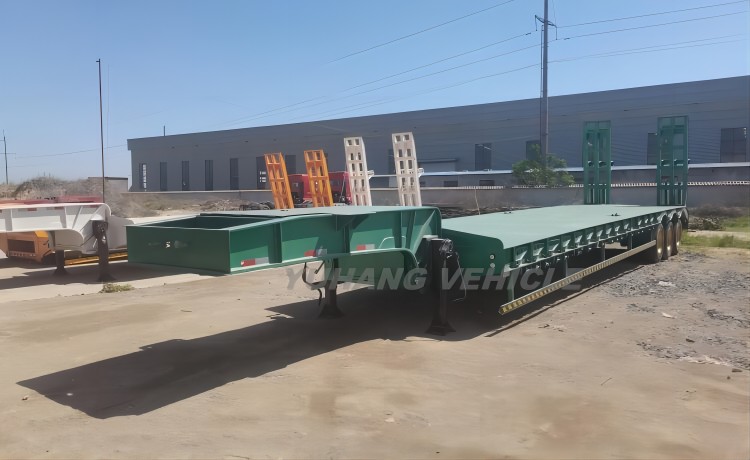 The lowbed trailer of UAE customer is in the production stage. We will send photos and videos of the progress of the products to customers from time to time, and share with customers the production cases and technical details of different types of lowbed trailers exported by YUHANG. This will help our customers become more familiar with semi lowbed trailer.
Since we are a professional semi trailer manufacturing factory, we have obvious advantages over other trading companies in terms of vehicle quality control and price competition. YUHANG brand lowbed semi trailer is widely used in many different fields.
We have experienced technical engineers who are familiar with the traffic conditions and legal regulations of each country, and have a professional packaging and transportation team and 24 hour after-sales service. All this is only to provide you with the best vehicle purchase and use experience, and to help you carry out transportation business better and more smoothly.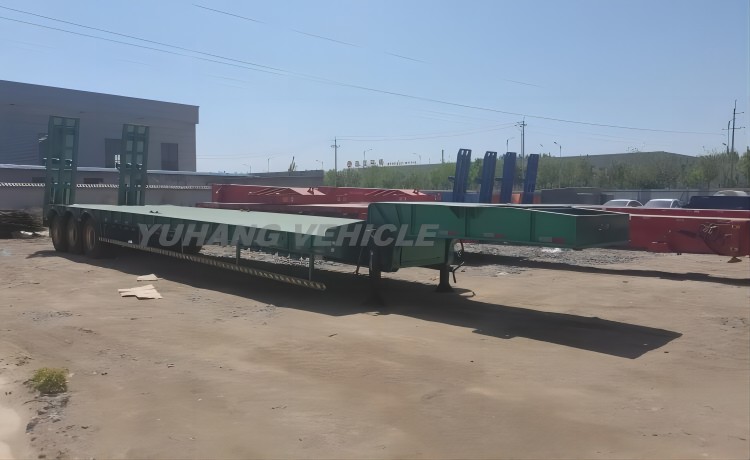 The 3 axle 60-80 ton lowbed trailer is a type of semi trailer. Its cargo platform is relatively low, which is convenient for transportation and loading and unloading. It is usually used to transport large machinery and equipment, such as: excavators, bulldozers, drilling rigs, steel, loaders, etc., and its safe service life can reach more than 15 years.
Our lowbed trailers have a relatively low center of gravity and good stability, which can increase safety performance and improve transportation efficiency. At the same time, it can drive in places with vehicle height restrictions, such as: tunnels and bridges, and can adapt to different sites and road conditions.
YUHANG factory has different types of low flatbed trailers, such as: flatbed type, concave beam type, tire exposed structure for you to choose, the frame is stepped, and the longitudinal beam section is I-shaped. There are mechanical spring ladders, hydraulic ladders and double-section hydraulic support ladders at the rear of the vehicle, which are suitable for handling various goods.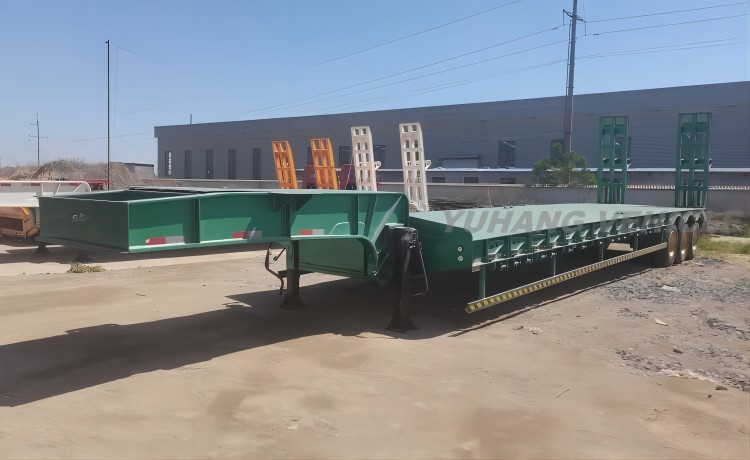 The main beam of the 60-80 ton lowbed trailer adopts high-strength structural wear-resistant and compression-resistant steel plates, and its carrying capacity is five times that of ordinary semi trailers, which can meet the loading needs of all goods.
Semi trailer factory also has strict requirements on the accessories of the vehicle. It is equipped with world-renowned and recognized brands, such as: JOST landing gear, widened and thickened mechanical suspension, wear-resistant anti-skid tires, 14 tons of FUWA/BPW axles, long service life, and the motion effect is better.
We always insist on providing new and old customers with high-quality semi trailers, not only in the solid vehicle quality, but also in every aspect. YUHANG has more than 20 professional inspectors who conduct strict inspections on each semi trailer sold to ensure that everything is qualified and 100% protect the rights and interests of customers.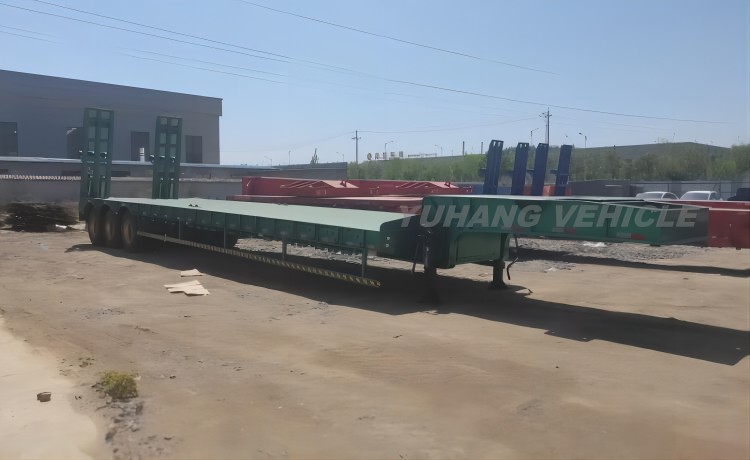 You can learn about different types of lowbed trailer, such as: 2 axle lowbed semi trailer, 3 axle lowbed truck trailer, 60/80 ton lowboy semi trailer, etc., including manufacturing process, quality testing, packaging and transportation, and customer feedback.
If you are interested in the benefits and features of this lowbed trailer, please contact us for the latest exclusive quatation.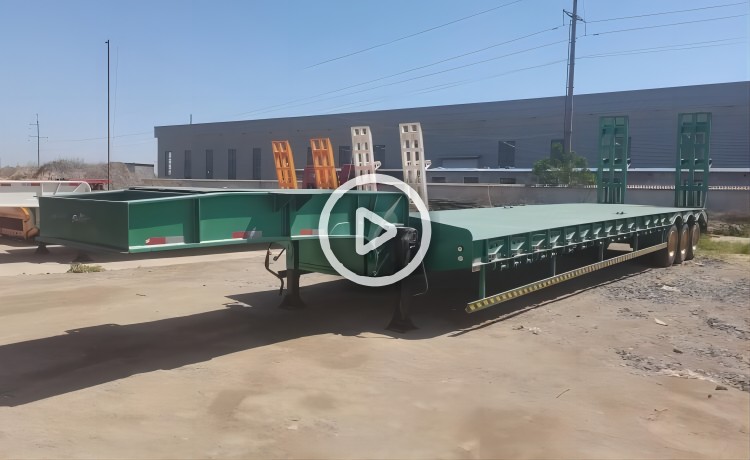 ---