🔍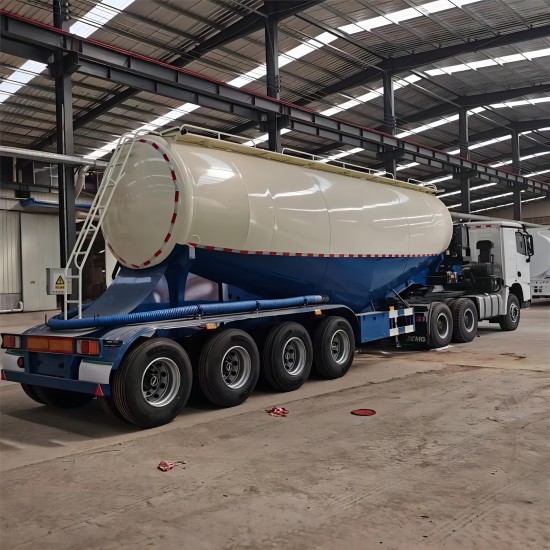 4 Axle Pneumatic Cement Trailer
YUHANG is a 4 axle pneumatic cement trailer manufacturer from China. The factory sells directly, the lowest price, the quality is 100% guaranteed, and can be used safely for more than 15 years.
Manufacturer: YUHANG VEHICLE
Type: 4 axle 45cbm pneumatic cement trailer
Unloading Speed: >1.5 tons per minute
Delivery Date: 15-25 days
Application: transport bulk cement, lime powder, fly ash, granular materials, etc.
Enquiry
Description
Description:
4 axle pneumatic cement trailer can be used in cement plants, cement warehouses and large-scale engineering construction sites, it can save a lot of packaging design materials and loading and unloading labor for you.
Our cement tanker trailer is mainly composed of special vehicle chassis, tank body, air pipeline system, automatic unloading device and other structures, such as: power take-off, transmission shaft, diesel engine, air compressor and other components.
The working principle is: the tractor power is used to drive the air compressor, and the compressed air is sent into the air chamber at the lower part of the sealed tank through the pipeline, so that the powder on the liquefied bed of the air chamber is suspended into a fluid state. When the pressure in the tank reaches the rated value, the discharge valve is opened, the fluidized material flows through the pipeline to be transported.
YUHANG brand 4 axle pneumatic cement trailer has the best load quality and low price, our factory ships directly to customers. Welcome to you send an inquiry to get an exclusive quotation.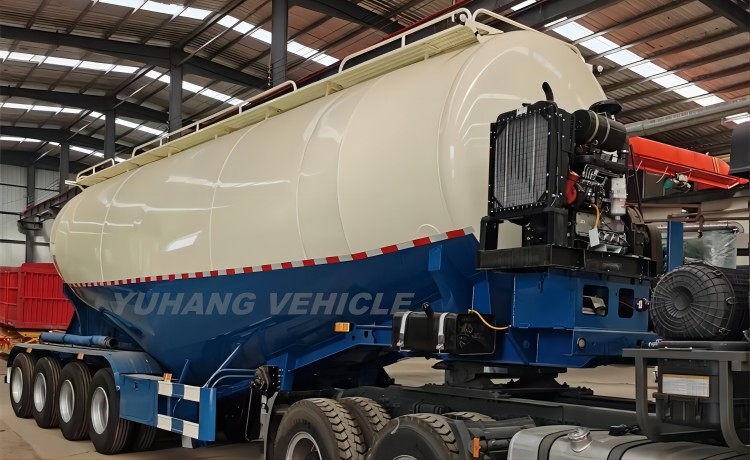 4 axle pneumatic cement trailer for sale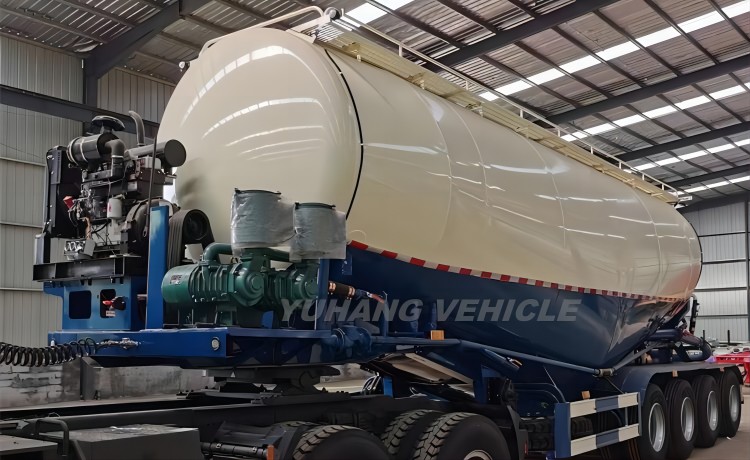 45cbm cement tanker trailer with best price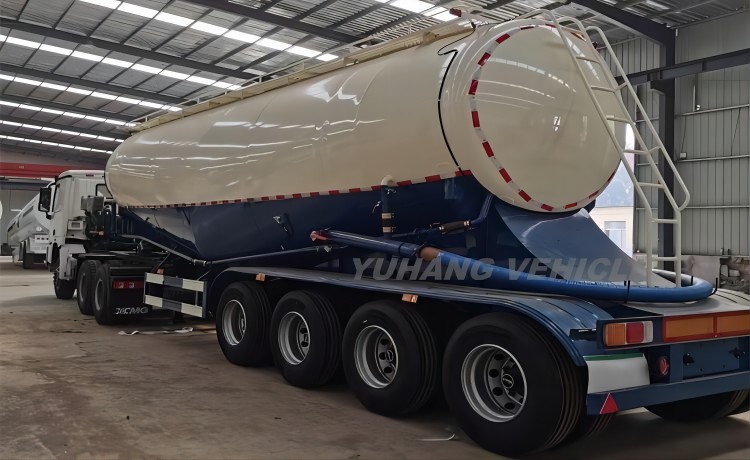 YUHANG brand cement trailer is loading test
Advantage:
● The main beam is made of high-quality high-strength steel plate, supported by advanced welding technology, which ensures that the 4 axle pneumatic cement trailer for sale has a long-term competitive advantage.
● Through upgrading the design structure of the fluidized bed and the pipeline system, the unloading speed will be greatly increased, the operation efficiency will be improved, and more profit value will be created.
● Cement tanker trailer will undergo pressure test and water filling test before leaving the factory to ensure that the tank has good sealing performance.
● The frame and accessories have been treated by shot blasting and sprayed with polymer primer and topcoat, which has strong adhesion, beautiful appearance and corrosion resistance.
● We are well aware of the transportation policies of cement trailers in various countries, and provide you with professional advice in compliance with local regulations.
Specification:
Mopdel: 4 Axles Pneumatic Cement Trailer For Sale
Dimension: 1150mm*2500mm*3900mm (the exact size depends on the final design)
Tanker Body Material: high strength wear-resistance steel
Tank Body Thickness: 3.5mm
Compressor: 12m³ double cylinder air compressor
Application: transport lime, cement, powder etc
Axles: 4 axles, BPW/FUWA brand
Tire: 16 units, 8.25R20/10.00R20/11.00R20/12R22.5, Triangle, Double Coin brand
Suspension: heavy duty mechanical suspension
Landing Gear: JOST brand 28 ton
Leaf Spring: 90(w)mmx13(thickness)mmx10 pieces
Diesel Engine: WEICHAI brand
Compressor: BOHAI
Brake System: WABCO brand
Light: LED light
Voltage: 24V
Tool box: 1 set
Spare Tire Rack: 2 units
Shipping Terms: bulk carrier, Ro-Ro ship, 45ft HQ container
---