🔍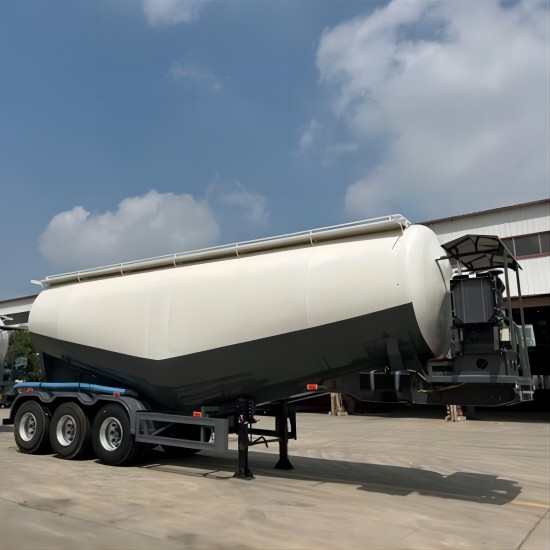 35cbm Cement Tanker Price
YUHANG brand 35cbm cement tanker price is best and it is made of high-strength steel plate, which has a large loading capacity and can be applied to more rough and bad road conditions.
Manufacturer: YUHANG VEHICLE
Type: 3 axle 35cbm cement tanker
Unloading Speed: >1.5 tons per minute
Delivery Date: 15-25 days
Application: transport bulk cement, lime powder, fly ash, granular materials, etc.
Enquiry
Description
Description:
YUHANG brand 35cbm cement tanker price is better than other factories. It is deeply loved by customers at home and abroad, and mainly used in cement plants, cement warehouses and large construction sites and other fields.
The working principle is that the power is drawn from the gearbox of the tractor, and the air compressor is driven through the transmission device, and the compressed air generated enters the air chamber through the control pipeline, so that the powder material in the tank is fluidized. When the pressure reaches 0.196Mpa, open the discharge butterfly valve to realize discharge.
35cbm cement silo semi trailer is our very popular model, mainly used to transport bulk cement, flour, fly ash, granular alkali. It has the characteristics of large loading volume and high transportation efficiency.
We can customize cement trailers according to your special transportation needs. They are sold directly from the factory with guaranteed quality and the lowest price.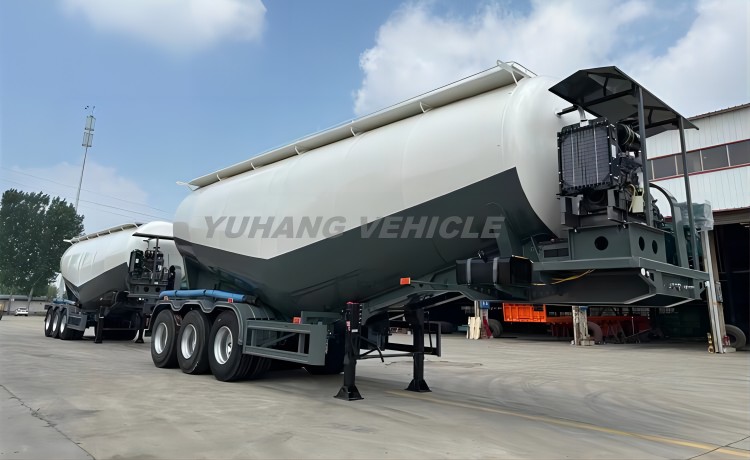 35cbm cement tanker price for sale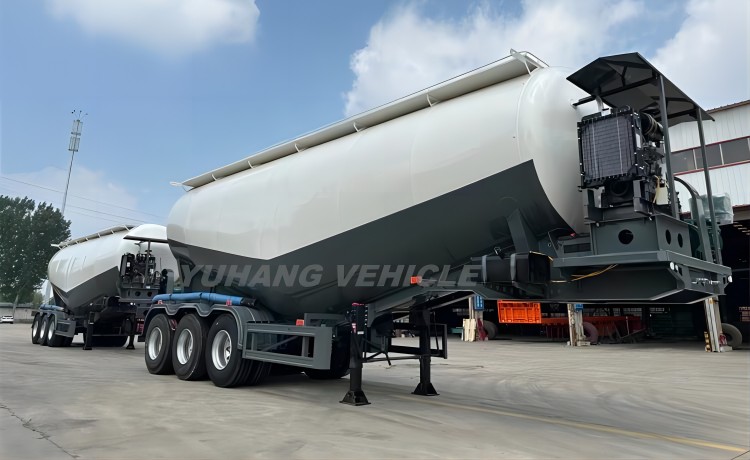 China famous 3 axle cement trailer manufacturer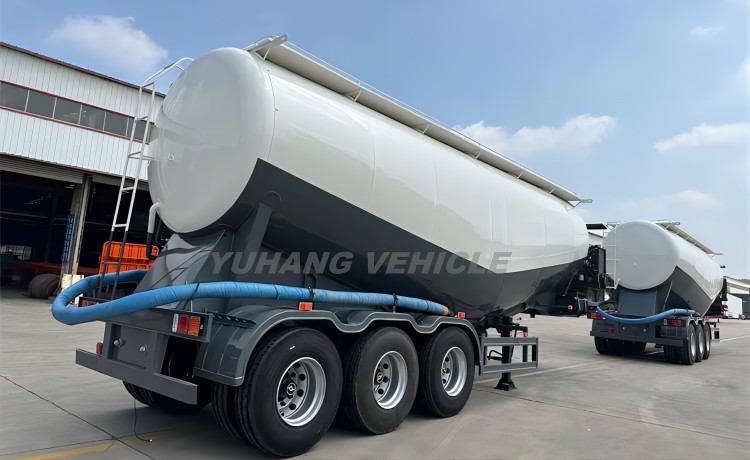 YUHANG brand best selling bulk cement transport trailer
Advantage:
● It adopts advanced design concept and fluidized bed design structure, which can effectively reduce the weight of the vehicle and increase the unloading speed.
● The center of gravity of the whole vehicle is low, which reduces the centrifugal force when the vehicle is turning, increases the stability of the vehicle, and ensures the transportation speed.
● All accessories are provided by well-known brands at home and abroad, such as BPW axle, JOST landing gear, WABCO brake system and so on.
● After the tanker is filled and tested by water grinding, it is sprayed with polyurethane paint and treated with epoxy primer, which is corrosion-resistant and beautiful in appearance.
● The tank body and accessories are treated by shot blasting and derusting, sprayed with polymer primer and topcoat, with uniform paint film, strong adhesion and good corrosion resistance.
Specification:
Model: 35cbm Cement Tanker Price For Sale
Dimension: 11500mm*2000mm*4000mm or customized
Tanker Body Material: 5mm or 6mm high strength steel
Application: transport lime, bulk cement, fly ash, powder, etc
Tank Body Thickness: 3.5mm
Compressor: 12m³ double cylinder air compressor
Manhole Cover: 2 or 3 units 300mm diameter
Discharging Valve: 4 inch valve
Diesel Engine: WEICHAI brand
Compressor: BOHAI
Axles: 1 to 4 sets, 13T/14T/16T BPW/FUWA brand
Tire: 12R22.5, 385/65R22.5, 13R22.5, 12.00R24, 315/80R22.5
Suspension: heavy duty mechanical suspension
Leaf Spring: 90(w)mmx13(thickness)mmx10 layers
Landing Gear: JOST brand 28 ton, two speed
King Pin: JOST brand 2 or 3.5 inch detachable type
Brake System: T30/30 chamber, WABCO emergency valve
ABS: optional
Color: optional
Light: LED light
Voltage: 24V
Painting: polyurethane paint, with long service life, and avoid the vehicle getting rust
Accessories: one standard tool box, spare tire carrier
Shipping Terms: bulk carrier, Ro-Ro ship, 45ft HQ container
---