🔍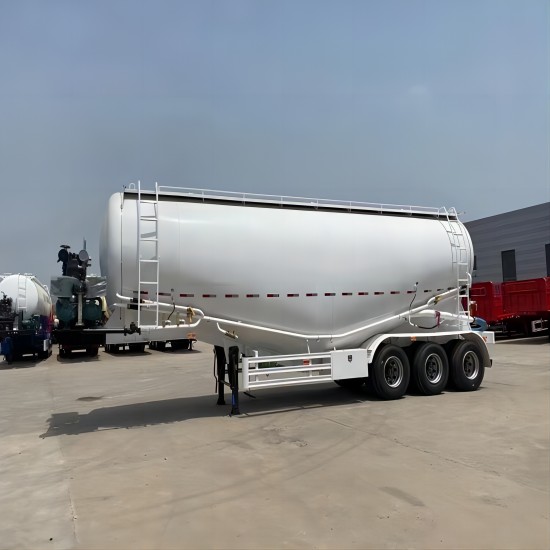 Tri Axle Flour Tanker Trailer
The tri axle flour tanker trailer is mainly suitable for transporting flour and other granular powder goods with a diameter not greater than 0.1mm. It can load 30/40/5 ton bulk cement and flour.
Manufacturer: YUHANG VEHICLE
Type: tri axle 40t flour tanker trailer
Unloading Speed: >1.5 tons per minute
Delivery Date: 15-25 days
Application: transport bulk cement, lime powder, fly ash, granular materials, etc.
Enquiry
Description
Description:
Our tri axle flour tanker trailer is mainly used for transporting PVC granules, fly ash, lime powder, bulk cement, granulated alkali. Widely used in cement plants, cement warehouses and large construction sites.
YUHANG has different types and loading capacity of bulk cement trailers for sale, such as: 2 axle, 3 axle, 4 axle, 30 ton, 50 ton, 60 ton, 80 ton for you to choose.
The factory directly supplies V-type and W-type flour tanker trailer. The materials include: carbon steel, stainless steel and aluminum alloy. The lowest price, 100% quality assurance.
We have an experienced technical service team to provide you with comprehensive flour, bulk cement transport trailer solutions, and comply with local regulations.
Tri axle flour tanker trailer for sale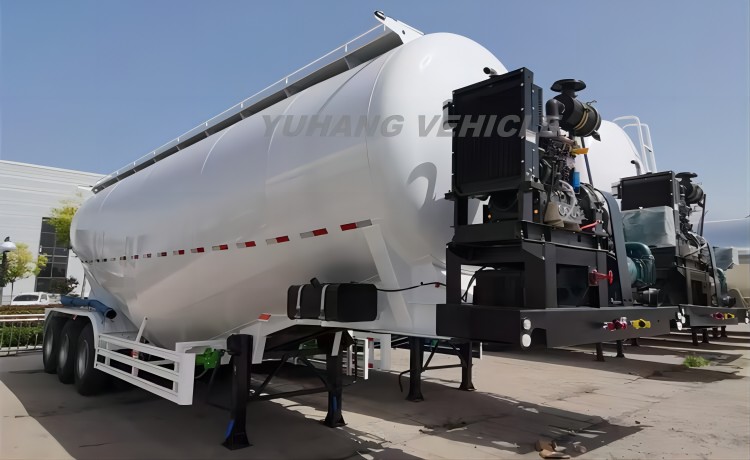 40t pneumatic cement trailer with best price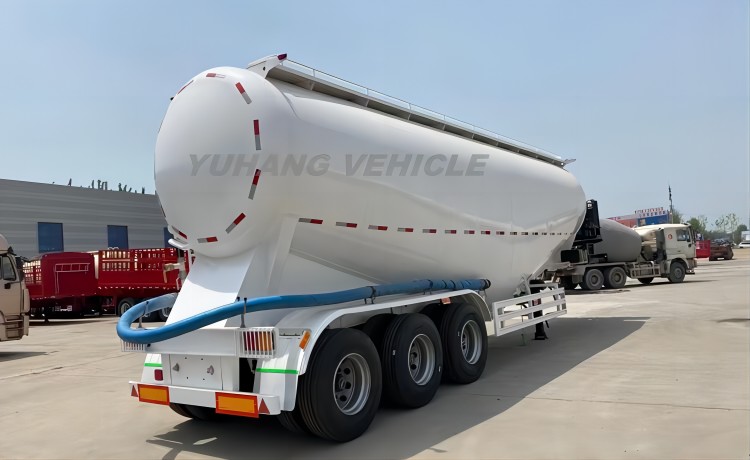 Chinese famous brand cement tanker trailer manufacturer
Advantage:
1. The tri axle flour tanker trailer is made of 5mm thick steel plate material, which is cut by a plasma cutting machine into a size that meets the national announcement standards.
2. Multiple steel plates are fixed and changed to a suitable angle by rotating the machine. The machine automatically tracks and welds, fixes with double-sided welding, and remotely monitors to avoid missing welds.
3. The effective volume ratio can be close to 100%, which can generate greater value compared with similar products.
4. The unloading speed can reach 1.5t/min, which is convenient for customers to operate, improves work efficiency and creates more profits.
5. Compact structure, small turning radius, safer running data when fully loaded.
Specification:
Model: Tri Axle 40T Flour Tanker Trailer
Dimension: 11500mm*2000mm*3900mm or customized
Tanker Body Material: 5mm high strength wear-resistance steel
Payload: 40t or customized
Application: transport lime, bulk cement, fly ash, powder, etc.
Tank Body Thickness: 3.5mm
Compressor: 12m³ double cylinder air compressor
Manhole Cover: 2 or 3 units 300mm diameter
Discharging Valve: 4 inch valve
Diesel Engine: WEICHAI brand
Compressor: BOHAI
Axles: triaxle, 13T/14T/16T BPW/FUWA brand
Tire: 12 units, 8.25R20/10.00R20/11.00R20/12R22.5
Suspension: mechanical suspension
Leaf Spring: 90(w)mmx13(thickness)mmx10 layers
Landing Gear: JOST brand 28 tons, two speed
King Pin: JOST brand 2 or 3.5 inch
Brake System: T30/30 chamber, WABCO emergency valve
ABS: optional
Color: optional
Light: LED light
Voltage: 24V
Socket: 7-pin Socket (for 7 wire harness)
Painting: polyurethane anti-corrosion paint
Accessories: one standard tool box, spare tire carrier
Shipping Terms: bulk carrier, Ro-Ro ship, 45ft HQ container
---