🔍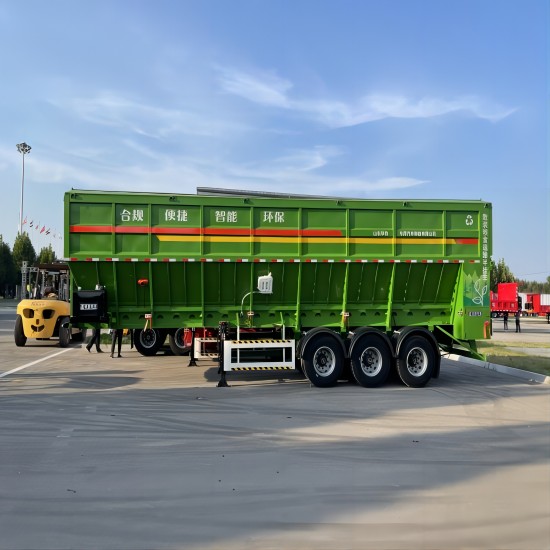 40CBM Crawler Type Trailer Price
The 40cbm crawler type trailer has strong loading capacity, light weight, strong and durable quality, and its safe service life can reach more than 15 years. We can design and customize dump trailers.
Manufacturer: YUHANG VEHICLE
Model: 40cbm crawler type trailer
Hydraulic System: HYVA cylinder
Delivery Date: 15-25 days
Applications: Transport coal, sand, earthwork, building materials etc
Enquiry
Description
Description:
40cbm crawler type trailer price is a new type of dry bulk cargo transport vehicle. It is specially used for the transportation of bulk goods, such as: domestic garbage, sand and gravel, coal, grain, river sludge, construction stone, etc.
This type of dump trailer can work in many different environments or scenarios, its own weight is 40% lower than that of traditional dump truck trailers, and it can load more cargos.
In order to prevent dust and rain, YUHANG brand crawler type trailers are all equipped with tarpaulin or aluminum alloy cover to protect the cargo intact.
Currently, our crawler type dump trailer have been exported to Vietnam, Malaysia, Guyana, Colombia, UAE, Nigeria, Zambia, Oman and other countries, and loved and purchased by more and more customers.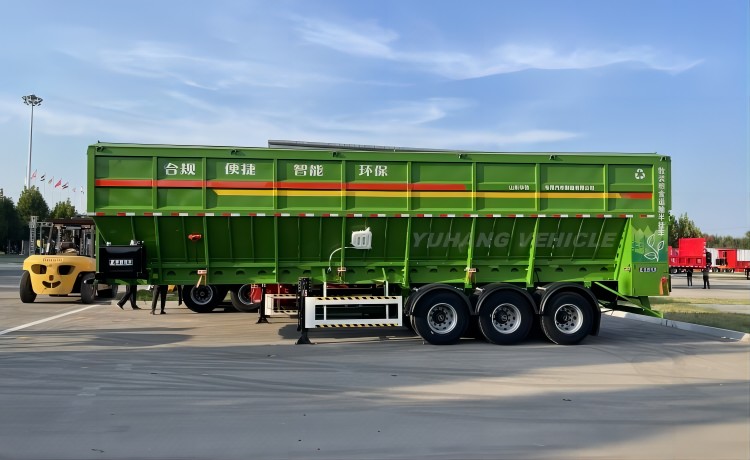 3 axle crawler type trailer price for sale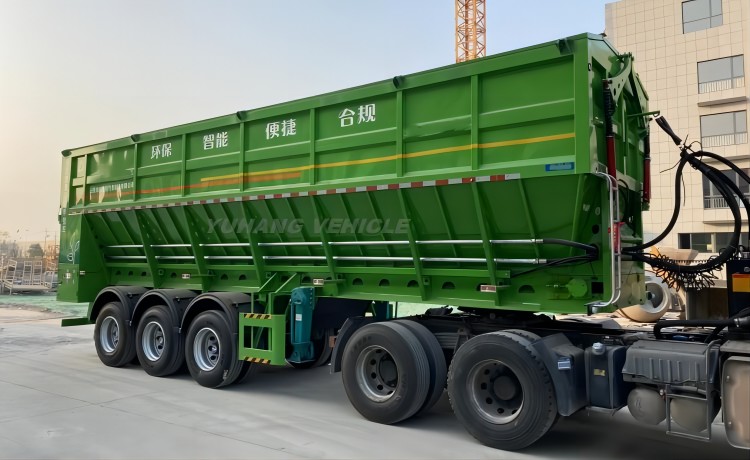 YUHANG 40cbm conveyor belt dump semi trailer
Advantage:
1. The 40cbm crawler type dump trailer adopts imported high-quality steel plate, which has high strength, good toughness, large loading capacity and no permanent deformation.
2. The whole vehicle adopts HYVA hydraulic system and high-strength crawler, which can be applied to more complex and rough road conditions and improve the service life of the trailer.
3. Two comprehensive intelligent operating systems: manual control box and long-distance remote control, which are safer, more convenient and faster.
4. We can meet the diverse and individual requirements of users, and customize and design dump semi trailer of different specifications and types for you.
Specification:
Model: 40CBM Crawler Type Trailer Price
Box Dimension: 9500mm*2500mm*1500mm
Payload: 40 cubic meter
Unloading Method: by conveyor belt
Main Beam: Q345B carbon steel, 'I" type
Frame Beam: upper and lower plate is 14mm and 16mm, web plate 8 mm, height is 500 mm
Box Thickness: bottom plate 4mm, side plate 3mm
Axle: 3 axle*13 ton BPW/FUWA brand
Landing Gear: JOST brand 28 tons
King Pin: 2.0 or 3.5 inch
Suspension: heavy duty mechanical suspension
Leaf Spring: 90mm(w)*16mm(t)*10pcs
Tires: 12R22.5, 315/80R22.5
Color/ABS: optional
---