Zimbabwe customer ordered tri axle 60 ton drop side trailer. Because customer has no experience in purchasing products from China, he is very cautious and conservative. We also understand and tolerate him.
The sales manager Jack confirmed to the customer that our drop side trailer can be exported to Zimbabwe, and YUHANG has many customers from Zimbabwe and Africa, and we export a large number of different models of semi trailers to the African market every year. We confirmed the customer's product requirements, and provided detailed tri axle 60 ton drop side trailer technical drawings and quotation proposals, and then the customer gave full affirmation, and soon wired a 30% deposit.
Considering the customer's mood and rigorous work style, we took photos and videos of the production situation of the 60t dropside trailer in real time and sent them to him. The customer was very moved by this and expressed that he would introduce new friends to buy YUHANG brand trailers.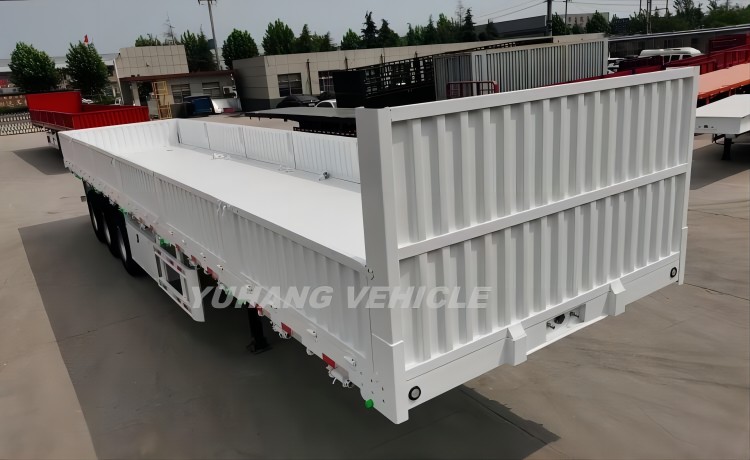 The tri axle 60 ton drop side trailer for sale is a hot-selling product of YUHANG, and has been favored and praised by customers from many countries. It is mainly used for medium and long-distance transportation of medium-heavy and bulk goods, such as: steel bars, plates, steel coils, grain, bagged cement, boxed goods, etc.
The series of side wall semi trailer manufactured by YUHANG have reasonable structure, wide application, reliable performance, simple operation, beautiful appearance, convenient loading and unloading, large carrying capacity and strong adaptability, and have become the first choice for cargo transportation vehicles.
We have our own physical factory and sell semi trailers directly to customers one-on-one, without middlemen to earn the price difference, which is different from pure foreign trade agency companies. Product quality is more guaranteed, after-sales service is more timely, and the real price is favorable.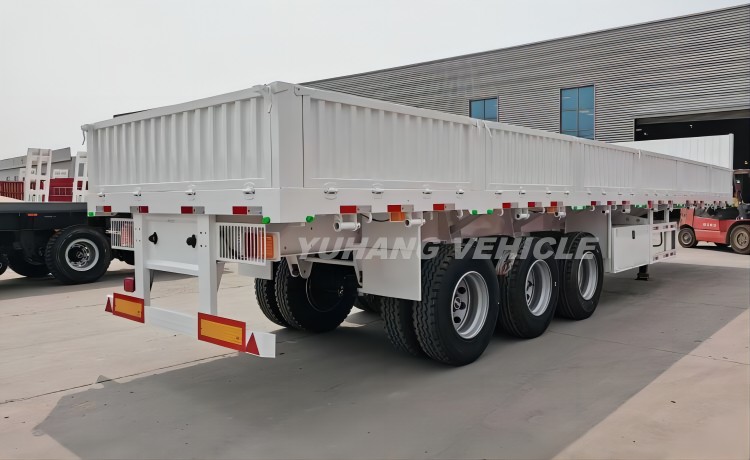 Side Wall Semi Trailer Features:
The 60 ton drop side trailer is made of high-quality high-strength Q345B steel, combined with advanced production technology and strict production process. The loading capacity is stronger, and the service life can reach more than 10 years.
The frames of the trailers are all beam-through structures, the longitudinal beams are straight or gooseneck, and the beams penetrate the longitudinal beams and are integrally welded together. The web height is 500mm manganese plate, using automatic submerged arc welding technology, the weld seam is tight, the solder joints are firm and beautiful, and there will be no cracking.
The suspension adopts mechanical suspension assembly system imported from Germany with more stable performance, which is used to support the load of the trailer and reduce the impact, which can meet the driving requirements of more complex road conditions (hills, muddy land, roads, etc).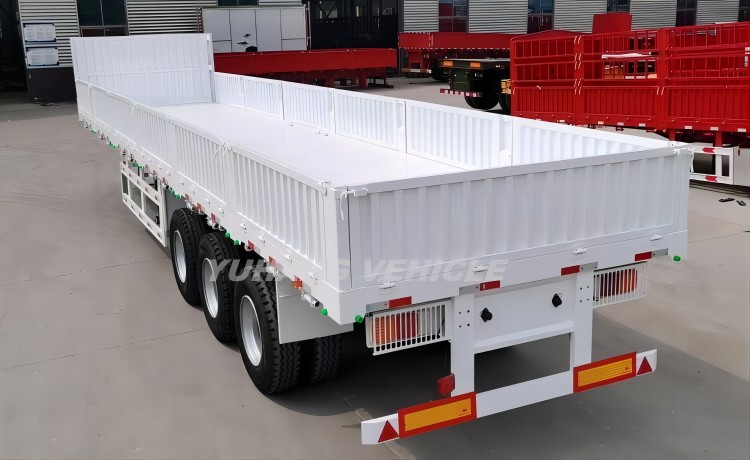 Main Beam: upper plate 16mm, lower plate 18mm, web 10mm
Bottom Plate: 4mm pattern wear-resistant plate
Twist Lock/Box Board: 4 THT twist locks, box board height 800mm
Axle: FUWA 16 tons
Rims: 9.0-20, 18mm thick
Tire: Triangle 12.00R22.5 tubeless tire
Leaf Spring: FUWA brand, thickness 10mm
Land Gear: JOST E400
Electrical Circuit: 24V waterproof national standard cable, WABCO ABS
Select world-renowned brand trailer accessories, and carry out scientific design and reasonable configuration to ensure that the 60 ton drop side trailer has the best load capacity and meet all the transportation needs of customers.
All side wall semi trailers sold will undergo quality monitoring and performance testing, and enjoy one-year quality assurance rights. During transportation, it will be sprayed with wax and covered with tarpaulins to prevent the invasion of sea water and rain.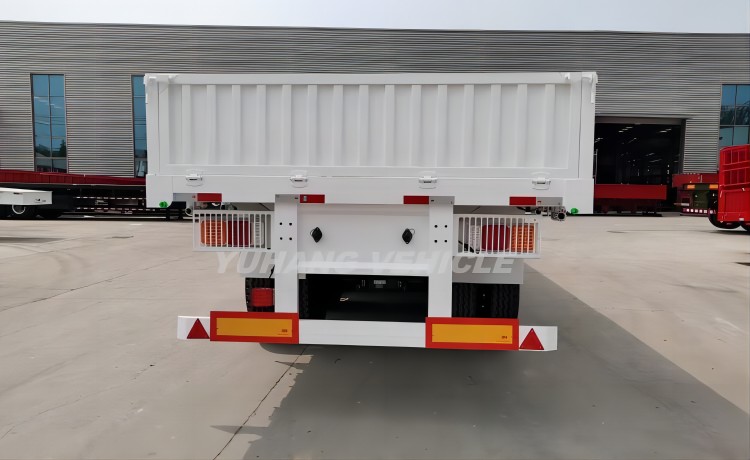 We can provide you with detailed design drawings, manufacturing process, factory photos, test videos, customer feedback and other materials of tri axle 60 ton drop side trailer.
This type of trailer has many advantages and features. If you also need to design or customize side wall semi trailer to help you better carry out your transportation business, please do not hesitate to contact us.
---