YUAHNG brand 3 axle 60 ton trailer with dropsides for sale in Côte d'Ivoire, it is a powerful feeling for us. Today, our sales manager Jason received feedback from the customer. He is very satisfied with the 3 axle 60 ton trailer and dropsides, especially the bright color and meticulous welding technology.
A customer from Cote d'Ivoire found "YUHANG VEHICLE" on the Internet in early July. He needed 2pcs sidewall trailers to transport bulk goods. Sales manager Jason quickly compiled the relevant pictures, videos, technical specifications, quotation plans, transportation agreements and other information about the dropside semi trailer and sent them to the customer via email, and recommended the 60t dropside trailer for sale.
The entire negotiation process between us lasted about a week and all the technical details were finalized. At the same time, we have given customers certain discounts on price and also given away some free accessories. Our enthusiastic service and professionalism left a deep impression on the customer, making him very comfortable with this purchasing experience.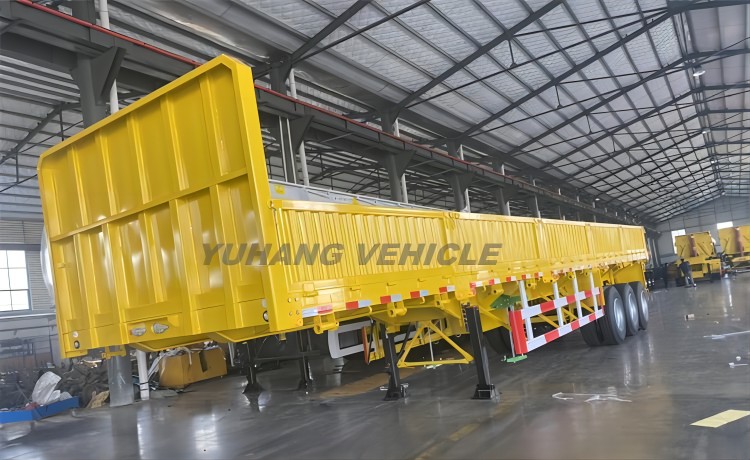 As the most famous semi trailer manufacturing factory in China, we are familiar with every process of production and sales, which can save customers a lot of time and costs. Every sales manager in the YUHANG factory has undergone day-to-day training and learning, so that our customers can quickly and smoothly purchase a trailer that suits them.
Just like our 3 axle 60 ton trailer with dropsides, which is a very popular and best-selling vehicle model that has been exported to more than 70 countries and accumulated rich technical data. Sidewall semi trailer have a wide range of applications in real life and can be used to transport many different types of bulk goods, such as coal, grain, vegetables, fruits, daily necessities, express delivery, containers, etc.
Our colorful life and convenient transportation system benefit from the design, structure and function of sidewall semi trailers. It has many advantages and characteristics: strong loading capacity, fast transportation speed, high turnover efficiency, stable safety performance, low investment cost, long use time, etc. More importantly, it has made a great contribution to our economic development and the circulation of goods.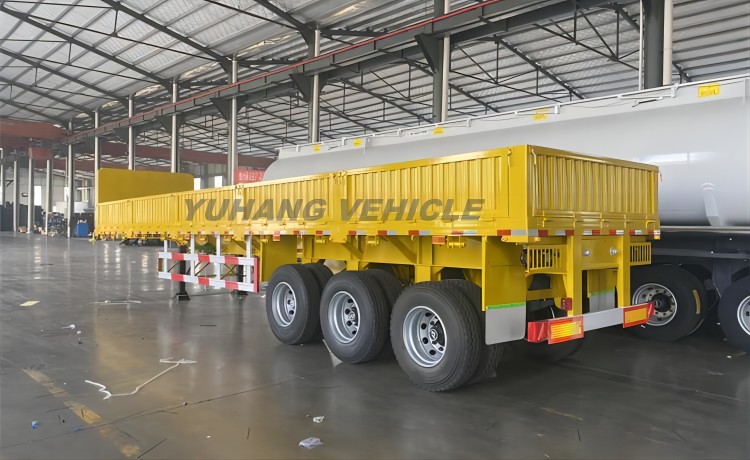 How to choose a qualified sidewall cargo trailer?
For customers who need to purchase a sidewall cargo trailer, the quality and performance of the vehicle are very important. However, some trading companies often use system loopholes or profit margins to reduce vehicle structures, steel plate materials, etc. Therefore, we need to pay attention to the following issues to avoid being deceived.
1. The first is the steel plate material of the entire vehicle, because different specifications, thicknesses, and types of steel plates will directly affect the loading performance and service life of the vehicle. For example: the thickness of the "I" beam of the 3 axle 60 ton trailer with dropsides is 14mm for the upper web, 16mm for the lower web, and 8mm for the middle web. Below this standard, the practical performance of the vehicle will be greatly reduced.
2. What needs to be paid attention to here is the level of welding process, which will determine whether the performance of the trailer is stable during operation. Because unqualified or inferior welding technology can lead to side wall deformation, fracture, and even safety accidents. Nowadays, many manufacturing plants will choose more intelligent robot welding technology. Compared with traditional welding processes, the welding strength will be increased by 30%, and the appearance and structure will be more beautiful.
3. Whether the accessories used are products of regular and well-known manufacturers, because in order to maximize profits, many companies will pass off inferior products or directly label bad accessories with well-known brands to deceive customers. This will lead to high failure rates and high repair costs for customers during the later use of the trailer.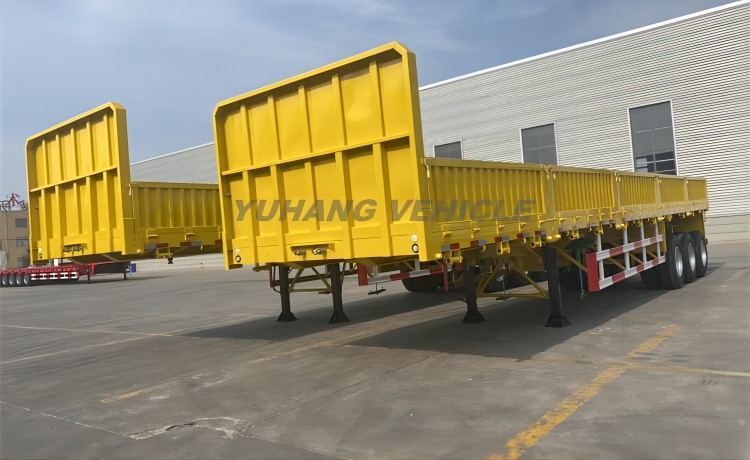 4. Is the design and structure of the sidewall cargo trailer reasonable? Because the unreasonable design structure cannot meet the customer's more loading needs, it seriously affects the customer's transportation business. For example: the height of the sidewall, the thickness of the sidewall, and the structure of the sidewall, which will determine the customer's loading capacity and the operational stability of the vehicle.
5. Transportation effectiveness and value preservation. Because after the trailer is manufactured, most customers will choose to transport it via bulk carrier. During the entire transportation process, the trailer will be corroded by rain and sea water for a long time, which will cause severe rust and corrosion. Therefore, it is necessary to spray waterproof wax on the trailer and cover it with waterproof tarpaulin before transportation to avoid a significant reduction in the value of the vehicle.
6. Timeliness of after-sales service. Because an excellent manufacturing factory lies not only in high-quality trailer products, but also in perfect after-sales service and timely follow-up visits. This will allow customers to quickly become familiar with all parts and performance of the trailer and avoid incorrect operations that may cause the vehicle to malfunction or even be scrapped.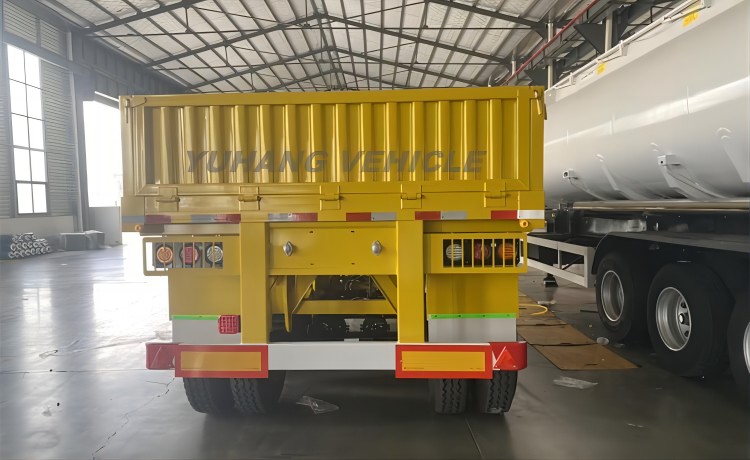 You can learn about different types of trailer with dropsides, such as: 3 axle sidewall semi trailer, 4 axle cargo drop side trailer, 60 ton sidewall trailer, 80 ton sidewall truck trailer and 100 ton dropside cargo trailer etc., including manufacturing process, quality testing, packaging and transportation, and customer feedback.
If you are interested in the benefits and features of this 3 axle 60 ton trailer with dropsides, please contact us for the latest exclusive quatation plan.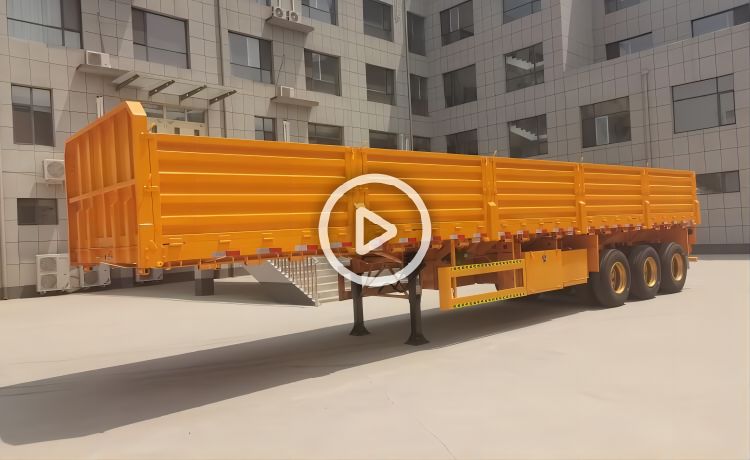 ---