🔍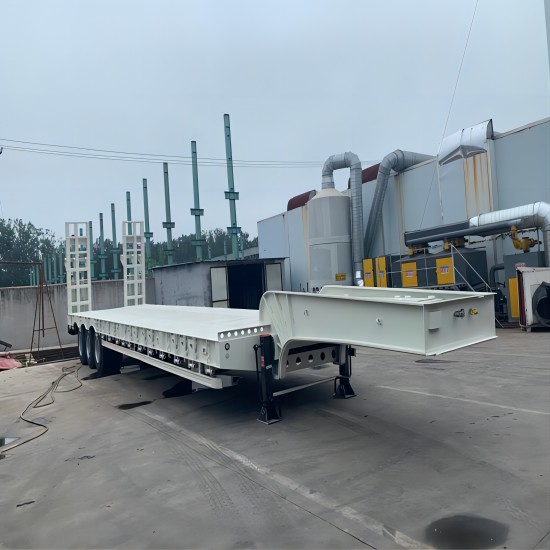 3 Axle Low Bed Trailer Price
Our 3 axle low bed trailer price is competitive. Mainly used for transporting excavators, bulldozers, cranes and other construction machinery and equipment. The loading capacity is 30-90 tons.
Manufacturer: YUHANG VEHICLE
Model: 3 axle low bed trailer
Material: high strength steel plate
Delivery Date: 10-25 days
Application: loading excavators, bulldozers or other machinery
Enquiry
Description
Description:
3 axle low bed trailer price with the best price for sale, it is mainly used to transport all kinds of construction machinery, large objects, construction equipment, rail vehicles or other special cargos.
YUHANG 3 axle low bed trailer price is better than other factories, and its working platform is very low, which improves the stability and safety of transporting heavy goods.
We have 30 tons, 50 tons, 60 tons, 80 tons, 100 tons and 120 tons, 150 tons and other different specifications lowbed semi trailer for sale. The quality is sturdy and durable, and the service life can reach more than 10 years.
The different models of low bed trailer use different numbers of axles, from 2/3/4 axles to 7/8/9/10 axles. We can customize lowbed semi trailer for you according to transportation needs.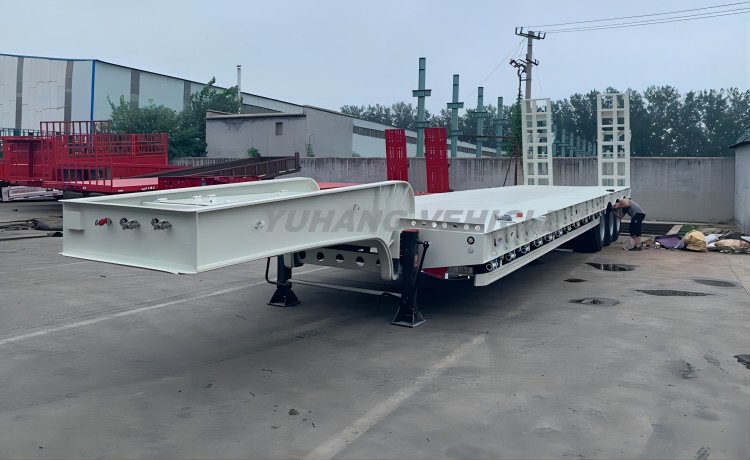 3 axle low bed trailer price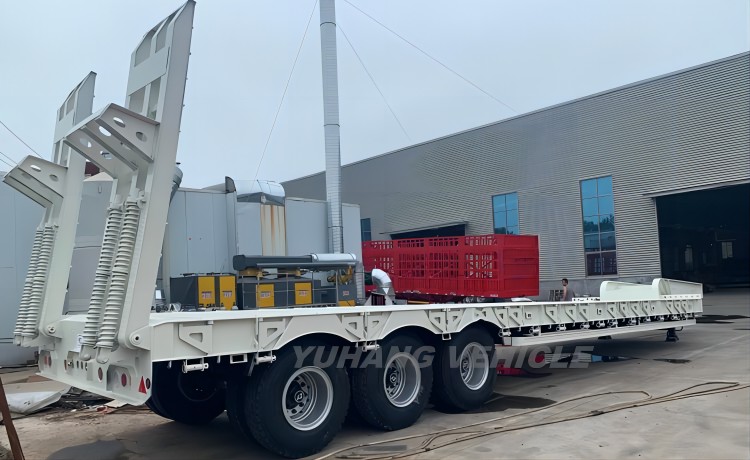 60 ton lowbed semi trailer for sale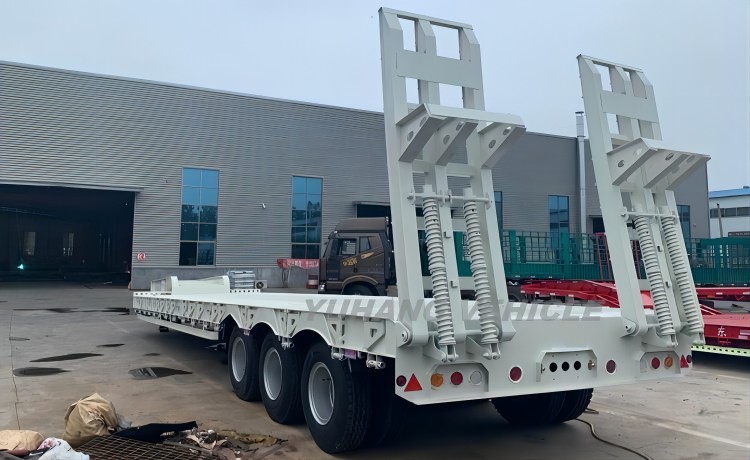 China's first-class low bed trailer manufacturer
Advantage:
1. The main beam is low-alloy steel plate with high tensile strength and high load-bearing capacity, which improves the application capacity and service life of the low bed trailer.
2. Our 3 axle low bed trailer price is very competitive, and has been exported to more than 60 countries, achieving a good reputation and market size.
3. The high-quality mechanical spring ramp is convenient for loading and unloading goods and improves work efficiency.
4. Heavy-duty thickened mechanical suspension to meet the load requirements of customers for high-load cargo.
5. All lowbed semi trailer have gone through four processes of flaw detection, vehicle shot blasting, primer treatment, and topcoat spraying to ensure their best quality.
Specification:
Model: 3 axle low bed trailer for sale
Dimensions: 12000*3000*3400mm
Loading Capacity: 30-90t
Main Beam: height 500mm, upper plate 18mm, middle plate 12mm, lower plate 20mm, material Q345B steel
Bottom Platform: 5mm thick checkered plate
Axle: 3 axle,13T/16T, FUWA/BPW brand
Tire: 12 units, 8.25R20/10.00R20/11.00R20/12.00R20
Suspension: heavy duty mechanical suspension
King Pin: 50(2 inch)#or 90(3.5 inch)
Landing Gear: JOST brand
Brake Valve: WABCO valve
Light: LED light
ABS: optional
Voltage: 24V
Accessories: tool box, spare tire carrier
Shipping Terms: bulk carrier, Ro-Ro ship or container
---