🔍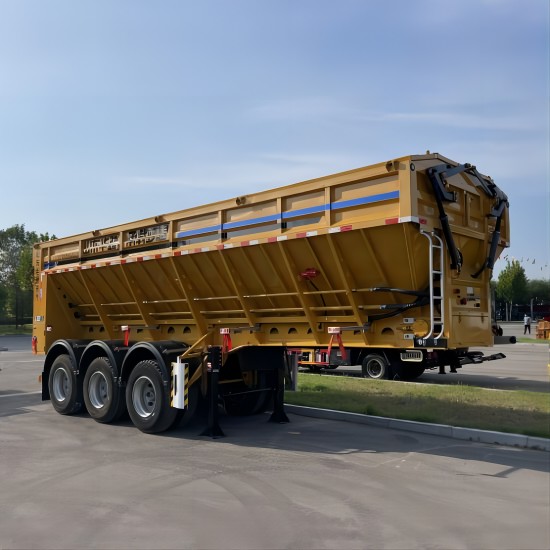 60 Ton Bulk Grain Trailer For Sale
YUHANG brand 60 ton bulk grain trailer for sale with the best factory price, 100% quality assurance, 100% lowest price, 100% after-sales service. Maximize the protection of your rights and interests.
Manufacturer: YUHANG VEHICLE
Model: 60 ton bulk grain trailer for sale
Hydraulic System: Hyva cylinder
Delivery Date: 15-25 days
Applications: Transport coal, sand, earthwork, building materials etc
Enquiry
Description
Description:
60 ton bulk grain trailer uses an intelligent conveyor belt to unload goods. It is a new type of semi trailer independently developed and produced by Shandong YUHANG VEHICLE.
This series of trailer is mainly suitable for the transportation of bulk goods, such as: gravel, coal, grain, asphalt, clinker, etc. The unloading speed of the goods is fast, clean and free of residue.
Our bulk grain trailer compartment is a square box body welded as a whole, with a large load-carrying capacity and an anti-expansion box frame structure, which can be adapted to more types of goods and working environments.
YUHANG brand crawler dump trailers will be equipped with waterproof rain cloth or aluminum alloy canopy to protect the integrity of the cargo and protect the rights and interests of customers.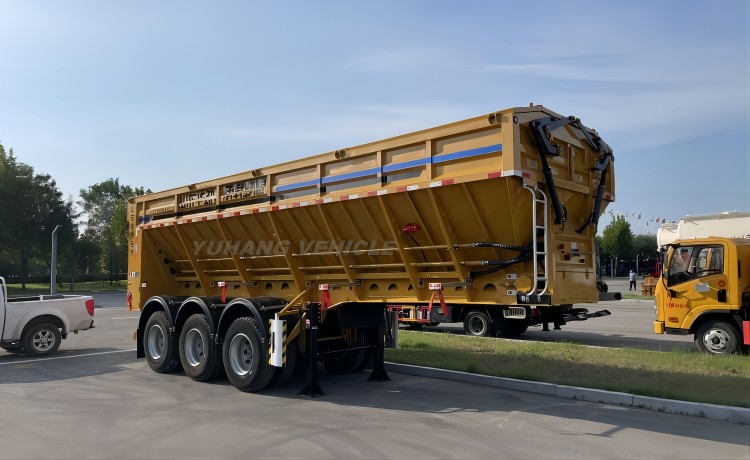 Tri axle bulk grain trailer for sale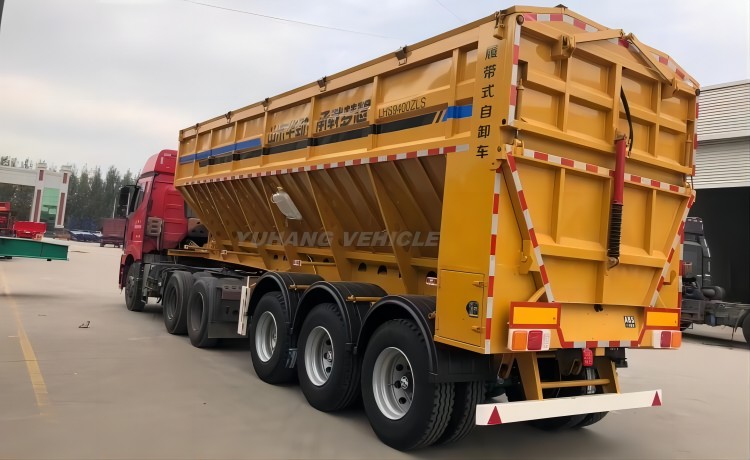 China 60 ton conveyor belt dump trailer manufacturer—–YUHANG
Advantage:
1. The 60 ton bulk grain trailer is made of high-strength steel plate with a more scientific structure. The vehicle itself is light in weight and has a strong effective loading capacity.
2. The conveyor belt unloading method does not lift the carriage, and is not limited by uneven ground, site space and workshop height. The operation is more simple and flexible.
3. The center of gravity of the whole vehicle is low, and compared with traditional dump truck semi trailer, the safety factor is higher, and there is no risk of rollover when unloading goods.
4. The back door is hydraulically opened automatically, saving time and effort, and the two-way monitoring of reversing and unloading allows the driver to complete the whole process of unloading without getting out of the vehicle.
Specification:
Brand: YUHANG 60 Ton Bulk Grain Trailer For Sale
Box Dimension: 9500mm*2500mm*1500mm
Payload: 60 ton or customize
Unloading Method: transport by conveyor belt
Main Beam: Q345B carbon steel, 'I" type
Frame Beam: upper and lower plate is 14mm and 16mm, web plate 8 mm, height is 500 mm
Box thickness: bottom plate 4mm, side plate 3mm
Axle: 3 axle*13 ton BPW or FUWA brand
Landing Gear: JOST brand 28 tons
King Pin: 2.0 or 3.5 inch
Suspension: heavy duty mechanical suspension
Leaf Spring: 90mm(w)*16mm(t)*10pcs
Tires: 12R22.5, 315/80R22.5
Hydraulic System: HYVA brand
Color/ABS: optional
---