🔍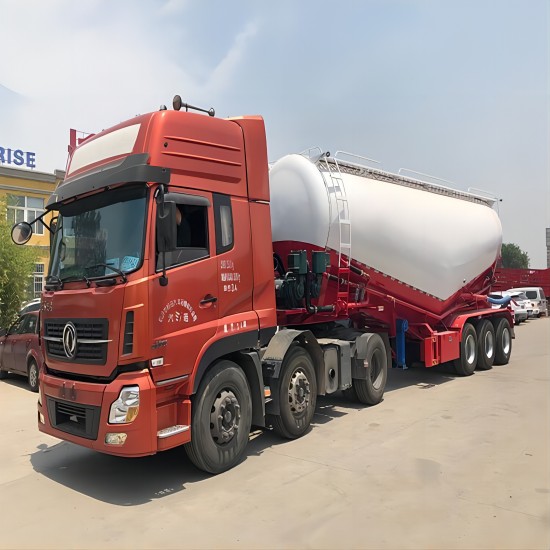 V Shape Cement Bulker For Sale
YUHANG V shape cement bulker trailer consists of specially designed chassis, pneumatic piping system, tank body and unloading device. The loading capacity is 30 ton, 40 ton, 50 ton, 60 ton, 80 ton.
Manufacturer: YUHANG VEHICLE
Type: v shape cement bulker trailer
Unloading Speed: >1.5 tons per minute
Delivery Date: 15-25 days
Application: transport bulk cement, lime powder, fly ash, granular materials, etc.
Enquiry
Description
Description:
We have different types v shape cement bulker for sale with the best price, it can be used to transport bulk cement, lime, sand, fly ash, flour and other powdery granular goods.
Our cement tanker trailers have achieved success in more than 40 countries in Southeast Asia, Africa, South America, and the Middle East, among them, the 3 axle v shape cement bulker is our best-selling model.
The tank body of the cement trailer is available in carbon steel, stainless steel and aluminum alloy for you to choose. The quality is very strong and can be used safely for more than 15 years.
YUHANG can customize bulk cement trailers according to your special transportation needs, we can provide you with the best logistics transportation solution and comply with local regulations.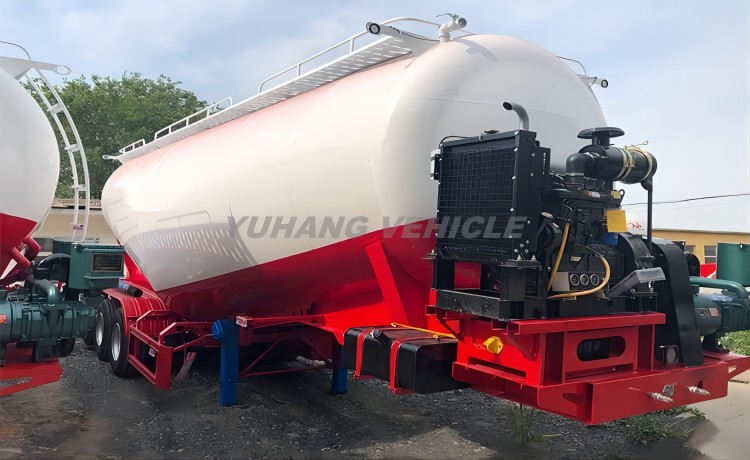 3 axle v shape cement bulker for sale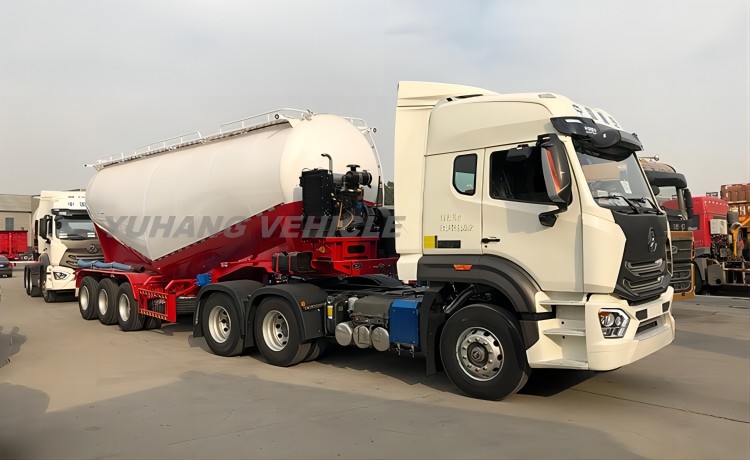 China famous brand cement tanker trailer supplier–YUHANG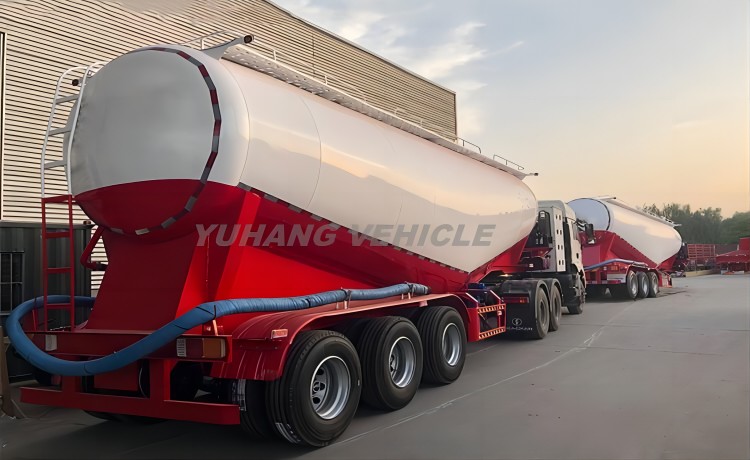 Our cement bulker transport trailers with the best price
Advantage:
● YUHANG brand v shape cement bulker trailer is made of high-strength low-alloy steel plate, which has strong bearing capacity and can adapt to more rough and bad road conditions.
● The tank body adopts automatic robot tracking welding technology, double-sided welding, integral forming, and prolongs the service life of the vehicle.
● All cement tanker trailers have to pass the pressure test and metal inspection test before leaving the factory to ensure that they have good sealing performance and prevent leakage.
● Equipped with a world-renowned brand Weichai 4102 diesel engine to help the air compressor work better and improve work efficiency.
Specification:
Manufacturer: YUHANG V Shape Cement Bulker For Sale
Dimension: 11500mm*2000mm*4000mm or customized
Tanker Body Material: 5mm or 6mm high strength steel
Application: transport lime, bulk cement, fly ash, powder, etc.
Tank Body Thickness: 3.5mm
Compressor: 12m³ double cylinder air compressor
Manhole Cover: 2 or 3 units 300mm diameter
Discharging Valve: 4 inch valve
Diesel Engine: WEICHAI brand
Compressor: BOHAI
Axles: 1 to 4 sets, 13T/14T/16T BPW/FUWA brand
Tire: 12R22.5, 385/65R22.5, 13R22.5, 12.00R24, 315/80R22.5
Suspension: heavy mechanical suspension
Leaf Spring: 90(w)mmx13(thickness)mmx10 layers
Landing Gear: JOST brand 28 ton, two speed
King Pin: JOST brand 2 or 3.5 inch detachable type
Brake System: T30/30 chamber, WABCO emergency valve
ABS: optional
Color: optional
Light: LED light
Voltage: 24V
Socket: 7-pin Socket (for 7 wire harness)
Painting: polyurethane paint, with long service life, and avoid the vehicle getting rust
Accessories: one standard tool box, spare tire carrier
Shipping Terms: bulk carrier, Ro-Ro ship, 45ft HQ container
---