🔍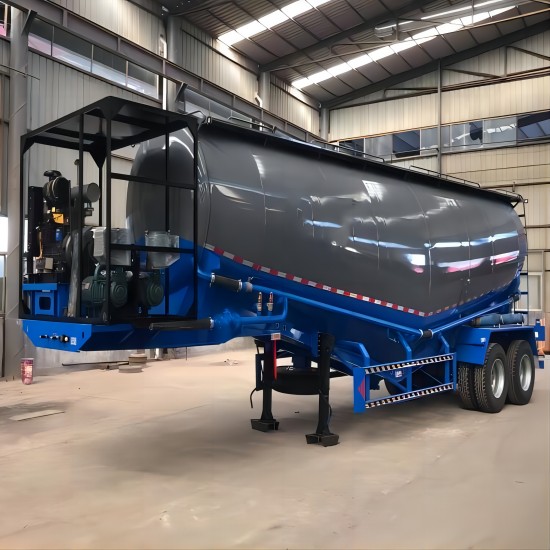 2 Axle 30 Ton Bulk Cement Transport Trailer
We have the best price 2 axle 30 ton bulk cement transport trailer for sale. The tank body has V and W type structures, carbon steel, stainless steel and aluminum alloy materials for you to choose.
Manufacturer: YUHANG VEHICLE
Type: 2 axle 30 ton bulk cement transport trailer
Unloading Speed: >1.5 tons per minute
Delivery Date: 15-25 days
Application: transport bulk cement, lime powder, fly ash, granular materials, etc.
Enquiry
Description
Description:
2 axle 30 ton bulk cement transport trailer can be used in cement plants, cement warehouses and large-scale engineering construction sites, which can save a lot of packaging design materials and loading and unloading labor for you.
The basic structure of a cement tanker trailer is: a vehicle chassis, a power system, an air compressor, an air pipeline, tank body, and a discharge device.
The tank body is made of carbon steel, stainless steel, and aluminum alloy material, and has passed ISO9001 quality certification to ensure that the cement trailer has the best working condition.
YUHANG also can provide 20-60cbm cement tanker trailer for sale. We support the design and customization of cement trailers to meet your special transportation needs.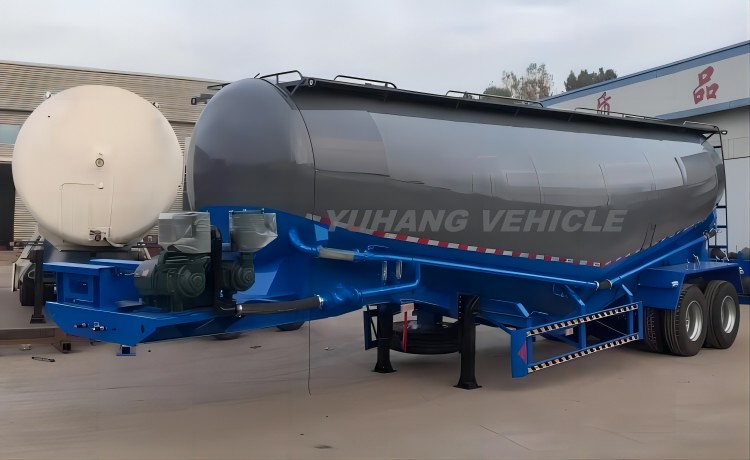 2 axle bulk cement transport trailer for sale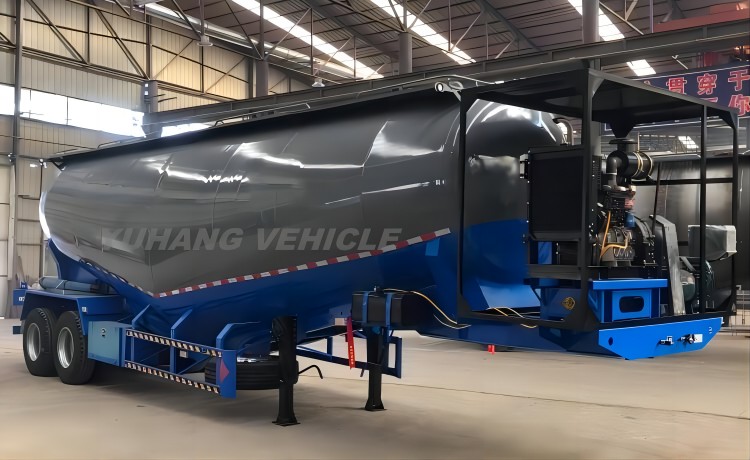 China famous 30 ton cement tanker trailer manufacturer–YUHANG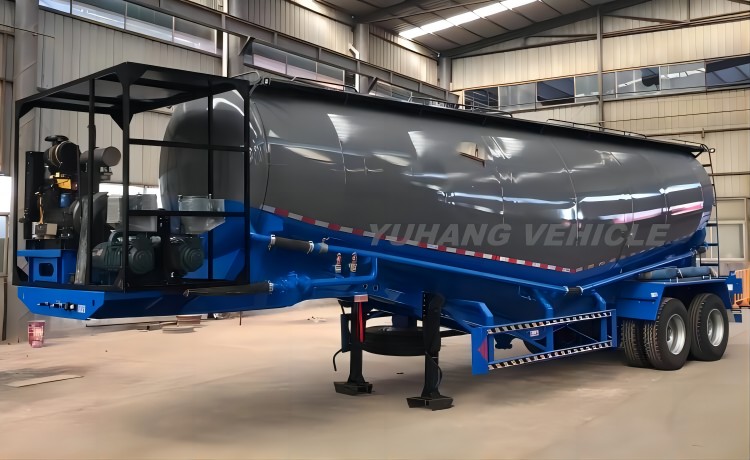 2023 brand new cement trailers with best price
Advantage:
● YUHANG 2 axle 30 ton cement trailer is made of high-strength low-alloy steel plate, which has strong bearing capacity and can adapt to more rough and bad road conditions.
● It adopts advanced design concept and fluidized bed design structure, which can effectively reduce the weight of the vehicle and increase the unloading speed.
● The center of gravity of the whole vehicle is low, which reduces the centrifugal force when the vehicle is turning, increases the stability of the vehicle, and ensures the transportation speed.
● All accessories are provided by well-known brands at home and abroad, such as: BPW axle, JOST support landing gear, WABCO brake system and so on.
● After the tanker is filled and tested by water grinding, it is sprayed with polyurethane paint and treated with epoxy primer, which is corrosion-resistant and beautiful in appearance.
Specification:
Model: 2 Axle 30 Ton Bulk Cement Transport Trailer
Dimension: 10500mm*2000mm*4000mm or customized
Tanker Body Material: 5mm high strength wear-resistance steel
Payload: 30 ton or customized
Application: transport lime, bulk cement, fly ash, powder, etc.
Tank Body Thickness: 3.5mm
Compressor: 12m³ double cylinder air compressor
Manhole Cover: 2 or 3 units 300mm diameter
Discharging Valve: 4 inch valve
Diesel Engine: WEICHAI brand
Compressor: BOHAI
Axles: 2 axles 13T/14T/16T BPW/FUWA brand
Tire: 8 units, 8.25R20/10.00R20/11.00R20/12R22.5
Suspension: mechanical suspension
Leaf Spring: 90(w)mmx13(thickness)mmx10 layers
Landing Gear: JOST brand 28 ton, two speed
King Pin: JOST brand 2 or 3.5 inch detachable type
Brake System: T30/30 chamber, WABCO emergency valve
ABS: optional
Color: optional
Light: LED light
Voltage: 24V
Socket: 7-pin Socket (for 7 wire harness)
Painting: polyurethane anti-corrosion paint
Accessories: one standard tool box, spare tire carrier
Shipping Terms: bulk carrier, Ro-Ro ship, 45ft HQ container
---