🔍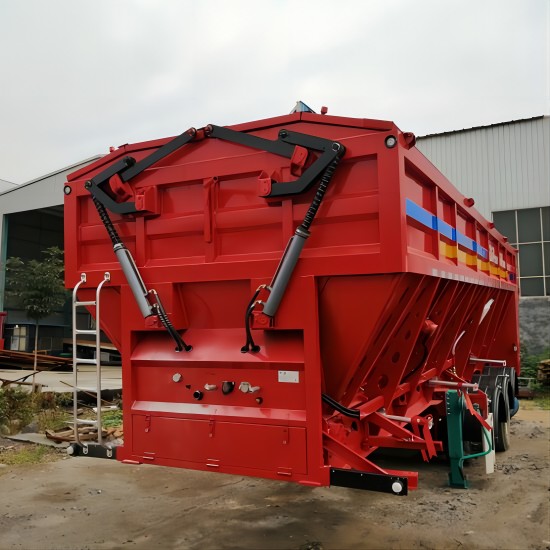 3 Axle Conveyor Belt Dump Trailer
We have high-quality 3 axle conveyor belt dump trailer for sale, YUHANG factory can design and customize dump trailer according to your special transportation needs, to help you do business better.
Manufacturer: YUHANG VEHICLE
Model: 3 axle conveyor belt dump trailer
Hydraulic System: HYVA cylinder
Delivery Date: 15-25 days
Applications: Transport coal, sand, earthwork, building materials etc
Enquiry
Description
Description:
3 axle conveyor belt dump trailer is our very popular model, very versatile, mainly suitable for transporting coal, ore, earthwork, construction waste or other bulk goods.
This type of vehicle uses a conveyor belt to unload goods, which is not affected by the transportation environment, is safe and reliable, saves manpower and costs, and has good sealing performance to ensure that the goods do not leak or fall.
Our conveyor belt dump trailer adopts a two-stage hydraulic locking structure, the rear door can be completely closed 100%, the transportation process is more environmentally friendly and will not pollute the environment.
YUHANG factory high-quality mechanical conveyor belt system can increase the unloading speed of goods, improve work efficiency, and create more profit value for you.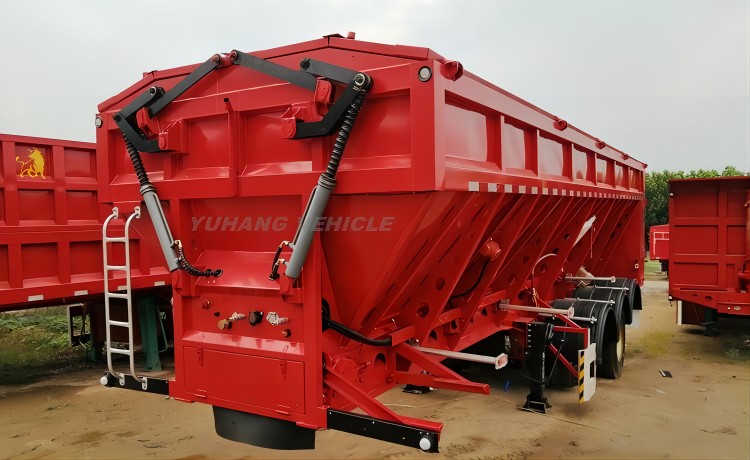 3 axle conveyor belt dump trailer for sale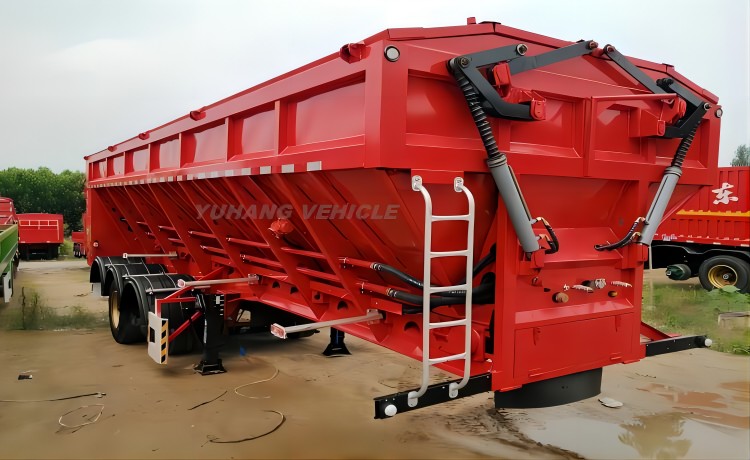 60 ton crawler type dump semi trailer with best price
YUHANG factory brand new crawler cargo transport trailer manufacturer
Advantage:
1. The main beam and compartment of the 3 axle conveyor belt dump trailer is made of high-strength steel plates. The whole vehicle has passed the durability test, and the product quality is more stable and reliable.
2. Strong adaptability, no high requirements on the unloading site, no restrictions on the working height, applicable to different working environments, no need to lift the carriage, and no risk of rollover.
3. The hydraulic system components of the whole vehicle (hydraulic cylinder, multi-way valve, oil pipe, oil pump, etc.) are all world-renowned brands. The hydraulic system is safe and reliable, and the vehicle can be unloaded while moving, with high efficiency.
4. The hydraulic automatic steering device installed inside the vehicle can realize the tilting and shaking of the vehicle body when the unloading is not clean, so as to ensure that there is no residue of the cargo.
Specification:
Manufacturer: YUHANG 3 Axle Conveyor Belt Dump Trailer
Box Dimension: 9500mm*2500mm*1500mm
Payload: 30-80 ton
Unloading Method: Transport by conveyor belt
Main Beam: Q345B carbon steel, 'I" type
Frame Beam: upper and lower plate is 14mm and 16mm, web plate 8 mm, height is 500 mm
Box thickness: bottom plate 4mm, side plate 3mm
Axle: 3 axle*13 ton BPW/FUWA brand
Landing Gear: JOST brand 28 ton
King Pin: 2.0 or 3.5 inch
Suspension: heavy duty mechanical suspension
Leaf Spring: 90mm(w)*16mm(t)*10pcs
Tires: 12R22.5, 315/80R22.5
Hydraulic System: HYVA brand
Color/ABS: optional
---