🔍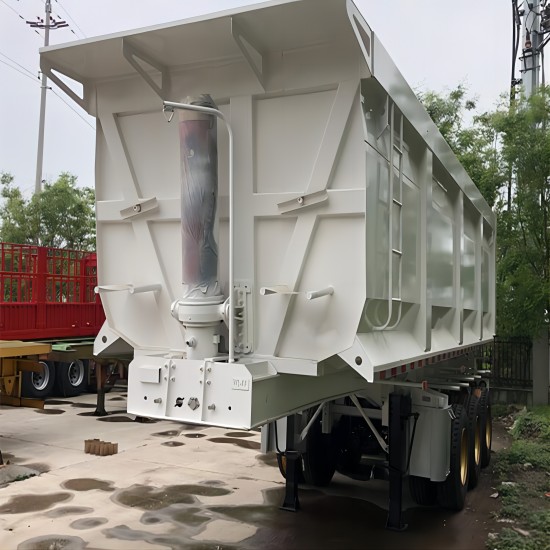 35CBM Hydraulic Dump Trailer
We have 35cm hydraulic dump trailer for sale, which is made of high-strength steel plate, with a large loading capacity and durable quality. YUHANG can provide different types dump trailer for you.
Manufacturer: YUHANG VEHICLE
Model: 35cbm hydraulic dump trailer
Hydraulic System: Hyva cylinder
Delivery Date: 15-25 days
Applications: transport coal, sand, earthwork, building materials
Enquiry
Description
Description:
35cbm hydraulic dump trailer is widely used in gravel plants, construction sites, mine pits, coal yards and other working areas to transport sand, coal, building materials and other bulk goods.
The 35cbm hydraulic dump trailer for sale is made of high-strength steel plate, which has strong loading capacity, good compression resistance, and is durable.
We can customize tipper semi trailer according to your special needs, such as: u shape dump trailer, 42 cubic meter dump trailer, 60 ton side dump trailer, and 80 ton dump trailer.
YUHANG have a professional technical service team to provide customers with optimal transportation solutions and comprehensive trailer services that comply with local regulations.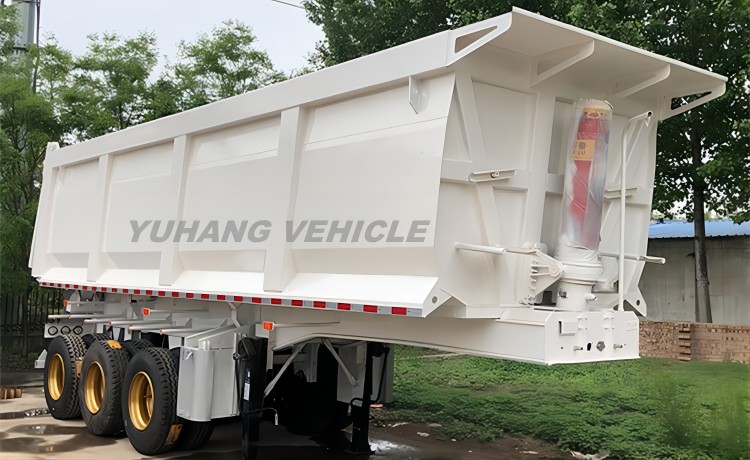 35cbm hydraulic dump trailer for sale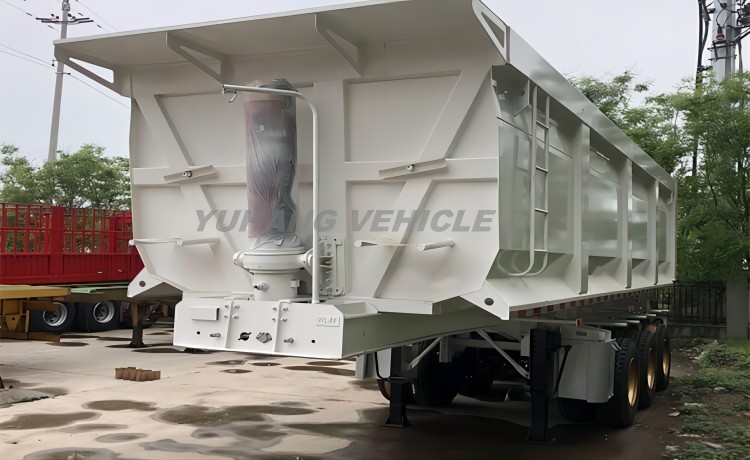 3 axle tipper semi trailer with the best price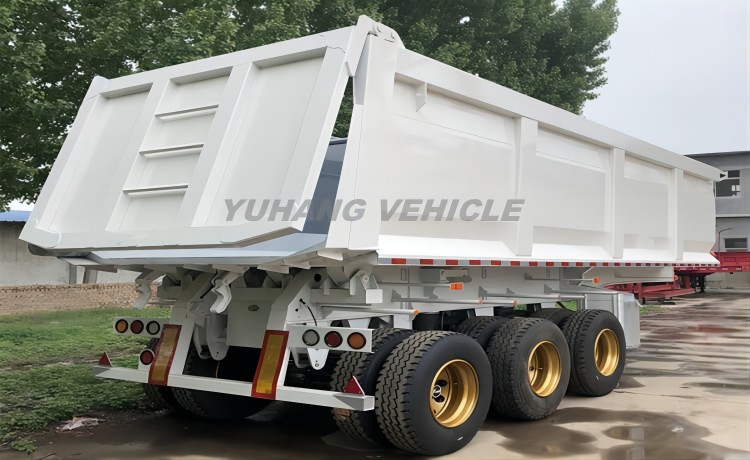 China first class dump trailer manufacturer
Advantage:
1. The main beam of the 35cbm hydraulic dump trailer is made of high tensile strength steel plate material, which maximizes the payload of the trailer and increases the profit value of customers.
2. According to different road conditions, the advanced computer-aided system is used for stress and loading data test analysis to improve the anti-fatigue performance of the dump trailer.
3. The frame adopts robot automatic tracking welding technology, the welding seam is even and full, the welding spots are dense and firm, and there is no missing welding.
4. After the frame is welded and formed, the surface will be sandblasted to remove rust, which can better increase the adhesion of the paint.
5. Equipped with wider and thicker leaf springs suspension, the shock absorption effect is good, and it can be applied to more rugged and complex road conditions.
Specification:
Brand: YUHANG 35CBM Hydraulic Dump Trailer For Sale
Dimension: 11.5m*2.5m*3.5m or customized
Main Beam Height: 500mm, high strength steel
Box Thickness: side 4mm, bottom plate 6mm
Lifting System: HYVA hydraulic cylinder
Loading Volume: 35cbm or customized
Axle: 13T/14T/16T BPW/FUWA brand
Tire: 12R22.5
Suspension: heavy duty type mechanical suspension
King Pin: 90# JOST brand
Landing Gear: JOST brand 28T lifting capacity
ABS: optional
Painting: polyurethane anti-corrosion paint
Accessories: one standard tool box, spare tire carrier
Shipping Terms: bulk carrier or Ro-Ro ship
---