🔍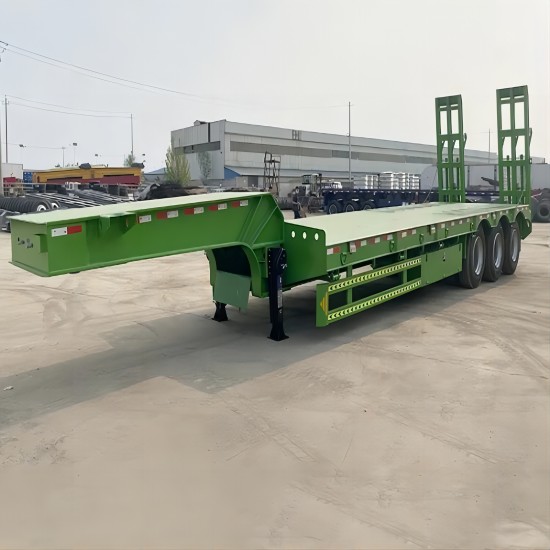 50 Tonne Lowboy Equipment Trailers
We have 3 axle 50 tonne lowboy equipment trailers for sale, it is a very practical and popular trailer, mainly used for transporting machinery and equipment. Such as: cranes, excavators, bulldozers.
Manufacturer: YUHANG VEHICLE
Model: 50 tonne lowboy equipment trailers
Material: high strength steel plate
Delivery Date: 10-25 days
Application: loading excavators, bulldozers or other machinery
Enquiry
Description
Description:
The high-quality 50 tonne lowboy equipment trailers manufactured by YUHANG can be used to load excavators, combines, bulldozers and other construction machinery and equipment.
When loading mechanical equipment, it is usually moved to the working plane through the tail ladder of the lowbed semi trailer, and then the mechanical equipment and the lowbed trailer are fixed.
Our lowboy equipment trailers adopt high-strength steel plates to ensure the carrying capacity, and the payload is 30-120 tons. The minimum ground clearance ensures the integrity and safety of transported goods.
We can provide different configurations and specifications lowbed semi trailers to meet the different transportation needs of customers.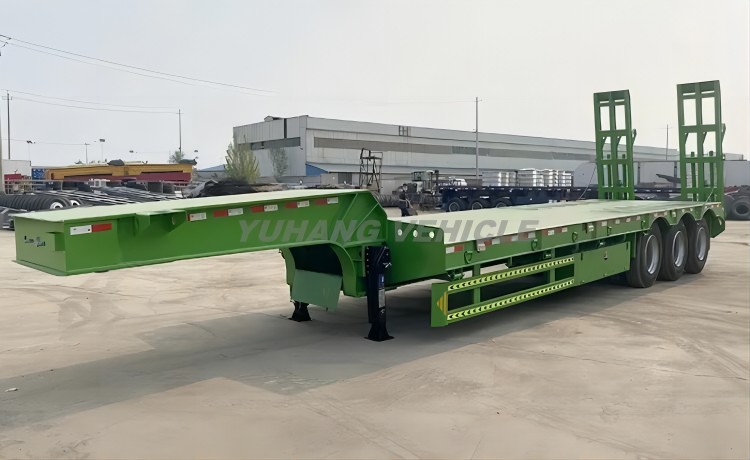 3 axle lowbed semi trailer for sale
50 tonne lowboy equipment trailers price
YUHANG 50/60/80 ton lowbed trailer for sale
Advantage:
1. The main beam is made of high-strength Q345B steel plate, which has strong bearing capacity and long service life.
2. The bottom plate adopts a non-slip and wear-resistant pattern structure to ensure the stability and safety of the cargos.
3. The high-pressure mechanical spring ladder ensures that it is not easy to deform and break when carrying heavy equipment.
4. Heavy-duty mechanical spring suspension can meet high-load carrying requirements.
5. Electrophoretic powder spraying + baking paint process to avoid vehicle rust, beautiful appearance and cost saving.
Specification:
Overall Dimension: 13000mm*3000mm*3500mm or customize
Loading Capacity: 30-120 ton
Main Beam: height 500mm, upper plate 18mm, middle plate 12mm, lower plate 20mm, material Q345B steel
Bottom Platform: 5mm thick checkered plate
Axle: 3/4/5 axle*13t/16t*FUWA/BPW brand
Tire: 11.00R20/12.00R20/12R22.5
Suspension: heavy duty mechanical suspension
Spring Leaf: 90(w)mmx13(thickness)mmx10 layers
Kingpin: JOST brand 2.0 inch or 3.5 inch (bolted or welded type)
Landing gear: JOST brand
Rear Ramp: spring ladder
ABS: optional
Brake Valve: WABCO valve
Light: LED light
Color: optional
Accessories: one tool box, spare tire carrier
Shipping Terms: bulk carrier or Ro-Ro ship
---